Schedule Detail of the Four Palaces Show
Showtime: Thursday and Saturday every week, 6.00 pm and 7.30 pm
Duration: 45 minutes
Location: The Worker Theater (Cong Nhan Theater), Address: No 2 Trang Tien Street, Hoan Kiem District, Hanoi.
Special Price: Contact us
The Feature of "Four Palace Show"
Directed by Viet Tu, a well-known director of Contemporary Theatrics in Vietnam, "Four Palaces Tứ Phủ" is a uniquely creative and artistically inspired work of art. The show is based on folklore materials on the Viet beliefs of the worship of Mother Goddesses over decades.
"Four Palaces" simply means the belief in the worship of Four Mother Goddess of Heaven, including Mother Goddess of Heaven, Mother Goddess of Water, Mother Goddess of Forest, and Mother Goddess of Earth.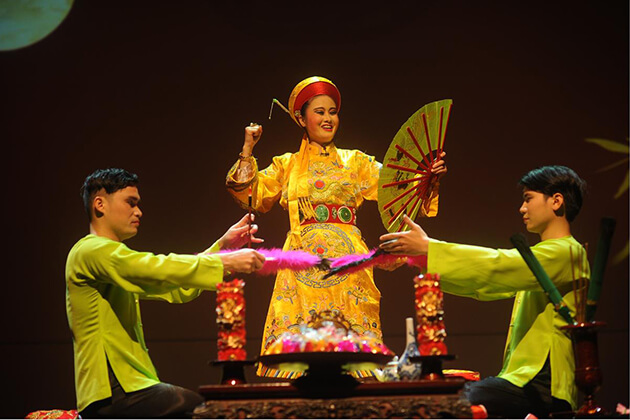 The most flourishing period of the Mother Goddess religion in Vietnam folklore was in the late 19th and early 20th centuries. Sometimes Mother Goddess religion is considered a manifestation of superstition and thus prohibited. The rituals of Tứ Phủ ("Four Palace"), however, still have a remarkable presence and strong reflection in Viet folk arts for many reasons:
1. "Four Palace" is considered a medium of lively communication of humans with Gods or Saints, divine beings who are familiar to Vietnamese both spiritually and in real life. The communications are organized as rituals by physics or mediums playing roles of middlemen connecting people to divines.
2. "Four Palaces" collected various materials of folk arts such as "hát chầu văn" or "chầu thánh" – a traditional folk art combining trance singing and dancing, and rites as well as music with folk instruments.
3. "Tứ Phủ Four Palaces" is highly attractive not only due to the colorful and lively decorations but also by its content aims to reflect the Vietnamese spiritual life, folk art, and culture in Vietnam as well.
Reconstituted creatively with all the sounds of modern art including video, performance art, and many other stage effects, together with interactivity and hyperspace are cleverly combined, "Four Palaces" is one of the most favored cultural shows for tourism in Hanoi.
Inherited A Cultural Heritage
On December 1st, 2016, the beliefs of Mother Goddesses Worship were inscribed on the representative list of the intangible cultural heritage of Humanity by UNESCO. Unlike others that are in need of urgent conversation, the beliefs of Mother Goddesses Worship have experienced long and strong growth in the Viet spiritual culture and have also become more and more popular, displaying itself more than ever in spite of its checkered history.
The practices relating to the Viet beliefs in the Mother Goddesses Three or Four Realms, known as "Chầu văn", "hầu đồng", "lễ thánh" appear boisterous and lively in temples, pagodas as well as other areas all over the country more than ever. Not only is it a form of folk art with a long and tenacious history of growth, but it is also a belief of people in Mother Goddesses. It is said that Mother Goddess Worship Religion shows hope of controlling the lives of Asian women because they create give birth to, protect and develop the world both in the past and today.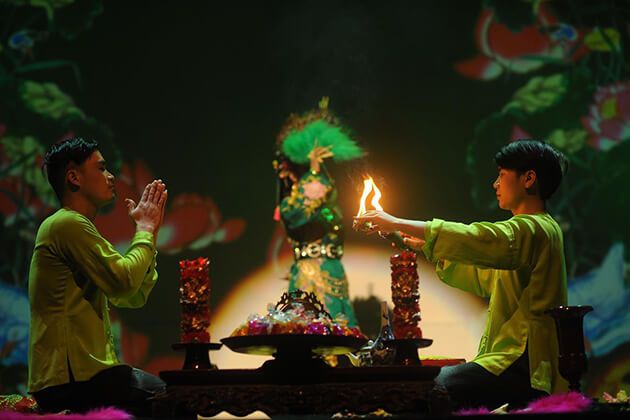 Structure of "Four Palaces Show"
In 45 minutes of the Four Palaces Show, audiences can have a chance to witness the outstanding practiced traditional custom and culture of Vietnamese people's lives. Going into trance is a unique ritual performance of Vietnam practiced for over a thousand years, offering tourists a different and unique experience that they never had before. During the session, a number of artistic elements including music, singing, dancing, and the use of colorful costumes are involved in three parts of the show: "Chầu Đệ Nhị", "Ông Hoàng Mười", "Cô Bé Thượng Ngàn".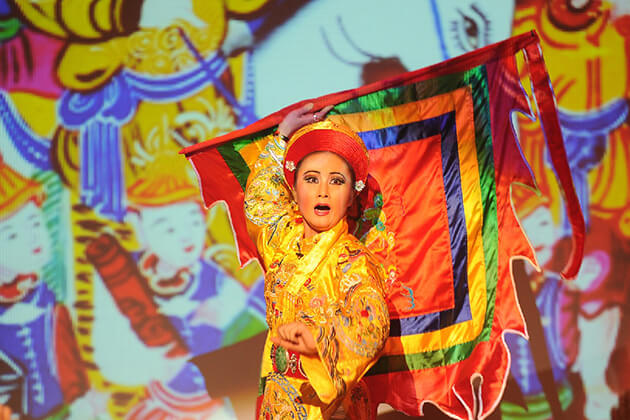 1. Chầu Đệ Nhị: The reincarnation of Goddess of Mountain & Forest Performance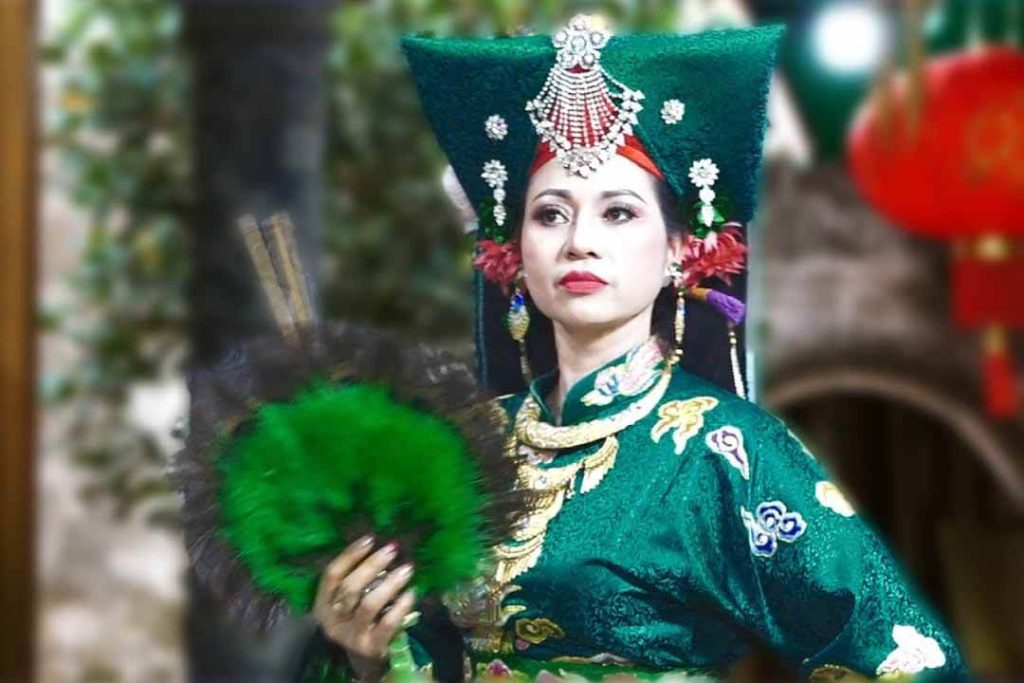 People said that the Goddess of Mountains & Forests with green shining costumes, feather fans, and light on hand always brings luck and wealth to the people. This performance gives the audience an opportunity to witness the actress incarnating the Goddess of Mountains and Forests with exact mood and gestures.
2. Ông Hoàng Mười: The reincarnation of General "Ong Muoi" Performance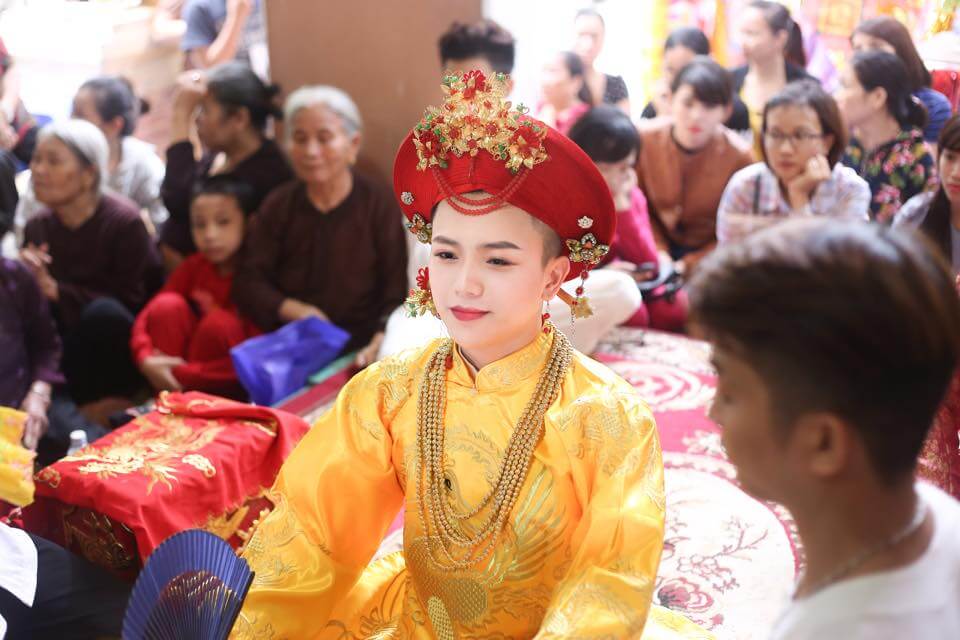 There is a legend that "Ong Muoi" is the son of the King of Ocean. He made a great contribution to defeating the Chinese invaders. After the war, he lived in Nghe An province, then became a God and leave the earth. During his life as a talented warrior, he was well-known for poems, he was always in a yellow long dress and traditional yellow embroidered turban. Enjoy this performance and you will observe his appearance with lots of servants serving him betel, tea, and cigarettes while musicians were performing traditional folk music.
3. Cô Bé Thượng Ngàn: The little Princess of Mountain & Forest Performance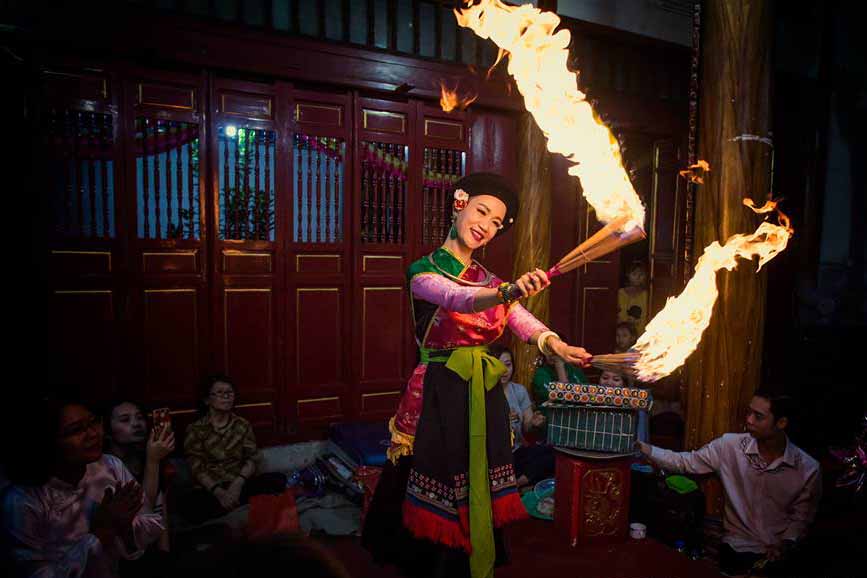 Once upon a time, the little Princess served the Goddess of Mountains and Forests. She put on a brocade, and silver necklace, and dancing with an umbrella and baskets of flowers. The performance of the little Princess not only healed the sick and bring luck to the people by offering flowers and gifts to them. If you are lucky, you can have a small lucky gift from her.
In short, it would be amiss if discover Vietnamese culture without its rich tradition of spiritual belief, and The Four Palaces Show brings the fullest taste of this religious performance.