Tours & Day Trips Out-Around Hanoi
Tour Route: Hanoi – Vi Khe Bonsai Village – Countryside Museum – Salt Village – Xuan Thuy National Park – Clam Hut Lunch – Phu Nhai Church - Hanoi
Tour Highlights
Explore one of Vietnam's largest bonsai villages, witnessing unique and intricate bonsai tree creations.
Immerse yourself in the daily life of Vietnamese farmers through the exhibits at the Countryside Museum.
Participate in salt harvesting activities or try your hand at fishing with the square dipping-net in the local salt village.
Discover the beauty of Xuan Thuy National Park and engage in bird watching.
---
Things to Do for Wonderful Hanoi Countryside & Village Tours
Hanoi, the heart of Vietnam, is known as one of the most ancient capitals in the world. Being famous for the ancient beauty blending with modern development, it is the best choice for tourists looking for destinations that are rich in the unique culture and profound history. When you travel to Hanoi, if you want to have a more new and interesting experience, getting away from dust, noise and chaos of busy Hanoi's city center to visit several handicraft villages is a good idea. They will leave an unforgettable impression in the hearts of visitors. The following is the guide to explore the most attractive sights and best recommended activities for your Hanoi countryside village tour.
Bat Trang – Spirit of Pottery Art in Hanoi Countryside trip
Bat Trang Ceramic Village
You should start your Hanoi countryside village tour in Bat Trang ceramic village. Being a small village located on the bank of Red River and about 13 km from Hanoi to the East, Bat Trang is the most famous for ceramic and pottery products of high quality in Vietnam.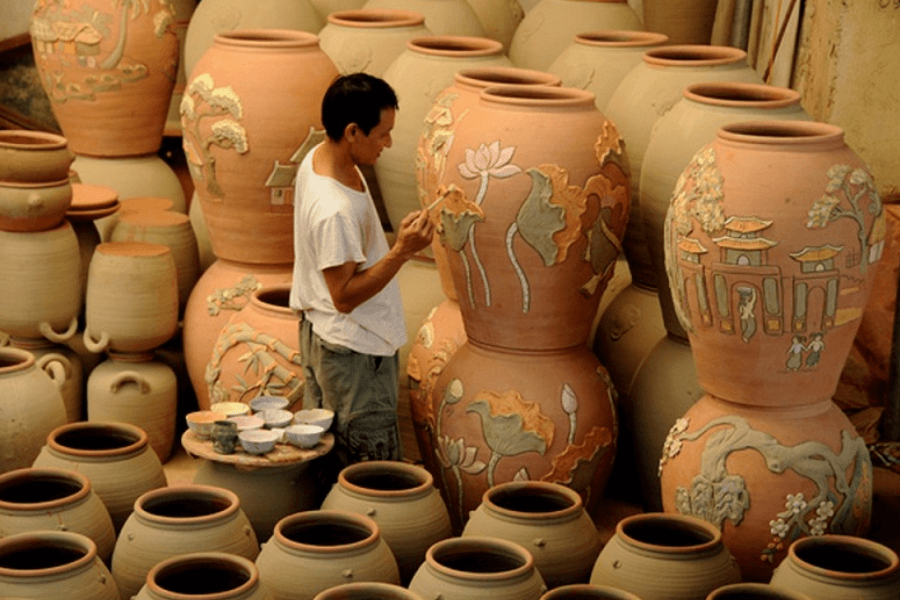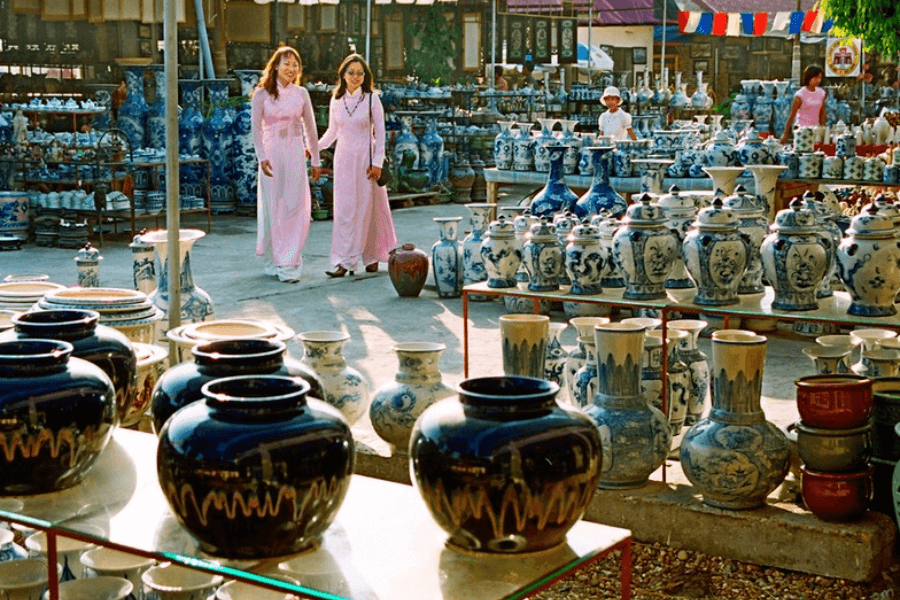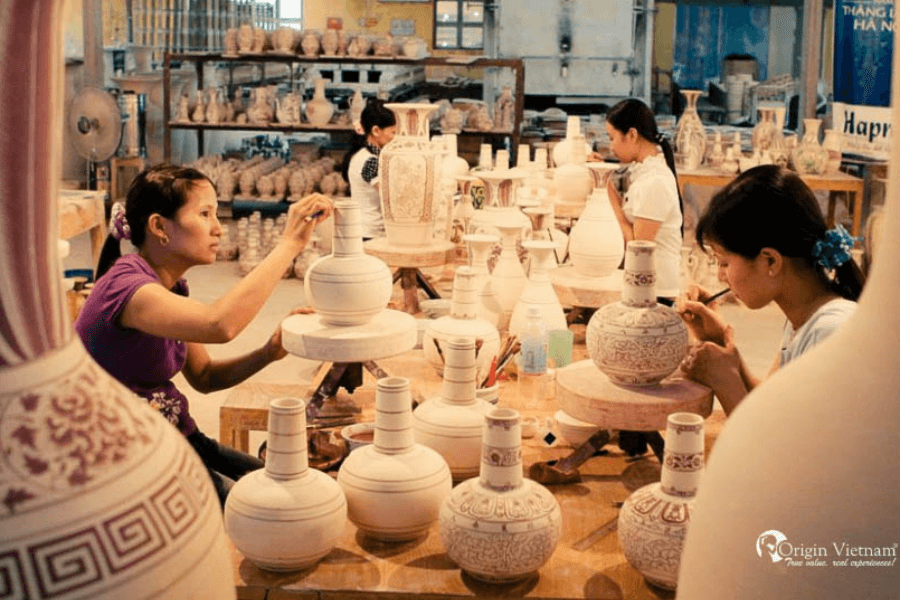 Bat Trang ceramics are produced for daily household use such as bowls, cup, dishes, pot, bottle, vases, etc; worshipping, building, or decoration purposes. They are favorite products not only in the domestic market but also in many foreign countries in the world because of high quality, various designs, and types. This amazing village is an ideal place for those who want to get bored with the crowds and chaos in the bustle city life.
Best things to do in Bat Trang pottery village
Visiting this village will give you a great chance to test your skills and creativeness by taking part in a class to make ceramic products as a gift for your friend or beloved one. When arriving, you should be excited about this ancient land with an amazing view of pottery and ceramic products scattering the alleyways all over the special village. Enjoying the peace of Vietnamese traditional villages, visitors can stroll around and go deeply into the village, stop at a small family factory to discover the process of making pottery. Visitors can witness talented craftsmen forming, painting and glazing their products in traditional ways.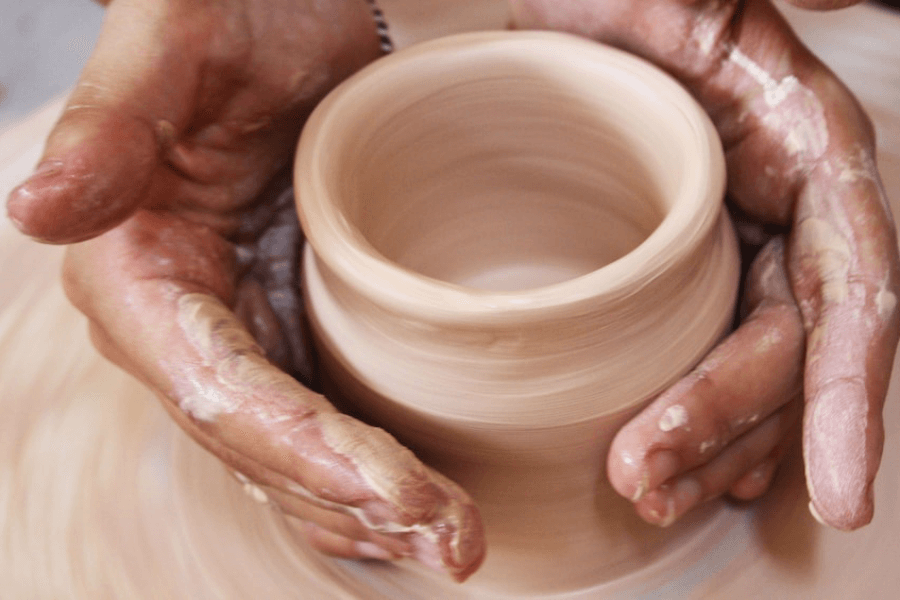 Making ceramic products by yourself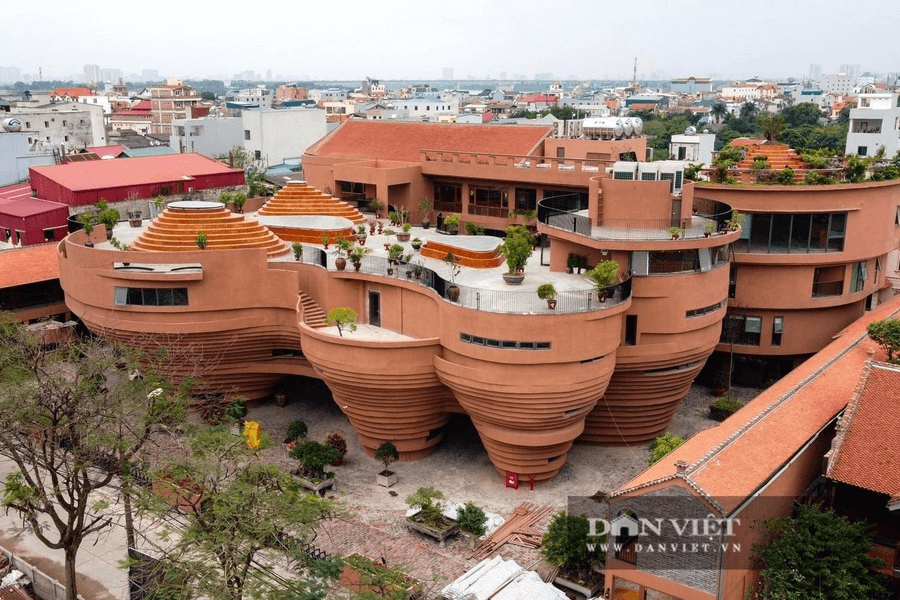 Bat Trang Ceramic Museum
After learning about the basic process of making a pottery product, you will have a chance to practice with large moist clay, turntable, mold, and tools to make for yourself a masterpiece. After that, visitors can join the drawing class to decorate their products like other Bat Trang products then take the achievement home. Visitors should not forget to go to the pottery market where you can buy or just have a look of colorful and high-quality ceramic items. Bat Trang pottery is a meaningful souvenir of great significance for relatives and friends. Tourist can also visit Bat Trang Ceramic Museum, a new place with unique architecture, was built to showcase the quintessence things of craftsman here.
How to get Bat Trang Ceramic Village
Bat Trang pottery village is in Gia Lam, a district in Hanoi. You can catch the bus 47 (Long Bien- Bat Trang) which runs every 20 minutes. If you ride a motorbike to Bat Trang, it takes about 20 minutes to get there.
Van Phuc Silk Village – Wonderful cradle of Vietnamese Silk
Introduction of Van Phuc Silk Village
Van Phuc silk village, which is situated on the banks of Nhue Thi River, Nguyen Trai Road, near Ha Dong city, 15 km southwest of Ha Noi, is famous over centuries for its traditional weaving techniques and high-quality silk products, making it the most ancient silk village in Vietnam.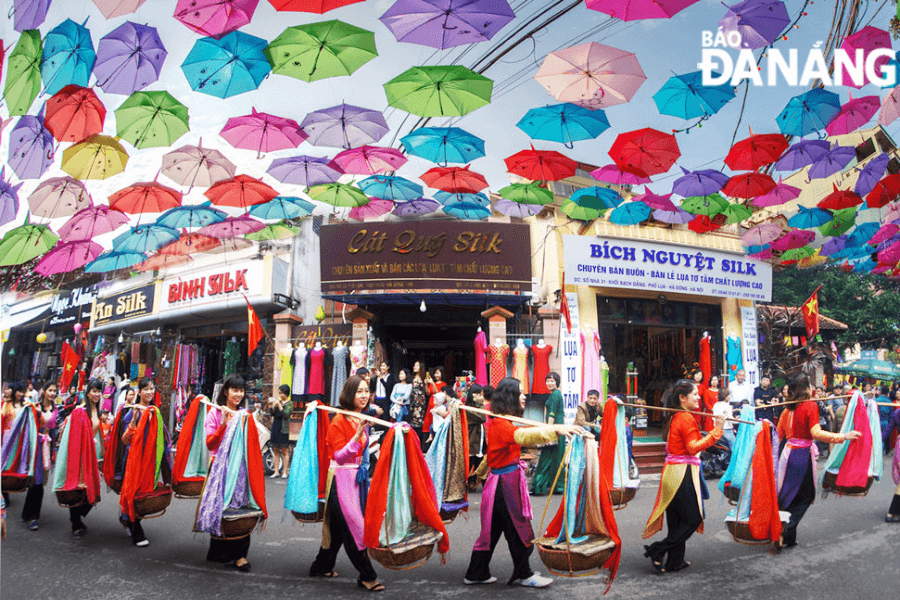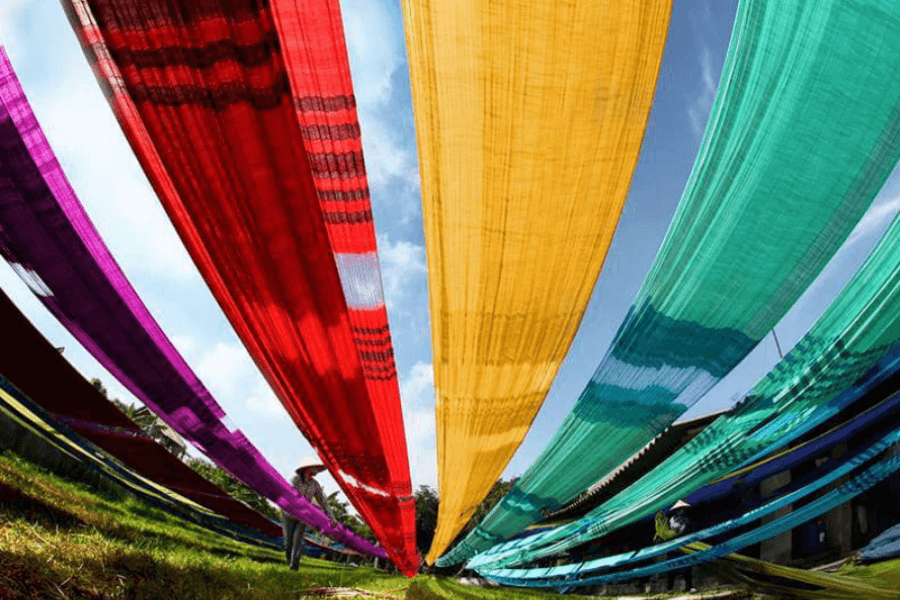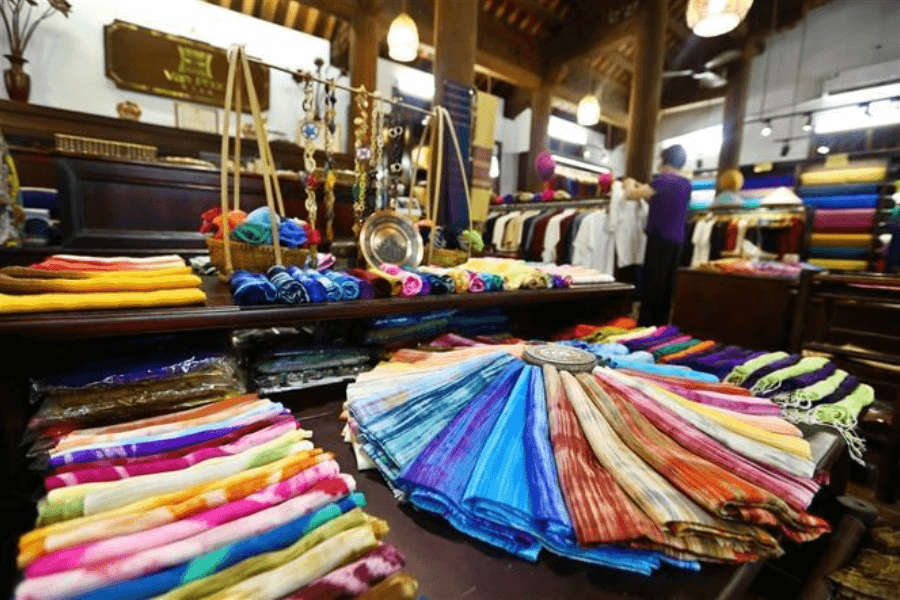 The special feature of Van Phuc silk is that when people wear it, they will feel soft and gentle, warm in the winter and cool in the summer. Ha Dong silk, as well as traditional crafts of Van Phuc, often referred to in many Vietnamese poems, songs, and movies.
Things to do in Van Phuc silk village
When visiting Van Phuc Silk Village, tourists are offered a good chance to explore how the traditional silk be woven from the natural silk, giving the smooth and lightweight. Visiting Van Phuc Silk Village, visitors will feel like stepping back in time when being impressed by some typical things of an ancient with banyan tree, well, communal house, and the sound of power-looms everywhere. Walk along with the silk shop town, it is easy to buy some great silk products & souvenirs for those at home. Travelers can also visit the Exhibition house of traditional silk products to see an old wooden loom from the 19th century.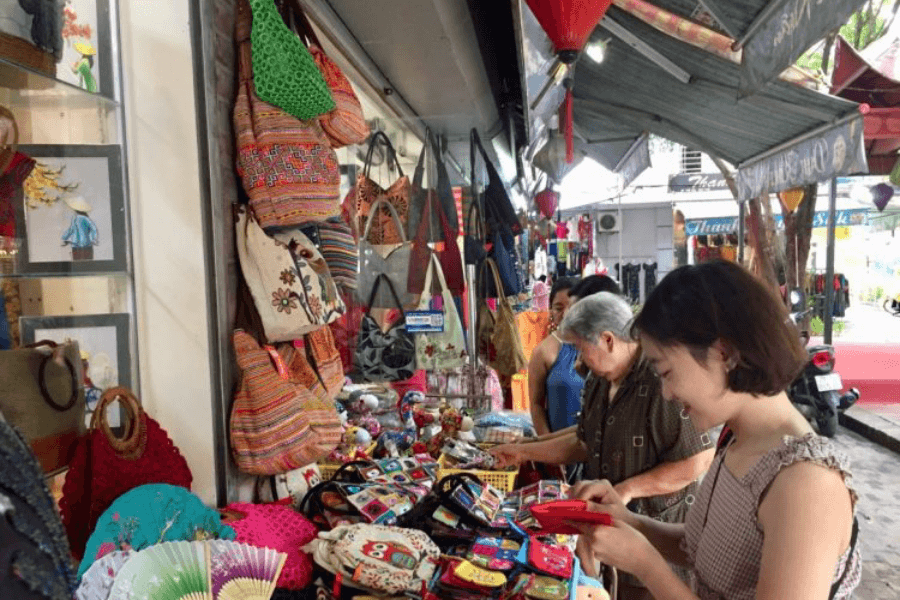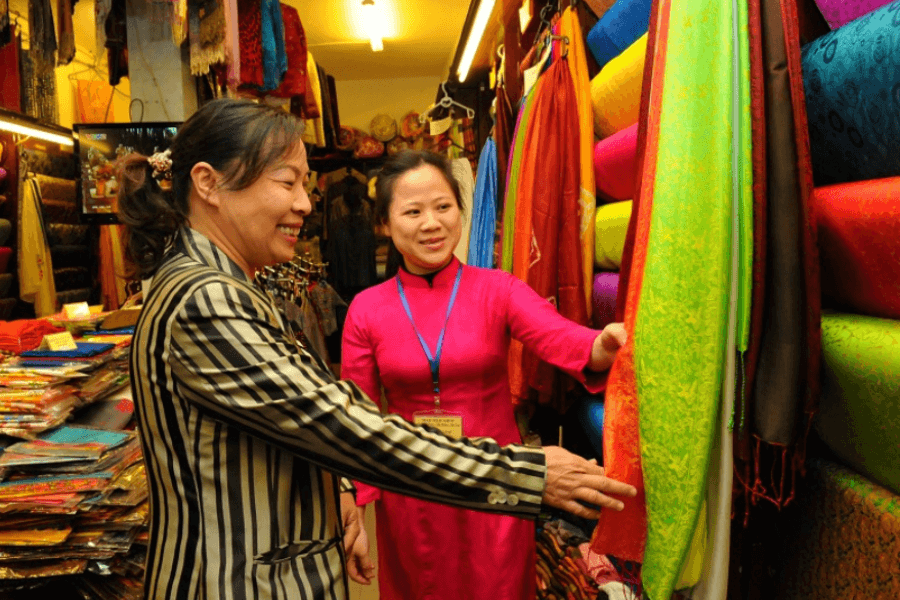 How to Get the Silk Village of Van Phuc
To visit Van Phuc Village, visitors should travel southwest out of Hanoi center on Nguyen Trai street. This ancient village is about 10 km far from Hanoi center. When reaching the border of Ha Dong district, you should turn right and drive about 3km to arrive in the village. Another choice is catching the local bus 02 or 21 then walk 500m to reach Van Phuc village.
Dong Ho Painting Village – Best Countryside village for Flawless Poonah Paper Paintings
Introduction of Dong Ho Painting Village
Located on the southern bank of the Red River, Dong Ho painting village is the cradle of wood carving and Poonah paper paintings for 300 years of history. Being famous for making unique artwork, Dong Ho Village, as well as its famous paintings, is considered as an aesthetic symbol of traditional value in Vietnamese culture.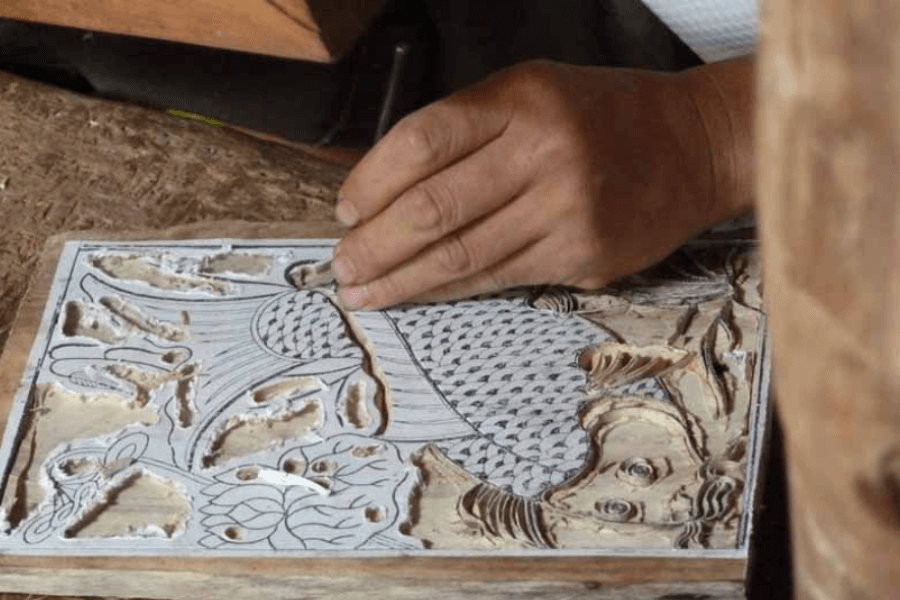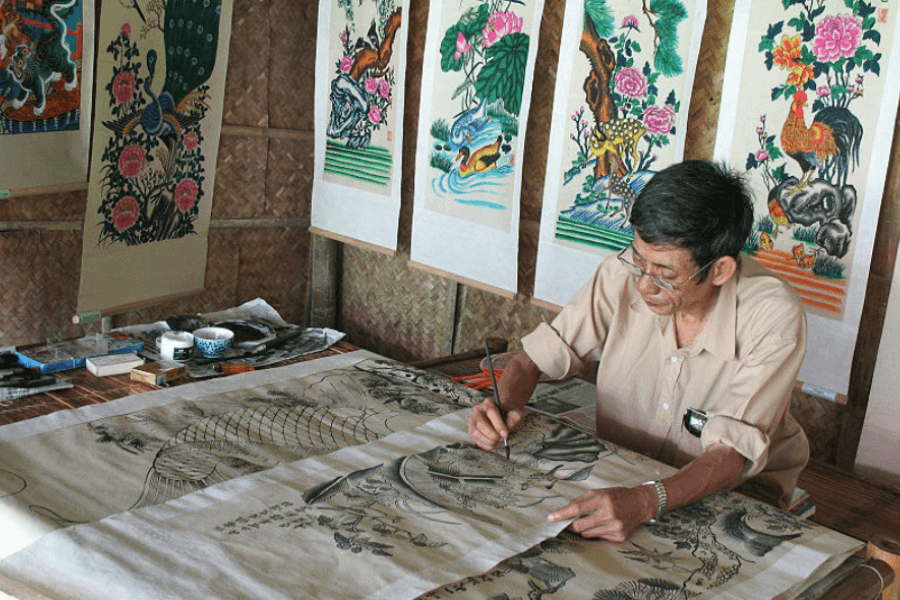 Dong Ho folk paintings are printed on Do or Poonah paper. These artworks are lively descriptions of the countryside's beauty, traditional customs, festivals; colorful scenes of daily life, mythical and historical aspects, symbols of prosperity, etc. They also reflect people's feelings, dreams as well as wishes for lucks. Dong Ho folk paintings are well-known both domestics and foreign markets.
Best things to do in Dong Ho Painting village
When visitors arrive in Dong Ho, you will have a good chance to enjoy beautiful paintings and learn the process of making Dong Ho pictures. Artisans living here have an impressive printing technique to create unique paintings. Visitors can take part in a drawing class to make a simple picture under the guidance of professional artisans.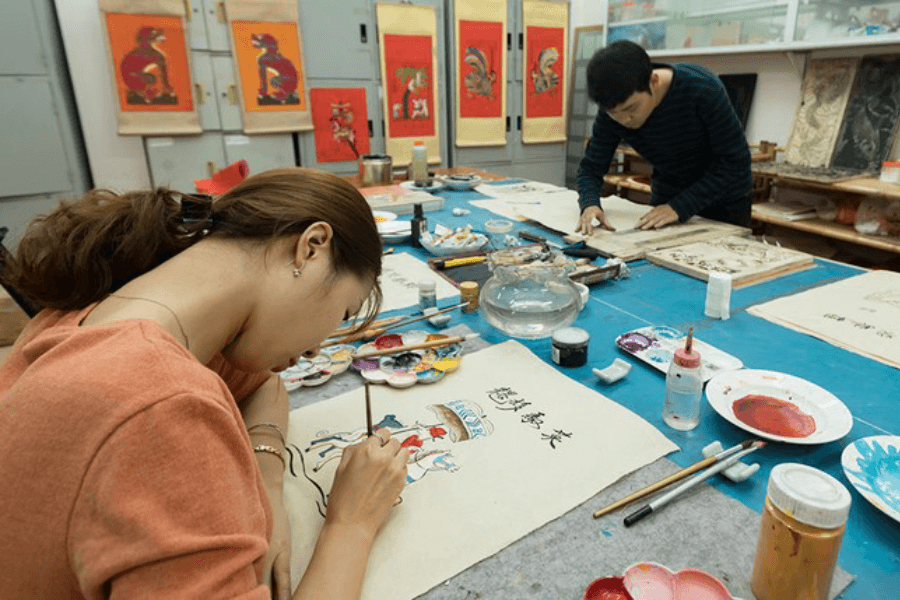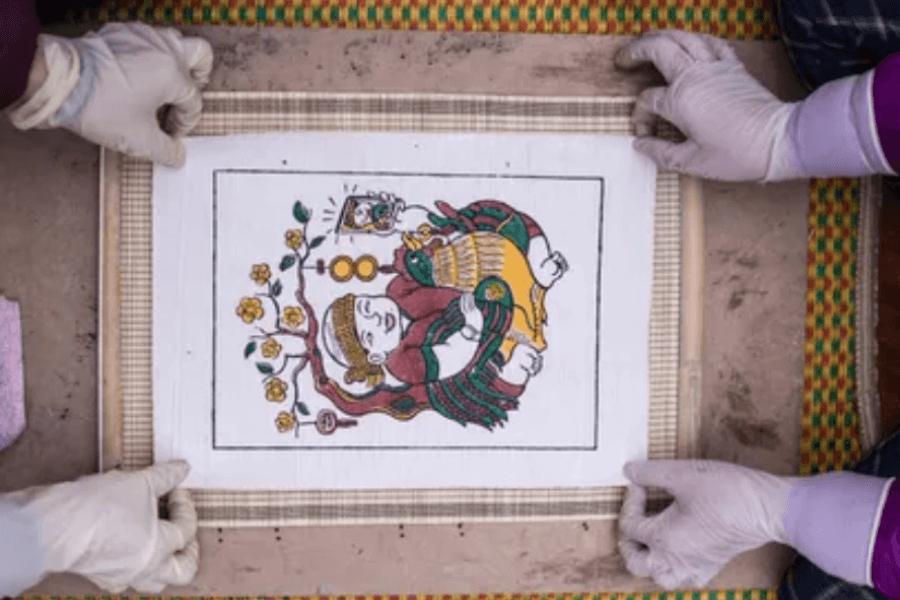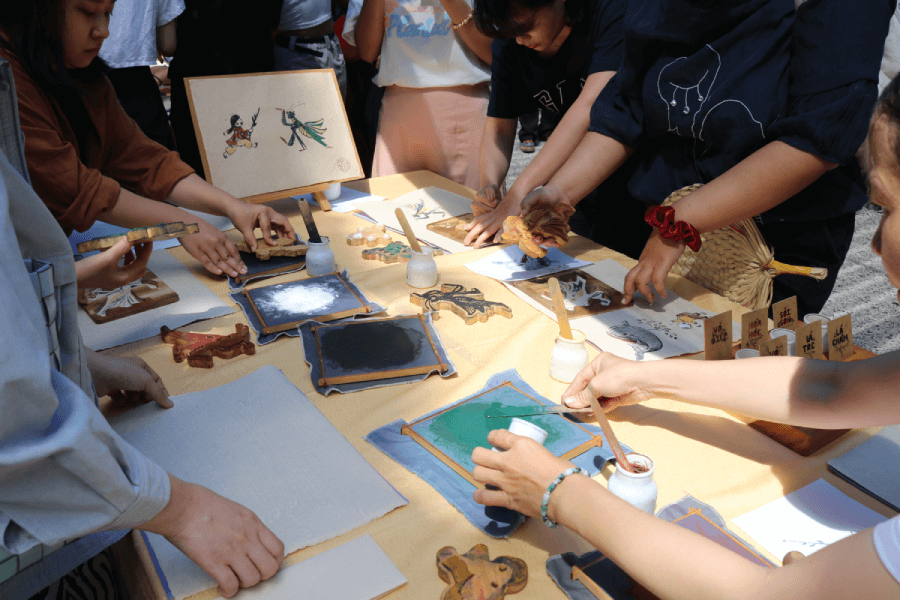 In the past, Dong Ho paintings only hang to decorate houses on traditional Tet holiday. Therefore, when you walk around Dong Ho painting village, travelers will feel like the scene and atmosphere of the traditional New Year.
How to get Dong Ho Painting Village
If visitors want to go to Dong Ho village from Hanoi, follow National Highway 5 toward Hai Phong (about 15km) to Phu Thuy station, then turn left, keep going about 18 km to Ho Street - the district of Thuan Thanh district. From here turn left and go about 2km to Ho village. The simpler way is to take the bus 204 (22,000 VND) to Thuan Thanh - Bac Ninh then catches a taxi or a motorbike to Dong Ho painting village.
Da Sy Forging Village – The time-honored Hanoi village
Da Sy Forging Village Information
As the most famous blacksmith craft villages in Vietnam, Da Sy village is located in Kien Hung Commune, Ha Dong Town. Throughout the ups and downs, this small but famous village still retains its popular crafts with a wide range of knives, rakes, scissors, sickles, hoes, spades, machinery parts, garden tools, or other different kitchen implements.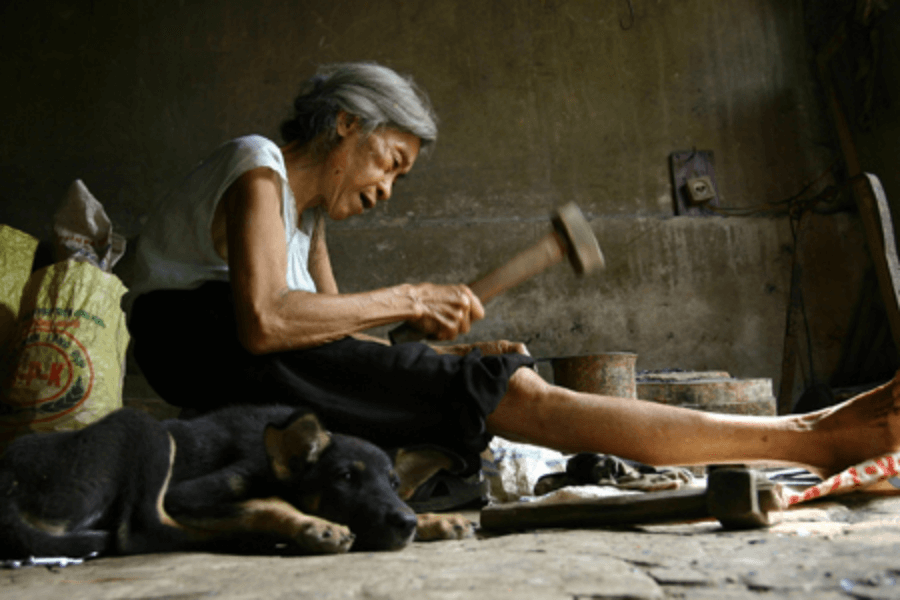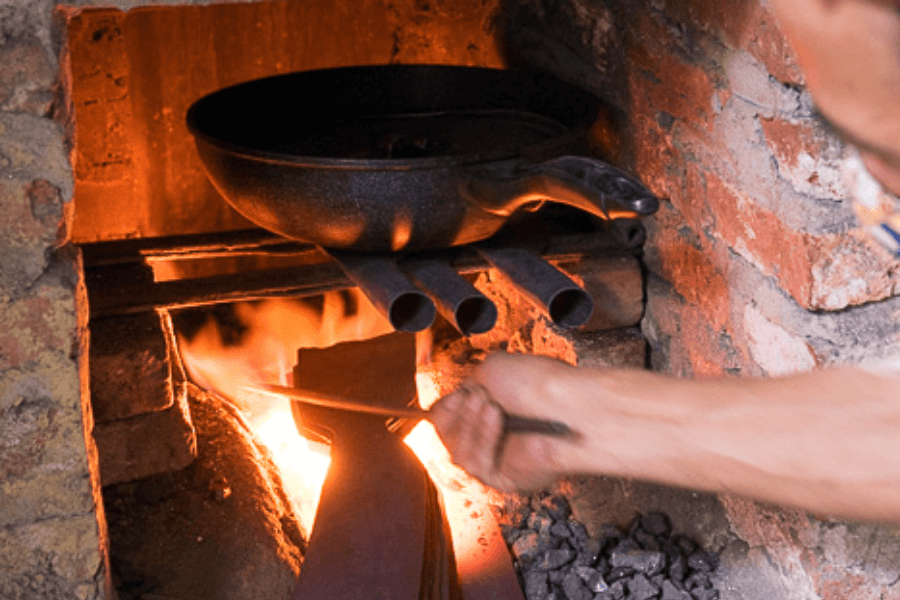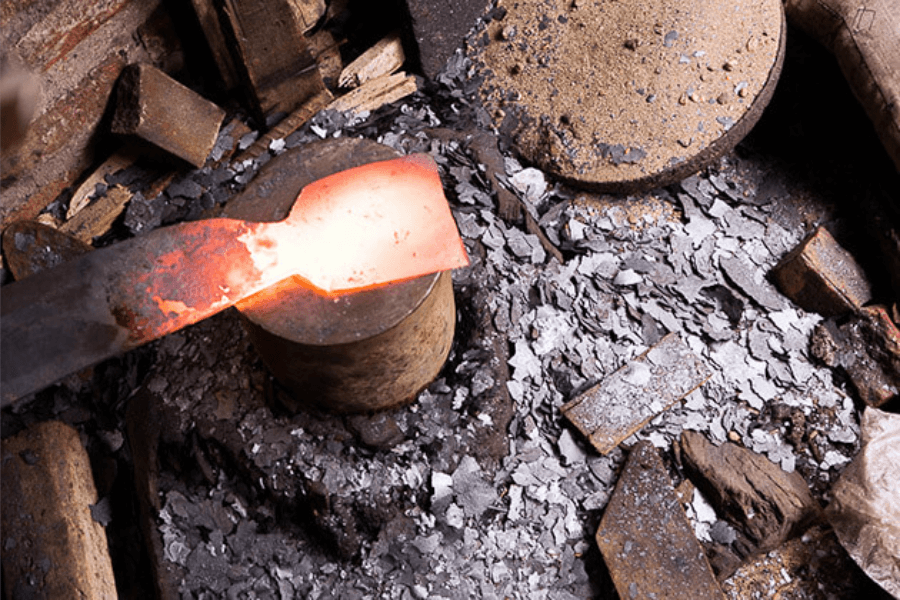 Having a long history of forging, Da Sy gains its reputation because of the skillful steel tempering and the great technique for making a knife-edge, which is handed down from generation to generation. In the past, the biggest markets of Da Sy village were Laos and Cambodia, but now, this ancient village also exports various products to other countries such as Germany, France, and the US.
Best things to do in Da Sy Forging village
Visitors come to this Vietnam's typical traditional craft village will be excited to take part in a class of making knives. Under the guidance and supervision of local blacksmith residents, visitors will learn to make a unique one-of-a-kind knife that can be brought back home. Travelers will be surprised to experience the sophisticated process of forging hand-made crafts using traditional methods. Moreover, head to the village, visitors can see the metal being beaten into knives, scissors, rakes, sickles, and other farms, kitchen or garden tools.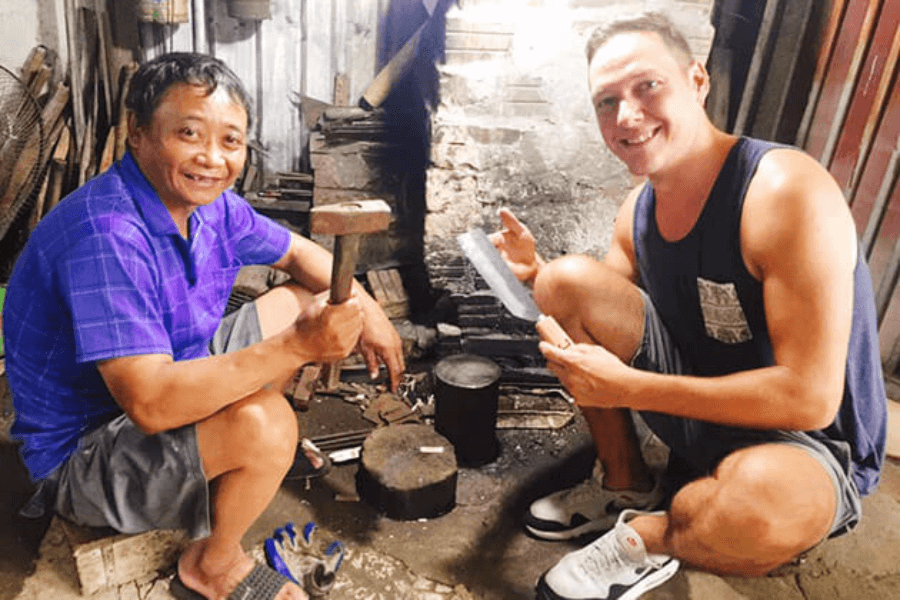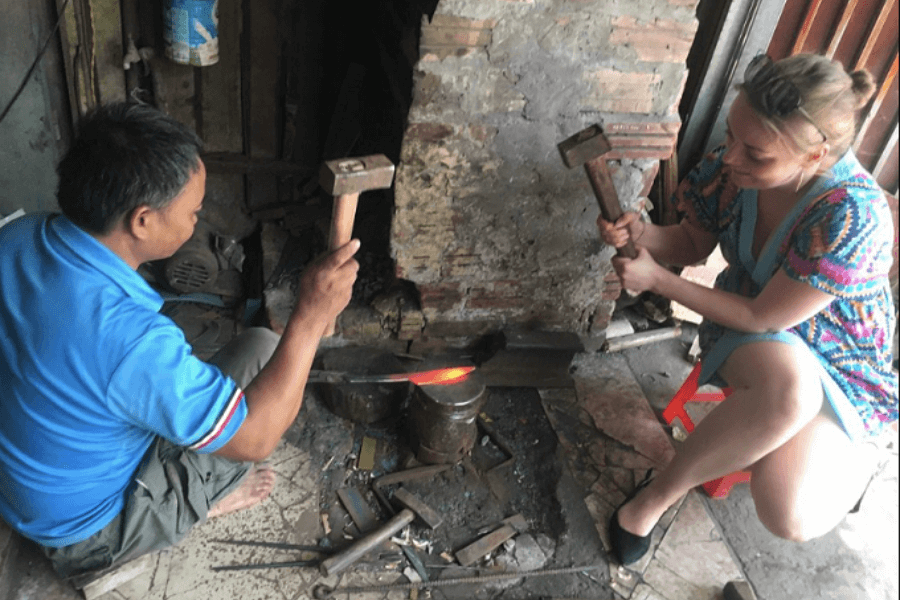 How to get Da Sy Forging Village
Da Sy Village, which is situated in Ha Dong, is quite close to the Hanoi center. Thus, it is easy to reach this forging village. Visitors can take a taxi (about $5), or catch a local bus to get there.