If you find yourself wandering the vibrant streets of Hanoi, Vietnam, one cultural gem you absolutely must not miss is the mesmerizing Water Puppet Show. This traditional art form, deeply rooted in Vietnamese history, provides a unique and unforgettable experience that combines puppetry, music, and storytelling to transport you into the heart of Vietnamese culture.
Schedule of "Water Puppet Show"
Showtime: Monday to Sunday every week at 17:15
Duration: 45 minutes
Location: 57b Dinh Tien Hoang, Hoan Kiem District, Hanoi
Special Price: Contact us
The Feature of "Water Puppet Show"
A Rich History
The history of water puppetry in Vietnam dates back to the 11th century in the Red River Delta region, where the art form was originally created by Vietnamese peasants. In a land known for its dense network of rivers and rice paddies, water puppetry naturally emerged as a way for rural communities to entertain themselves during the rainy season.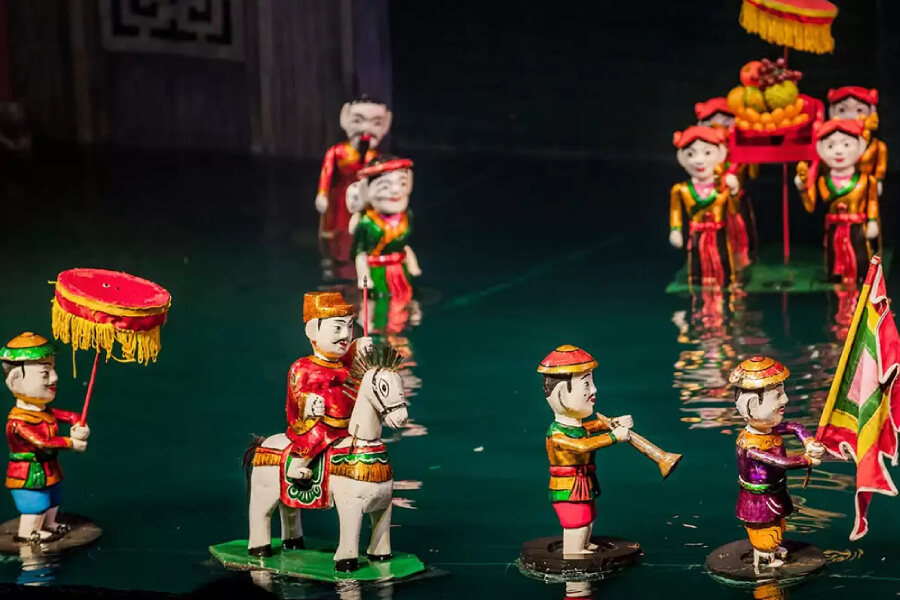 The puppets are typically made from wood and carefully crafted to depict a wide range of characters, from mythical creatures to everyday people. These puppets are operated in waist-deep water, hidden behind a bamboo curtain. Skilled puppeteers manipulate the puppets with long bamboo rods, creating a seemingly magical and fluid performance on the water's surface.
Setting The Stage
The stage for a water puppet show is unique and enchanting. Puppets made from wood are skillfully crafted to portray a variety of characters, from mythical beings to ordinary villagers. The puppeteers, hidden behind a bamboo curtain, manipulate these puppets using long bamboo rods, creating a magical performance on the surface of waist-deep water.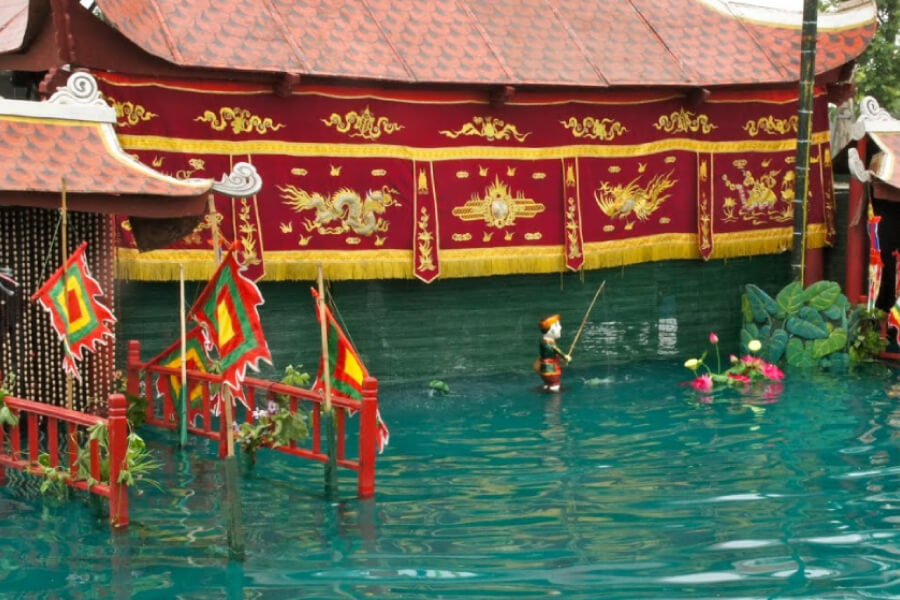 A Water Puppet Show
If you're wondering where to watch this captivating spectacle in Hanoi, look no further than the city's various water puppet theaters. Among them, the renowned Thang Long Water Puppet Theatre stands out, offering an unforgettable experience that showcases the heartwarming stories and traditions of Vietnamese culture.
Explore Hanoi's Water Puppet Show and let this unique art form transport you to a world of folklore, history, and enchantment. It's a cultural treasure you won't want to miss during your visit to Vietnam's vibrant capital.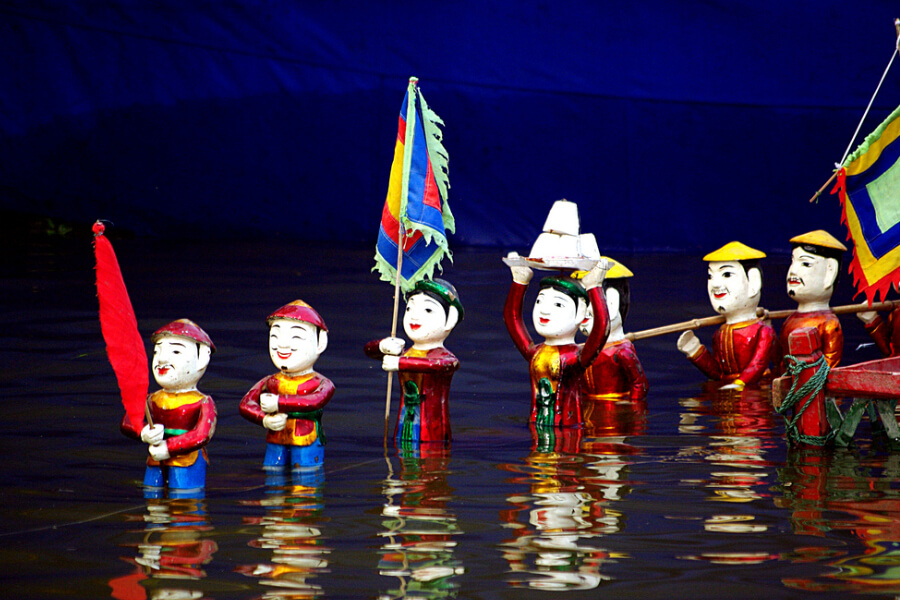 Where to Watch
In Hanoi, there are several venues where you can immerse yourself in the mesmerizing world of water puppetry. Among these venues, the Thang Long Water Puppet Theatre is a standout choice. This renowned theater has been enchanting audiences for years with its captivating performances that bring Vietnamese folklore and history to life. With its skilled puppeteers and live traditional Vietnamese orchestra, the Thang Long Water Puppet Theatre offers an authentic and immersive experience that will leave you spellbound.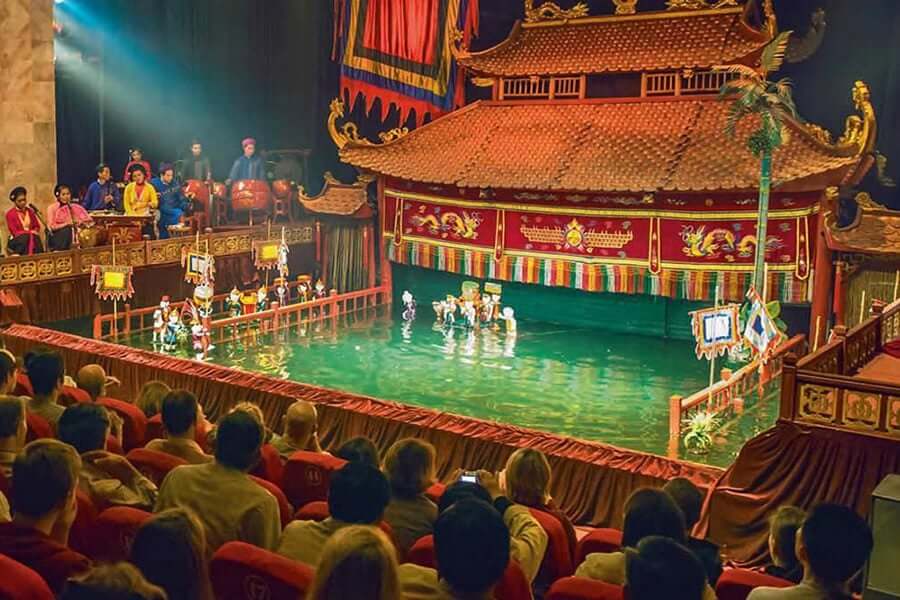 Structure of "Water Puppet Show"
A water puppet show is carefully orchestrated to provide an enchanting experience for its audience.
Opening
As the lights dim and soft music fills the space, a magical ambiance envelops the stage. The performance commences with graceful movements of water puppets, extending a joyful welcome and promising an exciting journey ahead.
Journey through the Story
The water puppet show delves into traditional tales and myths from Vietnamese culture. Audiences are transported along mysterious paths, encountering courageous heroes, mythical creatures, and everyday characters. Talented water puppets collaborate to recreate stunning landscapes and dramatic adventures.
Entertainment Moments
Entertainment is a vital component of the water puppet show. Laughter and boundless joy are elicited through comedy, diverse musical performances, and interactive games with the audience. This creates a lively and vibrant atmosphere.
Special Ending
The climax of the water puppet show arrives towards the end. Bright lights, resounding music, and a spectacular performance by the water puppets captivate the audience. This moment carries a profound message, marking the culmination of a wonderful journey.
Ending and Combinations
The water puppet show doesn't conclude with just one performance. It blends various elements to craft a unique experience. This may involve colorful lighting effects, enchanting smoke screens, and the use of 3D sound for an immersive feel. The show's conclusion leaves a lasting impression, evoking emotions and unforgettable memories of this exceptional Vietnamese art.
Experiencing a water puppet show is an extraordinary voyage through Vietnamese culture and tradition. This meticulously orchestrated composition evokes laughter, anticipation, astonishment, and uplifting moments. It seamlessly combines the art of water puppetry with music, lighting, and technique, delivering a remarkable and unforgettable experience.