Halong Bay Tours & Day Trips from Hanoi
Hanoi – Halong Bay Tours offers tourists the perfect chance to explore a variety of attractive spots in the ancient capital as well as the majestic landscapes of Halong Bay. Visit both the popular sites in Hanoi and the external beauty of Halong Bay bring tourists a glimpse of these destinations. Let us be your guide to discover the two splendid spots in your Hanoi Tours.
Halong Bay Tours & Day Trips from Hanoi
Tour Route: Hanoi Arrival – Sapa – Halong Bay – Hanoi
Tour Highlights
Discover the traditions of Cat Cat Village and interact with H'mong and Giay minority communities in Sapa.
Enjoy a breathtaking seaplane flight from Hanoi to Tuan Chau Island, offering panoramic views.
Cruise amid limestone islands, kayak, and explore Halong's natural beauty.
Experience the contrasts between bustling Hanoi and serene village life in Sapa.
Relax in comfortable accommodations and embrace the natural and cultural wonders of Vietnam.
---
Things to Do & Travel Guide in Halong Bay Tours & Day Trips
Halong Bay is known as the most attractive sceneries in Vietnam and includes a variety of amazing limestone islands which are recognized UNESCO World Heritage Site. These series of islands are also home to renowned caves where you can go spelunking and even get stuck in the crowded Halong Bay in the high season. Our Hanoi Local Tour team brings tourists a chance to gain insights into Halong Bay tours & day trips by food and splendid view.
Best Things to Do in Halong Bay Tours from Hanoi
Sun World Halong Park
Sun World Halong Park recently becomes one of the most popular relaxations in any Halong Bay Tours & day trips, the park is definitely a marvelous medicine to recharge energy after work! Sun World Halong Park is a 214-hectare complex of international amusement park situated in the gorgeous Halong Bay. Come to Halong Park, enjoy the new kind of entertainment and feel the different angles of the heritage of Halong.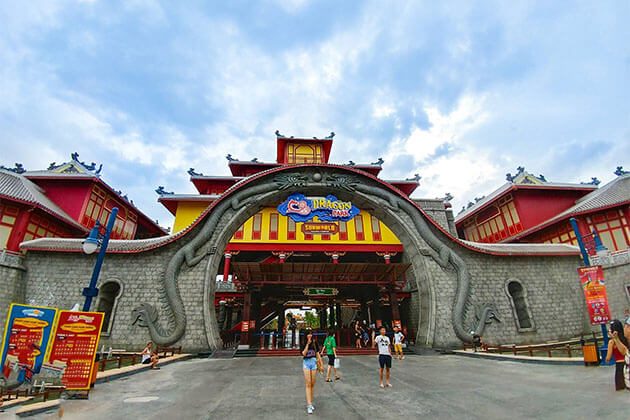 Go Spelunking at Sung Sot Cave
Against the breathtaking backdrop of dramatic cliffs and azure water, Sung Sot cave is situated at Bon Hon island and it requires hiking up a steep path to get the cave, even though it's worth the effort for the inner views.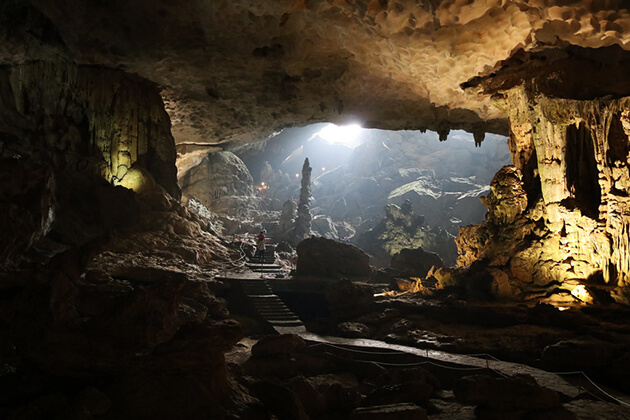 There have two chambers inside the cave to a height of 30 meters. The inner chamber is already known for having a number of stone formations that are believed to look like the sentries. The stone in the center looks like a general talking to its troops. Come and discover Sung Sot Cave your ways!
Visit Cat Ba Island
Needless to say, it's no longer in doubt that Cat Ba Island is the most favorite destination in Halong Bay and it's also the biggest island in this part. Cat Ba Island itself sits around an antique fisherman's port and has a pleasant atmosphere that makes Cat Ba the alluring place to chill out for the whole afternoon.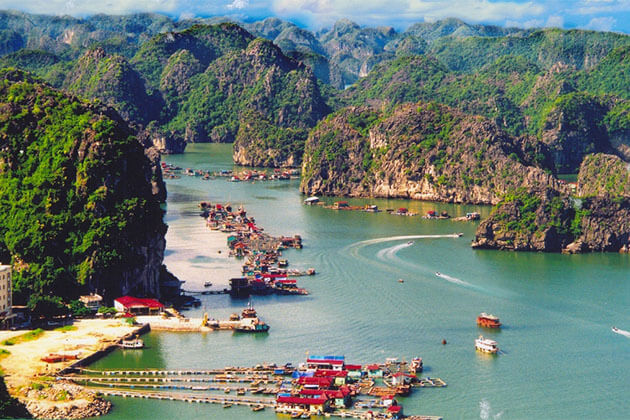 Biking to the idyllic countryside, just outside the main town is absolutely a good mention for your Halong day trips.
Discover Me Cung Cave
Me Cung or also known as Bewitching Grotto in English, the cave is one of the most scenic caves in Halong Bay when there are a series of other pretty attractions here. The entrance of Me Cung cave goes through a narrow entrance which you need to squeeze into. Inside the cave, there appear many fossils, thus if you a fan of spelunking, this is right a great spot to delve into for an afternoon into your Halong Bay tours & day trips.
Hike Around Cat Ba National Park
Definitely, Cat Ba National Park is the favorite place for tourists whenever visit Halong Bay. Actually, Cat Ba is an appealing national park with 32 different kinds of mammals. Some of them consisting of langurs, the most dangerous primates in the world. Obviously, there have some amazing hiking trails including an 18 km climb to the summit of the major peak in this park.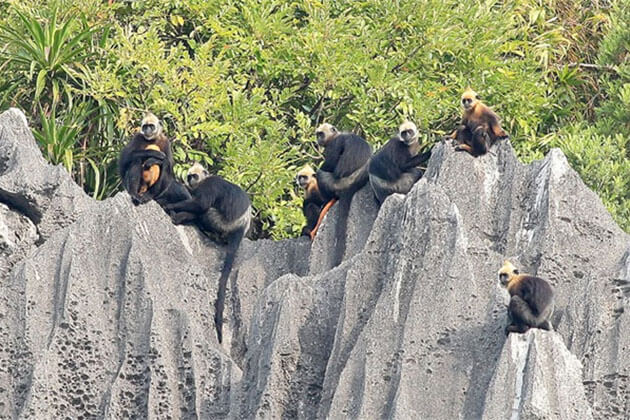 There stands the myriad of travel guides available in the national park for those who do not have enough time to explore the whole species in Halong Bay tours.
Explore Fighting Cocks Island
Fighting Cocks Island or Hon Ga Choi in Vietnamese is one of the best attractive spots in Halong Bay. This island is made up of two large rocks that out of the sea and resembles two cockerels fighting. To watch its full beauty of natural creator, sunset is always the best recommendation as it's time the sky looks so stunning and charming when the sun sets behind the two pretty stone formations.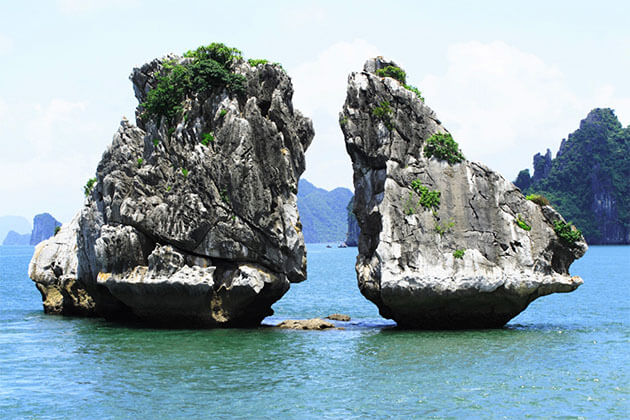 Dine on Savory Seafood
Halong Bay is surrounded by sea, thus it's easy to explain for the wonder that there is a diversity of seafood on offering here. Consequently, the seafood restaurants grow as the mushroom along the central beaches, and you can chill out with scrumptious in the sand and catch the full view of the sea at night. Particularly, you can have the self-barbecue fire pits, cook your own dinner.
Essential Guides in Halong Bay Tours & Day Trips
How To Get Halong Bay?
The travel guide for tourists of Halong Bay day trips from Hanoi, you can catch any car named Kumho, Phuc Xuyen, Duc Phuc … Or any car to Mong Cai, Cua Ong, and Cam Pha at My Dinh Stadion with ticket prices from the range of 80,000 to 120,000 VND depending on which type of car. After that, you can get off at AO Ca, Bai Chay or Halong Bay. For the most convenient, if you do not prefer booking or finding a car, let us do this for you by the perfect Halong Bay Tours & Day Trips from Hanoi.
Best Time for Halong Bay Tours & Day Trips
Actually, the best time to visit Halong Bay depends on your taste of a perfect trip. If you're concerned about the weather, the periods from September – November and from March-May are the alluring idea for the trip to Halong Bay. If you are a budget traveler, the time between May and September is highly recommended.