Hanoi Vietnam Tour Packages
The selection of hand-on experience Hanoi tours is ideal for those who looking to get the most out of a simple holiday in the capital of Vietnam – Hanoi. It is home to ornate Buddhist temples, antique citadels, lots of authentic markets, and French colonial architecture. Better still, a visit to the traditional villages and peaceful parks set just outside the city is cannot miss in your travel time in Hanoi because they're for almost everyone in Hanoi.
We and our happy customers highly recommend a series of tours in Hanoi, which are interesting to explore the city and its numerous surrounding sightseeing around your way. Clear and wonderful tour itineraries in Hanoi of any duration are flexibly designed to meet your interests and expectations.
Read on for our list of Hanoi Vietnam tours to find one that best suits your interest.
Hanoi Vietnam Tour Packages
A 10-day Vietnam local tour with the inspirational itinerary below to catch up this stunning Vietnam in every corner of it. Depart at Hanoi, the heart of Vietnam with a series of tourist attractions which will fill your two-day in here. Try this famous original Pho, experience the first time with Nem (special dish in Hanoi), and many other street foods around Hanoi Old Quarter. Take a visit to Halong Bay, the wonderful place on earth, enjoy the comfortable on the cruise. Leave the north behind, transfer to Pleiku, stunning Quy Nhon before getting Ho Chi Minh city and some attractions in South Vietnam.
---
Top Things to Do & See for Your Hanoi Vietnam Tour Packages
From the rice fields in the north to the floating markets in the south, Vietnam is a fascinating country to explore. This Southeast Asian nation has it all — bustling cities, stunning landscapes, quaint towns, picturesque beaches, and much more. In this guide, we'll check out some of the best things to do in Vietnam. Whether you're interested in adventure, history, nature, or culture, there's something for you in Vietnam. As a tourist destination, Vietnam checks all boxes. Better still, you can revel in the incredible cuisine and coffee along the way!
1. Explore the Old Quarter in Hanoi
Our look at the top things to do in Vietnam begins in the capital city of Hanoi. The center of all the action here is the area known as the Old Quarter. Historically, every street in Hanoi here is specialized in one particular trade. While this is still true to an extent, the Old Quarter is also home to countless travel agents, restaurants, bars, and hotels.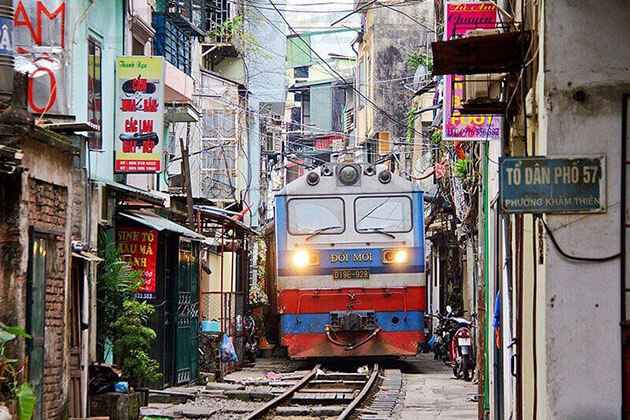 Your first order of business when exploring the Old Quarter is figuring out how to cross the street. There appears to be no rhyme or reason to the flow of traffic here, as a seemingly never-ending stream of motorbikes flies by without a stop sign in sight. If you can manage to survive that game of human Frogger, make your way to the scenic Hoan Kiem Lake. As the legend goes, the emperor Le Loi was out for a boat ride on the lake when he encountered a golden turtle. The golden sword the emperor carried with him belonged to the turtle. He returned it and the legend lives on in the name of the lake, which means "Lake of the Returned Sword."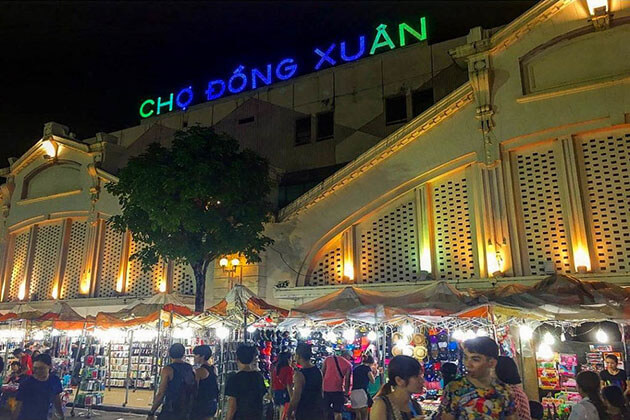 Walking around the lake is a great way to experience the local culture. People often gather here to do group exercise, entertaining, kids rip it up on their skateboards, and even happy couples snap their wedding photoshoot. Other than hanging out by the lake, other things to do in Hanoi include perusing the Dong Xuan night market and catching a water puppet show. This is a traditional art form in northern Vietnam and an interesting way to spend an evening. You might not understand a word of what's said in the show, but for just a few bucks it's well worth checking out.
2. Cruise Around Ha Long Bay
When deciding what to do in Vietnam, one thing that should take priority is visiting Ha Long Bay. The name means "Descending Dragon" and there is an interesting story behind it, of course. According to legend, the Jade Emperor sent dragons to protect Vietnam against invaders. The dragons spit giant emeralds into the sea, creating an impassable barrier against invading ships. Over the years, these emeralds became islands of different shapes and sizes. There are over 1,500 limestone formations in the bay, and cruising around them on a traditional junk boat is one of the top things to do in Vietnam. Tours typically include a bit of snorkeling and kayaking as well as lunch on board. Along the way, you get to enjoy the jaw-dropping scenery of this UNESCO World Heritage Site.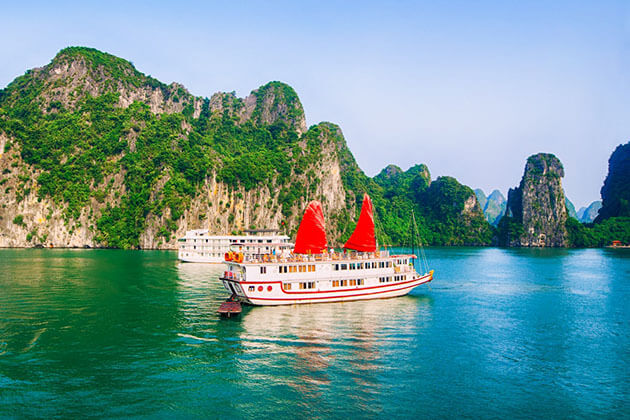 Many people visit Ha Long Bay on a day trip from Hanoi. As such, there are plenty of options for joining a tour of the capital. Just be aware that it's a very long day with most of the time spent on a bus. If you're flexible, I recommend spending a few nights on Cat Ba Island instead. Cat Ba Island is easy to reach via bus & boat and it makes a great base for exploring Ha Long Bay. After your cruise around the bay, you can rent a motorbike to head to the national park for some hiking and then chill out on a beach. There's plenty of delicious seafood here as well. Speaking of delicious food, that brings us to the next item on our list of things to do in Vietnam…
3. Temples and Rafting in Ninh Binh
If you're looking for a place to stop in between Hanoi and Hoi An, a great choice is Ninh Binh. While the city itself may not seem like much, the surrounding area is full of majestic karst mountain peaks and cultural sights. The first thing you'll want to do in Ninh Binh is to rent a motorbike to explore the surrounding area. With a full day here, you can start by visiting Hoa Lu – an ancient capital of Vietnam. Here you'll find some temples and tombs surrounded by incredible scenery. From there, you can head to either Tam Coc or Trang An to take a bamboo raft down the river. Don't worry, you don't need to paddle at all. Your captain steers the raft entirely with their own feet!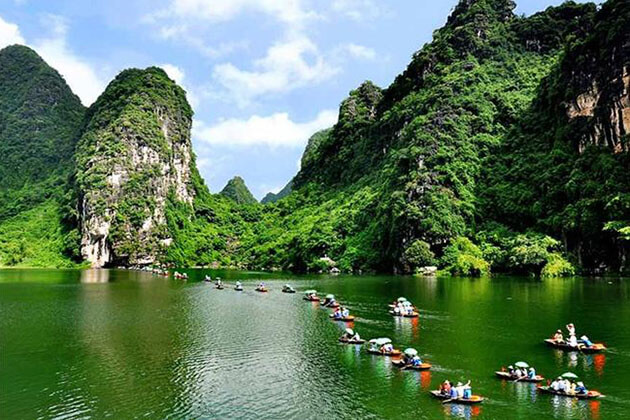 Both places offer some stunning views of the karst mountains, but most travelers recommend Trang An if you're only going to choose one. You visit a few more caves there and it's a bit less crowded. I will say that we were not aware of Trang An on our trip and still had a good time at Tam Coc.
4. Go Trekking in North Vietnam
While the south of Vietnam has the Mekong Delta and the beaches, the north is where you'll find some epic mountains. If you're an avid outdoors person, you'll be happy to hear that trekking is one of the best things to do in Vietnam. Two areas in northern Vietnam are very popular for trekking. The town of Sapa is where you'll base yourself if you want to tackle Fansipan – Vietnam's highest peak. If you're into a more mellow adventure, there are tons of easier trekking opportunities.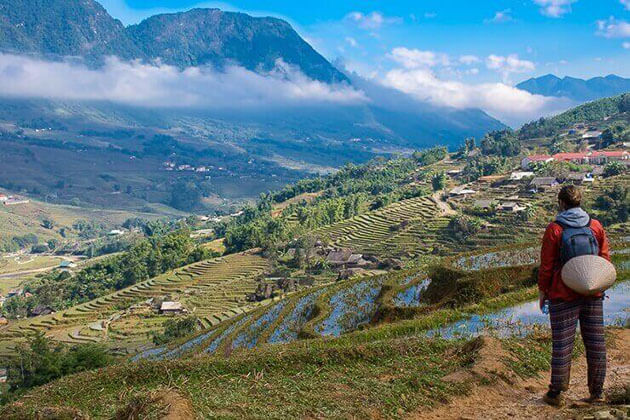 Hill-tribe villages surround Sapa. Women from these villages come to town to sell their handicrafts and then lead tourists on treks to stay in their village. Along the way, you'll walk past some stunning rice terraces before arriving at your homestay for the night. You can do simple overnight trips up to week-long treks from Sapa. Another excellent spot for trekking is in Ha Giang. This area isn't quite as popular as Sapa but it's just as beautiful. Some travelers find Sapa to be a bit too touristy and thus prefer visiting Ha Giang. We didn't make it there on our trip but it's definitely on my radar for next time!
5. Explore Hoi An Ancient Town
One of the most popular places to visit in Vietnam is the ancient town of Hoi An. The town was once a major trading port during the Champa Kingdom between the 15th and 19th century. It's very well-preserved and shows a variety of influences, from its famous Japanese Covered Bridge to its many Chinese temples. To take in the many sights of Hoi An, you'll need to purchase one of the sightseeing tickets. When having a ticket, you can visit five different attractions in the town. You can choose between museums, pagodas, traditional homes, and more. It costs about $5 and goes toward the preservation of this ancient town. It's a small price to pay for help with the upkeep of these buildings.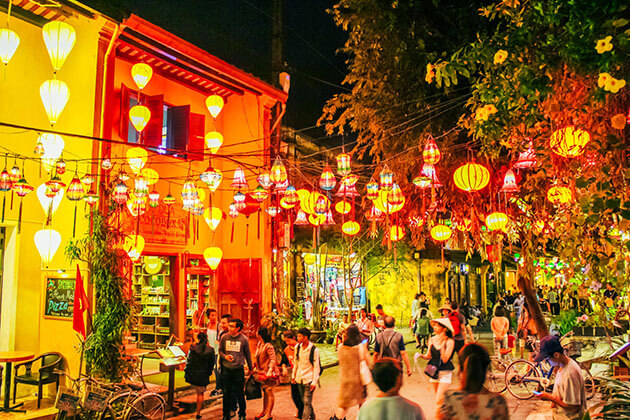 The tickets are technically only valid for 24 hours, but this isn't enforced. If you visit a few places on your first day in town then hit a few more the next day, you'll be just fine. If you want to visit more than five places, you will need to purchase another ticket. While you're in town, I highly recommend joining the Hoi An free tour. You'll need to spend a few bucks to rent a bicycle and take the ferry, but that's it. These tours are run by local university students who are studying either English or tourism and are non-profit. On the tour, you catch the ferry over to a village and spend the day cycling around seeing how locals make a living. Along the way, you'll see people building boats, making straw mats, or producing rice paper. It's a fun way to meet people and see what life is like in rural Vietnam. In our month-long trip, I'd say this was one of my favorite things to do in Vietnam.
6. Hit the Seductive Beach in Vietnam
In a country that can be quite hot and humid, sometimes you just want to hit the beach and relax! Thankfully you've got a wide range of choices for beach-bumming when visiting Vietnam. You don't have to travel far from Hoi An to find a beach to chill out on. There are a few beaches within a short drive of town, including the beautiful Da Nang beach. This is a popular spot for sun-seekers and there are plenty of water sports on offer as well. Further south, Nha Trang is one of the top beach destinations in Vietnam. This coastal city boasts some lovely white-sand beaches, excellent scuba diving opportunities, and some wild nightlife.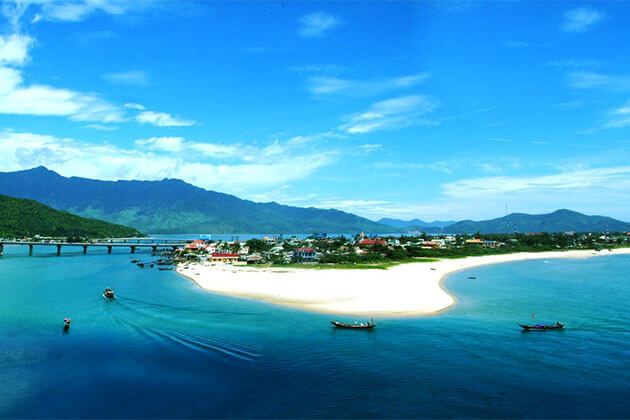 If it's an island escape you seek, head to Phu Quoc. Once a simple fishing village, this island is now a booming travel destination. It's closer to the coast of Cambodia but is only accessible from Vietnam. Here you'll find Star Beach, which just might be the most beautiful beach in the country. There are so many excellent beaches across the country that you can include getting some sun & sand on your list of things to do in Vietnam.
7. Floating Markets in the Mekong Delta
Located in the southwestern part of the country, the area known as the Mekong Delta is the rice basket of Vietnam. Much of the fish and rice in Vietnam comes from this area, and there's also an abundance of fruits and vegetables that grow here. It's here that the mighty Mekong River empties into the sea after passing through Cambodia, Laos, Thailand, Myanmar, and China. Life here revolves around the river, and there are several villages you can only reach by boat. With so much agricultural activity plus all the fishing, people in the Mekong Delta need a place to buy and sell all these goods. Since many people get around by boat and don't live anywhere near a road, the area is home to several floating markets.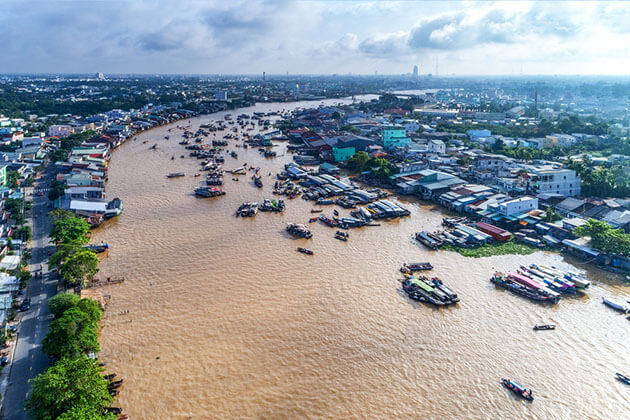 Visiting one of these Mekong Delta floating markets is one of the most interesting things to do in Vietnam. While it's possible to do on a (long) day-trip from Ho Chi Minh City, I recommend basing yourself in the area for at least a few days to have a more enjoyable experience. The closest city to Saigon is My Tho, which is by far the most visited place in the Mekong Delta. If you spend at least a night there, you can get an early start on your floating market excursion and finish up before the tour buses arrive en masse. On our trip, we headed to Can Tho, which is the biggest city in the region. I can personally recommend staying in Hung's Homestay. It's a family-run guesthouse where you enjoy a communal dinner in the evening. Mr. Hung himself runs boat tours to the nearby Cai Rang floating market. On our visit, we were the only two people on his boat and we had an amazing day exploring the area.
8. Sightseeing in Ho Chi Minh City
Hanoi may be the capital, but Ho Chi Minh City is the biggest metropolis in Vietnam. The city formerly known as Saigon is a bustling place with lots to see and do. That is if you can manage to dodge the sea of motorbikes and ever cross the street… Some of the top sights in HCMC include the Reunification Palace and the War Remnants Museum. The former was the residence of South Vietnam's president during the war. It's also the place where the war officially ended when a North Vietnamese tank crashed through the gates in 1975. It's a very interesting place to visit, as much of it looks like it's stuck in time.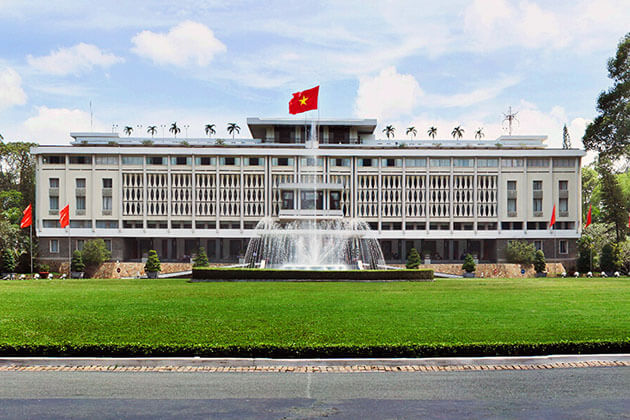 When you visit the War Remnants Museum, you'll see a handful of air crafts from both sides of the war. Enter the museum, the different rooms show the tragedies of the war in gruesome detail. It's a stark reminder of the horrors of war and an important part of history to acknowledge. There's plenty more to see in Saigon, including the Notre Dame cathedral, the old post office, and the modern, lotus flower-shaped skyscraper called Bitexco Financial Tower. Sightseeing in Ho Chi Minh City for a few days is certainly one of the top things to do in Vietnam.
9. Go Underground in the Cu Chi Tunnels
When figuring out what to do in Vietnam during your trip, you should plan to spend a day visiting the Cu Chi tunnels outside of Ho Chi Minh City. This network of tunnels was instrumental during the war, as it served as living quarters, supply routes, and storage facilities for the Viet Cong. It's very easy to jump on a day tour from HCMC to the Cu Chi tunnels, or you can just get yourself there if you've got some wheels. Tours begin with a short video detailing the history of the tunnels and how they were made.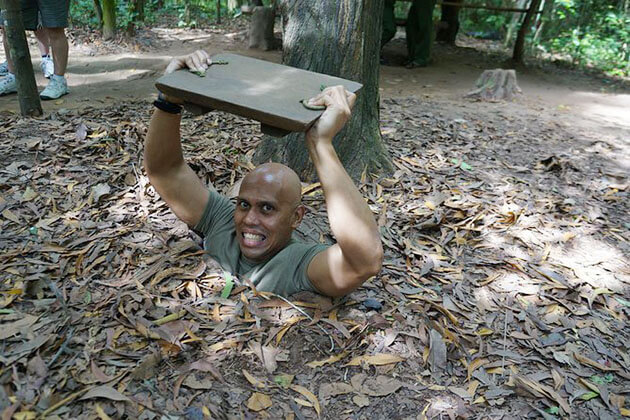 Next up, you walk by some displays that show how people lived in the tunnels during the war. Life was not easy underground, as people mostly sustained by eating tapioca and sometimes couldn't come up for days. You'll also see some examples of booby-traps that the Viet Cong set for American and South Vietnamese troops. Some of these are pretty horrifying when you think about actually falling into one. Eventually, you get to head into the renowned tunnels by yourself. If you're claustrophobic, I recommend giving this one a pass!
10. Visit the Ruins of My Son
One of the most interesting historical attractions to visit in Vietnam is My Son. These Hindu temples were built during the Champa Kingdom between the 4th and 13th centuries. It's a UNESCO World Heritage Site and a fascinating place to visit. The temples at My Son were dedicated to Shiva, known as "The Destroyer" in the Hindu trinity of gods. There are over 70 temples in total, with some in better shape than others. The local people here always make an effort to preserve this essential religious sight. My Son is about an hour away from Hoi An, so you can easily visit on a half-day tour. If you have your transportation, you might consider visiting later in the day when most of the tour groups have moved on. We came in the later afternoon during our Easy Riders tour and had the whole place to ourselves! However, you get there, a trip to My Son should be on your list of things to do in Vietnam. It's a great place to visit as a warm-up for some of the more impressive temples in Southeast Asia, such as Angkor in Cambodia or Bagan in Myanmar.
11. Dig Into Vietnamese Cuisine
It's time for you to immerse in the food paradise with lots of scrumptious dishes. I don't know about you, but I think I'm going with Vietnamese. First of all, it's one of the healthiest cuisines on the planet. With fresh ingredients (including lots of veggies) and minimal oil and dairy, you can feel good about stuffing your face with Vietnamese food! The cuisine of Vietnam is influenced by the principle of five elements. Dishes in Vietnam have a nice mix of five flavors – spicy, bitter, sour, salty, and sweet. They also appeal to all five senses and include five types of nutrients. A lot is going on in the kitchen in Vietnam!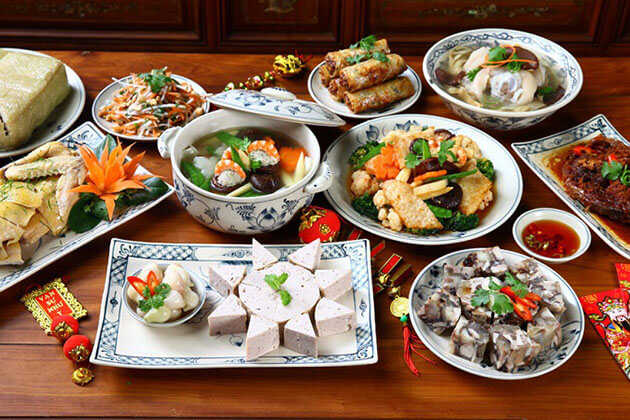 If you're ever unsure of what to do in Vietnam, find a street food vendor with a crowd, pull up a plastic stool, and order the local specialty. Whether it's a piping hot bowl of pho, a crispy Banh xeo crepe, or a world-famous banh mi sandwich, you just can't go wrong with Vietnamese food. Not only is Vietnamese cuisine delicious, but it's also a fantastic bargain. If you eat street food or in local markets, you can easily fill up for just a few bucks. Even in nice restaurants in the big cities, you don't have to spend a fortune to have a good meal. Oh yeah, and draft beers are known as bia hoi are usually only $0.25! It's possible to go out for dinner and drinks for two here and not even spend $20 total. Eating your way across the country is one of the top things to do in Vietnam.
12. Enjoy Vietnamese Coffee in Hanoi Vietnam Day Trip
Coffee lovers rejoice – you can find some of the best coffee in the world in Vietnam! The French may have brought coffee to Vietnam, but the locals put their unique spin on it. A typical cup of Vietnamese coffee is made with coarsely ground beans and a small metal drip filter. You put your coffee in the filter and weigh it down with a lid. Then add a little hot water and wait to see the magic happen as the coffee slowly drips into your cup.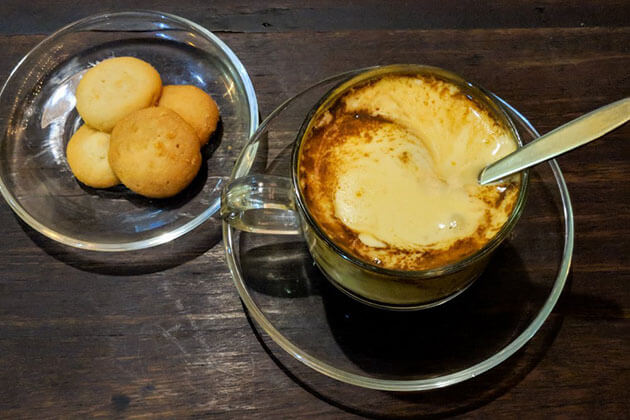 The result may be a small cup of coffee, but it packs a punch as it's quite strong. Vietnamese always add a healthy portion of condensed milk to their cup of coffee. Other popular varieties include yogurt and egg coffee. The latter tastes a bit like tiramisu and is very common in Hanoi. In addition to drinking Vietnamese coffee, you can also see how it's grown. Visiting a coffee farm and seeing the process up close should most definitely make your list of things to do in Vietnam.
13. Drink Bia Hoi cannot miss in your Vietnam Tour
Last but not least on our list of things to do in Vietnam is drinking bia hoi. This is the local draft beer that's brewed daily and delivered to local bars and restaurants in small batches. The name means "fresh beer," and that's exactly what it is! Since bia hoi has no preservatives, it has to be consumed within a day before going bad. Go ahead and pull up a plastic stool and order a glass to help make sure none of it is wasted!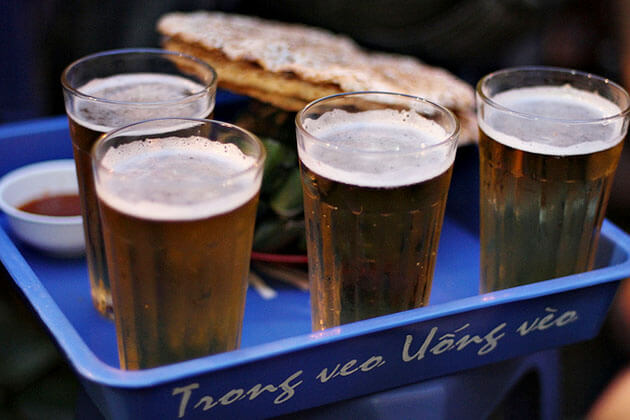 Bia hoi is a kind of beer that is lighter and more refreshing than the normal one, it's only around 3.5% alcohol. It's usually enjoyed alongside some classic Vietnamese snacks like nem chua (fermented pork sausage). A glass of bia hoi usually has price fall on the range between $0.25-0.50! After a few glasses, don't be surprised if your neighbors pull their stools up a bit closer to make friends. Raise your glass and join them in saying "Một hai ba dzô!" ("One two three cheers!).
Ready for a trip to Vietnam?
This is just the tip of the iceberg when it comes to things to do in Vietnam. It is amazing the wide array of activities on offer in the country. Even on a short trip here, you can experience bustling cities, trek through rice terraces, journey into a massive cave, and chill out on the beach. As I that weren't cool enough, you get to do it all alongside the friendly, welcoming Vietnamese people. We bet that no one can forget all the mouth-watering food, strong coffee, and cheap fresh beer! I seriously want to book a ticket back to Vietnam right now after writing this guide. If you've been there and have some more suggestions for the best things to do in Vietnam, please leave a comment below and let us know!