Sapa Tours from Hanoi
Hanoi – Sapa Tours do never disappoint those efforts to finding an authentic experience of two iconic destinations in Vietnam, which are Hanoi Capital and a famous market town Sapa. Visiting Hanoi, tourists have a chance to stroll through the Old Quarter and be overwhelmed by the original street layout and ancient architecture of old buildings. Travel to Sapa and be immersed in the verdant rice filed countryside around Sapa, reach the home of Vietnam's most beautiful rural scenery. Come with Hanoi Vietnam Local Tour to explore these top trekking destinations in Vietnam.
Take a visit to explore the most vibrant destination in North Vietnam, delve into the traditional beauty of the locals. Besides the wonderful scenes in Sapa, immerse yourself in the biggest minority people market in North Vietnam, Bac Ha Market. The market is still alive with the bright colors and extravagant costumes of people living here as the Flower Hmong, Black Dao, Tay, Nung, and many other minority groups.
---
Things To Do & Essential Guide for Sapa Tours From Hanoi
Home to diverse hill tribes, scenic landscapes, the carpet of green rice terraces as well the highest mountain in Vietnam, Sapa is absolutely picturesque mountain attractions and the special cultures of many tribes as the Hmong, Red Dzao, and Phu La ethnic groups. Sapa is an ideal destination with no shortage of majestic spots and even more beautiful people. Support your Sapa tours, here's a list of activities that you should not miss out on these Sapa Day trips from Hanoi.
Amazed by Romantic Love Waterfall
The Love Waterfall hides a thousand stories behind which should not be missed. The antique fairy tale tells a story of the forbidden love between a fairy and a boy who often play his flute in the waterfall. The story is believed that the waterfall was the bathing place of fairies, and after their love was ferreting out, the fairy's parents forbad her from visiting the waterfall. Perhaps be the best happy ending for their love, the fairy metamorphosing into a bird to live with her lover. Thus the name "Love Waterfall was born thereafter".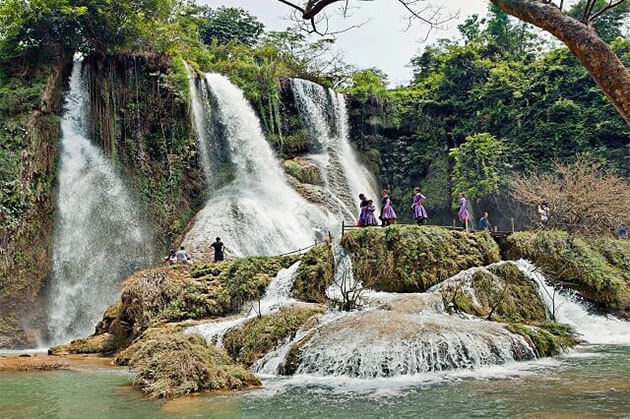 Tips: It takes 30 minutes from Sapa Town to the waterfall
Rewarded Yourself with Majestic Silver Waterfalls
Besides Love Waterfall, Silver waterfall or Thac Bac waterfall is another alluring destination for your Sapa Tours. Thac Bac Waterfall is approximately 100m in height, the waterfall is smaller than Love Waterfall and it requires only a 20-minute climb. Thac Bac is appealing for its natural beauty, its silver shimmery streams on the wrinkled rocks inspire the nice photo shots.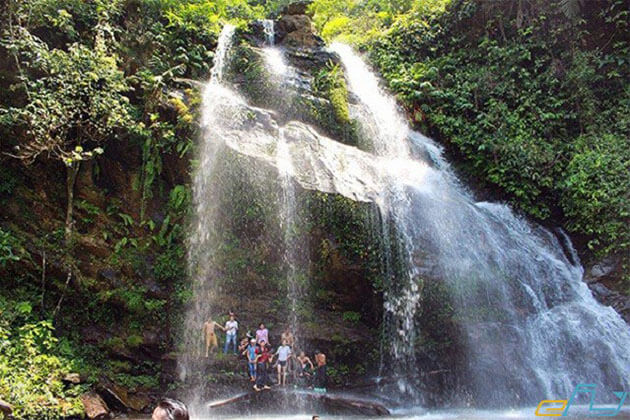 Tips: It takes 15km from Sapa Town. If you're concerning in the best view, avoid rainy and foggy days.
Climb the Roof Of Indochina – Fansipan
Needless to say that Fansipan Mountain is the highlight of Sapa with an elevation of 3,143m making it be the highest mountain in Indochina. If tourists are here for a challenge, the climb is possible within a day, about 10 to 12 hours. However, most tourist guide often suggests a two or three-day climb to minimize exertion especially for those who are less physically fit.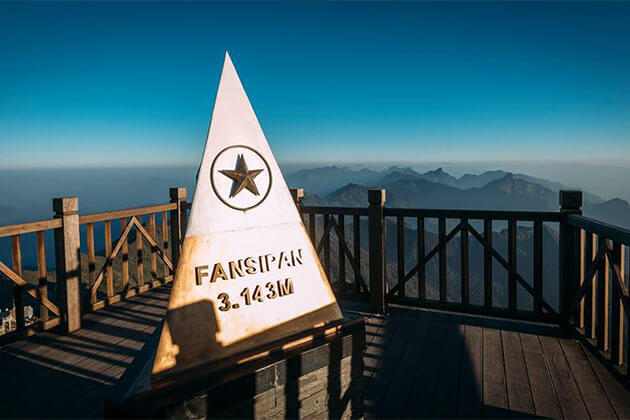 If you are not fit to trek up Fansipan, you can bask in the magnificent Fansipan mountain up the Sunworld Fansipan legend cable car, which has been recognized by Guinness as the longest non-stop three-rope cable car.
Tips: Warm clothes and some heat packs are necessary.
Refresh with Green Terraces of Muong Hoa Valley
Your Sapa Tours cannot fulfill without treading on the bright green rice terraces, the largest farmland of Sapa – Muong Hoa Valley - the livelihood of the Sapa hill tribes who have to depend on rice cultivation. Travelers can take muddy trails through terraced fields, drink water out of streams, and sleep on the floor in the traditional long tail houses, drink rice wine, which is all the must-try experiences in the North of Vietnam.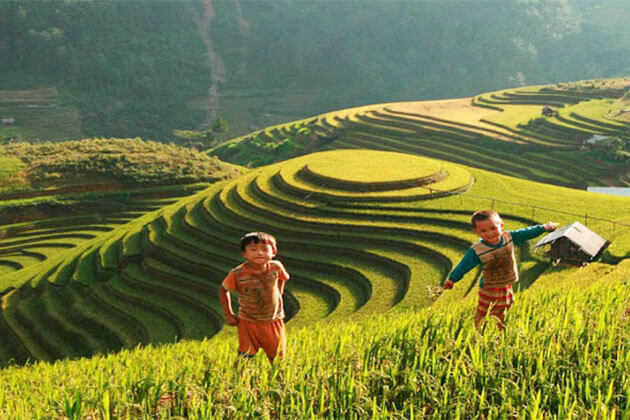 Tip: It takes 14km from Sapa Town. Besides the main plans of Sapa day trips, travelers can be able to make other sub-plan while visiting Muong Hoa Valley.
Visit Fascinating Tribal Villages
It can say that trekking in the tribal villages is so common in any Sapa tours, in which tourists can be lead to many villages with the authentic experience on local culture and cuisine surrounded the local with the charming folds of the rice terraces. The locals in Sapa are from many ethnic minorities such as H'Mong Den, Dzao Do, Tay, Dzay,… Leave everything behind and taste Sapa Tours from Hanoi your ways.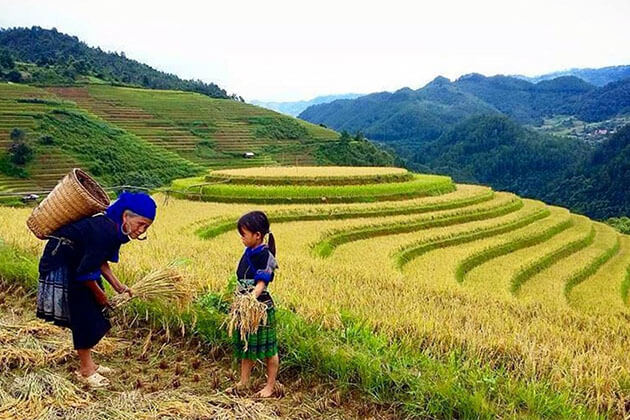 Tip: For the fulfilling experience, travelers should trek the villages in the day time and spend the night at any local home to get closer to the lifestyle of people here.
Shopping at The Local Market in Sapa Day Trips
The bustling local market in Sapa Town is indispensable experience in the typical market in North Vietnam as well as the vibrant lives of the tribal villages. It's merely a 20-minute walk from Town Square to catch the panoramic view of the market, buy some souvenirs as clothing, utensils or handcrafts here to take away.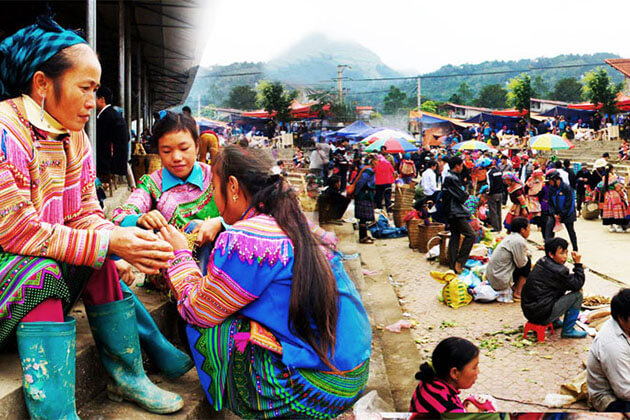 Tips: Some haggling skills are necessary for a good deal.
Love Market in Sapa Tours & Day Trips from Hanoi
Does it sound a contradictory when hearing a market with love? Doubtlessly, this is an authentic market in Sapa providing prospective partners and also the interplay of the relationship. The market is a local practice of the Mong and Dao ethnic groups, which have less interaction or dating opportunities in particular. That is why the market is where people from two ethnic groups can meet and date!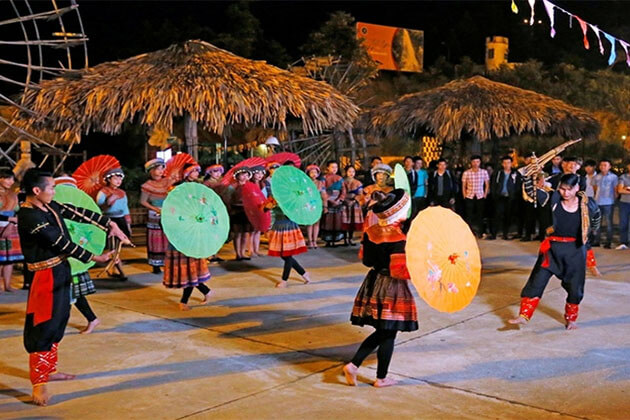 The long-standing market only occurs in a Saturday, they sing, dance, and play some games with others. Actually, tourists can freely join in this age-old activity without worry for becoming the third wheel!
Get Lost in The Flowery Sights of Ham Rong Garden
Ham Rong Garden seems like a paradise in Sapa with colorful flowers in the dewy air, fresh aroma up your nostrils, blow your stress away, just you and the scenic view. In case of you're tired of trudging around and around, its nice stairs delete your tired.
If you have plan visiting Sapa Town or Sapa Lake, The Ham Rong Garden can possibly add on your trip within the vicinity.
Best Time to Visit Sapa
Although Sapa is one of the most appealing destinations in Vietnam, it has its own inconvenient times that visitors should know and avoid. Being a highland town, the way leading there is not safe to drive, it's slippery and a bit dangerous. Therefore, the wet season lasting 3 months from June to September is not a smart option paying for your Sapa Tours & Day Trips. The time from June to September is also the peak season of the domestic tourists, it's quite crowded!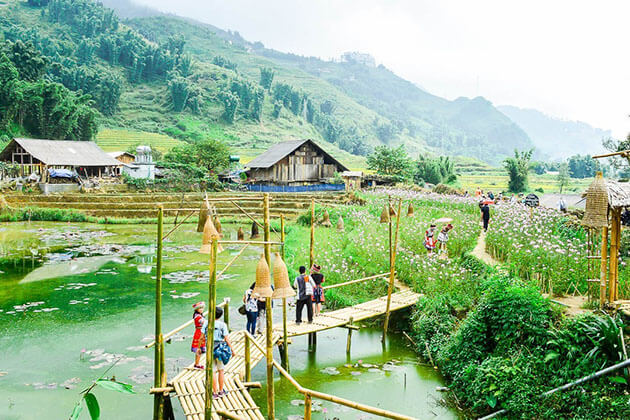 From September to the middle of December is the ideal time for your Sapa tours as it's time for sight-seeing, nice photo shots, highly recommended.