Hanoi Shows – Live Traditional Shows in the Heart of Vietnam Culture
Discovery Hanoi, an ancient capital moving to the brilliant era in which the crystallization of technology is concentrated on, that is why the thought of these old memories have been forgotten. But no, every walk of ancient life has been well preserved, and they are nurtured in a myriad of traditional ways of Vietnamese. Fortunately, tourists can encounter the cultural taste of ancient Hanoi in many performances of the cultural spectacle done by locals combined with traditional Vietnamese music in Hanoi Shows. Let Hanoi Local Tour be your guide to delve into the Vietnamese culture and tradition during your trips from Hanoi.
Show Highlights
Experience the magic of traditional Vietnamese water puppetry.
Discover the centuries-old history of water puppetry and its ingenious origins in rural Vietnam.
Enjoy a performance at the renowned Thang Long Water Puppet Theatre, featuring heartwarming stories and live music.
Explore Vietnam's culture through captivating tales, myths, and everyday life depicted in the show.
Be entertained with humor, music, and interactive moments, adding joy to your cultural experience.
Show Highlights
Experience a captivating blend of water puppetry, live performances, traditional music, and light shows.
Witness rural Vietnamese life come alive through dance, acrobatics, and storytelling.
Explore six cultural aspects: Poetry, Buddhism, Nostalgia, Music & Painting, Joy & Festivals.
Follow monk Tu Dao Hanh's journey, showcasing Vietnamese talents in knowledge and martial arts.
Enjoy performances on water, against the backdrop of the Thay Pagoda complex.
---
Unmissable Hanoi Shows & Theaters in Hanoi
The traditional art of Vietnam is plentiful as their spiritual life, actually, everything in daily life has been reflected in genres of art. Hereafter is our suggestion about the unmissable Hanoi shows and guidance of the best theaters in Hanoi.
Top Unmissable Hanoi Shows
Water Puppet Show in Hanoi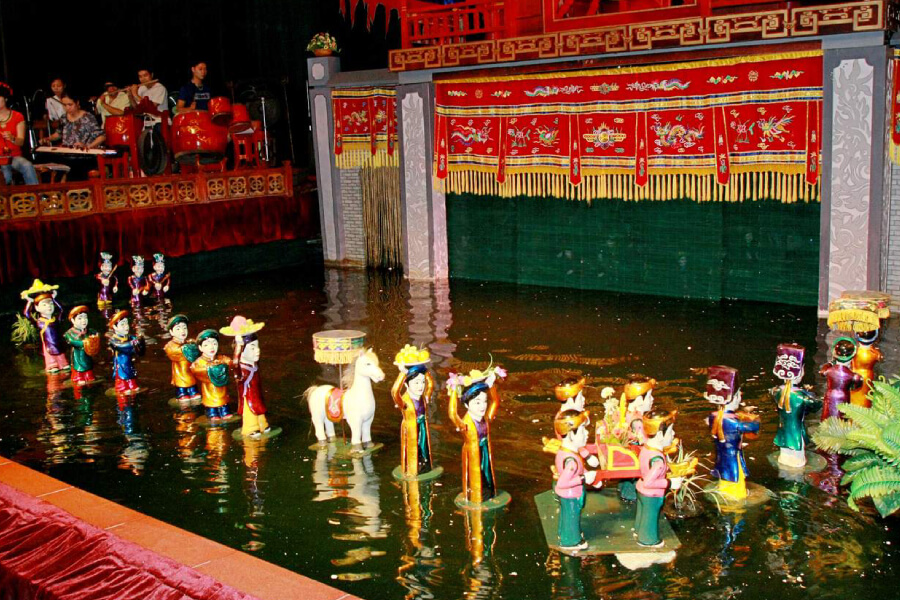 The Water Puppet Show, known as "Múa rối nước" in Vietnamese, is a captivating traditional art form with origins in Northern Vietnam's Red River Delta villages over a thousand years ago. This unique performance features wooden puppets animated in water and is accompanied by live music. It shares folk tales and daily life, providing a captivating window into Vietnamese culture and history. A must-see for visitors, it combines puppetry, water, and music to create an enchanting spectacle.
Must-see Quintessence of Tonkin Show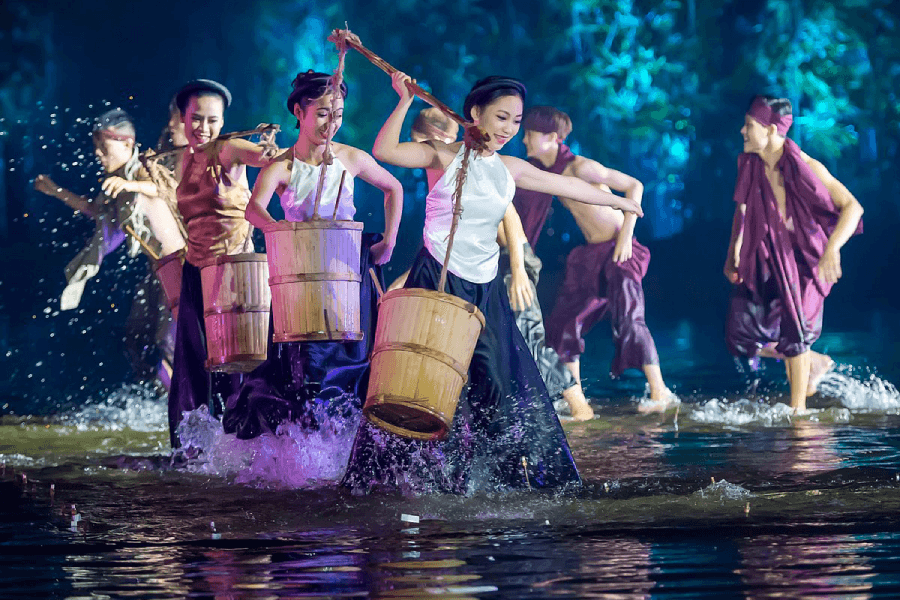 The Quintessence of Tonkin Show is one of Vietnam's must-see cultural Hanoi Shows and it's worth to watch one time in life. The pristine time of the old Vietnam has been reflected in the space filled with folk music and the lively light, which creates the feeling of the sacred atmosphere and the cultural crystallization. Enjoy the Quintessence of Tonkin performance in your Hanoi day trips.
Best Theaters in Hanoi
Hanoi Local Tour highly recommends clients some of the finest theaters in Hanoi which serves these typical traditional performances and high quality. Take a look through our list below:
Thang Long Water Puppet Theatre
Address: 57B Dinh Tien Hoang, Hoan Kiem, Hanoi
Vietnam National Puppetry Theater
Address: 361 Truong Chinh, Thanh Xuan, Hanoi
Lotus Water Puppet
Address: 16 Le Thai To street, Hanoi
Vietnam National Tuong Theatre
Address: 51 Duong Thanh Street, Hoan Kiem, Hanoi
Essential 5 Tips for an Unforgettable Experience
Watching the Water Puppet Show and the Quintessence of Tonkin Show are two unique artistic experiences in Hanoi, Vietnam. To have the best possible experience when participating in these programs, you can follow the following suggestions:
Book Tickets in Advance
To avoid sold-out situations and to secure good seating, it's advisable to book your tickets in advance through the internet or a reliable ticket agency.
Arrive Early
Arrive at the venue at least 15-30 minutes early to ensure you have enough time to find your seat and relax before the performance begins.
Photography and Videography with Caution
Many performances do not allow photography or videography inside the auditorium, so make sure to respect these rules to avoid disturbing others and violating venue regulations.
Relax and Enjoy
This is a unique entertainment experience, so relax and savor every moment of the performance rather than solely focusing on taking photos or videos.
Explore the Surrounding Area
Before or after the performance, you can explore the surrounding area, such as traditional craft villages, souvenir shops, and local restaurants, to further immerse yourself in the local culture and cuisine.