Hanoi 4-Day Trips & Tour Itineraries
Having 4 Day Trip in Hanoi and wondering what to do in Hanoi? That is the common questions of most tourists planning the completed Hanoi 4 day tour itinerary. As the Hanoi insiders & many year experiences on designing local tours in Hanoi, no matter how long your time budget is, Hanoi Local Tour suggests tourists a Hanoi 4 Day Tour Itineraries highly created by the locals in Hanoi. Additionally, we have specialized in the tailor-made tour, in which clients can become their own tour designer, which absolutely make the experience within 4 day trip in Hanoi fit the taste of tourists most. Contact us to get more convenient!
Hanoi 4-Day Trips & Tour Itineraries
Tour Route: Free Hanoi Arrival – Bai Tu Long Bay – Hoa Lu Ancient Capital – Trang An – Hanoi
Tour Highlights
Immerse yourself in the vibrant street food scene of Hanoi.
Embark on a scenic cruise in Bai Tu Long Bay, a less crowded and stunning extension of Halong Bay.
Discover the unique daily life of local fishermen at Vung Vieng Fishing Village.
Explore the historic ruins of Hoa Lu, the ancient capital of Vietnam, and learn about its rich history and cultural significance.
Experience the natural beauty of Trang An, a UNESCO-listed site, through boat rides and kayaking.
---
Things To Do & See for 4 Day Trip in Hanoi
As one of the most charming cities in Southeast Asia, Hanoi has been the cultural intersection of many historical marks, there have many historical relics preserved until today, a series of alluring spots, and the myriad of things to do in your Hanoi 4 day trips. Let's come and delve into the best of Hanoi with our Hanoi Tours & Day Trips offering a flexible and unique tour experience in Hanoi vacation. Check out the list of must-seeing destinations below for your flawless 4 Day Trip in Hanoi.
Top Things to Do & See in Hanoi within 4 Day Trips
Traditional Water Puppet Shows
Water Puppet Shows with full of Vietnamese art features in the past, which bring audiences to many years ago with the circumstance of banyan trees, traditional well, and yard. The water puppet performance shows not only the outstanding but also the long-established culture, tradition, and also custom of Vietnam. It's quite a mistake if you do not watch the traditional water puppet show in your 4 day trip in Hanoi.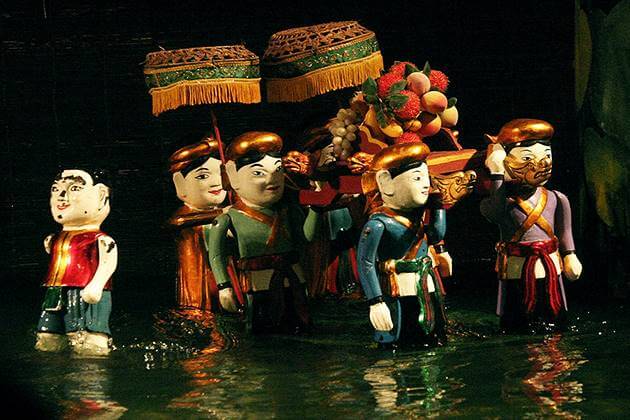 Wander Hanoi Old Quarter
Hanoi Old Quarter is definitely a commonplace for any person coming to Hanoi, and of course, it's always highly recommended in your Hanoi Tours. Hanoi Old Quarter with 36 streets give tourists a panoramic view of Hanoi in the past, feel the slow pace of life among the city changing every minute.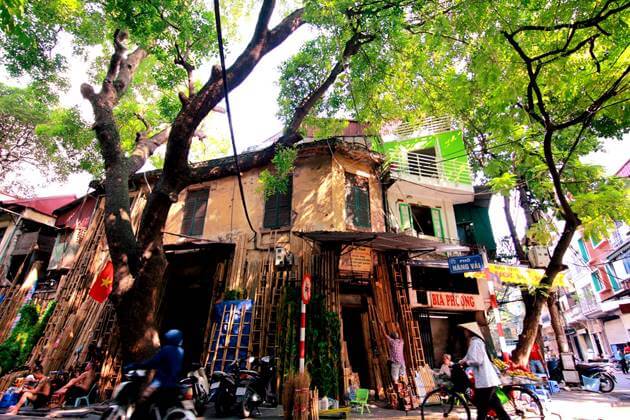 Experience Life Beside the Tracks
Hidden deeply behind the cramped streets of Hanoi, lies between the long array of houses, other means of transports are no longer the danger to the locals when stepping outside the door, the tracks is the biggest danger of the locals here. However, the locals make the danger become a special destination appealing a lot of tourists coming here to undergo this unique life!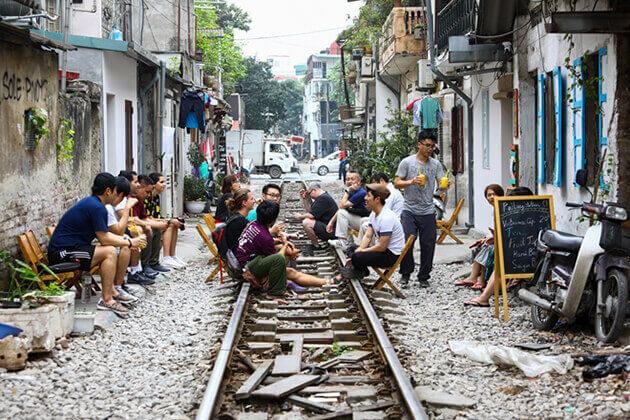 Taste Traditional Food in Hanoi
"Eat the Northern food, dress South clothes" is a popular slogan between Vietnamese, that's right, the best Hanoi food can find in every corner of the city within an inexpensive price. If tourists think that they just find the best service in luxury restaurants, they must be surprised when dining on the street eatery. It will leave you spellbound by the way the vendor serves and their foods as well. That's your shortage if you do not try Hanoi food!
Things to Do in the North of Vietnam
Lang Son
In the travel map, Lang Son may be not a strange name for visitors. It's definitely famous for the market, shopping place nearby the border gate, Lang Son province has also attracted tourists by its historical landmarks, and several stories about the legend and pure beauty of nature. Generally, Lang Son must be on the list of best places to visit around Hanoi.
Ban Gioc Waterfall
Ban Gioc waterfall is definitely on the must-undergo attraction near Hanoi, it's absolutely impressive natural scenery. Since its location, Ban Gioc waterfall attracts so the huge volume of both foreign and domestic tourists at any time of the year. Besides, Ban Gioc Waterfall can be combined with a visit to the nearby Nguom Ngao caves as the sub-plan tour.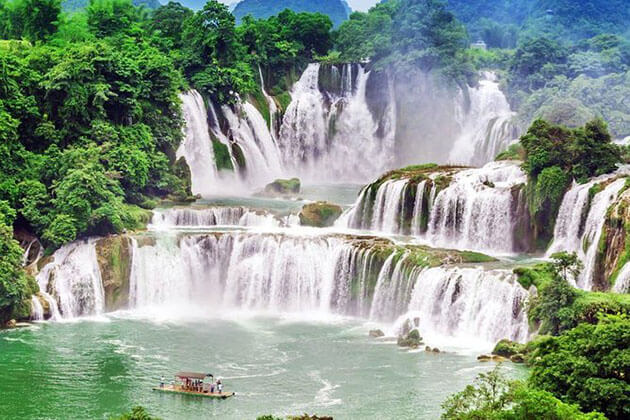 Ba Be National Park
For a sightseeing tour of the north region, Ba Be National Park is a fabulous place to go. There stand a huge amount of things to explore here, especially with the vast variety of flora and fauna, as well as special geology and breathtaking landscapes to discover. Inside the park, we catch Ba Be Lake with the pristine beauty and from here we can visit other neighboring sceneries such as Dau Dang Fall. Tien Pond, and Puong Cave.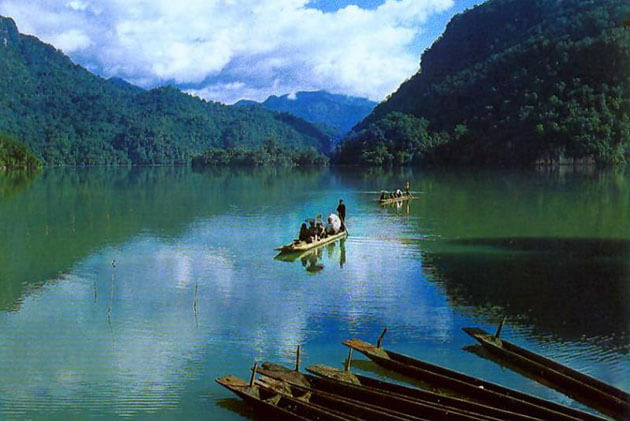 Moc Chau Plateau in the Northwest Region
What's an amazing place nearby Hanoi! Moc Chau Plateau has a temperate climate with a cool and fresh atmosphere, sweeping the endless green tea hills, the gardens of plum and apricot trees, and the myriad of flowers, come and feel Moc Chau your way!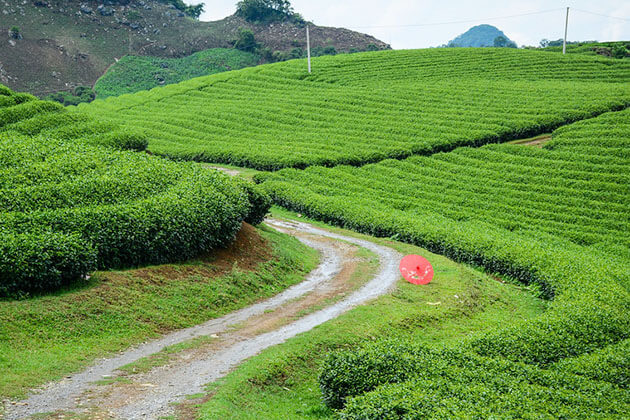 Nui Coc Lake, Thai Nguyen
Nui Coc Lake is truly beautiful and worth to visit near Hanoi. As soon as you come to the mountain lakes, the magnificent portal of the lake absolutely overwhelmed tourists by the natural sharpness it delivers. Sitting on the boat and swept under the water line will make a strong impression on the day trip out – around Hanoi.