General Information
Tour Route: Hanoi – Vinh – Khe Kem Waterfall – Thin Village – Pu Mat National Park – Hanoi
Duration: 4 Days/ 3 Nights
Departure Date: Any Time You Wish
Start/ End: Hanoi/ Hanoi
Brief Itinerary
Day 1: Hanoi – Vinh (D)
Day 2: Vinh – Green Tea Field – Khe Kem Waterfall – Thai Ethnic Homestay (B, L, D)
Day 3: Giang River – Trekking to Thin Village (B, L, D)
Day 4: Pu Mat National Park – Hanoi Departure (B)
Full Itinerary
Day 1: Hanoi – Vinh (D)
Our guide will pick you up at your hotel in Ha Noi, then depart to Vinh city, Nghe An province. We'll have dinner with local food in Vinh. You'll stay in a hotel in Vinh city for overnight accommodation.
Day 2: Vinh – Green Tea Field – Khe Kem Waterfall – Thai Ethnic Homestay (B, L, D)
After breakfast, our guide will pick you up at the hotel and then take you to Con Cuong Town. Embark your trip to the jungle belonging to Pu Mat National Park.
Vinh – Pu Mat National Park (120 Km)
Since it takes about 3 hours straight to the National Reserve of Pu Mat, we will stop en-route to visit the lush green tea fields of Thanh Chuong. Have lunch on the way.
Khe Kem Waterfall
The driver will take us further into Laos border where Khe Kem is taken place. Khe Kem waterfall is original at an altitude of 1,200m, gliding through the valley and cliffs, flowing down like a flock of stunning white clouds. Stay here, you can experience a refreshing thrill while standing underneath the falling water. Also, you will be truly mesmerized & delighted that there are fishes in the water, which might give you a free fish spa.
Leave the Khe Kem waterfall we move to Thai Ethnic Homestay. The unique stilt-houses and culture of the Thai ethnic villages in Vietnam are surely alluring. Also, you will have a chance to experience the daily life and enjoy the truly organic & tasty food dishes of the locals. Overnight here at Thai Ethnic Homestay.
Day 3: Giang River – Trekking to Thin Village (B, L, D)
Enjoy the on-site breakfast served with local chicken soup or fried eggs with bread. Then join in a boat trip to on Giang River and trekking into the jungle. The trip is amazing thanks to its pure beauty of nature and some interesting sense of adventure. Since Giang river is running across Pu Mat National Park, the boat trip alongside the river will give you a chance to witness a spectacular landscape with magnificent waterfalls, streams, and caves as well as live animals.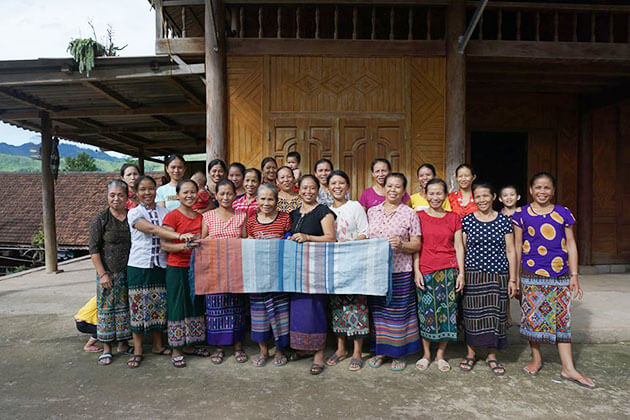 A small note for the trip that if you (or your team) join the challenges in the jungle, your clothes will be wet, so dry clothes are needed. The starting point of this boat trip is Pha Lai Dam, where we will have lunch at the restaurant and enjoy the famous local dishes. After that, take short trekking to Thin Village, an original Thai Ethnic Group before back to the home-stay & have dinner. Overnight at the home-stay in Thin Village.
Day 4: Pu Mat National Park – Hanoi Departure (B)
After a nice breakfast, we will visit the Open Museum of Nature and Culture at the reserve's Pu Mat National Park to have a general observation about Pu Mat National Park. The museum displays a myriad of photos, objects, and miniatures of the biodiversity system as well as the culture of local ethnic minority people. Later on, drive back to Hanoi for lunch right before our farewell. Trip ends.