You are in Hanoi vacation with your friend and seeking a new wind in this capital's culture, then you should not miss checking out this one. A benchmark of open camaraderie with the atmosphere of a popular feast known to all Vietnamese, a popular place devoted to loud talk, banter bistro, sound appetites, and a kitchen without a prettily formal way: the "Bia Hoi Hanoi", a literally fresh beer hall in Vietnamese.
Bia Hoi, Hanoi's popular drink
It was expected that Vietnamese consumed 3 billion liters of beer in 2013, equivalent to $ 3 billion. Vietnam is therefore among the countries that have the consumption of the largest beer in the world, more precisely: Top 1 of the countries of Southeast Asia, Top 3 of the Asian countries and top 25 of the world.
Every day, in every corner of the Vietnamese capital and the rest of the country, millions of liters spurted in frozen jets of metal drums of the innumerable halls that sell Bia Hoi. A yellow liquid with little alcoholic made to fulfill the emptiness between friends or colleagues, ring the exit of the office and announce the good franquette. Bia Hoi Hanoi halls have a unique atmosphere due to its social mix and great conviviality that is conducive to meetings and exchanges, an experience to be enjoyed by amateur travelers from off the beaten track.
An ingrained local peculiarity, an authentic cultural feature that you should not miss during your stay in Hanoi. It can be served anywhere: from the street corner to a high-class restaurant.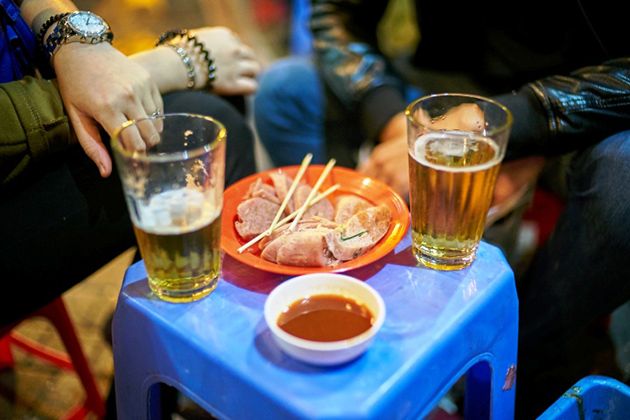 The origins of the Bia Hoi Hanoi
The draft beer made its appearance in Hanoi during the colonial period with Indochina Breweries and Coolers. Then, in the version we know now, it was the Czechoslovaks who brought their know-how during the Cold War era. A beer composed of 50% rice, without preservatives, brewed and heated to 70 degrees to be cooled and filtered to get rid of yeasts.
Under the subsidy economy, from 1975 to 1986, only one brewery was allowed to produce draft beer and only a few state-owned stores could distribute it. In other words, Bia Hoi was a luxury product. It was necessary to make endless queues in order to enjoy the precious beverage. Just the opposite of today where Bia Hoi almost appears at every street corner. There are more than 3,000 Bia Hoi stalls throughout the capital and surely thousands across the country.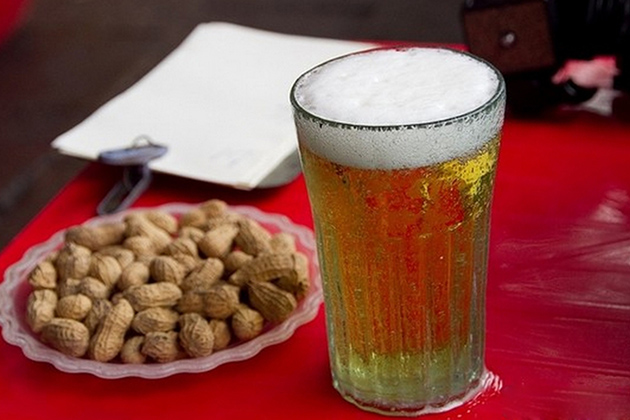 The Bia Hoi glass, a real icon
One of real Hanoi's icons is this Hanoi beer glass. It is recognizable by its slightly greenish color, with multiple bubbles and impurities. This glass must be terribly robust. Indeed when one of the guests around the table raises his drink for a sip, he must drink with everyone. A village in the Nam Dinh province, Xoi Tri, has been specializing in the manufacture of these glasses for decades.
The glass is then recycled and hand blown by workers. The unique design of this glass belongs to the Vietnamese painter Le Huy Van, a graduate of a school of arts in East Germany. What to be inspired. The Bia Hoi glass can be an original souvenir to bring back. You can pick them up at a store on a small street at the foot of the railway line to Dong Xuan Market in Hanoi.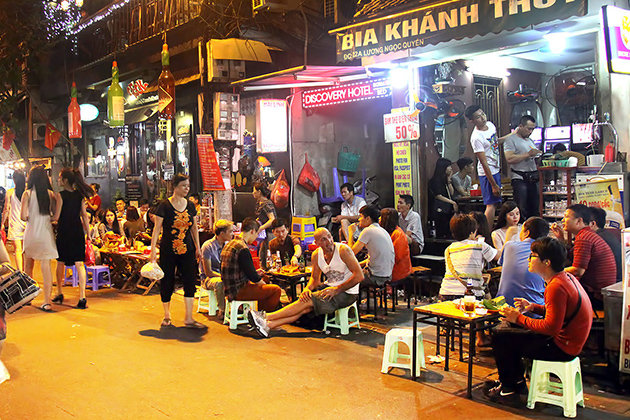 Drink Bia Hoi Hanoi like a local
The Hanoi stop for beer lovers is corners of Bia Hoi at the crossroads of Luong Ngoc Quyen, Ta Hien, and Dinh Liet. Dozens of small shops open their doors and windows every afternoon to sell Hanoi's favorite beer and they do not close until the casks are empty, usually around midnight.
Bia Hoi is brewed fresh every morning and delivered early in the afternoon, making it a perfect after-work or a late afternoon break. Bia Hoi Hanoi, which sells for as little as 7,000 VND (about 30 US cents), has a lower alcohol percentage of about 3-4% because it has not had as much time to ferment. This usually leads locals to drink more light beer, often before a meal of roast meats or a hearty bowl of pho in one of the surrounding restaurants.
To toast Vietnamese, one must first count 1, 2, 3 and finish with Yo as a pronunciation aloud of a slogan. That is to say, we do: "1, 2, 3 … Yo!" Or "1, 2, 3 …" then Yo by clinking. Sometimes we count three times before drinking: "1, 2, 3 … Yo! – 2, 3 Yo! – 2, 3 .. Drink! ". And to appreciate the Bia Hoi, accompany it with a few Vietnamese tapas such as nem chua (fermented pork), mực nướng (grilled squid) or nem lui (grilled pork skewer).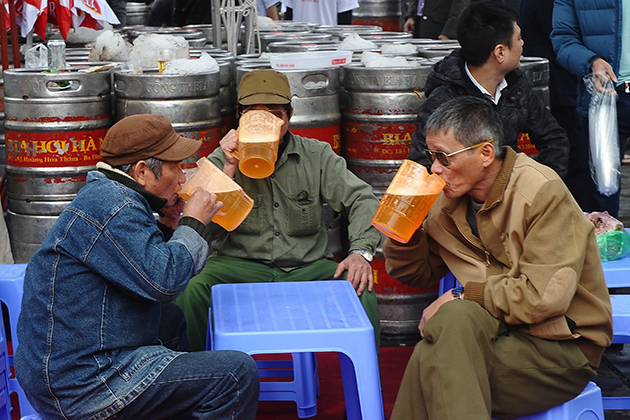 Other famous Hanoi beers
Hanoi Beer
This is a product of Habeco Company in Hanoi. Including popular beers such as bottled beer and more luxurious beers such as Truc Bach or Hanoi Beer Premium.
This beer is known by the low fermentation and must drink quickly after being poured from the bottle if not it will quickly be a bit bitter.
Halida Beer
There are also breweries Halida in the capital. Less popular than Hanoi beer but a bit stronger, Halida is recognized for the first time in 1993 and quickly became universal in the region. Of this type, we know Carlsberg which is a kind of Halida beer produced according to Carlsberg International's technology Draft Draft Master – an invention of the company in Copenhagen, Denmark.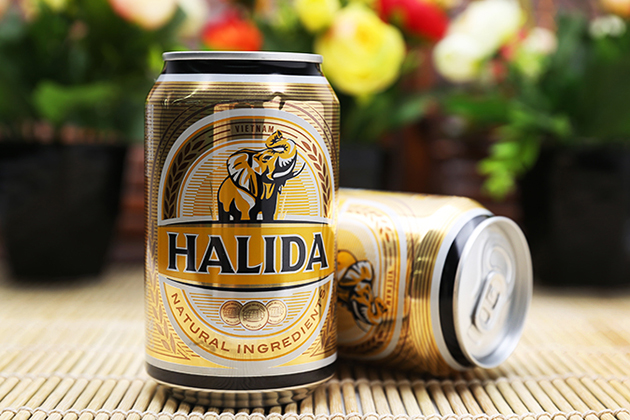 Saigon Beer
Proceeds from Sabeco company, although popular in the North, including several labels as green beer, red beer, beer Saigon special, the beer 333 and 333 premium. The green ones are weaker than the reds that are for export. 333 Export has been developed in France and present in 17 countries around the world.
Larue Beer
Larue beer, produced since 1909 by Victor Larue from France. It has a golden color and is one of the relatively cheaper beers in Vietnam but well appreciated in terms of taste.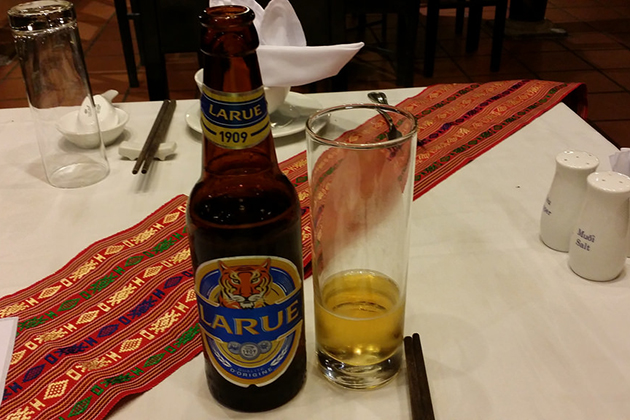 Tiger Beer
Indeed it is not a typical Vietnamese beer. It is a Singapore beer and produced in Vietnam. Yet it is well known and loved by many Vietnamese.
Heineken and Sanmiguel
Heineken is from the Netherlands while Sanmiguel is from Spain. Both are produced in Vietnamese breweries and are considered as luxury beer or trendy beer in Vietnam. Heineken is, however, a little more esteemed.