The Flower Garden of Red River Rocky Beach is a captivating destination that showcases the stunning beauty and diversity of flora in a unique coastal setting. Nestled along the rugged coastline, this hidden gem offers a mesmerizing experience for nature enthusiasts and flower lovers alike. With its vibrant colors, fragrant blooms, and breathtaking views, the Flower Garden is a place where you can immerse yourself in the wonders of the natural world.
Overview 
Address: 264 Au Co Street, Nhat Tan Ward, Tay Ho District, Hanoi.
The Flower Garden of Red River Rocky Beach is located at the end of alley 264 Au Co Street. This place attracts a large number of visitors due to its abundant and vibrant flowers that bloom all year round. Unique flower species such as roses, lilies, orchids, sunflowers, and daisies create a dreamy and picturesque atmosphere, perfect for capturing stunning photos.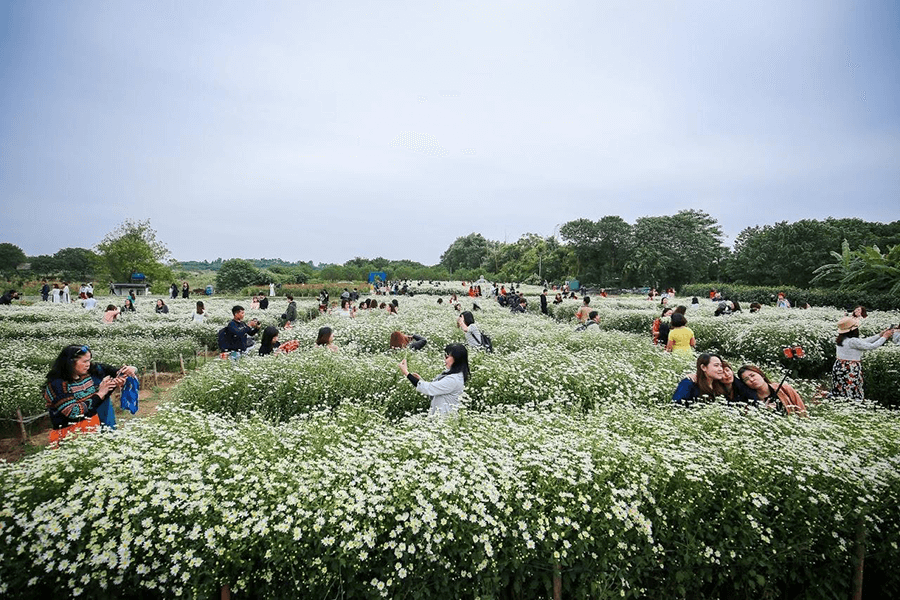 To enter the Red River Rocky Beach, visitors do not need to purchase a ticket. However, to access the flower garden, the ticket prices range from 30,000 to 55,000 Vietnamese Dong per person, depending on the time of year. Additionally, the motorbike parking fee is 5,000 Vietnamese Dong per vehicle, and the food and beverage expenses range from 50,000 to 100,000 Vietnamese Dong per day for recreational activities here. These fees are relatively reasonable for most visitors who come to explore this place.
Interesting Highlights at the Flower Garden of Red River Rocky Beach
The Flower Garden of Red River Rocky Beach
The flower garden here boasts a refreshing atmosphere with a blend of river and hill landscapes, creating a poetic ambiance. It showcases a wide variety of flowers in different colors, ranging from delicate daisies to sunflowers that shine like thousands of miniature suns. The picturesque scenery of the flower garden is sure to captivate even the most discerning visitors, providing countless impressive photo opportunities.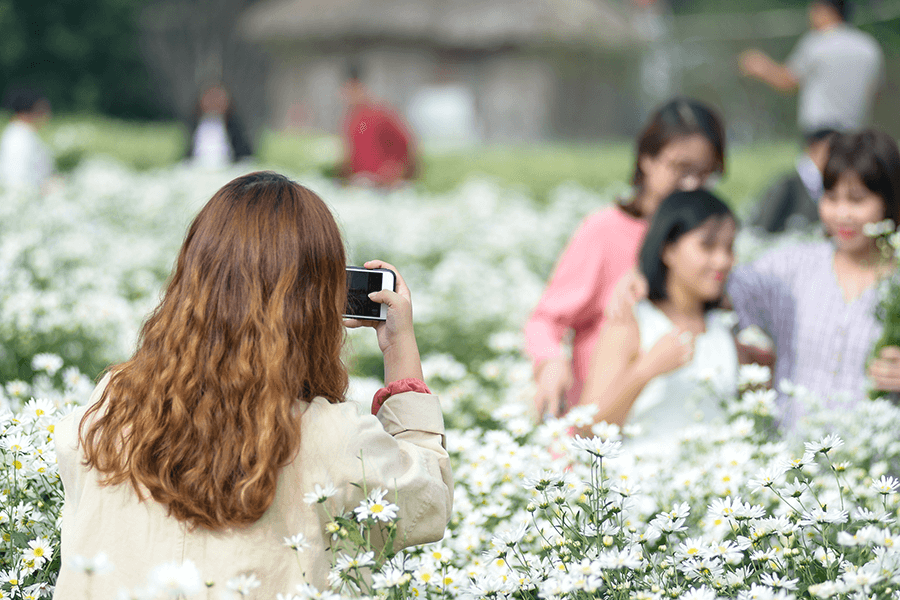 Throughout the year, the Flower Garden of Red River Rocky Beach displays different blooming flowers that suit the weather of each season. In spring, visitors can admire cherry blossoms, sunflowers, wild daisies, wallflowers, golden rapeseed flowers, climbing roses, and more. Summer brings vibrant flowers like cockscomb, daisies, and money plants, creating a dazzling landscape for sightseeing. Autumn showcases the breathtaking beauty of pampas grass fields, with each plume swaying gracefully in the wind, creating a dreamy setting. Towards the end of November and the beginning of December, the garden is adorned with blooming chrysanthemums, attracting a large number of visitors who come to capture photos with the charming cosmos flowers.
Chimi Farm Strawberry Garden in Hanoi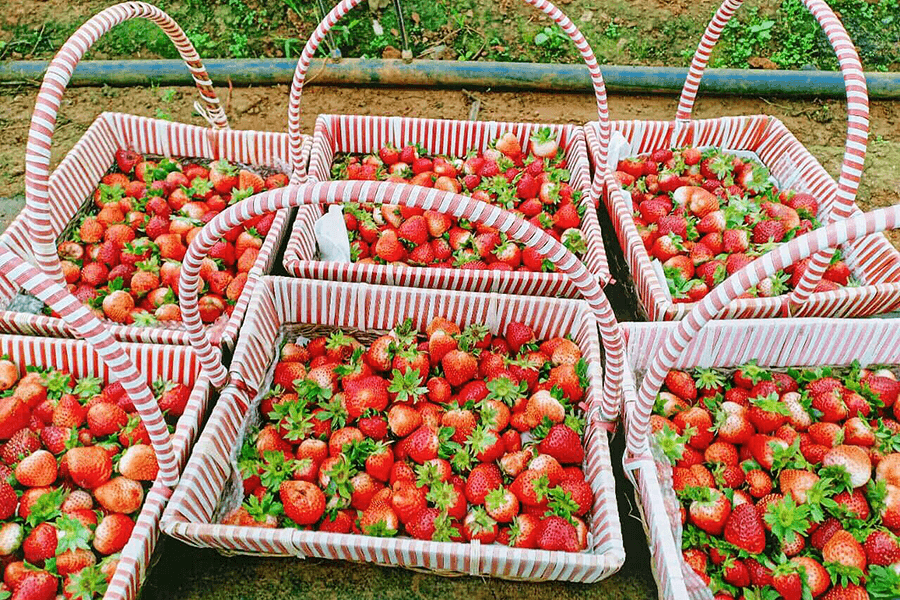 Right next to the Flower Garden of Red River Rocky Beach is the charming Chimi Farm Strawberry Garden. Just follow the embankment, and on your right, you will find an adorable strawberry-shaped entrance gate. This area covers an area of 4 hectares, divided into indoor and outdoor sections. The entrance ticket to the strawberry garden is priced at 50,000 VND, and you can also purchase a basket of strawberries for approximately 200,000 VND to bring back for your loved ones or friends. Visiting the strawberry garden, you can indulge in taking photos with the tiny and lovely strawberries, as well as have the opportunity to pick and eat fresh strawberries or enjoy various strawberry-based juices. 
Picnic Activities at the Red River Rocky Beach
As the Red River rocky beach area allows free access, you can gather with friends and organize an outdoor picnic here. It is recommended to visit in the afternoon when the weather is cool, refreshing, and the sun is mild. Prepare some food and drinks, and you will have a wonderful picnic experience.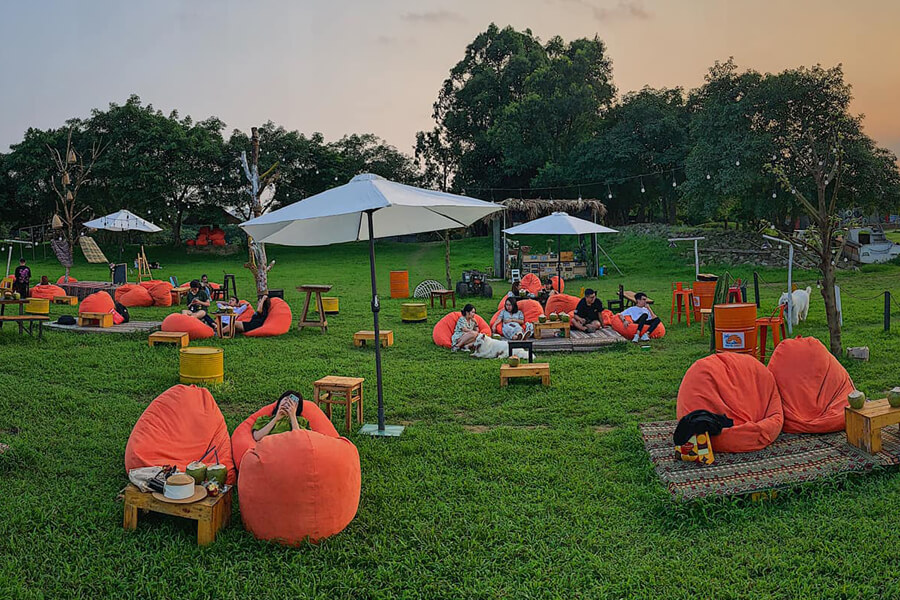 If you don't mind the hassle, you can even rent a portable grill along with various meats and pre-marinated ingredients to have a BBQ party. Enjoying food, grilling meat by the riverside will undoubtedly be one of the enjoyable experiences.
Dining Options at the Red River Rocky Beach Flower Garden
Around the area of the Red River rocky beach flower garden, there are small eateries available to serve visitors. However, the options are not extensive, mostly consisting of simple and affordable dishes such as noodles, rice vermicelli, pho, and fried items like sausages, fish balls, and beef balls. The food prices may be slightly higher compared to outside establishments, but the hygiene and food safety standards may not be guaranteed.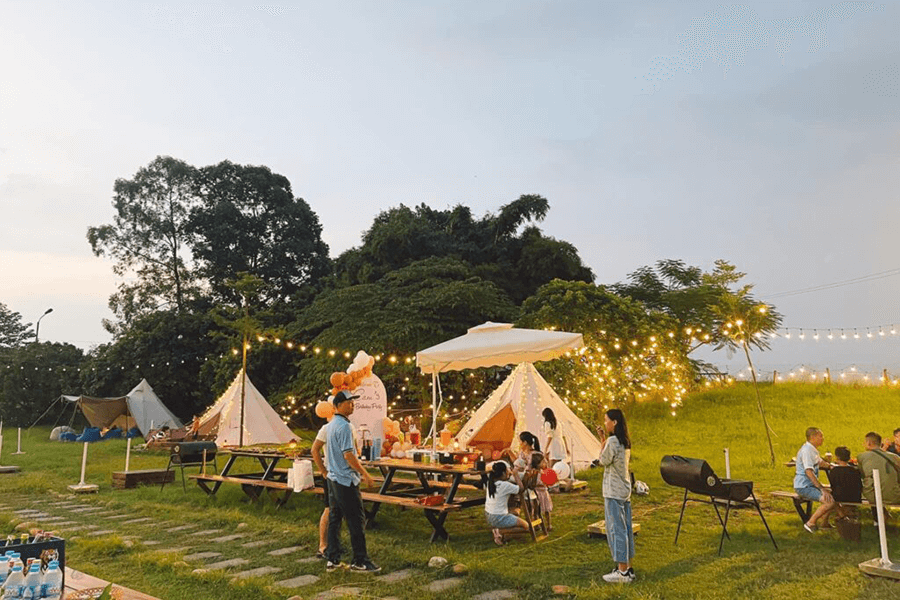 Therefore, a safer alternative is to prepare and bring your own food. Simple and quick meals like snacks, sandwiches, rice rolls, fruits, and beverages can be packed, or you can opt to purchase ready-to-eat food to bring along.
Tips for Exploring the Flower Garden of Red River Rocky Beach
Timing:

Plan your visit during the blooming season to witness the garden's vibrant colors at their peak. Generally, the spring and early summer months offer the most breathtaking floral displays.

Comfortable Attire:

Wear comfortable clothing and suitable footwear for leisurely strolls through the garden and along the rocky beach.

Camera Ready:

Don't forget to bring your camera to capture the enchanting beauty of the garden and create lasting memories.
The Flower Garden of Red River Rocky Beach is a captivating destination that offers a delightful escape into nature's embrace. With its diverse floral displays, serene rocky beach, and mouthwatering culinary offerings, this garden promises an unforgettable experience for visitors of all ages. So, embark on a journey to this enchanting oasis and immerse yourself in the captivating world of natural beauty.