Textile Tour's Information
Tour Route: Hanoi – Van Phuc Silk Village – Sapa Town – Ham Rong Mountain – Mu Cang Chai – Ta Phin – San Thang Market – Muong Hum Village – Hanoi
Duration: 6 Days/ 5 Nights
Departure Date: Any time you wish
Start/ End: Hanoi/ Hanoi
Brief Itinerary
Day 1: Hanoi Arrival (L, D)
Day 2: Hanoi – Silk Weaving Village – Textile workshop & Demonstrations (B, L, D)
Day 3: Lao Cai Province – Sapa Town – Ham Rong Mountain (B, L, D)
Day 4: Sapa – Mu Cang Chai –Ta Phin – transfer to Lai Chau (B, L, D)
Day 5: San Thang Market – Muong Hum Village (B, L)
Day 6: Hanoi Departure – Farewell party (L)
Vietnam Textile Tour Full Itinerary
Day 1: Hanoi Arrival (D)
Upon arriving Hanoi, you will be picked up by the local guide & friendly driver at the airport, the drive to the hotel. After check-in hotel, it's your leisure time after a long flight, you can stroll around, go shopping, or try cycling tour. Enjoy the savory lunch and overnight at the hotel.
Day 2: Hanoi – Silk Weaving Village – Textile workshop & Demonstrations (B, L, D)
Your second day begins by the slight fragrance of the breakfast with a tiny vase of jasmines. After that we start to visit Women Museum, offering a good view of the lifestyles, culture, and textiles of 54 ethnic minorities living in the S-shape. It also includes more than 25,000 items and documents illustrating the achievements, the contributions, and the creativity of Vietnamese women.
We will then transfer to Van Phuc Silk weaving village. It is famous for its traditional sericulture, silk weaving & silk ware. Nowadays, the silk is still being made by the old techniques in traditional ways.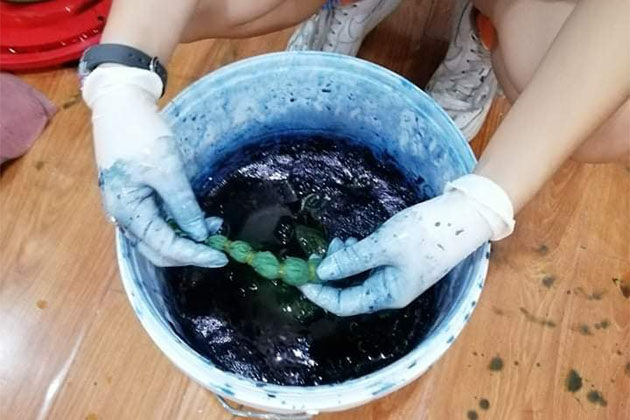 After savoring lunch, we will participate in the textile workshop and demonstrations with a Textile Artist for hands-on natural dyed experiences. This class shows you the silk-making processes from dyeing, weaving, decorative concepts. You can also find out the myriads of natural colors, and how they are made, and so forth.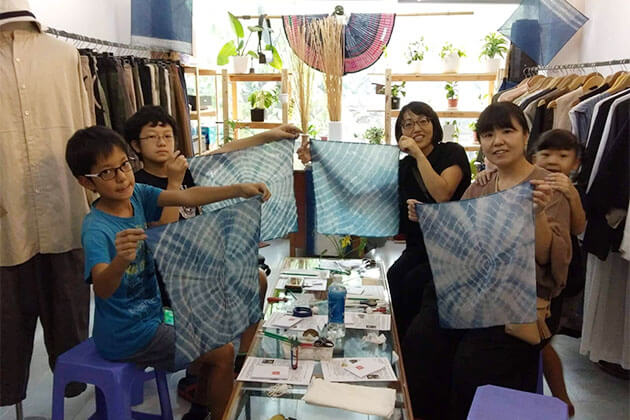 Day 3: Lao Cai Province – Sapa Town – Ham Rong Mountain (B, L, D)
Arriving Lao Cai in the early morning, then hop on a drive through the winding roads up the mountains to Sapa.
Check-in homestay in Sapa and enjoy breakfast before walking up to Ham Rong mountain. The mountain is in the center of Sapa town, and it is a remarkable tourist attraction. The path leading up to Ham Rong includes many stone steps and winding trail higher up will give visitors the view of small streams lazily run through bushy foliages. After conquering the peak of Ham Rong mountain, you will be mesmerized by the breathtaking view of Sapa Town.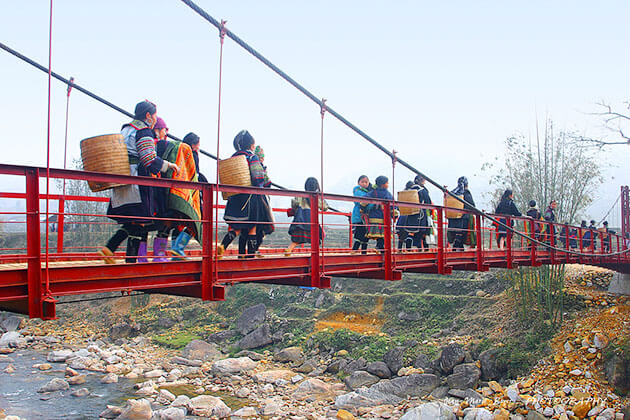 We will savor lunch before checking in the hotel, take a rest, and ready for the afternoon visit. Actually, in the afternoon, you will see many intriguing works and collections of antique designs, visit the indigo farm, study batik and tritik technique of the locals. In the evening, there is your time to enjoy the traditional music of H'mong people. Overnight in Sapa Town.
Day 4: Sapa –Ta Phin – Mu Cang Chai – transfer to Lai Chau (B, L, D)
After breakfast, we will visit Ta Phin village to see the Red Dzao sewing workshop and learn about their fabrics, threads, and symbology. We will then transfer to Mu Cang Chai, an appealing destination worth visit in Vietnam. To get Mu Cang Chai, we have to travel through majestic mountains and charming rice terraces. Enjoy the spectacular scenery on the way.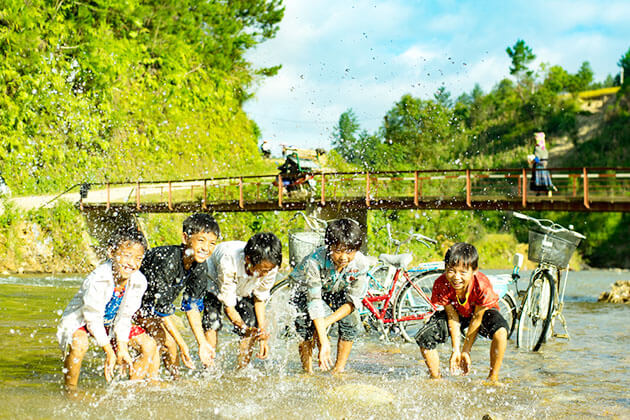 Spend time to visit Mu Cang Chai market, a local market with a lot of cultural features, buy some things as a souvenir to take back. Then we take a 3-hour drive to get Lai Chau for overnight accommodation.
Day 5: San Thang Market – Muong Hum Village (B, L, D)
In the early morning, we will head to San Thang Market, an authentic local market filled with hundreds of Hmong people in their vibrantly embroidered batik skirts, they live in the surrounding villages. Here you can shop for local fabrics, threads, and trimmings.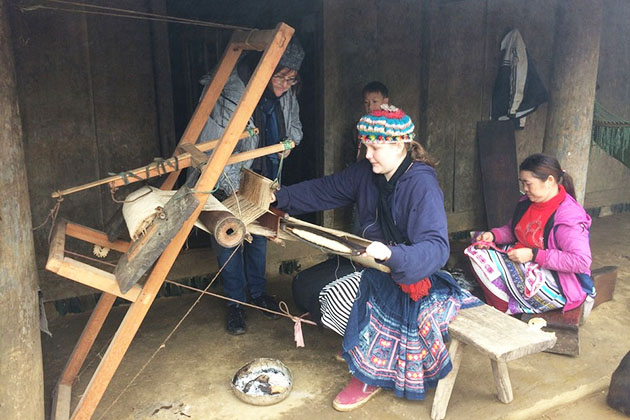 Then we will be transferred to the remote and rarely visited village of Muong Hum where is home to Ha Nhi people. Especially, they will astound you with a variety of interesting textile techniques which they often use for their traditional dress and accessories.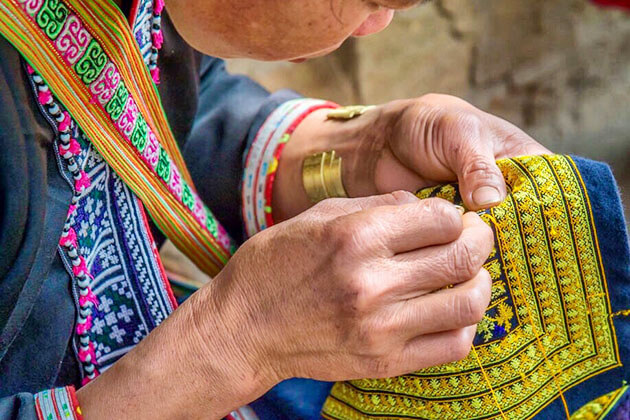 Day 6: Hanoi Departure – Farewell Party (L)
In the morning, there will be a drive back to Hanoi's departure. We have a tiny farewell party at lunchtime, then transfer you to the airport for flight back. Your Exciting Textile Tour ends here.
Hope you had a fabulous tour with Hanoi Vietnam Local Tour. See you the next time!