General Information
Tour Route: Hanoi – Pu Luong – Hanoi
Duration: 3 days/ 2 nights
Departure Date: Any time you wish
Start/End: Hanoi/ Hanoi (Pickup & Drop off at the hotel)
Brief Itinerary
Day 1: Hanoi – Pu Luong Nature Reserve (L, D)
Day 2: Pu Luong Discovery (B, L, D)
Day 3: Pu Luong – Hanoi (B, L)
Full Itinerary
Day 1: Hanoi – Mai Chau – Pu Luong Nature Reserve (L, D)
Pick up at your hotel, then depart to Mai Chau. Stopover on the way with spectacular views around every bend. A short visit at Mai Chau of Hoa Binh province will introduce to you the tranquil beauty of local villages as well as the poetic scenery of the whole valley. Then, the driver continues to take you to Pu Luong Nature Reserve. Upon arrival, you will have lunch, followed by free time to explore the beautiful retreat.

This afternoon, continue your trip by joining the walking tour through a suspension bridge crossing the Cham River. Start to explore the water wheels in this area, the amazingly simple structure of bamboo aqueducts to take water from the river will make you surprised.
Then, you will reach the house of local fishermen to discover the daily life of local people, soak up the view surrounding and learn the way to control the paddle. When arriving Tan Lap Bridge, you will return to Pu Luong Retreat for your dinner and stay overnight.
Day 2: Pu Luong Discovery (B, L, D)
Start in the early morning to descend into the picturesque valley and take a leisurely stroll around the rice terraces to admire the immense scene and the peaceful atmosphere of a remote area. Then, continue trekking to some villages including Uoi, Lan Trong, and Lan Ngoai villages at the base of the long-lasting mountain range. The visit through a large number of sites including the roads, the farmlands, the forests, mountains, rice fields, rivers, and streams as well as the villages will bring you to a world of peace and tranquility. Don't forget to record this breathtaking scenery on photos before returning to the retreat for lunch.
This afternoon includes a visit to the hidden charm of Hieu village by a jeep trip. Afterward, sightseeing the only waterfall in Pu Luong Nature Reserve and head back to the Retreat, enjoy dinner and spend another overnight here.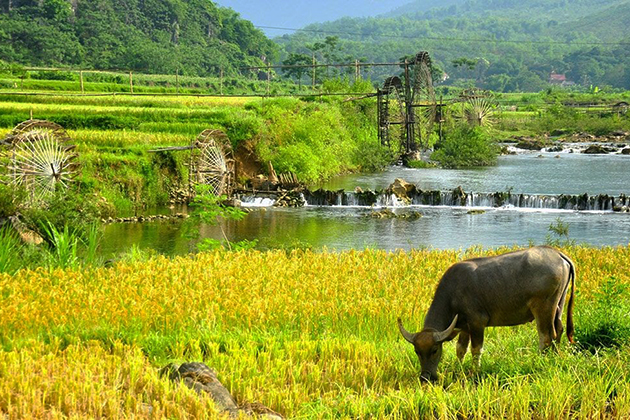 Day 3: Pu Luong – Hanoi (B, L)
Another morning in Pu Luong to discover the local lifestyles and communicate with them on an excursion to Kho Muong village where you can stroll around the village, get a look at the local way of working on the farmland as well as marvel at the beautiful rice terraces before enjoying lunch. In the afternoon, return to Hanoi. Your day tour from Hanoi ends.