Tour Description
Tour Details
Tour Route: Hanoi – Ninh Binh – Hanoi – Halong Bay – Mai Chau
Duration: 10 Days/ 9 Nights
Date: No fixed departure dates. You may go whenever you wish
Start/ End: Hanoi/ Hanoi
Tour Type: Landscape, Culture, and Nature
Tour Customizable: Absolutely! (Tell us your specific requirements in the inquiry form)
Brief Itinerary
Day 1: Hanoi Arrival (D)
Day 2: Hanoi – Tam Coc – Hoa Lu – Cuc Phuong National Park (B, L, D)
Day 3: Cuc Phuong National Park – Bird Watching (B, L, D)
Day 4: Cuc Phuong National Park – Bird Watching – Hanoi (B, L)
Day 5: Hanoi Leisure Day (B)
Day 6: Hanoi City Tour (B, L)
Day 7: Hanoi – Halong Bay (L)
Day 8: Hanoi – Perfume Pagoda (B, L)
Day 9: Hanoi – Mai Chau (B, L)
Day 10: Hanoi Departure (B)
Full Itinerary
Day 1: Hanoi Arrival (D)
On arrival at Noi Bai airport in Hanoi, we met our guide Kevin who took us to West Lake Home Hotel to rest. The rest of the day is your leisure to explore Hanoi city. Overnight in Hanoi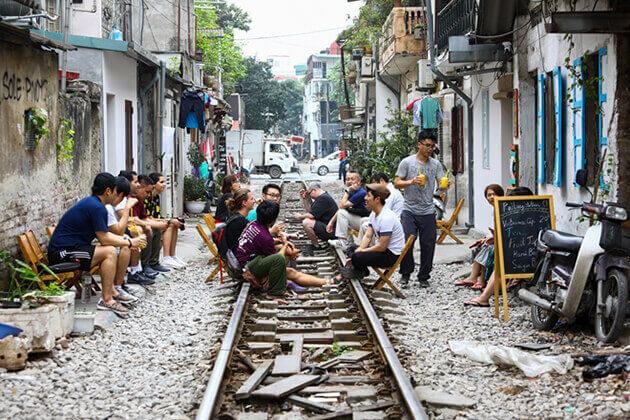 Day 2: Hanoi – Tam Coc – Hoa Lu – Cuc Phuong National Park (B, L, D)
At 8.00 am, you will be picked up at the hotel for 2.5 hours drive to the south of Hanoi to Tam Coc, where we stop at a local restaurant for lunch with spring rolls and chicken noodle soup. After that, take a sampan riding along a river for relaxing and enjoying the sensation of being gently paddled by hands in a little boat. Immerse yourself in this astounding feelings on the blue-green river, and explore the mysteries of Tam Coc (the three caves).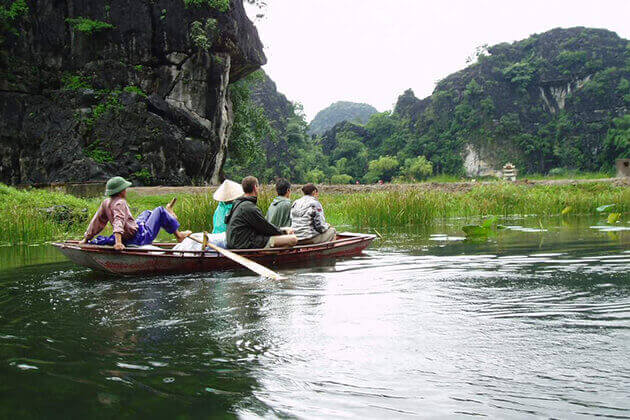 Upon arrival back in the boat dock, drive to Hoa Lu – Vietnam ancient capital city of King Dinh and Le Temples as well as old citadel traces. Keep moving through astonishing limestone areas to Cuc Phuong National Park. Dinner and overnight in the park headquarter.
Day 3: Cuc Phuong National Park Exploration & Bird Watching (B, L, D)
Our bird specialist tour guide Huen will discuss and recommend the trail to find and see birds depending on the weather.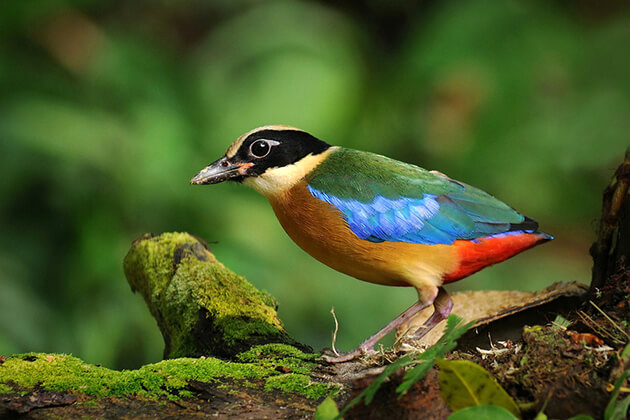 Spend the whole day on bird watching by driving 20km through the rain forest to the Bong Station, then follow a circular route viewing a variety of endangered bird species. Walk along a 6-km trail passing through giant trees, some of which are over 1000 years old. Overnight in Bong bungalow. Dinner, relax and overnight inside the park.
Day 4: Cuc Phuong National Park – Hanoi (B, L)
Wake up this morning with the sounds of the forest all around us then continue the trip with the guide's recommendation and head out for a trek through the lush rainforest that makes up the park to find other bird kinds. We will visit the endangered primate rehab center with over six species of gibbon from Vietnam forests and then the turtle endangered species rehab center with both water and forest turtles being saved and bred. Then back to the car and overnight in Hanoi at our West Lake Home Hotel.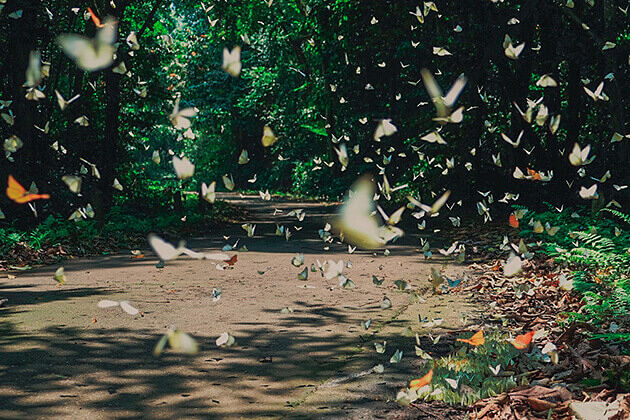 Day 5: Hanoi Leisure Day (B)
After a restful morning, move to Pan Pacific Hotel to sit on the 20th-floor panorama restaurant and watch the city for several hours as the sunset, and then come down one floor to registration, music show and an evening chat with Ada Zohar.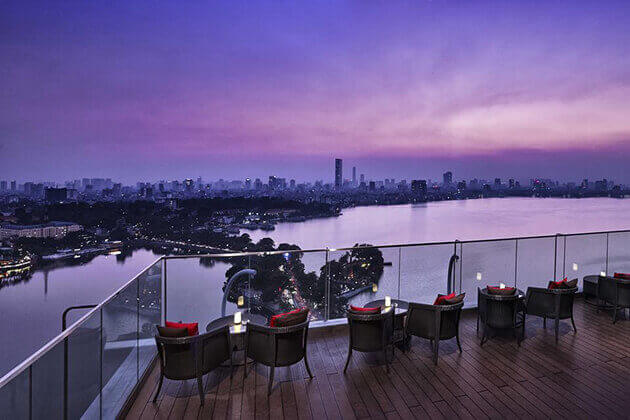 Day 6: Hanoi City Tour (B, L)
Today, visit Tran Quoc pagoda, the biggest pagoda in Hanoi (over 1000 years old) then cross the street to the monument at the site where John McCain's plane crashed. After that, reach the Temple of Literature, which was originally built as a temple to Confucius and became a Confucian University. The courtyard contains large stone monuments with the names of those who passed their Ph.D. examinations over 700 years!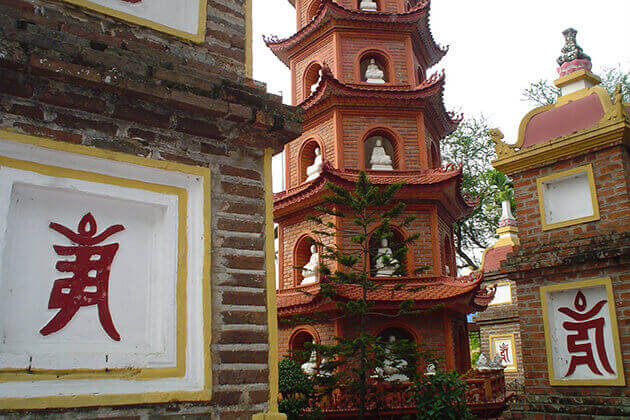 After lunch, visit the infamous Hoa Lo Prison Museum, the ''Hanoi Hilton''  where  John McCain was incarcerated for over 5 years. The presentation claims that about 50 American aviators were treated well; the Americans say they were tortured.  Much more importantly historically was the large presence of its use for almost a century by the French colonial regime (the 1880s to 1954) to cruelly imprison all Vietnamese dissidents or independence leaders.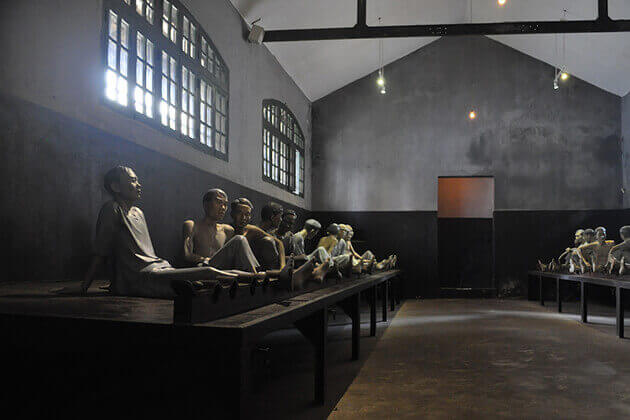 Day 7: Hanoi – Halong Bay (L)
Pick up at our hotel in Hanoi after breakfast, and take 180 KM to Halong Bay in the Northeast of Vietnam. Halong Bay has been recognized by UNESCO as the World Natural Heritage thanks to its universal values of landscape, geology, and geomorphology, respectively in 1994 and 2000 and is one of the most beautiful bays in the world.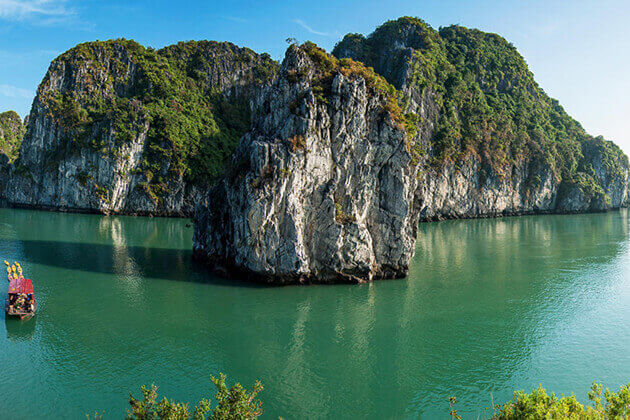 On arrival in Tuan Chau Pier at around noon, we will get on a boat with the welcome of the crew team. Lunch will be served onboard with seafood mainly while our cruise sets toward to the Islet of Rocky Dog (Hon Cho Da), Incense Burner (Hon Dinh Huong) and Fighting Cock (Hon Ga Choi). Our cruise then docks at Amazing Cave (Hang Sung Sot) with hundreds of splendid stalactites. After one-hour visiting the cave, we continue cruising to Titov Island where we have free time and Savta had a 20-minute swim. Back to the cruise at around 4 PM, continue exploring further in the bay before ending the trip at 6 PM at Tuan Chau Wharf. Our car was waiting to take us back to Hanoi.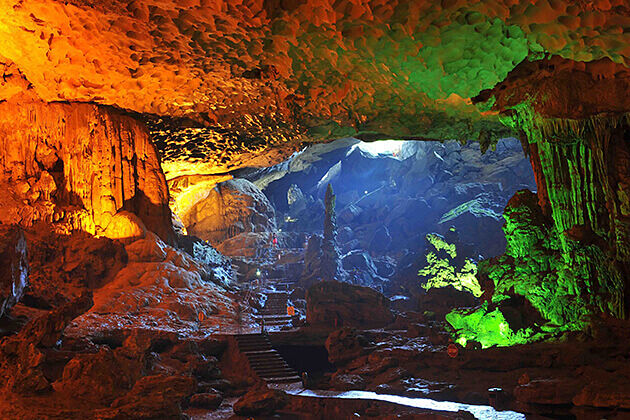 Day 8: Hanoi – Perfume Pagoda (B, L)
Pick up at the hotel at 8 AM then drive to Huong Pagoda (Perfume Pagoda) in the western Hanoi. Perfume Pagoda is a vast complex of Buddhist temples and shrines built into the limestone Huong Tich Mountain. Its main festival begins from the first month of the Lunar calendar and lasts for about 3 months with a large number of pilgrims from all over Vietnam.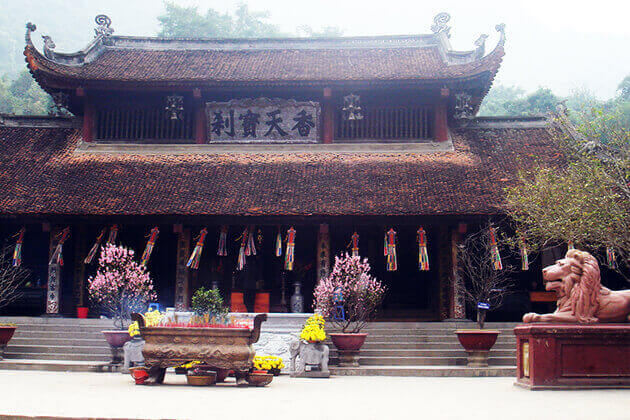 On arrival, we will take a sampan boat paddling along the Yen River to Thien Tru pagoda then walk up to the mountain. A lot of pagodas are scattered among the limestone hills and tropical forests of Huong Mountain. The heart of the Chua Huong complex, Huong Tich Cave is located inside the Inner Temple. Its mouth has the shape of an open dragon's mouth with Chinese characters meaning "first-grade cave of the South World"  carved in a wall at the mouth of the cave. Among the naturally occurring features of the cave are a variety of stalactites and stalagmites worn smooth from years of rubbing by visitors to the cave.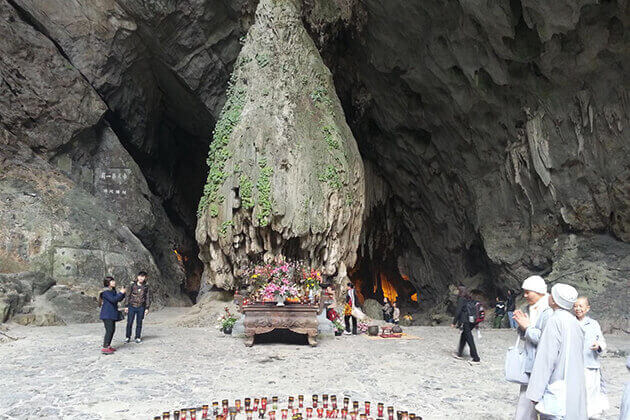 After visiting Huong Tich cave, we ascend many steep rock-hewn steps but then chose the cable car rather than a further 3 km uphill with the pilgrims. We enjoy the scenery of Huong Pagoda and its surrounding from the height. After lunch, get in our car and transfer back to Hanoi. Dinner at the "Home" restaurant with Ada Zohar and the two other symposium presenters with excellent Vietnamese food.
Day 9: Hanoi – Mai Chau (B, L)
After breakfast at the hotel in Hanoi at 8 AM, we will drive to Mai Chau Valley – the rural district of Hoa Binh Province, which is 160 KM away from Hanoi. On arrival, we will have lunch in a house-on-stilt in Poom Coong Village which is the home to Thai minority people. This region is well known for its stilt houses of Thai ethnic minority made of bamboo and timber. These houses are built 10–12 feet up from the ground in order to avoid floods and dangerous wild animals.
After lunch, we walk around the village passing through rice fields, local schools, seeing farmers working on their fields, talk with the lovely children and continue exploring the village of Ban Lac before going back to the stilt-house. After a short rest with a cool soft drink, we will get in our car and drive back to Hanoi for overnight accommodation. Dinner at the Lotte Hotel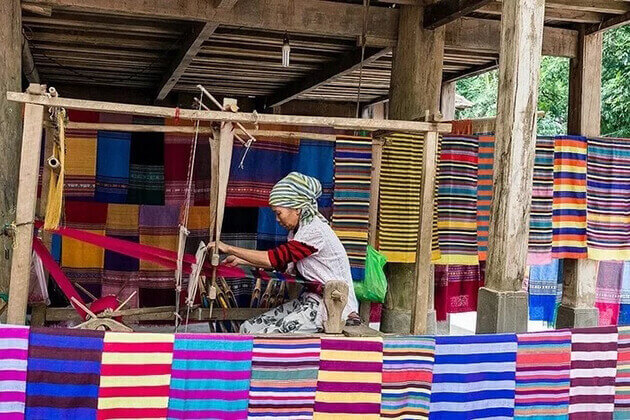 Day 10: Hanoi Departure (B)
After breakfast, transfer to the airport for your flight. Trip ends.