This Vietnam tour package takes you from the North to South Vietnam. It gives you the opportunity to visit some of the most mesmerizing destinations that would leave you the countless wonderful moments to share with friends. The 15-day tour itinerary in Vietnam consists of most worth-trying activities in this stunning country, from a trip in Hanoi exploring the thousand-year-old capital to the paradise hidden behind the mist – Sapa and a night cruise ship in Halong Bay. Moreover, it's a chance to wander in the ancient town in Hoi An, experience the difference in life between the dynamic city and a lively Mekong Delta area.
General Information
Tour Route: Hanoi – Sapa – Fansipan – Cao Bang – Halong Bay – Hue – Hoi An – Ho Chi Minh – Cu Chi Tunnel – Mekong Delta – Ho Chi Minh City
Duration: 15 Days
Departure Date: Any time you wish
Start/ End: Hanoi / Ho Chi Minh
Brief Itinerary
Day 1: Hanoi Arrival – Trishaw tour & Water Puppet Show (D)
Day 2: Hanoi – Cooking Class at outskirt village – city tour – Night Train to Sapa (B, L, D)
Day 3: Sapa (B, L, D)
Day 4: Sapa – Fansipan Conquer (B, L, D)
Day 5: Sapa – Cao Bang (B, L, D)
Day 6: Ban Gioc Waterfall – Ba Be (B, L, D)
Day 7: Ba Be – Hanoi (B, L, D)
Day 8: Hanoi – Halong Bay (B, L, D)
Day 9: Halong Bay – Hanoi – Hue (B, L, D)
Day 10: Hue – Riverboat & Royal Tombs Discovery (B, L, D)
Day 11: Hue – Danang City – Hoi An Ancient Town (B, L, D)
Day 12: Eco-tour in Hoi An Farming & Fishing (B, L, D)
Day 13: Hoi An Town – Danang – Ho Chi Minh City – Cu Chi Tunnel – Vespa Tour (B, L, D)
Day 14: Ho Chi Minh – Mekong Delta – Ho Chi Minh (B, L, D)
Day 15: Ho Chi Minh – Flight Departure (B)
Full Itinerary
Day 1: Hanoi Arrival – Trishaw tour & Water Puppet Show (L, D)
Upon arrival, you will be picked at the airport by your local guide & driver who transfers you to the hotel. We have a short rest at the hotel, then move to a local restaurant for the welcomed lunch.
After lunch, we enjoy a romantic 1-hour cyclo tour around the French-inspired Old Quarter. We'll have time for free shopping in the old quarter ranging from the market through the designer boutique and finally to an amazing contemporary art gallery. Next, we have a 1.5-hour Water Puppet Show before savoring a scrumptious dinner at a fine local restaurant.
Day 2: Hanoi – Cooking Class at Outskirt Village – Hanoi City Tour – Night Train to Sapa (B, L, D)
A nice breakfast begins your day, then the guide will pick you up for a cooking class in a village nearby Hanoi. Arrive at Ngoc Thuy market – a vibrant and authentic local wet market. The guide will give you a short introduction to Vietnamese shopping habits and a brief schedule of the cooking demonstration.
9:15 AM: Walk around the market & buy ingredients for the cooking class' menu. Also, you are free to taste some local breakfast (you can try Banh Cuon, Pho Bo, Fruits).
10:15 AM Visit & learn about the herbs, vegetable in a family garden nearby
10:30 –12:30 AM Start cooking 4 main dishes of a traditional meal
12:30 – 13:30 AM Lunchtime
In the afternoon, get back to Hanoi & visit Temple of Literature, the first university in Vietnam.
After that, visit the Museum of Ethnology. It is widely acknowledged as the best in the country and it has an extensive display dedicated to Vietnam's 54 Ethnic minority peoples & Hoan Kiem lake. Back to the hotel (no room) and transfer to train station for night journey to Sapa by sharing a cabin of 04 people. Overnight on the night train.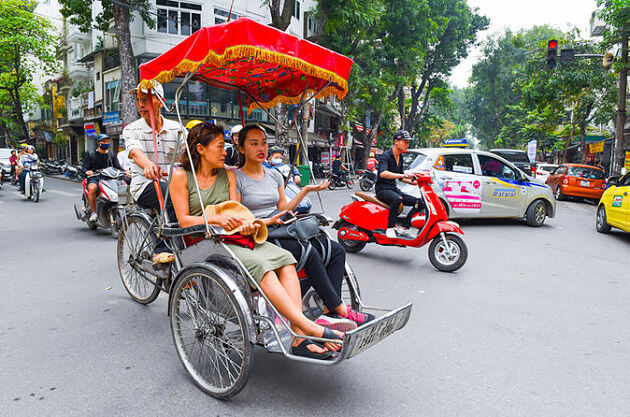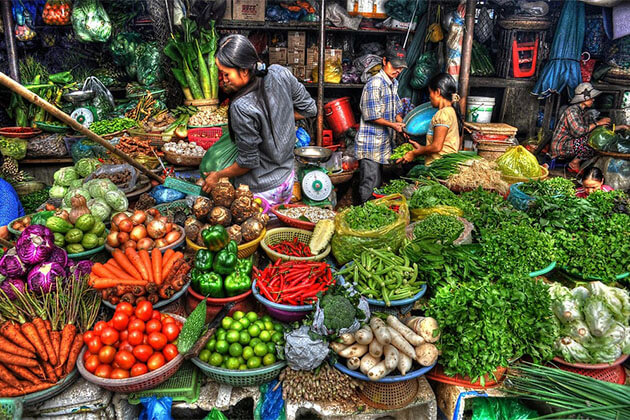 Day 3: Sapa (B, L, D)
Arrive in Lao Cai in the very early morning, then meet the local guide & transfer to Sapa Town. Enjoy breakfast in a local restaurant before a beautiful hike through the breathtaking scenery of Sapa Valley. Visit Cau May street, admire the rice terraces hidden in the mist of the morning, which all truly an awe-inspiring sight.
Follow a small track and cross Muong Hoa River to get Lao Chai village, home to Black Hmong people. Continuing through the stunning rice terraces and eventually reach Ta Van Giay village. Discover a fascinating collection of rock carvings when trekking along the Muong Hoa river. These engravings depict the splendid images of the local people, stilt houses, and some other beautiful decorative patterns. Have lunch in the village of a local family.
In the afternoon, walking through a bamboo forest to get Giang Ta Chai, a Red Dao ethnic minority village. After a rest nearby a waterfall, we start climbing uphill to the road where the car is waiting to take us back to Sapa. Overnight at hotel in Sapa
Day 4: Sapa – Fansipan Conquer (B, L, D)
After breakfast, your day will begin by a short scenic drive to Fansipan Legend, then using the cable car to reach the peak of Fansipan – the Roof of Indochina with 3143-meter height within 20 minutes. Otherwise, it takes you two or three days to reach the peak of Fansipan on foot. Back to the town and enjoy lunch. Stay overnight at Sapa.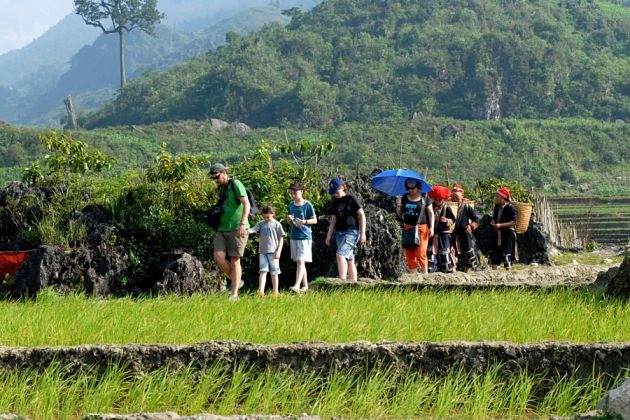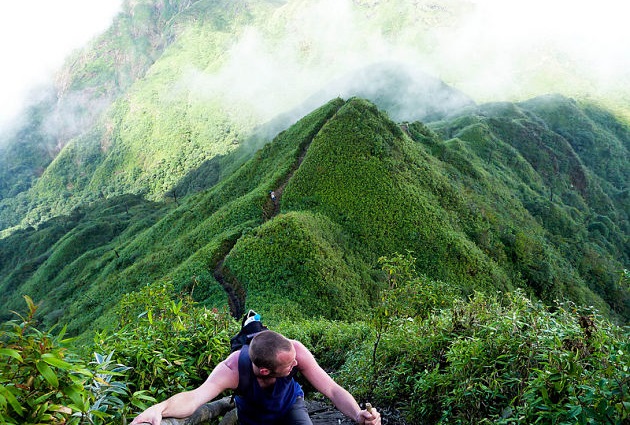 Day 5: Sapa – Cao Bang (B, L, D)
The guide will pick you up by car at your hotel in the early morning, then transfer to Lang Son. Start by a 3-hour drive in the direction of the Chinese border before a stop at Chi Lang Pass, a 20-km-long gorge created from a small valley between two mountains. You will then have roughly an hour to walk around & explore around areas of Quy Mon Quan Gate (literally means The Gate of Monsters). Its name is for the many invasion forces that spill through the pass over the course of history to be beaten back by stalwart Vietnamese defenders.
After lunch, we continue the trip into the pass, stop en-route to visit Mother's Temple and Dong Khe, an important historical relic dating back the First Indochina War. Actually, this was the first battle of the Indochina Wars, and the fighting occurred through September and October 1950, ended in the resounding victory for the Viet Minh. Enjoy dinner and stay in a hotel in Cao Bang City for overnight accommodation. Overnight at hotel in Cao Bang.
Day 6: Ban Gioc Waterfall – Ba Be (B, L, D)
Have breakfast at the homestay, then depart for Trung Khanh which lies right on the border with China. Here you have a chance to meet and interact with Nung people, living in Phuoc Sen Village, a famous mountainous village with blacksmithing.
Nestled amongst the amazing landscapes is the majestic Ban Gioc Waterfall, which spans over 300 meters, divided into 2 parts in both Vietnam and China. Take time to explore the amazing atmosphere surrounding the falls, which sends you an exceptional opportunity to capture the magnificent Northwest nature.
Leave the fall behind and head to Nguom Ngao cave, for a different but very impressive natural wonder. Nguom Ngao cave stretches for 2,144 meters underground and it is brimming with the incredible stalactites and stalagmites. Later on, return to Cao Bang Town and head down the "snake pass" to Ba Be lake. Stay in a homestay constructed in traditional Tay house for overnight accommodation. Overnight at homestay in Ba Be.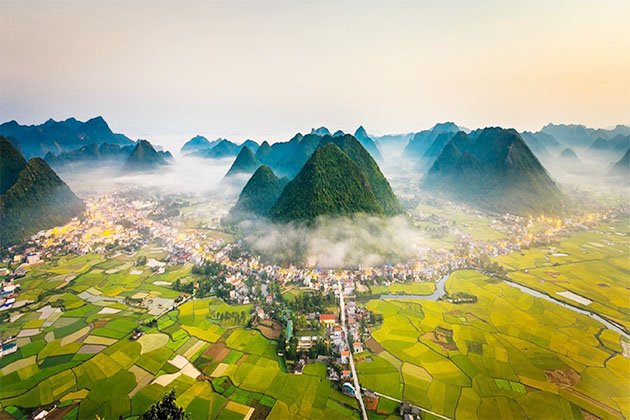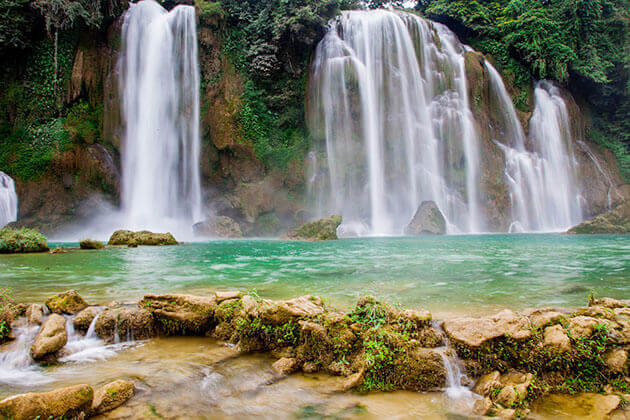 Day 7: Ba Be – Hanoi (B, L, D)
After breakfast, kick the final day of the tour in Ba Be by boarding a boat and setting off onto the lake. Relish in the views consisting of stunning karst formations all around, covered with patches of wild vegetation and rich wildlife.
The boat will continue along the Nang River. It's a chance to explore the caves of Puong Grotto where you'll be mesmerized at the stalactites and stalagmites created through river erosion, and observe the thousands-strong bat colony that lives here as well.
Now that you've reached the end of the Ba Be tour, drive the roughly 230 kilometers back to Hanoi, right after a stop at a tea plantation nestled behind rolling hills. Overnight at hotel in Hanoi.
Day 8: Hanoi – Halong Bay (B, L, D)
After breakfast, the guide will pick you up at your hotel nearby the Hanoi Old Quarter and embark on the Perla Dawn Sails at Cat Hai port. Enjoy a welcome drink and cruise briefing.
13:15 – 14:00 Enjoy a splendid lunch while cruising into the primitive Lan Ha Bay.
15:30 – 17:00 On a bamboo boat, take a visit to Bright Cave, a scenery around the lake surrounded by the lush trees and high stone cliffs. Then enjoy swimming in the private emerald water.
17:00 – 18:30 Return to the Perla Dawn Sails for afternoon tea on the top deck – a perfect time to take some of your best snapshots of the day when the sun begins to set. Relax with Massage and Spa treatment, which always available upon request.
19:00 Delight in the shimmering atmosphere of thousands of stars while eating a fantastic, expertly prepared dinner on floating farm, all while floating in the center of serene Lan Ha Bay. To be impressed by an absorbing fruit and vegetable carving demonstration and a traditional music performance at dinner time.
21:00 – 22:00 Enjoy daily HAPPY HOUR promotion – BUY 1 GET 1 FREE on all beverages. Socialize with new friends and crew members, and join some nighttime squid fishing. Overnight onboard. Overnight on board.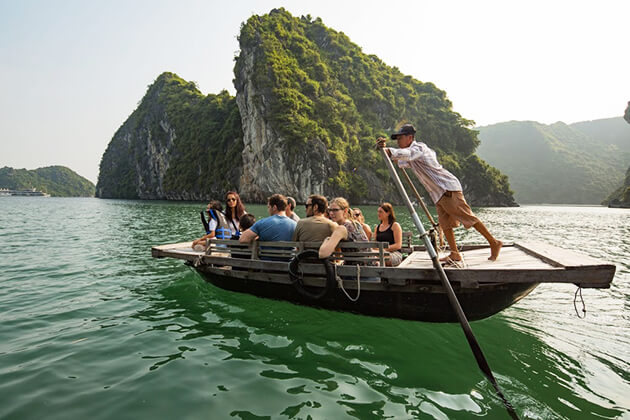 Day 9: Halong Bay – Hanoi – Hue (B, L, D)
06:00 – 06:30 Begin your new day with a Tai Chi session or a photo hunt before enjoying breakfast in the tranquil beauty of the Bay. After that, join a kayaking tour and discover the scenic Tra Bay area. Visit a fishing farm and socialize with the resident fishermen to know more about life here and how the people work every day.
9:00 – 9:45 Pack your luggage and check-out of the cabin.
10:00 – 11:30 Join a cooking class before enjoying a special Buffet lunch
11:45 – 12:00 Disembark the Perla Dawn Sails & Farewell
14:30 – 15:00 Arrive in Hanoi. Move to the airport for a flight to Hue.
Welcome upon arrival by local tour guide and friendly driver before transferred to the hotel. Overnight in Hue.
Day 10: Hue – Riverboat & Royal Tombs Discovery (B, L, D)
Pick up at the hotel at 8:30 AM, we will board the Dragon Boat on the romantic Perfume River heading out for the countryside. Being the former capital, Hue is surrounded with ancient tombs of emperors in the past, take a visit to the most beautiful tombs in Hue.
The next destination is Thien Mu Pagoda (The Lady Pagoda). It has a great view of the Perfume River and the surrounding area. Thien Mu deems to be the symbol of Hue and Buddhism in Vietnam. From here, we rejoin our van and go visit King Khai Dinh's Tomb and King Tu Duc's Tomb.
In the afternoon, visit the Imperial Citadel where the Dynasty of Nguyen ruled between 1802- 1945 after delving into the ruins of this wonderful monument. Afterward, depart to the Hue Royal Fine Art Museum, housed within the former Dien Long An Royal Palace. We will finish our day with the local Dong Ba Market to see the daily life of local people. Overnight in Hue.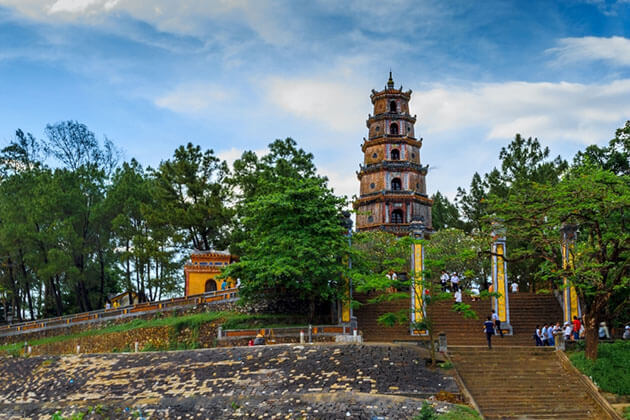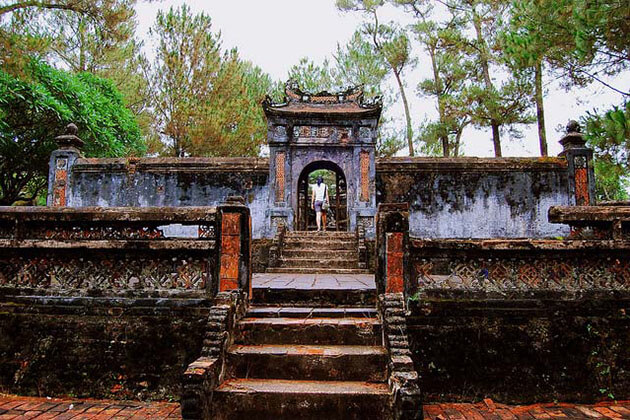 Day 11: Hue – Danang City – Hoi An Ancient Town (B, L, D)
A nice breakfast starts your day, then travel to Hoi An Ancient Town along the scenic highway 1A. We have a stop en-route to contemplate the stunning views of Lang Co Beach.
On arrival in Danang, we will have a brief visit to Cham Museum – the houses of the most complete collection if Cham Artifacts anywhere in the world; China Beach – which was named and used to have their Rest and relaxation; and the Marble Mountain –inspired from the five elements of universe (water, wood, air, fire, and earth).
We arrive in Hoi An Ancient town in the afternoon. The rest of the day will be free for strolling in the town, lazing on the beach, or whatever takes your fancy. We'll spend the night in Hoi An.
Day 12: Eco-tour in Hoi An Farming & Fishing (B, L, D)
After breakfast, we head off to the Farming & Fishing life eco-tour, which starts at Tra Que Village. We set about joining the farmers in preparing their land for sowing, helping to fertilize the garden using seaweed from the local river and watering it in using huge tin cans strapped to our backs. Following this, we will begin our leisurely cycling tour through the countryside witnessing local Vietnamese rural life first hand.
In the late morning, board our Hoi An Eco-tour boat for the cruise time. It is a great chance for you to meet and witness the local fishermen on their work before a hands-on experience of traditional net fishing. We will then transfer to a Vietnamese bamboo basket boat for a quick race and ride down a coconut palm-lined waterway.
Lunch is on board our boat, which is prepared using vegetables picked earlier at Tra Que Village. After lunch, we have some free time to wander around Hoi An town center before heading back to the hotel. Overnight in Hoi An.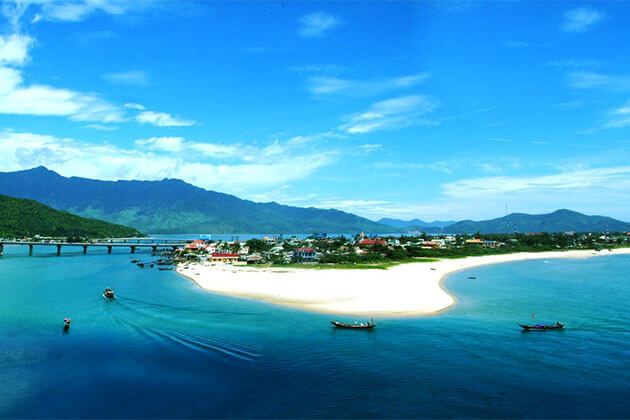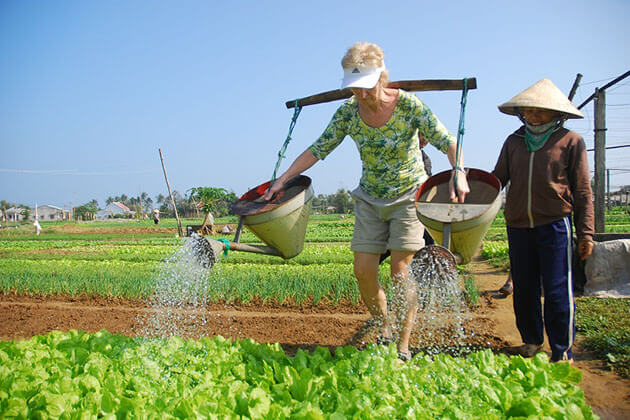 Day 13: Hoi An Town – Danang – Ho Chi Minh City – Cu Chi Tunnel – Vespa Tour (B, L, D)
Today, we will take a morning flight to Ho Chi Minh City where we will be greeted on arrival and driven to visit Cu Chi Tunnels. The tunnel system stretched over 250 km from Saigon to the Cambodian border and was three levels in depth.
The network consisted of innumerable trap doors, specially constructed living areas, weapons factories, field hospitals. The remaining tunnels today have become a major tourist attraction giving the visitor a unique experience and a feel of what underground life during the war.
We then return to Ho Chi Minh City and check-in our hotel with free time at leisure. In the evening, take the Vespa tour to explore the city at night. The tour guide will pick up at the hotel and the street food adventure in the back of Vespa. The first stop is the Café zoom to "watch the world goes by" and taste cocktail and appetizer before adventuring the favorite local eating spot. The vintage Vespa scooter takes us to the Saigon Chinatown.
Then heading to District 4 through busy streets, alleys to witness the nightlife of locals. Enjoy the street seafood and cold drinks – places that foreigners won't be found. Leaving District 4 to District 3 the tour goes through downtown District 1 to take in the sights on the way to Banh Xeo (Saigon Special Pancake) – the specialty of Saigon, and other southern foods with the locals.
Next, the guide will take you to a hidden Vietnamese-style coffee shop to have a taste of Vietnamese music (live) as a local often does. The tour ends at 10 PM and we will have a good night after a hectic day. Overnight in Ho Chi Minh.
Day 14: Ho Chi Minh – Mekong Delta – Ho Chi Minh (B, L, D)
This morning, we transfer to Cai Be where we will enjoy our boat trip around Cai Be colorful floating market with various local barges full of fruits and vegetables. Then, stop at the local workshops to visit rice paste, coconut candy, pop-rice, production of pop-corn or we visit the handicraft village where the local people make special products of rice-net for spring rolls, fish sauce, soya sauce, cooking salt, sewing coconut-leaves for cottage proof…Then we stop for lunch.
After lunch, the rowing boat takes us deeper into the countryside along the canals. Indulge in the fresh air while passing traditional houses made of wood, palm tree leaves; farmers catching fishes or picking up fruits in the area of Mekong Delta.
Arrive in homestay, check-in and enjoy the last activity of the day, which is biking. It's actually a fascinating experience on village paths. In the rest of the day, we learn to cook some dishes with the owners, and then savor the dinner and have a drink while talking together. We can ask the locals about the culture, people, and history of this Island. Overnight in Mekong Homestay.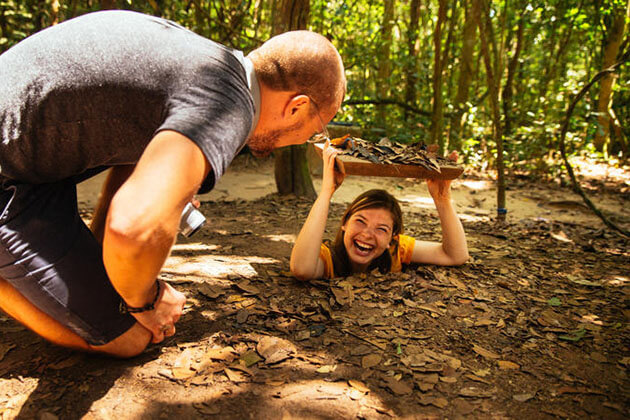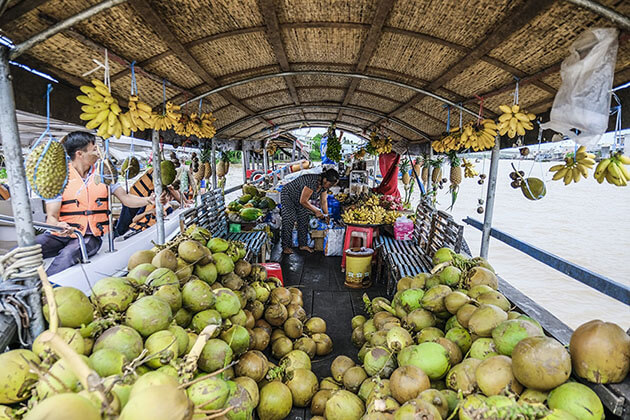 Day 15: Ho Chi Minh City Departure (B)
Have a breakfast and walk along the village to enjoy the fresh air in the morning; after that, we take a boat trip to visit the brick kilns where we can witness how the locals create beautiful potteries from clay.
Our boat will go along the floating village where we will see how the people farm catfish on Mekong River. Stop the boat trip, we can visit Vinh Long market in the town. It's the ideal choice for us to take pictures of fish, shrimps, crabs, snakes… Then transfer back to Saigon. Transfer to have dinner before heading to the airport for your midnight homeward flight.