A 10-day Vietnam local tour with the inspirational itinerary below to catch up this stunning Vietnam in every corner of it. Depart at Hanoi, the heart of Vietnam with a series of tourist attractions which will fill your two-day in here. Try this famous original Pho, experience the first time with Nem (special dish in Hanoi), and many other street foods around Hanoi Old Quarter. Take a visit to Halong Bay, the wonderful place on earth, enjoy the comfortable on the cruise. Leave the north behind, transfer to Pleiku, stunning Quy Nhon before getting Ho Chi Minh city and some attractions in South Vietnam.
General Information
Tour Route: Hanoi – Halong Bay – Lan Ha Bay – Pleilu – An Khe – Quy Nhon – Phu Tai – Ho Chi Minh – Vinh Long – Ho Chi Minh City
Duration: 10 Days/ 9 Nights
Departure Date: Any Time You Wish
Start/ End: Hanoi/ Ho Chi Minh
Brief Itinerary 
Day 1: Hanoi arrival
Day 2: Hanoi city tour
Day 3: Hanoi – Ha Long – Lan Ha Bay
Day 4: Ha Long – Hanoi
Day 5: Hanoi – Pleiku
Day 6: Pleiku – An Khe – Quy Nhon
Day 7: Quy Nhon – Phu Tai – Ho Chi Minh City
Day 8: Tour in Ho Chi Minh City
Day 9: Ho Chi Minh City – Vinh Long – Ho Chi Minh City
Day 10: Ho Chi Minh City departure
Full Itinerary
Day 1: Hanoi arrival (D)
Our guide meets you at the airport and accompanies you to your hotel. You'll have time to relax after a long flight.
Day 2: Hanoi City Tour (B, L, D)
You'll enjoy an orientation of Hanoi. For the start of the tour, you will visit Ho Chi Minh's Mausoleum, his simple stilt house where he lived and worked, and the museum dedicated to his memory. During the tour in Hanoi, you will visit the One-Pillared Pagoda, originally built in 1049; the Temple of Literature – the first university in Vietnam, founded in 1070.
For lunch, you will try 'pho' (Hanoi's famous beef noodle soup) or Bun Cha – the street food classic and "Nem" (deep-fried spring roll) which are specialties dishes in Hanoi.
In the afternoon you will visit the center of Hanoi, including Hoan Kiem Lake, the Ngoc Son temple. After that, you will visit Hoa Lo prison "aka" Hanoi Hilton before you take a walking tour of Hanoi's Old Quarter, also known as the '36 streets'. This bustling area is appealing with its narrow streets and alleys, which is home to thousands of small businesses and shopkeepers. It's a pity if you miss it!
In the late afternoon, you'll return to enjoy a wonderful performance of Vietnamese Water Puppetry and finish up at the traditional house for a coffee and enjoy a panoramic view of the famous Hoan Kiem Lake. You'll spend the night in Hanoi.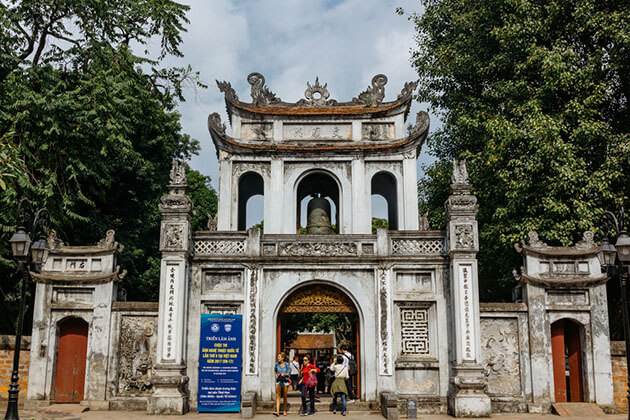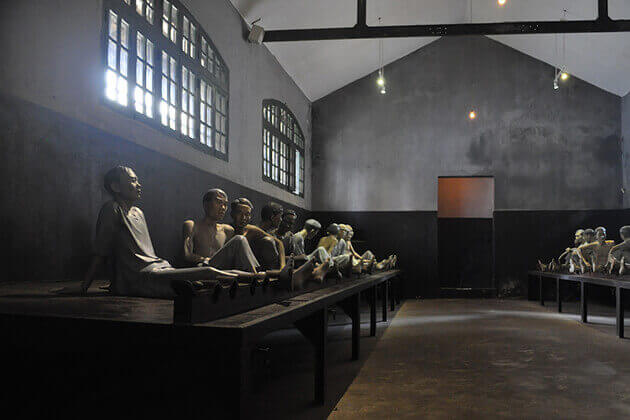 Day 3: Hanoi – Ha Long – Lan Ha Bay (B, L, D)
Pick up at hotel in Hanoi, we transfer to Halong bay then to Cai Hai Port. On arrival, we get on our boat and enjoy a welcome drink. A savory lunch is served while cruising into the splendid Lan Ha Bay. Experience kayaking through the poetically beautiful Tra Bau area then enjoys swimming in the emerald water. After that, we visit a fish farm and socialize with the resident fishermen to learn more about local life and how the people work every day.
Return to the cruise and enjoy "Happy Hour" drink time while taking part in the cooking demonstration. Delight in the atmosphere of thousands of twinkle stars while enjoying a fantastic dinner on the top deck of the boat in the center of Lan Ha Bay. Dinner with fresh seafood on boat and overnight at the Bay.
Day 4: Ha Long – Hanoi (B, L)
Warm-up your day with a Tai Chi Exercise. Then we enjoy breakfast in the restaurant. On a bamboo boat, we will visit Bright Cave and a serene round lake surrounded by rich forest and precipitous stone cliffs before come back.
After that, you return to the cruise to pack your luggage and check out of your cabin while cruising towards the port. Enjoy an extraordinary buffet lunch before getting back to the mainland and get on our bus back to Hanoi.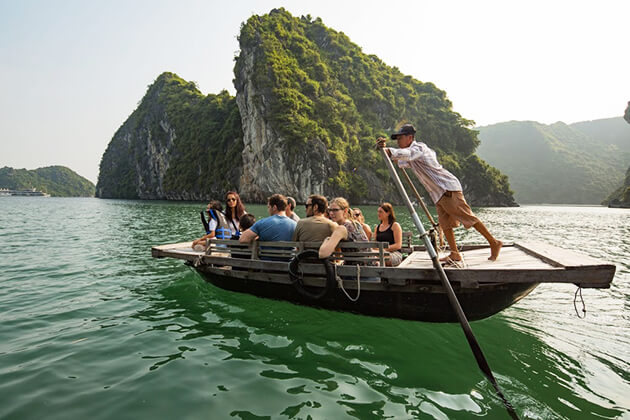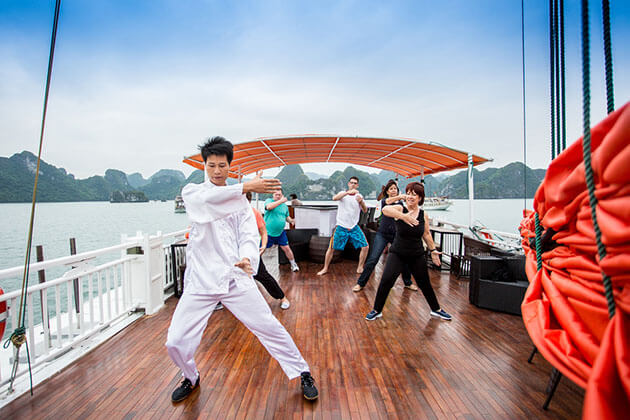 Day 5: Hanoi – Pleiku (B, L)
In the morning your car and driver arrive to take you to Noi Bai airport for a flight to Pleiku. Upon your arrival, you will be driven southward on Highway 14 to visit the former Camp Entry that used to be the Headquarters of the 4th Infantry Division, Camp Pleime – the former CIDG (Civilian Irregular Defense Group) and Cateka tea plantation the former US operational area.
From Camp Pleime, you can overlook Ia Drang Valley where there was a big battle during 1965 between American soldiers and the North Vietnamese Army. Overnight at hotel in Pleiku.
Day 6: Pleiku – An Khe – Quy Nhon (B, L)
After breakfast, depart to An Khe on Highway 19. Visit the former 1st Cavalry Division in An Khe, the French Groupement Mobile 100 and some points that interest you on the road. Continue to Quy Nhon where you will spend a night at the hotel.
Day 7: Quy Nhon – Phu Tai – Ho Chi Minh City (B, L)
In the morning you will visit Phu Tai Valley and other places of your interest in Quy Nhon before you board an afternoon flight to Ho Chi Minh where you will be met and driven to your hotel. Overnight at hotel in Ho Chi Minh City.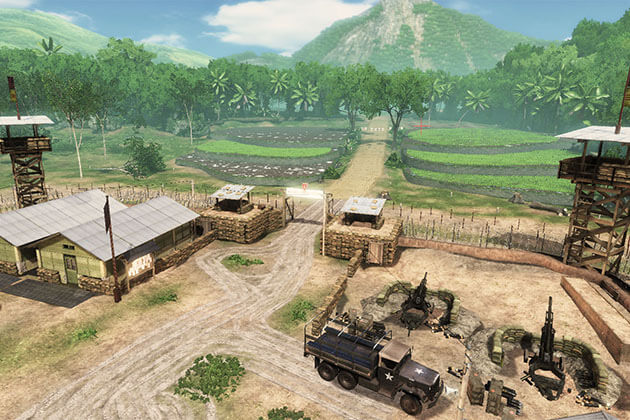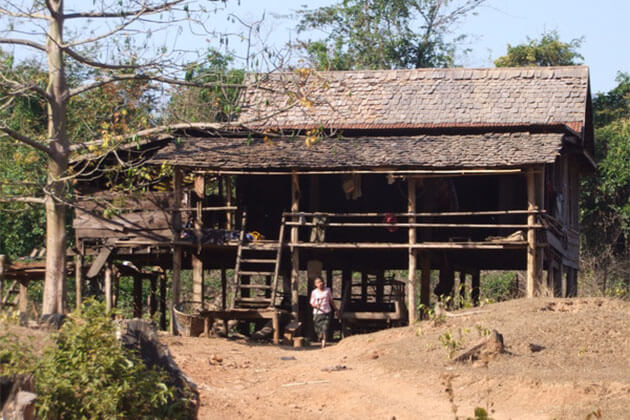 Day 8: Tour in Ho Chi Minh City (B, L)
Today your tour will give you a feel for the city of Saigon, once called the Pearl of the Orient. First, you will visit the Notre Dame Catholic Church, the structure makes a great backdrop to the city bustling streets. The Main Post Office, unchanged since its completion in the 1880s.
You will visit the former Presidential Palace, renamed Reunification Palace which was the historic site on 30 April 1975 when a North Vietnamese Tank crashed through its gates which were the symbolic victory of President Ho Chi Minh's forces over the South. After that, you will visit the former US embassy, Caravel Hotel, stop for a beer at the Rex Hotel to finish the day in style. Stay overnight at the hotel in Ho Chi Minh City.
Day 9: Ho Chi Minh City – Vinh Long – Ho Chi Minh City (B, L)
After breakfast, leave Ho Chi Minh for Cai Be to board a boat for a cruise on Mekong River. Cruise down tributaries and waterways to explore the delta. Take a visit to the famous bonsai garden, soak in the peaceful atmosphere here which are filled with ancient plants sculpted into strange forms and shapes. In the afternoon, you will return to Ho Chi Minh City to spend the night at the hotel.
The Mekong Delta is the southern rice bowl of Vietnam, a fertile area covered with rice fields and winding tributaries of the Mekong River. Originating in the high plateau of Tibet, the Mekong River, over 2600 miles long, travels through China, Myanmar, Laos, and Cambodia before reaching Vietnam where it empties into the South China Sea. The delta is a colorful carpet of rural life with its lush vegetation, island farms and exciting floating markets.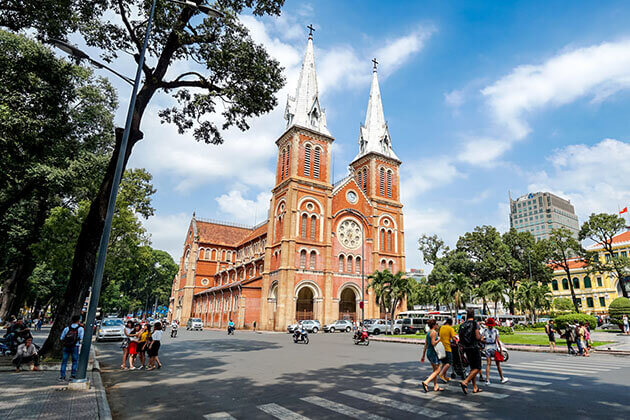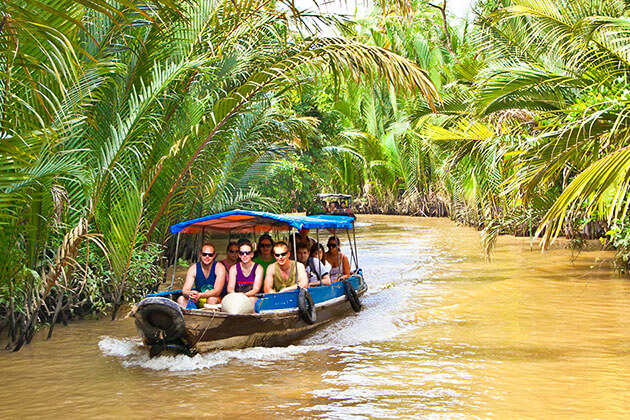 Day 10: Ho Chi Minh City Departure (B)
Wake up in the morning with a savoring breakfast, relax at the hotel until the driver arrives to take you to Tan Son Nhat international airport for flight back.