Sapa – the misty town, one of the famous tourist destinations in Vietnam. Sapa's fame is attributed not only to its abundant natural beauty, mild climate, and fresh air but also to its rich local cuisine with many delicious dishes and unique specialties that can only be found in Sapa.
Each dish has its own unique flavors, and each local product is handcrafted by the people, carrying the traditional cultural essence of Sapa. Let's explore the top 20 Sapa specialties that are not only delicious but also make great gifts for your loved ones, courtesy of Hanoilocaltour!
1. Sapa Specialties: Delicious and Famous
Every tourist who sets foot in Sapa is mesmerized by the beauty of the place. Planning an itinerary to explore Sapa can be challenging due to its many beautiful spots awaiting your visit. Apart from admiring the scenery, savoring the delicious local dishes and famous Sapa specialties is a must.
1.1. "Thắng Cố" (Horse Meat Hotpot)
"Thắng Cố" is a unique dish made from horse meat, horse organs, and horse bones. It is, in fact, a traditional dish of the H'Mong ethnic people, originally imported from Yunnan province in China, and it has a history of nearly 200 years.
"Thắng Cố" is typically prepared in a large pot, featuring a dark broth with a rich and slightly bitter taste from the raw horse ingredients. With the chilly weather in Sapa, gathering around a steaming hot "Thắng Cố" pot is truly delightful.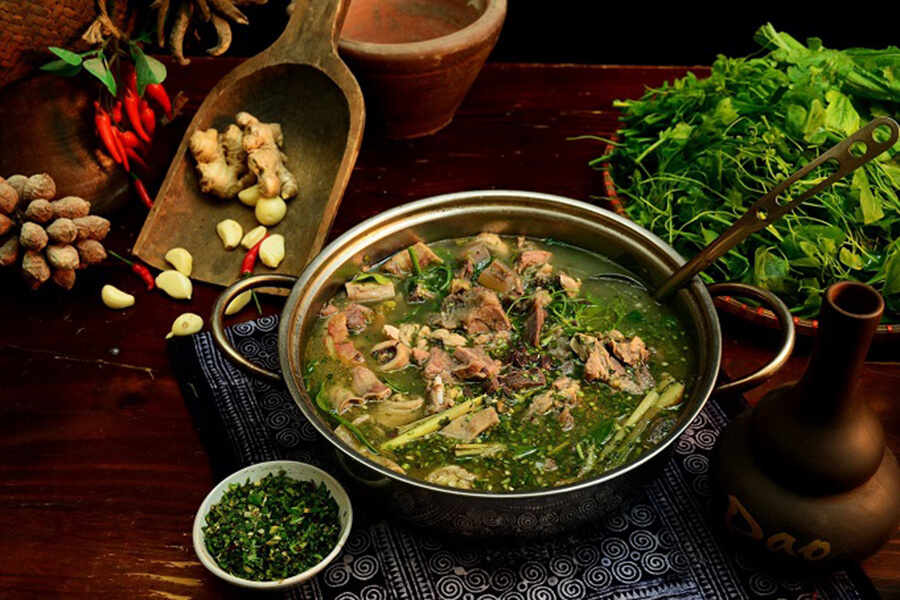 1.2. "Thịt Trâu Gác Bếp" (Stove-Roasted Buffalo Meat)
Another famous Sapa specialty that should not be missed is "thịt trâu gác bếp," which is somewhat unfamiliar to tourists but widely available in the mountainous regions. You can find "thịt trâu gác bếp" in many shops and markets in Sapa town, but for the best quality, you should consider buying it from the homes of H'Mong people.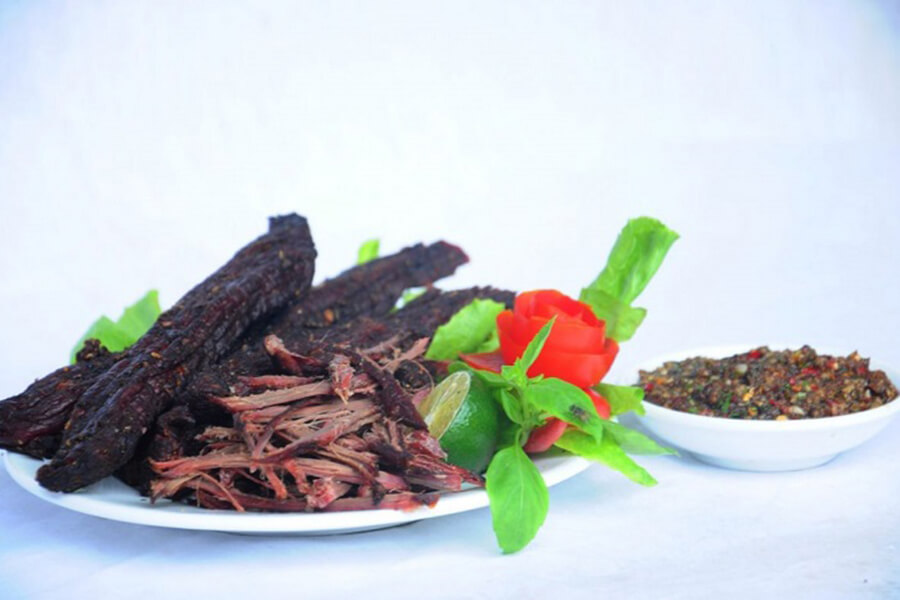 1.3. "Cá Hồi Vân Sapa" (Sapa Salmon)
"Sapa salmon," also known as "cá hồi vân" or "cá hồi ráng," is typically found in stagnant waters with low temperatures. Those who have tasted Sapa salmon are usually captivated by its firm, non-fatty, bright pink flesh and its unique tender and sweet flavor.
You can prepare Sapa salmon in various ways, such as hotpot, sashimi, deep-frying, steaming, or making salads.
1.4. "Lợn Bản Cắp Nách Quay" (Roasted Stolen-Pig)
The "Mường Sapa" pig, also known as "lợn cắp nách" or "stolen-pig," belongs to a small breed of pigs raised freely by the locals. Once mature, these pigs are taken away by the villagers and sold in markets, hence the name "stolen-pig."
Roasted "lợn cắp nách" is typically cooked whole, seasoned with various spices and honey obtained from the forest. The aroma of the wood, well-marinated meat, and a honey glaze makes the skin crispy and visually appealing, leaving diners salivating.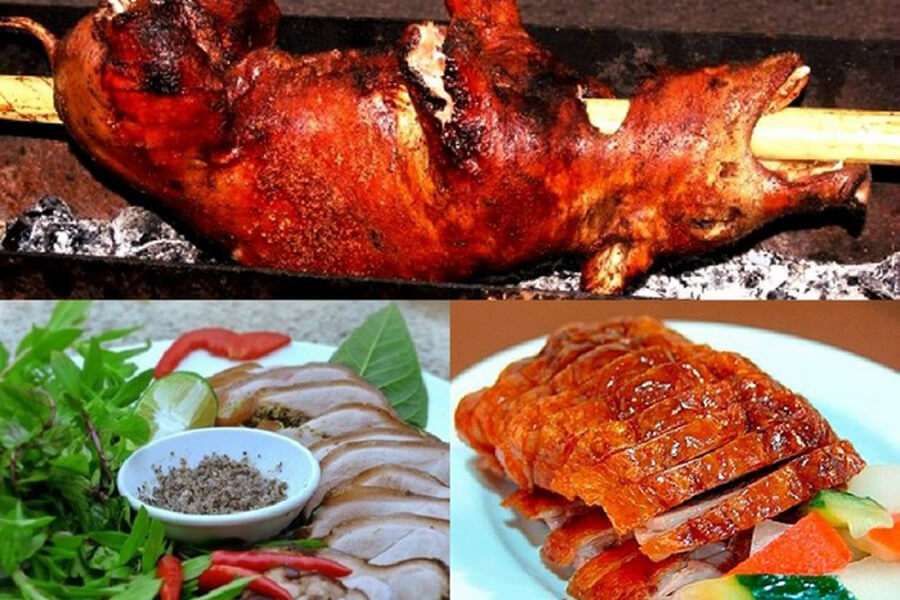 1.5. "Cá Suối Nướng" (Grilled Spring Fish)
Sapa spring fish is a small-sized fish, similar to the size of a hand or a knife handle, and they are usually found living in groups. The fish has natural flavors that are sweet, firm in texture, and not fishy. These fish live in the wild rather than being cultivated, so catching them might require some effort.
If you don't have the time or inclination to catch fish, you can enjoy this famous Sapa specialty at local restaurants.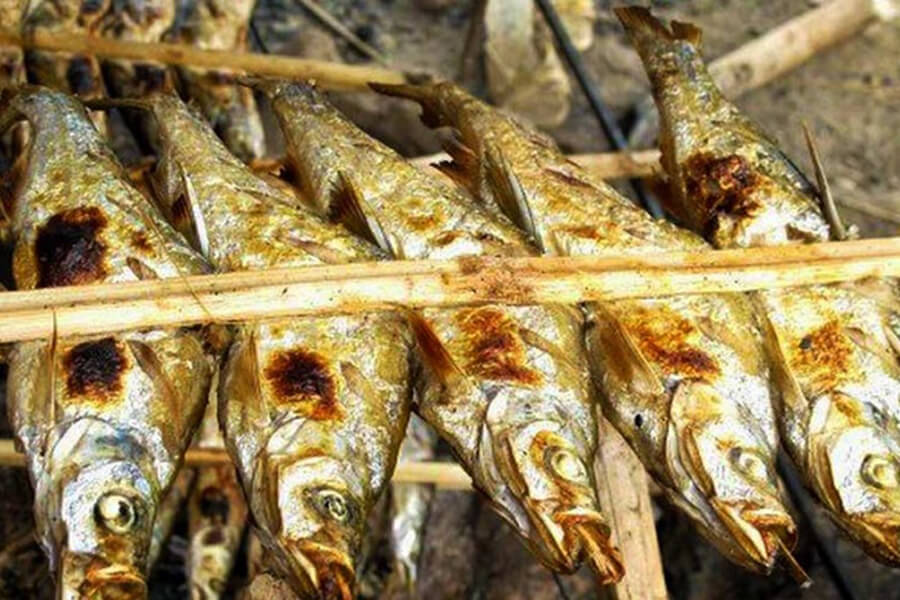 1.6. "Cơm Lam" (Bamboo Rice)
If you're curious about the delicious specialties of Sapa, you must try "cơm lam." It is made from glutinous rice, the finest grains grown in the terraced fields of Sapa. The rice is placed inside bamboo tubes and roasted over an open flame. Sapa "cơm lam" has a sweet, fragrant taste, infused with the aroma of the bamboo, and it retains its delicious texture even after a week. However, it's recommended to reheat it before eating for the full experience of its flavors.
1.7. "Thịt Gà Đen" (Black Chicken)
"Thịt gà đen," also known as black chicken, is a breed of poultry raised by many H'Mong families in their gardens. The distinct characteristic of this chicken is its jet-black color, from feathers to meat and bones. To prepare it, the chicken is marinated with forest honey, collected by the locals, and then roasted to perfection. You can fully savor its delightful flavors by dipping it in tamarind salt or "mắc khén" (a traditional spice).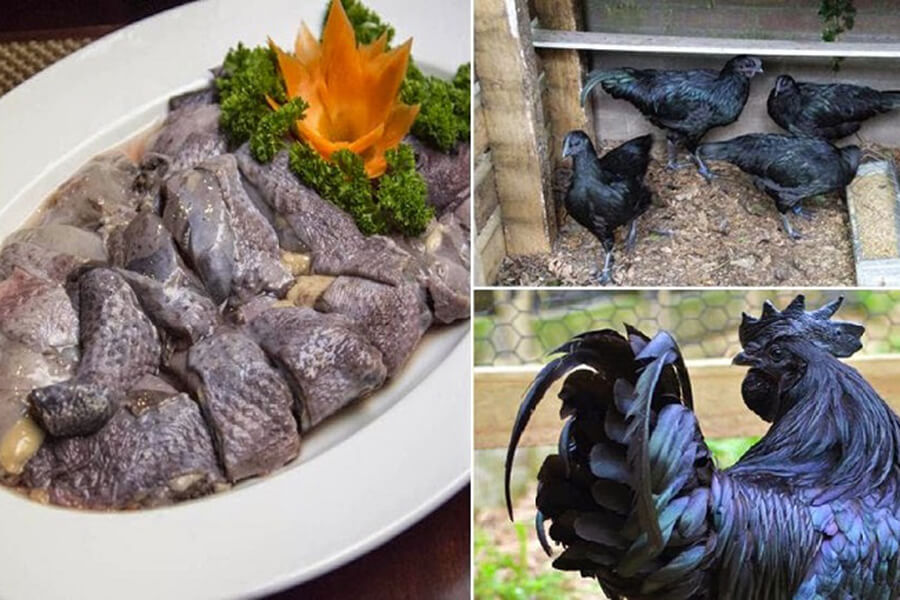 1.8. "Xôi Bảy Màu" (Seven-Color Sticky Rice)
"Xôi bảy màu," or seven-color sticky rice, is a traditional dish of the people in Sapa, often prepared during festivals or on the 7th day of the lunar month. It showcases the essence of glutinous rice cultivated in the terraced fields of Sapa.
The seven colors of "xôi" include bright red, dark red, brown, purple, yellow, dark green, and light green. What's special is that these attractive colors are all natural, created using leaves from the local forest. As a result, this dish harmoniously blends the finest flavors and scents of the mountainous region and its people.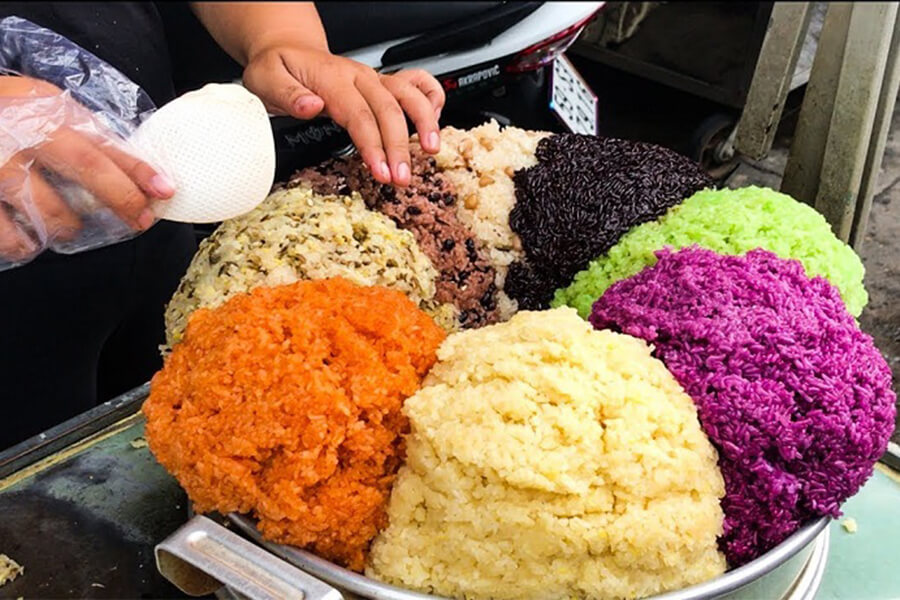 1.9. "Cốn Sủi"
Among the list of the most delicious and famous Sapa specialties, "Cốn Sủi" is a must-mention. "Cốn Sủi" is somewhat similar to Hanoi's "bánh phở," as it features flat noodles. However, instead of being served with clear broth, it is accompanied by a unique, slightly sticky sauce with an enticing aroma. It is layered with sliced beef, pork, a quarter of a boiled egg, and topped with a sprinkling of pepper and peanuts. The combination of these ingredients makes it a visually appealing and mouthwatering dish.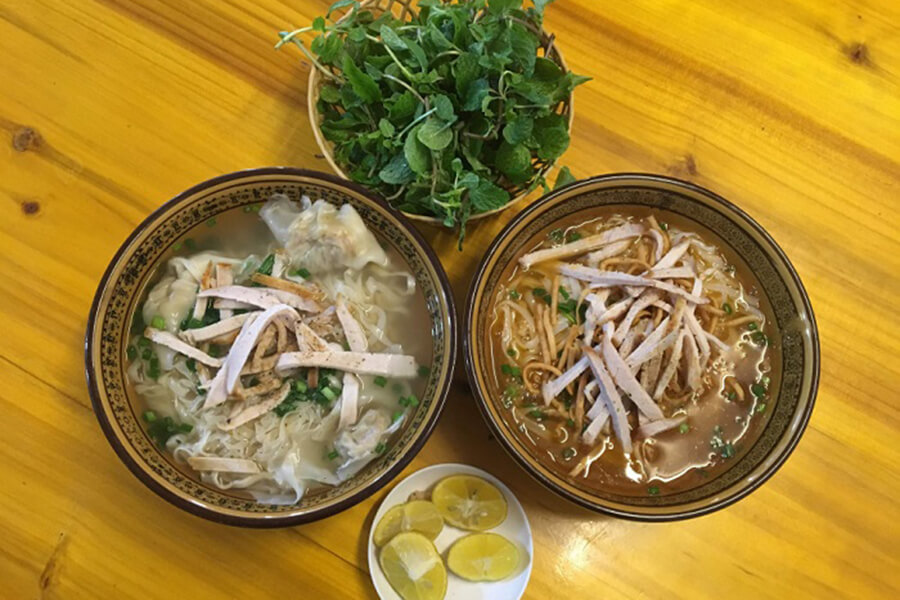 1.10. Sapa Grilled Dishes
With the cold weather in Sapa, grilled dishes make a perfect choice when you're unsure of what to eat. Sapa offers a variety of grilled options that are both diverse and reasonably priced.
Tourists can enjoy dishes like skewered pork, grilled pork belly, quail, beef rolls with mustard greens, beef rolls with mushrooms, grilled eggs, and more. Rest assured that these grilled dishes are prepared from clean ingredients, ensuring the unforgettable flavors of the mountainous region.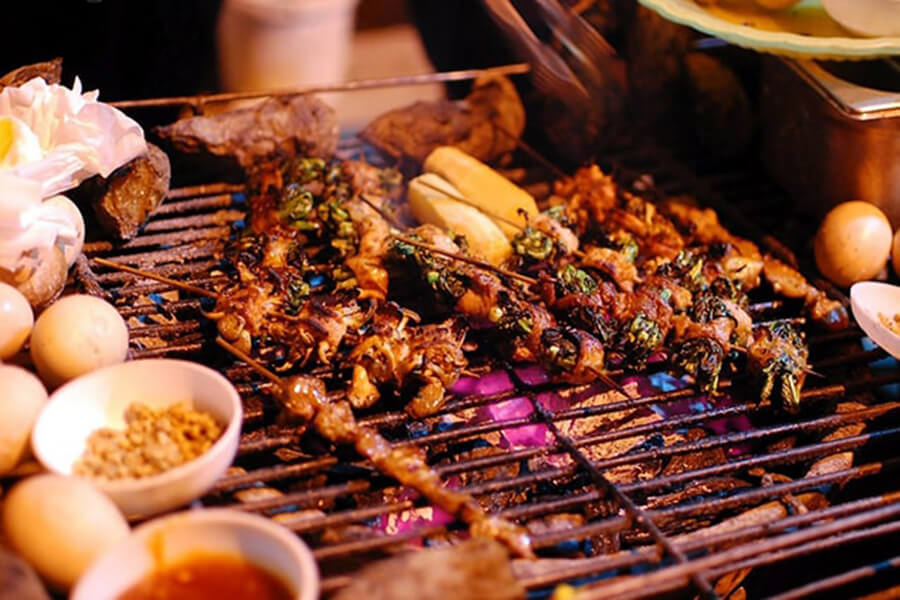 2. Sapa Specialties for This Season
2.1. "Mầm đá"
"Mầm đá," a special type of rare vegetable, grows at high altitudes in the northern mountains of Bắc Hà. These vegetables are only available at the end of winter and the beginning of spring when they are young, tender, and about 20-30 cm long. "Mầm đá" has a sweet and slightly bitter taste, which comes to life when sautéed with buffalo meat or eaten with soy sauce and boiled eggs.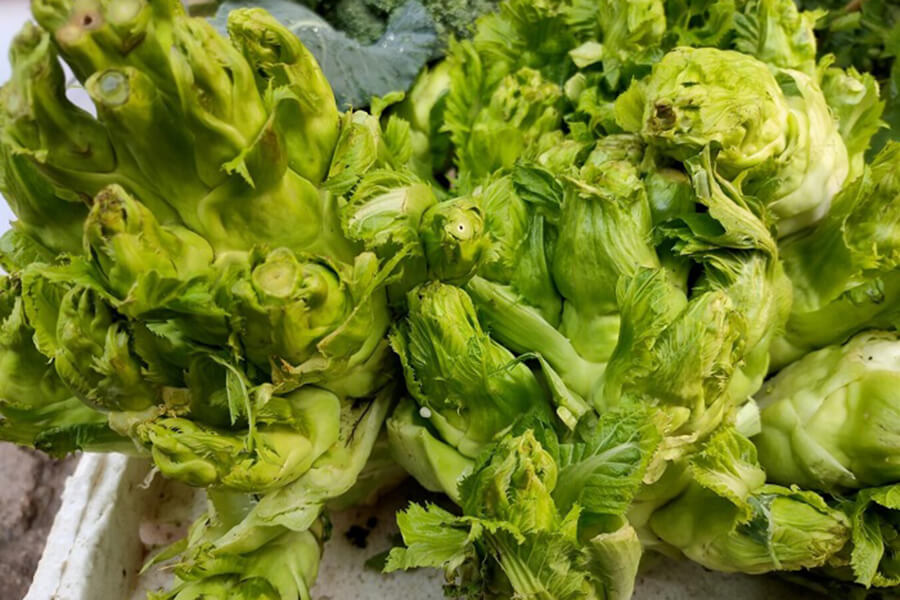 2.2. Sapa Plums and Apricots
Sapa offers a variety of delicious, sweet, and fragrant fruits that you shouldn't miss during the summer, when plum and apricot orchards are laden with ripe red fruits. You can find various types of plums such as "Mận Tả Lý," "Mận Tả Van," "Mận vàng," "Mận đỏ," "Mận Tam Hoa," and "Mận Hậu." Apricots can be slightly sour and come in both yellow and white varieties.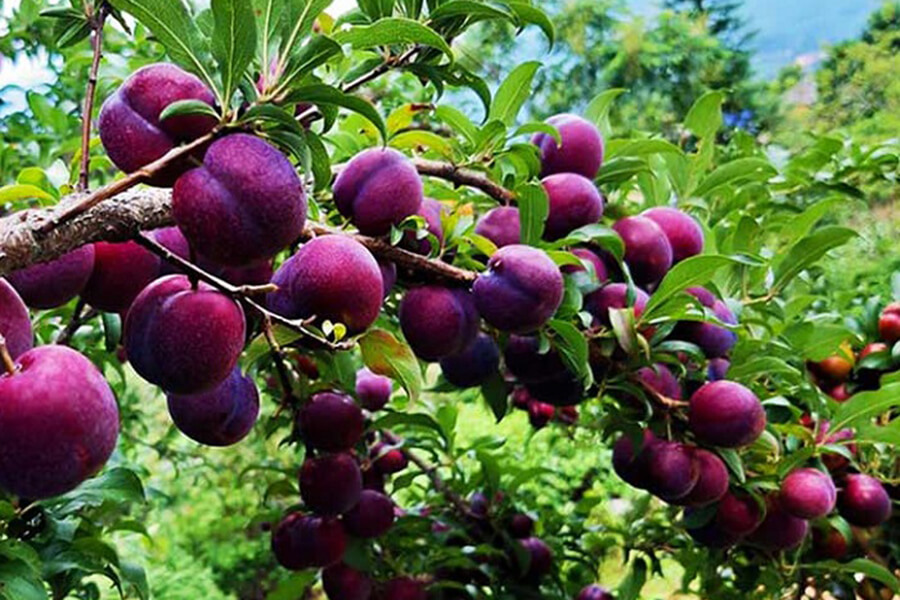 2.3. Fresh Strawberry and Passion Fruit
To enjoy the freshest strawberries, you can visit Sapa during the fruit's main harvesting season from January to April. Sapa strawberries are sweet, juicy, and flavorful, making them perfect for eating fresh, making jams, or using them in various dishes and drinks. Passion fruit is also abundant during this time, offering a refreshing and tangy taste.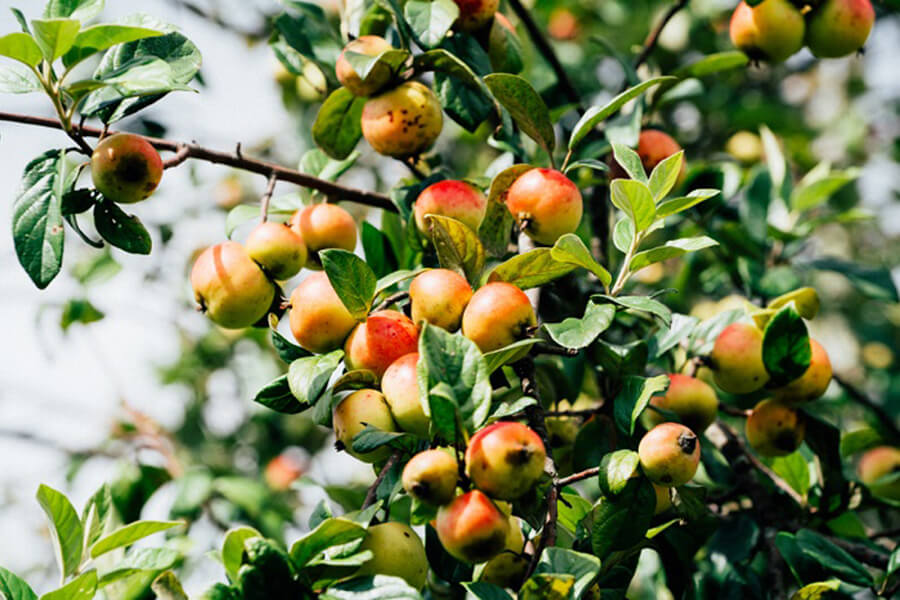 2.4. "Tao mèo Sapa"
The "Tao méo" is a small, round fruit with a striking red color. It has a slightly sweet and tangy taste. You can buy "Tao méo Sapa" in local markets or orchards during its peak season in Sapa. Some families may also offer this fruit as part of their homestay service.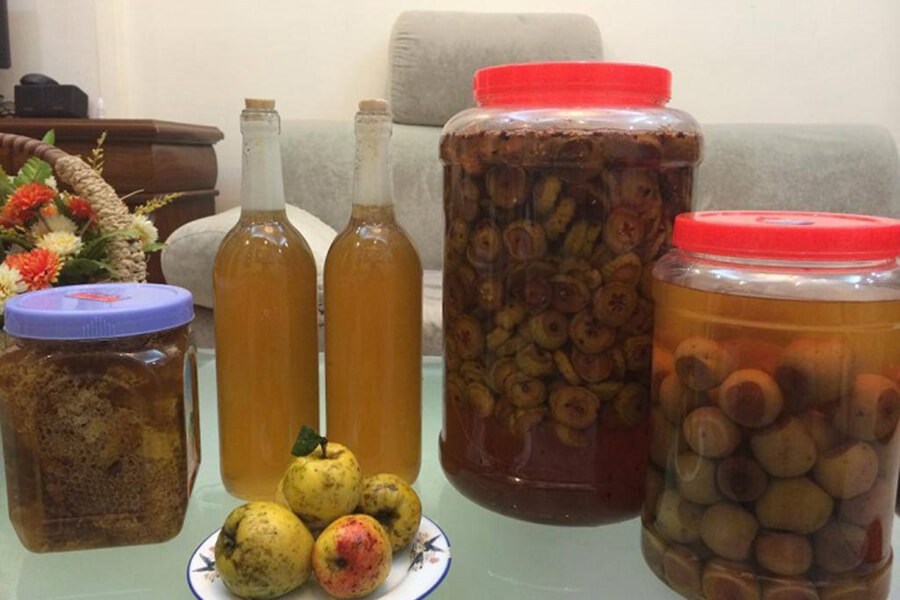 3. Sapa Specialties as Gifts for Loved Ones
3.1. Sapa Forest Chestnuts
One of the Sapa specialties that many tourists choose to bring back as gifts is forest chestnuts. These chestnuts have a rich, aromatic, and slightly sweet flavor after being roasted. Forest chestnuts can be found at most souvenir stalls and roadside eateries throughout Sapa town, making them easy to locate and purchase as souvenirs. They are also a popular snack enjoyed by people of all ages. You can even observe the chestnut roasting process and explore other snacks to take home.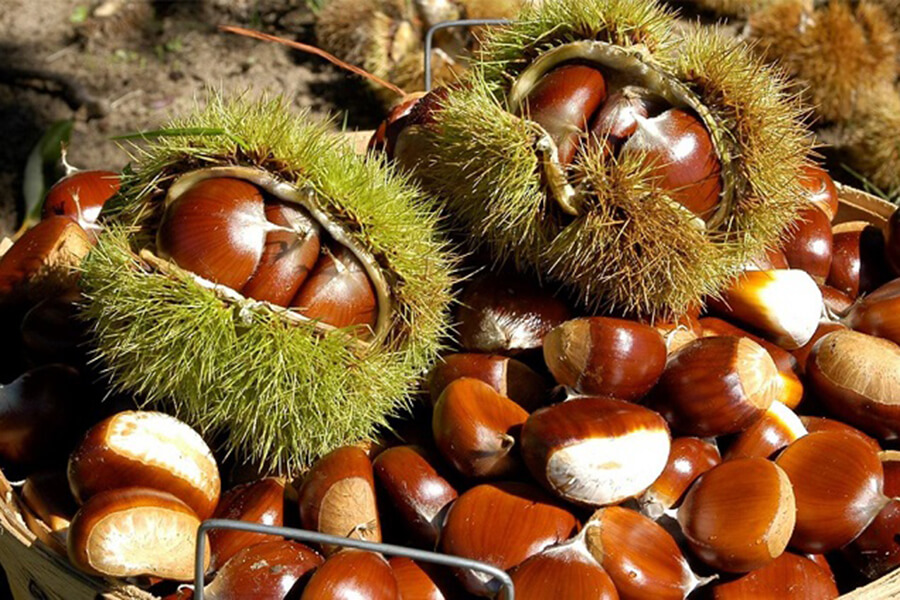 3.2. Sapa Bamboo Shoots
Sapa bamboo shoots refer to the tender and fresh inner part of bamboo, typically about 20-30 cm in length. These bamboo shoots have a sweet and slightly bitter taste that fully engages the taste buds of travelers when savored. Dried Sapa bamboo shoots are easy to store, making them a great choice for bringing back as gifts for friends and family.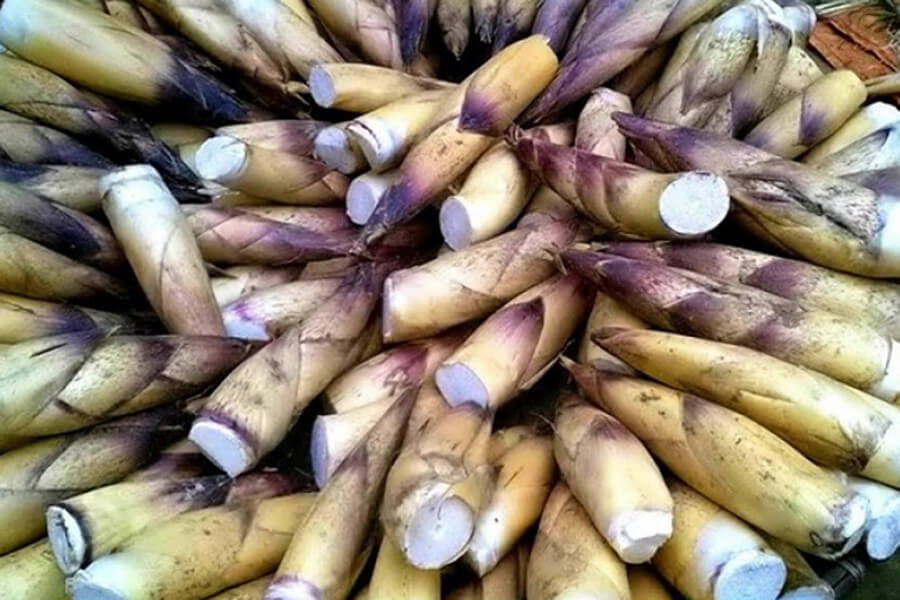 3.3. Sapa Forest Mushrooms
Sapa forest mushrooms are among the cherished Sapa specialties that are recommended to purchase as gifts, especially during the summer season. These mushrooms have thin caps, a bright color, and small stems. Sapa forest mushrooms have a sweet taste, subtle aroma, and are perfect for adding to stir-fried dishes, broths, or hot pots. They not only serve as a delectable Sapa specialty but also a valuable gift due to their high nutritional content.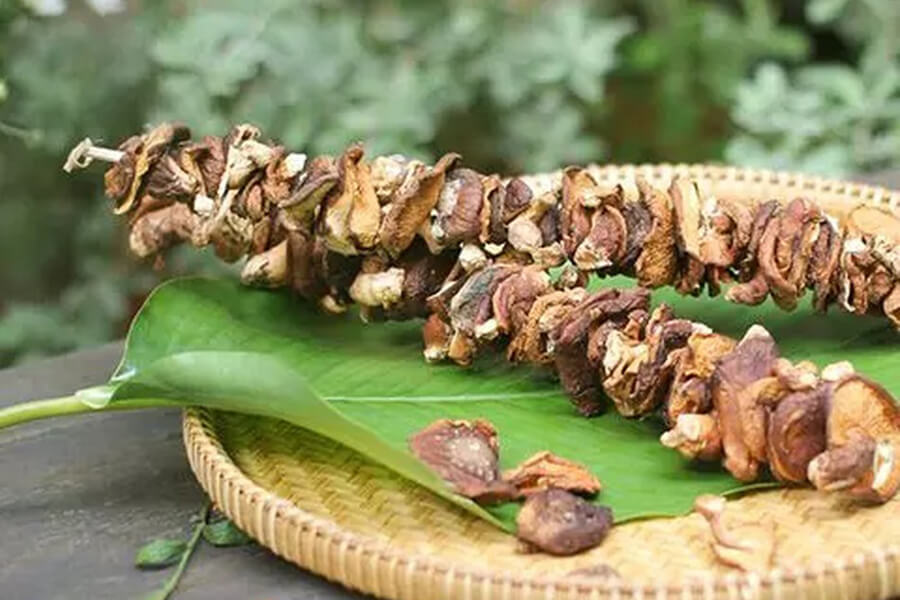 3.4. Sapa Liquor: Apple Wine, Shan Tuyet Tea Wine
It is said that a trip to Sapa is incomplete without savoring the local liquor. Sapa offers a variety of renowned liquor specialties, including apple wine, Shan Tuyet tea wine, corn wine, and more. All of these liquors are made from natural ingredients unique to Sapa, giving them distinct and captivating flavors.
Additionally, apple wine is believed to have therapeutic effects, such as alleviating headaches, dizziness, promoting relaxation, and aiding sleep. It can make an excellent and meaningful gift for husbands, fathers, or grandfathers.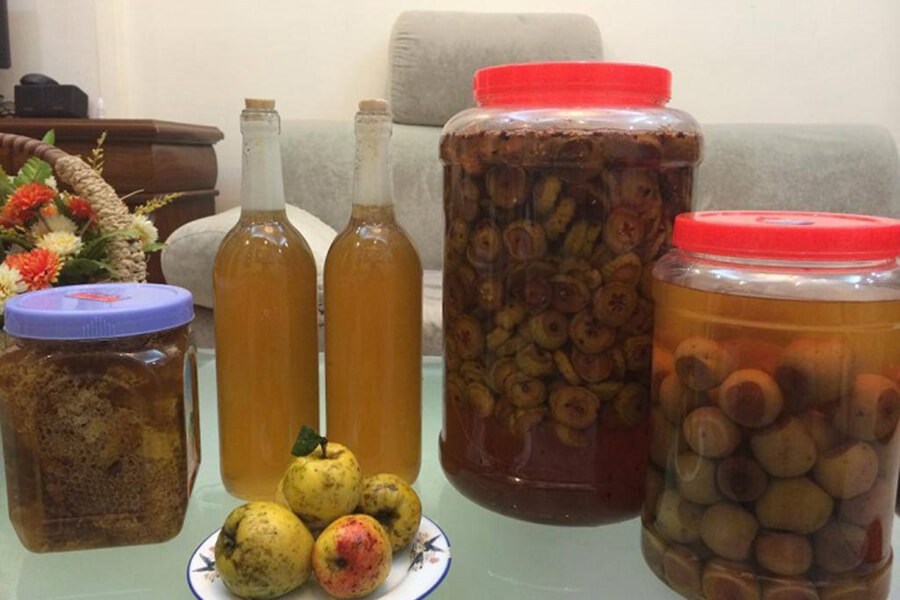 3.5. Muong Khuong Chili Sauce
Muong Khuong chili sauce is a natural gift that captures the essence of the mountainous regions. It originates from the mountainous district of Muong Khuong in Lao Cai, Vietnam. Unlike the typical chili sauces you might find in supermarkets, Muong Khuong chili sauce is prepared according to a traditional recipe. In addition to fresh chilies and garlic, this sauce includes a variety of local herbs, such as cilantro, mint, and many other unique ingredients. This combination gives it a rich and distinctive flavor that sets it apart from other chili sauces.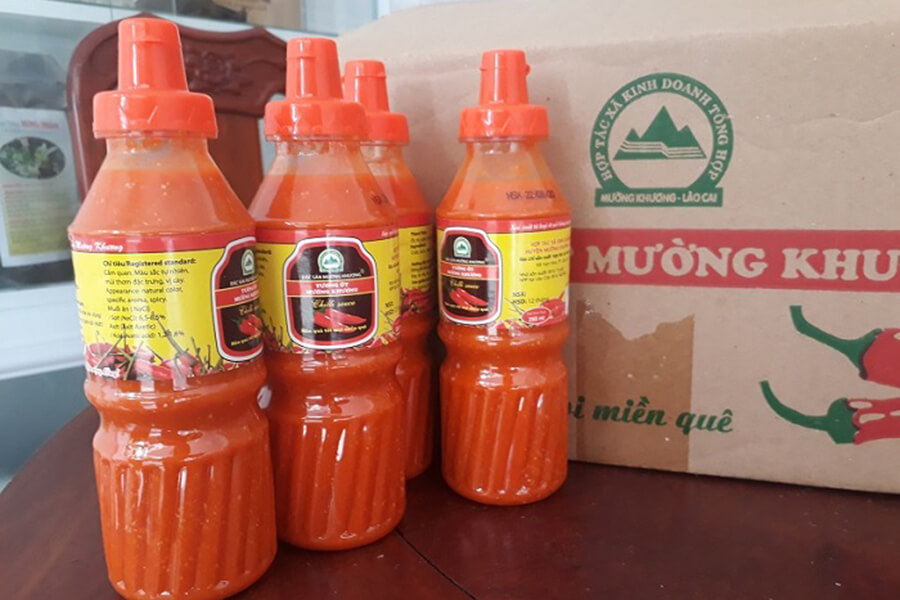 3.6. Crossroads Salt
Crossroads salt is a famous specialty in the Northwest region of Vietnam. People often use it as a dipping sauce or as a seasoning for various dishes like chicken, duck, and pork. Crossroads salt is made from more than ten different ingredients, all of which are grown at an altitude of 1,600 meters. Some of the characteristic spices are mắc khén, thảo quả, garlic, chili, ginger, and more, sourced from the renowned Hoang Lien Forest (part of the Hoang Lien National Park).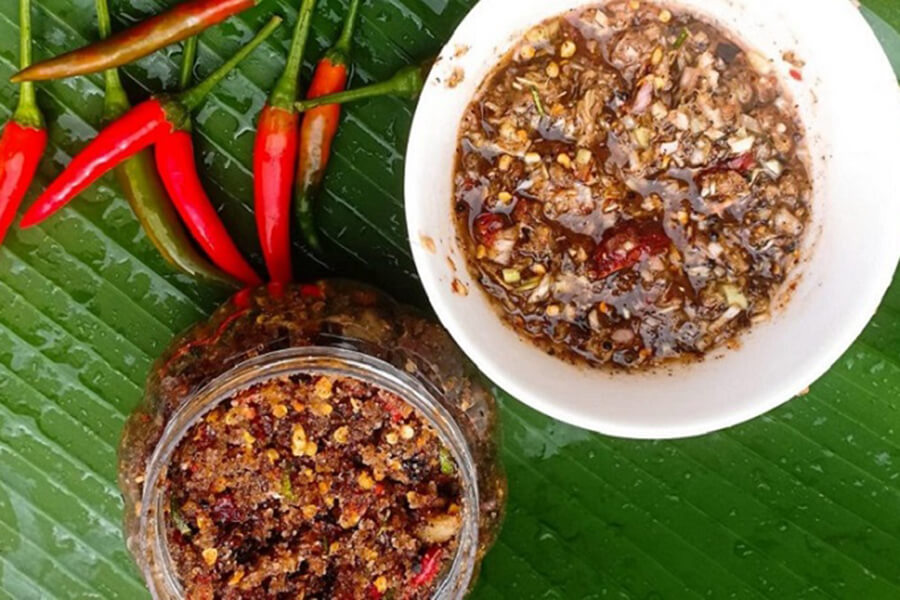 3.7. Brocade Products
In addition to edible specialties and dried goods, you can also choose to purchase colorful brocade products at the Sapa or Bac Ha markets to give as gifts to your friends and family. Common brocade products from Sapa include scarves, bags, wallets, clothing, and more. These gifts are meaningful and impressive because they carry the essence of the local culture and craftsmanship of the people of Sapa.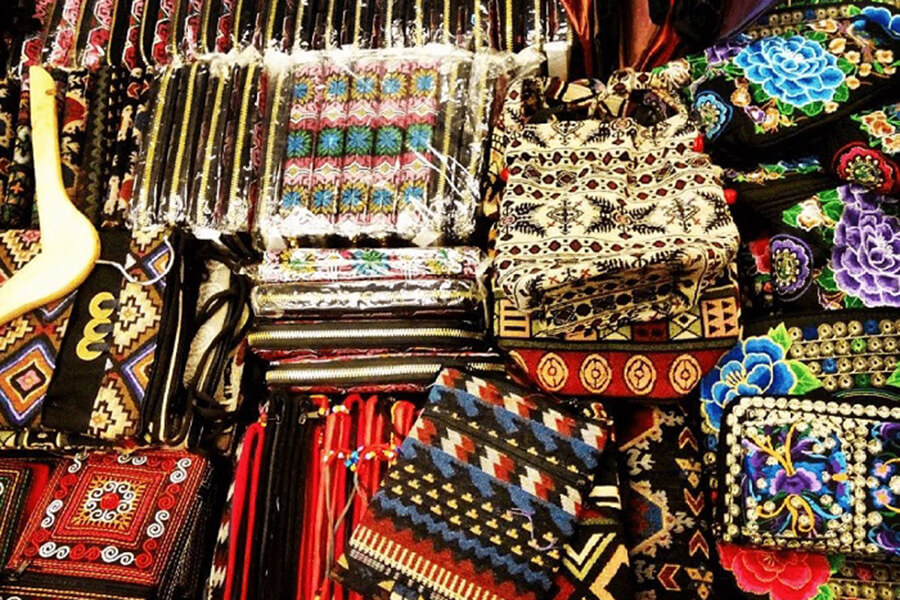 4. Where to Buy Sapa Specialties?
To have the opportunity to enjoy a wide variety of delicious and affordable Sapa specialties, you can explore the central area of Sa Pa town or visit the ethnic markets, such as Bac Ha Market, Coc Ly Market, and Muong Hum Market.
If you're looking to buy fruits like peaches and plums, you can purchase them directly from the orchards or from the numerous vendors along the roads. During your sightseeing and market visits, if you come across any Sapa specialties that you love and wish to gift to your loved ones, you can buy them on the spot. For special delicacies like buffalo meat and chili sauce, it's recommended to purchase them directly from the local ethnic communities during your visit to ensure the highest quality.
Sapa is a place of stunning beauty, with countless breathtaking landscapes waiting for you to explore. You will be awestruck by the majestic scenery of nature here, and while you immerse yourself in these experiences, you might quickly become tired and hungry. Therefore, do not miss the chance to savor these excellent Sapa specialties that Hanoilocaltour has introduced to you during your upcoming journey!