Halong Bay is the most famous tourist destination with beautiful and poetic sceneries that attracts a lot of tourists from other countries to Vietnam. The distance between Hanoi and Halong is about 170 km, moreover, Hanoi – Halong is the popular route. As a result, from Hanoi to Halong Bay, there are many ways that visitors can choose to travel, and hereunder are our suggestions for your brilliant Halong Bay Day trips!
Tourist Bus from Hanoi to Halong Bay
Guests can take the famous brand names concentrated in Long Bien, Gia Lam, Luong Yen or My Dinh bus stations such as Hoang Long Express, Khumo Viet Thanh, and others. Or you can search the road of each bus to get a convenient place for you to get on the bus because they also pick up guests from the road if they still have seats on the bus. The first bus departure is at 6:00 am and the last bus at 17:00 pm (the journey takes between 3 – 4 hours). The time among the bus is from 5 to 15 minutes to the bus station in Bai Chay, Ha Long, Quang Ninh province. Tickets prices range from $5 /seat to $10/ bed.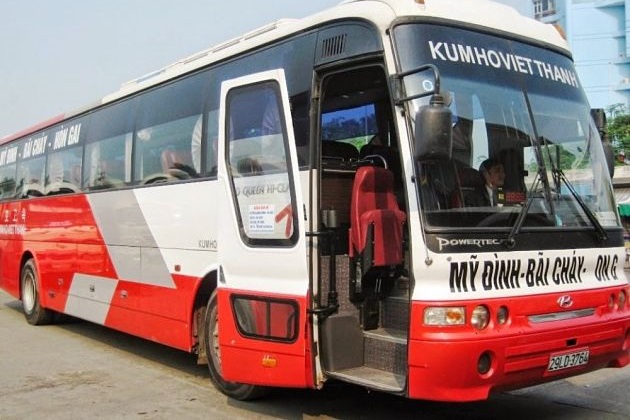 Besides Tourist Bus, we can use public buses to get Halong Bay within the cheaper price. It's able to say that the public bus is the cheapest way to get Halong Bay. However, public transport in Vietnam has many disadvantages or less selective for foreigners. Tourists can get My Dinh or Gia Lam Bus Station to catch the bus, and they're got off at Bai Chay Bus station in Halong City.
Travel Hanoi To Halong Bay by Train
In Gia Lam railway station, guests can travel by train HALONG EXPRESS. It departures at 7:05 am and takes about 5 hours to Halong. For foreign guests, the price is about $15/ way. In addition, visitors can take the train from Yen Vien rail station through a distance of 164 km from Hanoi to Halong in about 7.5 hours. The latest departure is at 4:55 am every day, the price is about $10/way
Get Halong Bay by Private Car or Motorbikes
Visitors can choose one of three routes to arrive Halong. The route Hanoi – Bac Ninh – Halong is about 155km and takes 2.5 to 3.5 hours. Another other route is Hanoi – Hai Duong – Halong which is 170 km long and takes 3 to 4 hours. The other one is Hanoi – Hai Duong – Hai Phong – Halong which last 160km and takes 3 to 3.5 hours. Hereunder are some things we should notice for traveling by motorbikes: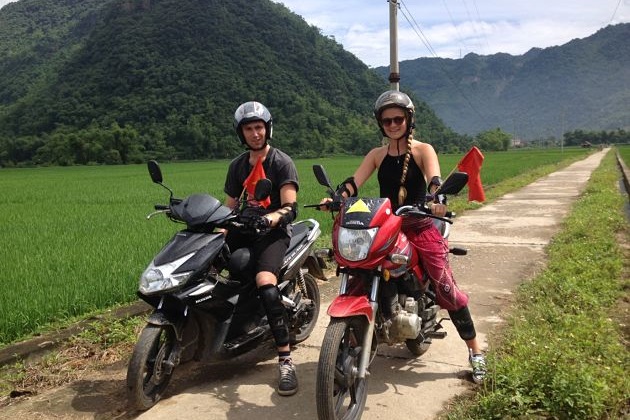 Advantages:
This kind of transportation is for those who love to challenge and desire to see the scenery and get Halong Bay in their own ways. Absolutely, nothing is more wonderful than holding the steering wheel and blending into the scene on the road. Although there stand some disadvantages on the way you get Halong, the destination of the trip will not disappoint you.
Disadvantages:
The route for traveling by motorbike is quite dangerous, especially for amateur drivers. Make sure that you understand the route and you have been already to confront any risks.
Seaplane to Get Halong Bay from Hanoi
If visitors prefer the luxurious and the fastest way, you can choose seaplane to move to Halong. The plane leaves Noi Bai International Airport to fly to Halong Bay in about 45 minutes. This is the most convenient way for visitors to have the most amazing and beautiful view on the way to Halong Bay. The price is about $275/person/way.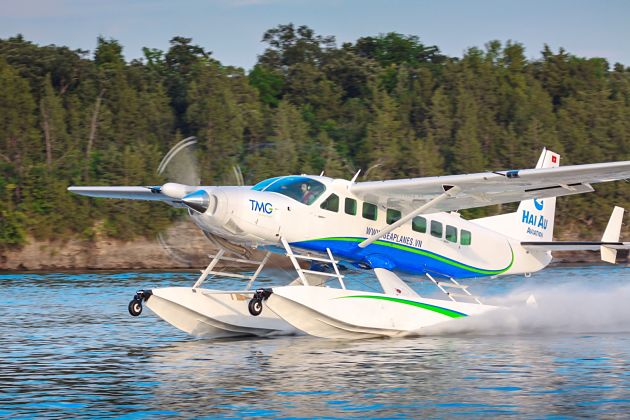 Halong Bay Online Map
Halong Bay online map is absolutely the type of maps that are being used the most due to their convenience for users, they can zoom it and see more detail information of places they want to go.
Hope you enjoy time in Halong Bay!