Ha Giang is the highlight of tourist attraction in North Vietnam, it is always appealing at any time of the year, thus Ha Giang attracts many visitors both at domestic and international. However, have you ever wondered where to go or which places to go among too many alluring places? Certainly yes! Don't be confused, because this article is specialized for supporting your brilliant Ha Giang day trips. Let check out it!
Things to Do & See in Ha Giang
Dong Van Old Quarter
Dong Van is situated in the plateau at an average height of 1,000 to 1,600 m above the sea level. From Ha Giang center, it's 160 km to get Dong Van ancient town. It's not baseless to say that Dong Van owns an antique beauty, which results from the hundred-year-old town and market left, this antique town makes tourists forget their hard journey to get Dong Van Old Quarter.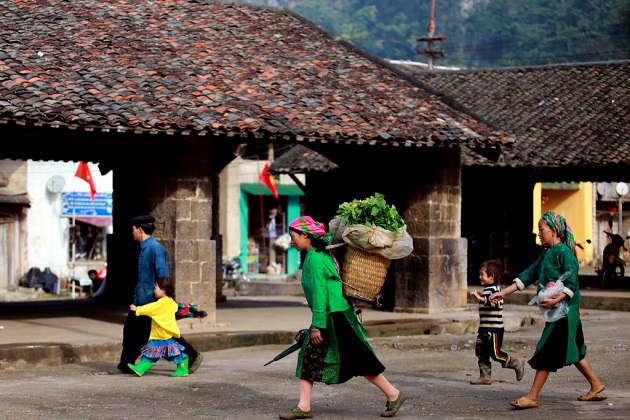 Lung Cu Flag Tower
Lung Cu Flagpole is the Vietnamese flagpole located at Lung Cu peak (or also called Long mountain peak). It's about 1,700 meters above sea level in Lung Cu commune, Dong Van district, Ha Giang Province. Standing at the top of the flagpole to look down to the ground, there are O2 ponds in the mountains all year which never run out of the water, and they're called dragon's eyes.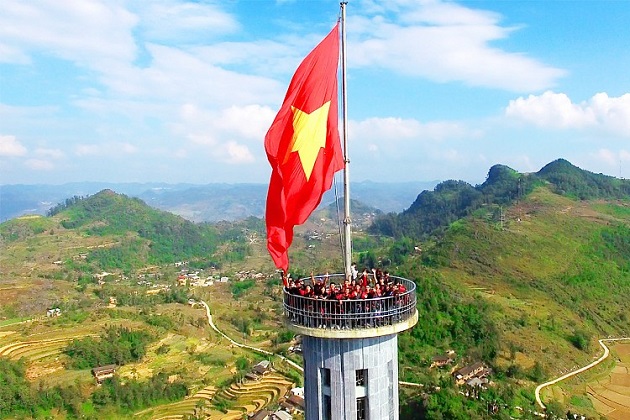 Ma Li Peng Pass
Ma Li Peng pass is the connection between two districts of Dong Van and Meo Vac, the pass is just 20 km and 2,000 meters above sea level, but it makes people come to be overwhelmed by the miracle, exceeding human imagination.
Meo Vac Town
Meo Vac town is a dusty outpost, situated not far from the Chinese border in Ha Giang province. Most travelers pass through the town since it's at one end of the spectacular Dong Van – Meo Vac drive. In Meo Vac town, the Sunday market, where minority people living on surrounding mountain descend on the town to purchase, is quite famous. Additionally, the Sunday market is probably one of the most photogenic places you will visit in Ha Giang.
Quan Ba Heaven Gate – the Gateway to Sky
About 46 km from north of the center of Ha Giang town, the heaven gate is like the second Da Lat. Quan Ba is blessed with comfortable fresh climate, natural pure beauty, and home to several ethnic groups like H.mong, Tay, Dao. The summit of Quan Ba will leave tourists the stunning photo shoots and also its unforgettable memory.
Khau Vai Love Market in Ha Giang
Although it's called a "market" but it doesn't trade goods, it has no sellers as well as buyers in the right sense. The market seems like dating back to 1919, on the hill in Khau Vai village, the boy or girl meet their lovers. The love market occurs once a year on March 27 (Lunar Calendar). Come & experience its special market!
Best Time to Visit Ha Giang
Ha Giang is definitely an ideal destination for travelers with many renowned tourist attractions here. Ha Giang is associated with a series of historical monuments and scenic landscapes. This article is absolutely great for those who have never been to Ha Giang before, the guide about "best time to visit Ha Giang" may be helpful to admire the majesty of this land.
Around the beginning of spring, Ha Giang has a lot of traditional festivals which encourage tourists to delve into. Actually, it's time to enjoy the cultural festivals of the locals in Ha Giang, for example, buffalo fighting festival, or horse racing festival.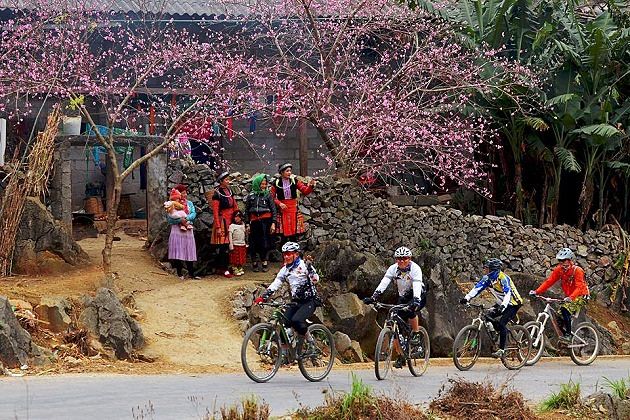 March seems like the most gorgeous time of Ha Giang with peach-plum orchards blooming. Pink peach and white plum flowers as a watercolor painting is a fairy scene, suitable for people in love to explore. It's highly recommended travel to Ha Giang in March. Besides March, November is also highly recommended for your Ha Giang trips since it's time to admire Buckwheat flowers blossom with its violet color throughout the hillsides, and the foot of mountain seems like a purple carpet.
Honestly, Ha Giang is extremely the exceptional destination to visit at least one time in life, as it has its own beauty in each season. Our suggestions above are based on individual opinion, let come & leave us your reviews!
Tips & Travel Guide for Hanoi – Ha Giang Tours & Day Trips
We have written this guide from our real experiences in Ha Giang, if you are interested, you can visit our suggested tour in Ha Giang. The tips & travel guides below have all you need to know for planning a trip to one of the most spectacular places in Ha Giang. Don't miss!
How to Get to Ha Giang from Hanoi
From Hanoi, you can catch any sleeper bus to Ha Giang from My Dinh bus station. The buses leave every hour starting at 4:30 am until 1:30 pm. The night buses will leave between 6 pm to 9:30 pm.
The tickets cost 200,000 VND, and it takes about 7 – 8 hours to get Ha Giang.
Things to Note When Purchasing Bus Tickets
+ Reserving bus tickets at hostel and hotels is highly recommended
+ Buy tickets only at the ticket counter
+ If you are taken to the bus, don't pay before departure, the bus conductor will collect fares during the journey.
How to Get Around Ha Giang
Motorbike is the common choice of visitors admiring the whole beauty of Ha Giang. It's about 30 km from the Ha Giang center to get the minority villages here, so riding a motorbike is quite convenient.
There stand a few different companies to rent a motorbike, the cost is based on which brand you pick. It costs 200,000 VND per day for Honda Blade, Honda XR for 900,000 VND.