Wander around any street in Vietnam, and it is apparent that Vietnam's big fan of café, from people sipping and sitting on the plastic stools on the pavement while gossiping with friends, colleagues, to those who prefer the pricier coffee popping up around Hanoi, the need for caffeine is inescapable. For café-lovers, if they haven't tried Vietnamese egg coffee (ca phe trung), I think they will be surprised by its special taste of Café trung. Join out Hanoi Tour to revel in the wonderful taste of Hanoi egg coffee and here are some favorite places for egg coffee in Hanoi.
Hanoi Egg Coffee History
Sound interesting when listening to the story surrounding Hanoi egg coffee. In detail, what happens if you have to make a coffee fix but have no milk? The tale becomes more amusing when dating back in 1946, that is how Vietnamese egg coffee was introduced to the globe. In the French war, there was a severe shortage of milk, and there is one man who came to rescue of java junkies across the capital during that time, he is Nguyen Van Giang.
At that time, Nguyen Van Giang was working at the famous Sofitel Legend Metropole Hotel in Hanoi. After recognizing that it has been a unique concoction, he stopped working here and opened his own shop. Nowadays, Giang is revered as the king of Vietnamese egg coffee.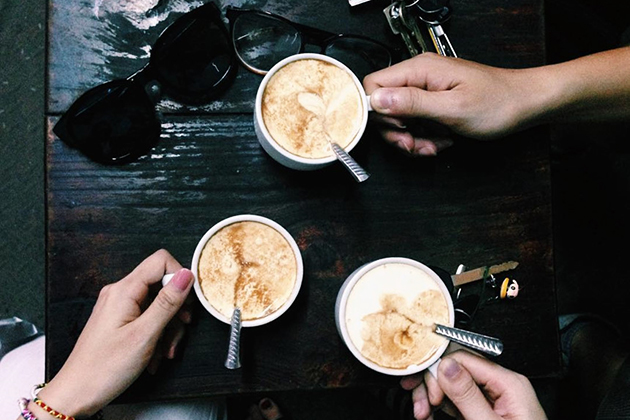 What is Vietnamese Egg Coffee?
Coming Hanoi but you don't take a sip of egg coffee in Hanoi, which is really a pity!
Behind the brand of Hanoi egg coffee, there are many scintillating tales, and some of them may be like: "it's so hideous when pouring a raw egg into a cup of coffee". However, everything has changed right after they try the special coffee.
Actually, think about a cup of coffee with sugar, sweetened condensed milk with an egg yolk whisked in, is this hard to imagine? Not really, it is strange enough when the egg yolk actually starts tasting such as soft and creamy meringue in the cup of coffee though meringue is made of egg-white.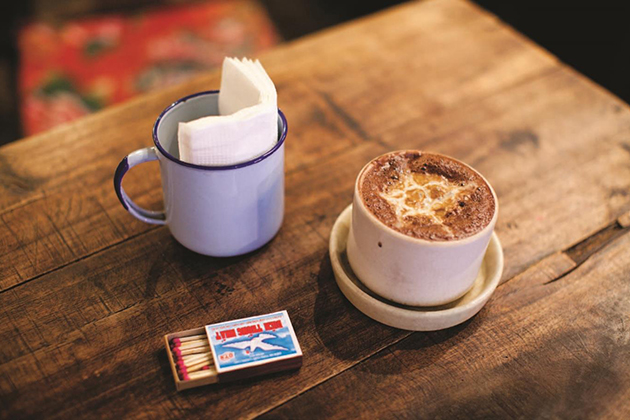 Egg Coffee – Special Drink in Hanoi
We are now in the coffee business, thus it is easy for us to get addicted in caffeine, however, the first thing tourists can find out that is not only the taste of egg coffee but also its texture. Actually, egg coffee is extremely rich and bold, tourists have to use a spoon, don't go sipping away, and take the time to stir it slowly, mixing all the layers together to strike that perfect cup of coffee.
Vietnamese egg coffee has been a massive burst in popularity since the first introduction and becomes more and more popular. Tourists can order hot or cold, both of them appear to be very different experiences of paralleled delight. It cannot be denied that egg is not a dominant taste in your coffee, it's extremely delicious, though it's quite sweet. The cold egg café is served in a cup loaded with ice and tastes like a dessert. The cup of hot egg coffee comes in a smaller cup and it has a thick and foamy egg-based head. The yellowish creamy is the perfection, let try and share your feeling!
Hanoi Egg Coffee recipe
Density plays a vital role in the success of Vietnamese egg coffee, the secret lies in your whisk. In detail, if you overdo it, you'll lose the frothy key component, or if you underdo, your customers will be using some offbeat mixture of coffee and egg yolk, which of course lead to the horrible taste.
Vietnamese egg coffee is prepared in a typical Vietnamese style drip filter before adding the mixture of the yolk and other ingredients carefully whisked. Right after the components are mixed, the cup of coffee is put in a bowl of hot water to maintain a suitable temperature when it's delivered. The process of making a delicious cup of egg coffee seems very simple, but actually, it is easy to mess up. Hence, volumes of each ingredient must be measured carefully, and the opinion of the best cup is based on each brewer.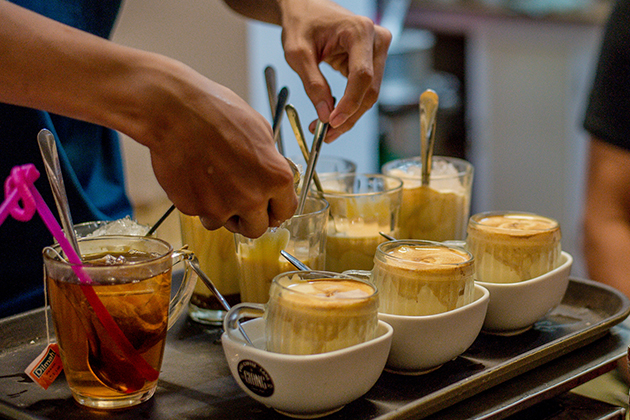 Where to Get Egg Coffee in Hanoi
Giang Café
Café Giang was established in 1946 by Nguyen Van Giang, who created a special egg coffee using egg yolk to replace milk. Giang Café has been developed by the son of Nguyen Van Giang, and Giang Café now is the oldest egg café shop in Vietnam. Having egg coffee at Giang Café is really an experience in the original egg coffee in Hanoi and Vietnam in general.
Address: No. 39 Nguyen Huu Huan, Ly Thai To Str, Hoan Kiem district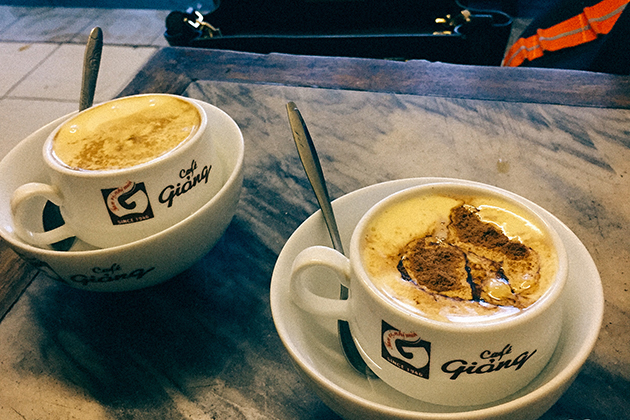 Café Tuan
The restaurant is a very simple little coffee right next to Giang Café. Coming to Tuan Café, you can sit on the little stools with a savory cup of egg coffee and witness daily life, as well as traffic, go by.
Address: No. 37 Nguyen Huu Huan, Ly Thai To, Hoan Kiem, Hanoi
Café Pho Co
Walking along Hang Trong Street, you cannot see any sign of a coffee shop, but when walking upstairs to a coffee shop that suddenly opens up to have the majestic view over Sword Lake. Café Pho Co also gives you a wonderful café experience in Hanoi.
Address: 11 Hang Gai, Hang Trong, Hoan Kiem
Café Lam
Café Lam is renowned as one of the oldest café shops in Hanoi, Lam Café delivers the scrumptious cups of egg coffee. Café Lam ensconces in a small tranquil space in Hanoi, here you can have an authentic Hanoi café experience. Besides egg coffee, Café Lam also serves the best Vietnamese iced café and café sua da as well.
Address: No. 60 Nguyen Huu Huan, Hang Bac str, Hoan Kiem district, Hanoi.