Hanoi is always famous for its special savory foods which all enchant tourists coming to Hanoi. Your Hanoi food tour will surely not complete if you cannot try Bun Cha Hanoi-a local scrumptious food. This dish is made of grilled pork and served with noodle, originally from Hanoi, Vietnam. Bun Cha Hanoi has been top 7 specialties of street food in Hanoi, that is why tourists can easily find that the density of Bun Cha Hanoi is so amazing, it is served in everywhere, from the luxury restaurants to the eatery street vendors. However, to support your best food tour, we suggest a list of top 5 places selling the best luscious Bun Cha in Hanoi, selected by the Hanoi gourmets. Get ready to experience the 5 long-standing Bun cha Hanoi below.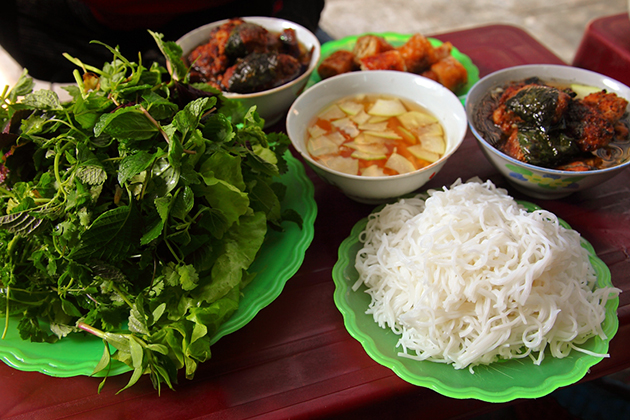 We understand that you may be worried about the ongoing outbreak of coronavirus in China. Bhutan, Myanmar, and Laos, in contrast, are still safe and sound from this global pandemic. Click here to see the reason why Coronavirus cannot reach these countries and what makes them stronger.
Bun Cha Dac Kim
Travelers can see Bun Cha Dac Kim at the beginning of Hang Manh street, it becomes a popular destination for many overseas tourists coming to Hanoi. Due to its reputation and the quite small area, at peak hours, customers have to move to the second floor of the restaurant or sitting on chairs on the sidewalk. The name "Dac Kim" was originated from the owner in 1965, and until now, the future generations continue to keep the special recipe and the careful process of choosing materials. In particular, a high-quality Bun Cha Dac Kim must be made from a perfect mixture of lean and fat type dim into the special sauce, which all arouse our taste.
Each set of Bun Cha Dac Kim is served with a lot of meat and an affordable price of around 60,000-80,000 vnd (about 3-4USD). Although the space is quite small, the reputation flies far and wide as one of the symbols of Hanoi cuisine.
Address: No. 1 Hang Manh, Hoan Kiem district, Hanoi
Bun Cha Bach Mai
Perhaps bun cha Bach Mai grilled on a bamboo stick with a special flavor leads to a type of delay serving. Delay serving means you have to wait a dozen minutes for your serving turn because cha has to be grilled well on charcoal and serving turn. Bun Cha Bach Mai opens only at 2h00 PM to 3h30 PM, and the price is pretty reasonable at 40,000 vnd (about 2 USD). Because of the short time opening, tourists' patience will be challenged for a scrumptious bun cha Bach Mai.
Your patience will be received a set full of cha, sauce, noodle, and herbs, which served separately. Thanks to the sticks, the grilled meat is more fragrant than other types of Bun Cha, and the set of bun cha is decorated well, which all attract tourists the best.
Address: 213 Bach Mai st., Hai Ba Trung district, Hanoi
Bun Cha Huong Lien
Since May 23, 2016, the name Huong Lien suddenly became famous to the world thanks to the drop-in of US President Obama in his 3-days business trip in Vietnam. Actually, Bun Cha Huong Lien has been well-known to the Hanoi gourmet since its foundation in 1993. Bun Cha Huong Lien owns a moderate sauce taste which is sweet enough and the elegant sour of vinegar.
Besides a set of Bun cha consisting of grilled pork and slice meat, visitors can also order one or two Nem Cua Be (sea crab spring roll) use together with Bun Cha. The cover of sea-crab spring roll is so crispy while the inner meat is so savory and sweet-smelling. That may be the reason why many connoisseurs patiently wait 30 minutes to enjoy a set of Bun Cha Huong Lien at lunchtime.
Address: No 24 Le Van Huu street, Hai Ba Trung district, Hanoi.
Bun Cha Hanoi at 34 Hang Than Street
This place is very famous for the best cha, which is confirmed by many eaters when eating Bun Cha at 34 Hang Than. The way presenting makes a set of Bun cha become more attractive than ever, that true, a set Bun Cha at 34 Hang Than with cha, rice noodle, herbs are set in a tray which looks very clean and pleasant.
Located in the old quarter but a set of Bun Cha Hang Than is quite cheap, it is only around 35,000 vnd (2 USD), tourists can revel in a bowl full of grilled meat. Particularly, Bun Cha Hang Than has 2 types of cha, but they are all grilled moderately under a little burning, they are so fragrant, taste sweet and soft. Its minced meat is wrapped in xuong song – a kind of herb, thus its flavor is really impressive. The restaurant is daily opened from 10h00 am until 4h00 Pm, and it becomes much crowded at noon.
Address: 34 Hang Than Street, Ba Dinh district, Hanoi
Bun Chả Hanoi At Lane 74, Hang Quat Street
Wandering around Hanoi to find somewhere to try Bun Cha, Bun Cha Hang Quat is a great option for tourists. Although the stall here is laid in a narrow lane on Hang Quat street, the age of this Bun Cha Hang Quat will surely surprise you, in fact, the stall has existed for more than 19 years. That is why the stall has many familiar eaters who once try Bun Cha here and cannot forget its flavor.
It is commonly two types of cha: minced and slice meat, and at the first look, cha seems to be in dark color not due to over grilled, it's caused of the dark color of sugar sauce. Cha is soaked deeply into the sugar sauce, Bun Cha Hang Than enchant its eaters to back again and again.
A set of Bun Cha Hang Quat is often at 30,000 vnd (1.5 USD) and it opens at 9h30 Am but it sells out very soon, at about 2h00 PM, hence, you should come here as early as possible to get the great set of Bun Cha Hanoi.
Address: Lane 74, Hang Quat Street, Hoan Kiem district, Hanoi