Hanoi Metro Line 2A is a part of Hanoi Metro system, aiming to improve both social and environmental problems for Hanoi. The Line 2A or called Cat Linh Urban Railway – Ha Dong is a light railway on high for public transport with a length of 13.05 km, derived from the area of Cat Linh – Giang Vo. The project owner is the Vietnam Railway Administration, the contractor is the China Railway Group 6 Railway Company Limited. This line has been completed and it begins to trial.
Cat Linh-Ha Dong railway begins trials
According to the project management, the train has undergone a partial test run in July in 2018 before systemwide testing in August. The railway line stretches over 13km, connecting Cat Linh Road in Dong Da District, Ha Noi City Center with Yen Nghia Bus Station in Ha Dong District.
This railway consists of 12 stations and a depot at Phu Luong Ward, Ha Dong District. The railway will operate 13 trains with four cars each running two minutes at a speed of 35 to 80 kilometers per hour.  All carriages and about 95% of the equipment have been moved to the construction. While nearly 80% of the installation work has been completed so far.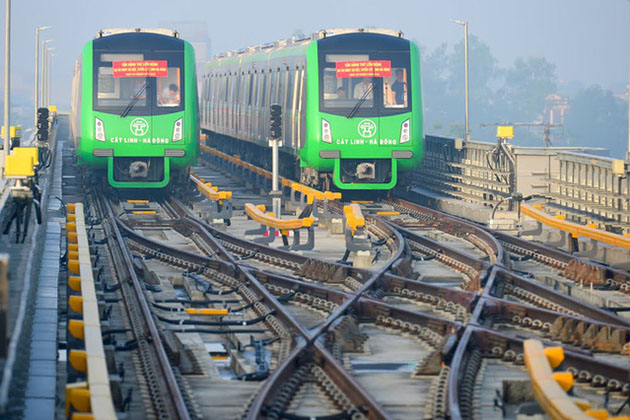 Also according to management, stairs at stations, warehouse design and drainage are being completed. The Ministry of Transport has been allowed to run the metro line beginning in August. Therefore, one month earlier than expected to put the railroad into operation officially.
The railway has been constructed using official development assistance (ODA) from China with a total investment of $ 868 million. The China Railway Corporation is the EPC (Engineering, Procurement, and Construction) contractor for the project.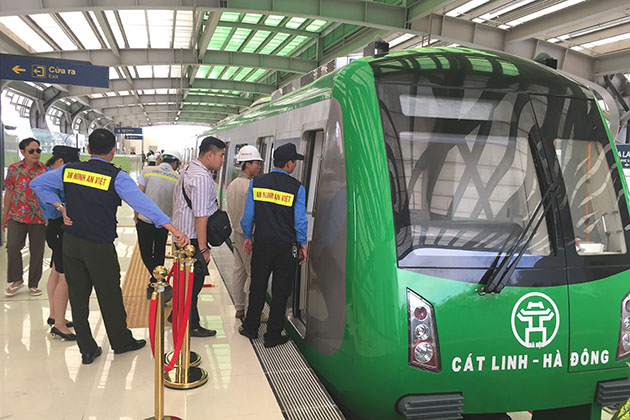 Route of Cat Linh Urban Railway – Ha Dong
• Cat Linh Station which is the largest scale of the route, located at the intersection of Cat Linh, Hao Nam, Giang Vo, and Giang Van Minh.
• La Thanh Station is located high above La Thanh – Hao Nam intersection.
• Thai Ha Station is located on the new Hoang Cau street
• Lang Ga is close to To Lich river
• Thuong Dinh station near the junction of Khuong Dinh – Nguyen Trai
• Station 3 is located in Thanh Xuan tunnel
• Ga Phung Khoang is located at the intersection of Nguyen Trai and Phung Khoang streets.
• Van Quan Station is located at the old Ha Dong Bus Station
• Ha Dong Station is located near Ha Dong General Hospital
• La Khe station near Le Trong Tan – Quang Trung intersection
• Van Khe Station is located between Quang Trung Street and Ba La Street
• Yen Nghia Station is the terminus of the route, located in front of Yen Nghia Bus Station on Quang Trung Street, Ha Dong.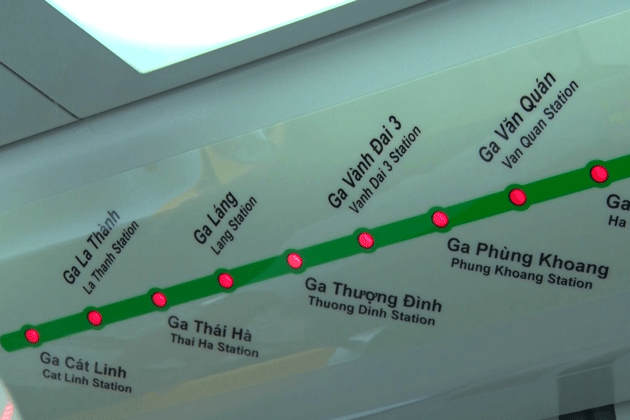 The ticket price of Cat Linh Urban Railway – Ha Dong
Regarding the cost of tickets, the majority of surveyed people thought it is acceptable for metro tickets to be 35 to 37% higher than those for normal buses. However, most said they would prefer using a monthly pass and accept a range of 10 to 15 % higher than the price for a bus ticket.
The price range will be decided by the Hanoi People's Committee, aiming to encourage citizens to use public transportation and compete with private vehicles. However, the cost will be not too high thanks to the Government's subsidy.
Hanoi authorities have announced a common standard for public transportation monthly passes which will allow the metro and buses to share the same technology. In the near future, these tickets are expected to be used for parking lots around the city.