Of all important cultural artifacts around Hoan Kiem Lake in Hanoi, Ngoc Son Temple is considered to be the most significant and sacred for it was a solid historical evidence having witnessed the fluctuation of Vietnam country for years.
History of Ngoc Son Temple
Situated on an islet in the middle of Hoan Kiem Lake, Ngoc Son Temple, also known as Temple of the Jade Mound was built in 1841, and under repair in 1865. Many other constructions also newly built or preserved and upgraded are The Huc Bridge (Morning Sunlight Bridge), Thap But (Pen Tower) and Dai Nghien (Ink Slab). They stand in harmony with the natural beauty of the Lake brought a vivid image of ancient Hanoi.
The Structure of Ngoc Son Temple
To reach the temple, visitors will walk through the Three-Passage Gate (Tam Quan) and across The Huc Bridge. Nguyen Van Sieu, an eminent scholar of the old Thang Long Capital, was the designer of that entrance complex which comprises three gates replete with Taoist symbolism.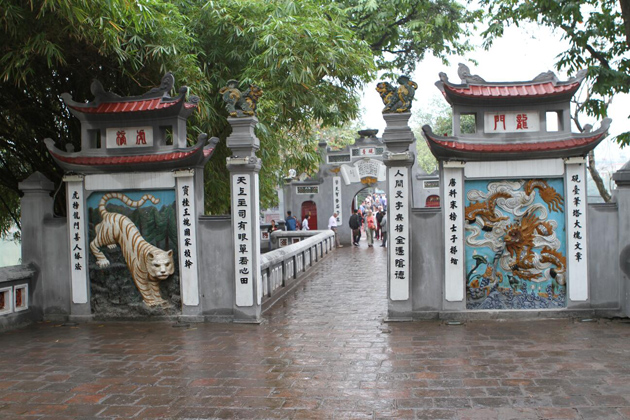 The first gate is home of a collection of parallel sentences. For more details, the meanings of two large red Chinese characters you first see on the gate are Happiness to the right and Prosperity to the other side. The reason you see these words instead of others is that Vietnamese people consider a good life is a combination of three crucial elements:  Happiness (Phuc), Prosperity (Loc) and Long Life (Tho).
To the second gate, tourists would be overwhelmed by symbols of Taoism: the tiger is on the left and the Vietnamese dragon is on the right. These two emblems represent the stability of a large construction, according to the feng shui theory. Panels on the reverse of the gate are the images of the carp gazing at the moon's reflection and a pine tree with roosting storks (Phoenix) representing longevity.
Passing the third gate, you will see a large stone symbolizing an ink stone which was intentionally placed by Nguyen Van Sieu in order that on the 5th of May (in lunar calendar) the shadow of the Pen Tower falls on the ink stone.
There lies Ngoc Son Temple which exemplifies the harmony of Taoist feng shui theory. The temple is dedicated to great General Tran Hung Dao, who defeated the Mongols in the 13th century, and the scholar and saint of literature Van Xuong.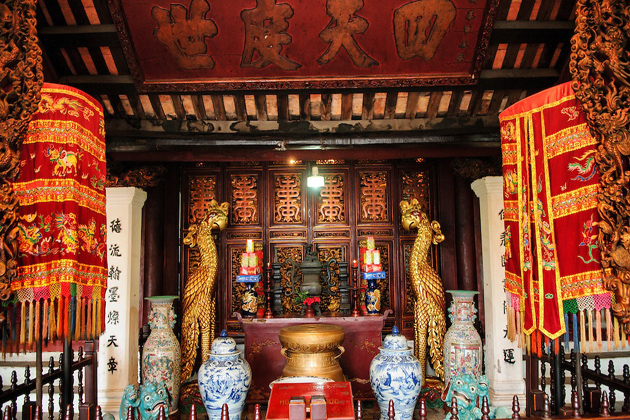 There visitors can find a side room to the left of the temple displays the well-preserved body of a giant soft backed turtle (rafetus leloii). This turtle is 2.1 meters in length, 1.2 meters in width, and 250kg in weight. Found in 1968, the turtle was scientifically estimated to be approximately 500 years old. This gives credence to the legend about the giant turtle, which took the magic sword of King Le Thai To in the 15th century.