Phu Lang is one of the famous pottery village and one of the last remaining villages in the North of Vietnam, situated in Phu Lang commune, Que Vo district, Bac Ninh province. About 60 km to the northeast of Hanoi, Phu Lang pottery village is among the pottery villages receiving much attention from visitors. Beside Bat Trang pottery village in Gia Lam, Hanoi and Tho Ha pottery village in Bac Giang, Phu Lang is a worth-visit destination for both domestic and foreign tourists. Phu Lang pottery village retains a simple beauty and tranquil atmosphere that rarely exist in the old craft villages. Absolutely, a Phu Lang pottery village with the houses are nestled in the narrow paths that wind lined walls of brick red and intersect by time is the ideal option for tourists.
History of Phu Lang Pottery Village
According to many documentaries, the founder of Phu Lang Pottery village was Mr. Luu Phong Tu. In the dynasty of Ly, Mr. Luu was sent as an envoy to China, in which he could learn the pottery craft. After a time, he backed in Vietnam and passed his knowledge about pottery craft to the people of the Red River Delta. The first appearance of pottery was at the beginning of the Tran dynasty in the 13th century, and everyone in the Phu Lang made pottery products were sold throughout Vietnam.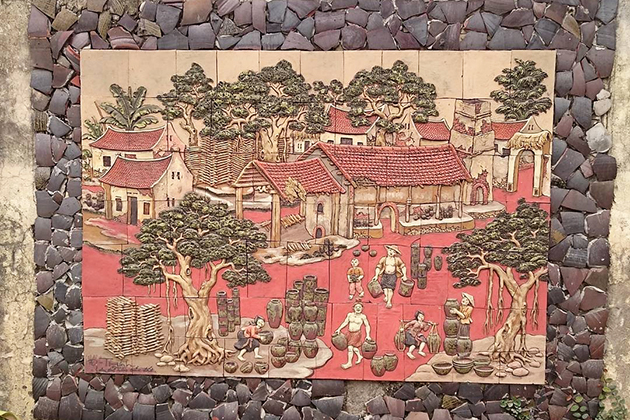 Phu Lang Pottery Village Nowadays
Nowadays, Phu Lang pottery village has become a tourist destination to both foreign and domestic visitors. Phu Lang is one of the oldest pottery centers of the Red River Delta using the traditional techniques to produce the myriad of sophisticated ceramic products.
Phu Lang ceramic village present is famous in Vietnam and overseas. There are many of ceramics are annually exported in large quantities to the competitive market as Japan, Canada, Italy, South Korea. As the results, the profession has been improving the living standards of the villagers in Phu Lang. For each family in Phu Lang, passing the craft to the future generations is their best concern, thus many craftsmen have sent their children to the schools specializing of fine art to learn, preserve, and also promote the craft. The Phu Lang villagers always lay preservation as their first priority in life.
Visiting Phu Lang Pottery Village, tourists are warmly welcomed by the hospital and industrious local people. When being asked about the making pottery process, Phu Lang villagers are open and enthusiastic to share their work and suggest tourists some potteries as souvenirs for relatives and friends.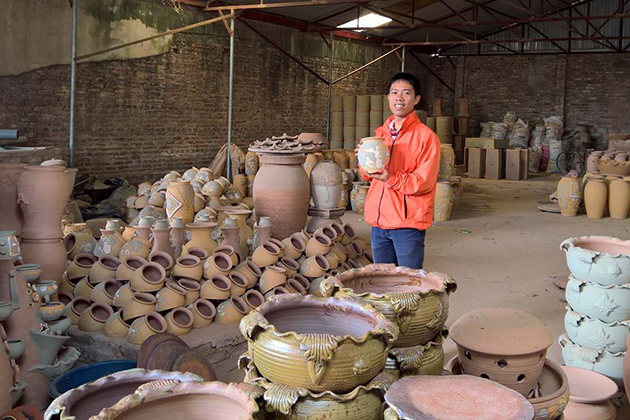 Unique Product of Phu Lang Pottery Village
It is different from Bat Trang pottery in Hanoi made from white clay and Tho Ha pottery in Bac Giang made from green clay, pottery products of Phu Lang are made from the red clay of Cung Kiem and Thong Vat areas. Features making the special thing of Phu Lang pottery are the durable and natural brownish glaze, the simple but strong design with the traditional themes such as countryside landscapes, sacred animals,… Products from Phu Lang pottery village consists of three major types of pottery for worshipping as incense burners, urns; household pottery as pots, vases, jars; and fine arts pottery such as vases, pots with animal shapes like elephant, horse,…
The firing process plays a vital role in making pottery, thus, Phu Lang pottery product is heated by wood to create distinguished spots on the glaze thanks to the different temperature variation. Therefore, products from Phu Lang pottery village are quite popular in the domestic market as well as overseas market.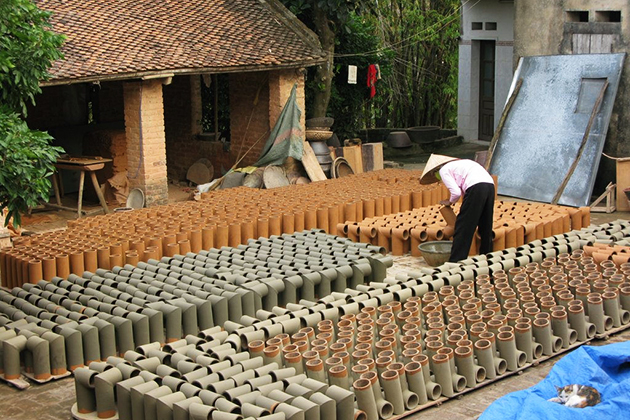 Things to do and see in Phu Lang
Visit Phu Lang pottery village, tourists will have a chance to admire the tranquil countryside landscapes on the bank of Cau River, also learn about the history of Phu Lang pottery, and experience the process of making pottery products and take it to home as a souvenir.