Dai Bai Village, located on high ground near the bank of the Bai Giang River in Bac Ninh province, is globally famous for more than 1,000 years old bronze casting tradition. Undergo many ups and downs for a long time from past to present, Dai Bai Village still preserves their traditional crafts, Dai Bai village today reverberates with the sound of hammers of bronze makers, the noise of vehicles belonging to traders, and the obvious prosperity shining on their faces. Let together with Hanoi Local Tour to explore Dai Bai Bronze Casting Village.
History Of Dai Bai Bronze Casting Village
Bronze casting traditional occupation was begun in Dai Bai village in the early 11th century by founder Nguyen Cong Truyen, who lived between the Tien Le Dynasty and the Ly Dynasty. And about 200 years ago, some craftsmen from Dai Bai moved to Thang Long Citadel (now called Hanoi) to establish a handicraft guild, which now is Hang Dong (Bronze Street) in downtown Hanoi.
At that time, the economy of Vietnam was a downturn, Nguyen Cong Truyen was wandering for many years to the different regions and try doing many jobs, at last, he came back to Dai Bai village in 1009 and taught all the secrets of craft to his villagers. Soon after, Dai Bai was no longer a poor village, it became the "capital" of bronze handicrafts as we can see today.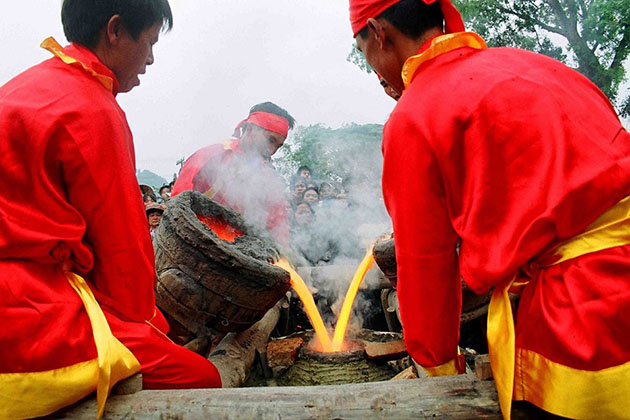 The Products of Dai Bai Bronze Casting Village
A craft industrial zone has been established and attracted 31 enterprises and about 1,200 households doing bronze casting, producing and trading goods from traditional copper and aluminum products. However, merchants have been faced with the economic fluctuation and downturn, they have to push their business by product diversification, promotion, making a joint venture to perform large orders,…
The first products of Dai Bai village were very rudimentary household utensils as trays, pots, pans,… Time to time, Dai Bai bronze casting village have produced many kinds of objects in many fields as worship, incense burners, bronze statues, bronze paintings and letters, and bronze household articles. Bronze products made by many skillful hands of craftsmen in Dai Bai Village, these products are not only have using value but also precious works.
Products of Dai Bai village still keep their brand name and it makes a strong impact on consumers in Vietnam. Take a trip to Dai Bai bronze village, tourists can see directly the makers busy at their work, and they also hear the sound of the job, it sounds interesting!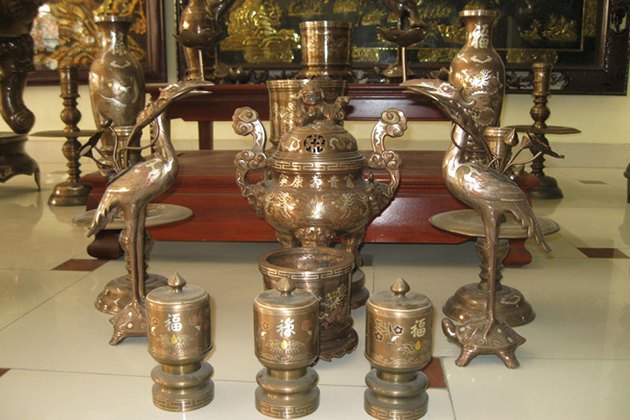 Dai Bai Bronze Casting Village Nowadays
Experience many ups and downs, Dai Bai village has earned the succession of achievements as the firm reputation. Dai Bai bronze casting village has been vigorously developing with numerous co-operatives and individuals. They have invested in enhancing technologies with a lot of home-made machines such as polishing machine, laminating machine… and unceasingly broadening market share and forwarding to export.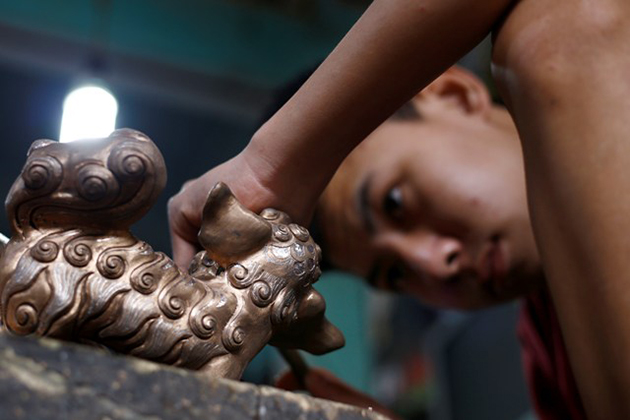 What to Buy in Dai Bai Bronze Casting Village
Visit Dai Bai bronze casting village, tourists can behold sophistication of copper casting fine arts and the mastery of craftsmen. Tourists can choose and buy many kinds of copper products made of plentiful materials and designs manually by workers in Dai Bai traditional folk trade village. Here are several products of Dai Bai village: fine art on a plate, handicraft production of alcohol, urns, cranes, statues,… and many other sophisticated products.