General Information
The ancient village of Duong Lam is located in Son Tay, 50 km from Hanoi. It is considered a laterite museum with the old houses of the village at 400 years old. Duong Lam has also been recognized as a national historic relic after Hoi An and Hanoi in 2005. Visit Duong Lam and Ky Son, meaning you are on a journey back to the origins of Vietnam's tradition and culture, and it's also the occasion to admire you the special and unique architectures of the old houses and to have a good image of Vietnamese traditional villages.
On the other hand, Ninh Binh is a province rich in tourism potential. Nature has given this land many beautiful spectacular sites including several famous caves such as Tam Coc-Bich Dong, cave Tien (fairy), Hoa Son cave … Hoa Lu Ninh Binh is the birthplace of talented people and the place of sheltered from known pagodas. Join our tour to explore this marvelous land.
Tour Highlights
Enjoy a relaxing trip away from the hustle and bustle of the Capital
Have a full-day sightseeing on bicycle
Get a local perspective on the worship and belief of Vietnamese
Relax and unwind with the tranquil beauty in the ancient villages
Visit the venerable temples of ancient citadel and get a glimpse of Vietnamese history
Discover the worship and belief of Vietnamese
Be immersed in the scenic natural landscape of Halong Bay on Land
Embark on a sampan ride to Boi River
Experience your Tour with
Guides: Hand-pick from our best guides, mature, acknowledgeable, all are licensed, great senses of humor
Drivers: friendly, responsible, reliable with many years driving experience, door-to-door services
Vehicles: comfortable, spacious, air-conditioned, big window
Hanoi Local Tour Office: 24/7 customer service, accommodate all your needs
Tour Details
Duration: 2 days
Date: Advice upon booking
Start/End: Hanoi/Hanoi
Tour category: Hanoi Tour Packages
Brief Itinerary
Day 01: Hanoi – Ky Son Village & Duong Lam Ancient Village
Day 02: Hanoi – Hoa Lu and Tam Coc – Hanoi Arrival
Full Itinerary
Day 01: Hanoi – Ky Son Village & Duong Lam Ancient Village
08:00 Picked up at your hotel. Depart for Son Tay.
09:30 A small stop to visit the village sculpture Son Dong where wooden statues are made for all the pagodas and temples in the North of Vietnam.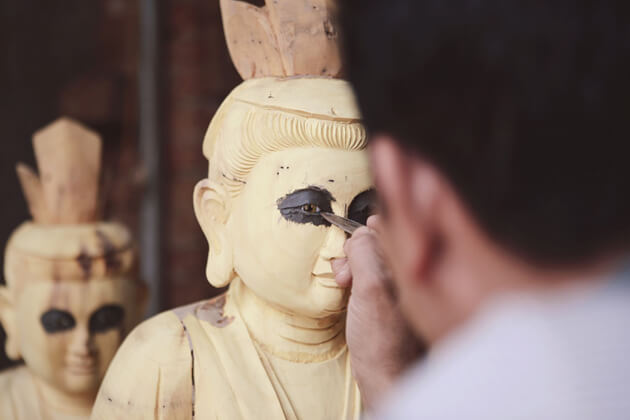 10:30 Arrive at Duong Lam –  a farming village north of the Red River plains, where 100-year-old houses are still reserved. It will be your unique experience as you stroll along the narrow alleyways, then visit the Mong Phu time in Mong Phu hamlet – the unique hamlet where the main gate of the village that remains intact, devotes to the cult of national heroes. Have conversations with locals in their ancient homes.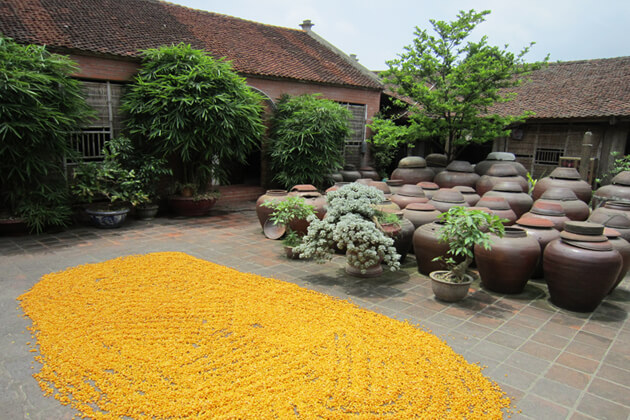 11:00 Ride a bike along the narrow roads of the village. Enjoy your time and take beautiful pictures. Then visit the historic Giang Van Minh temple and especially the Ngo Quyen temple and the Phung Hung temple, where two national heroes Ngo Quyen and Phung Hung are worshiped respectively.
11:30 Cycle to Gieng Sua Well – also called Chuong Sa. The water inside the well is fresh and clean and according to the legend, men and women drink water from here, they will have children desired.
12:30 Have lunch in an old house at 400 years old.
13:30 After lunch, ride to discover the Ky Son village with old houses and rustic attractions.
14:15 Our car will drive you back to Hanoi.
14:45 On your way back to Hanoi, explore Tay Phuong pagoda which has been built since the 17th century with 18 LA HAN statues. It has a typical architecture of the old pagodas in the North.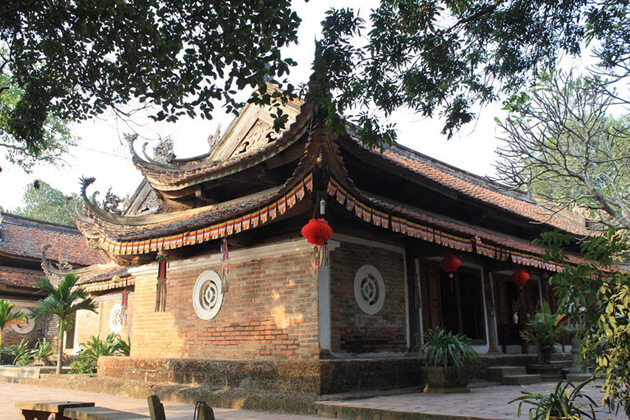 16:30 Finally, visit the village of silk Van Phuc – the cradle of silk deluxe weaving in Vietnam. The guide will introduce you to the silk production process. And you will have free time to visit the Van Phuc market.
17:30 The car will drive you to your hotel in Hanoi. End of the trip
Day 02: Hanoi – Hoa Lu & Tam Coc – Hanoi Arrival
8:30 Our driver and guide take you from your hotel.
10:45 Arrive at Ninh Binh. Visit the ancient capital of Hoa Lu. Go to the temples dedicated to Kings Dinh and Le. Visit the archaeological site near the temple dedicated to King Dai Hanh. You can take the bike as you want. If you do not take the bike, you can take the vehicle to go to the restaurant to have lunch in advance. If you take the bike with the guide, on the way of 10 km, you will be able to contemplate the beautiful landscapes and to take pictures of memories.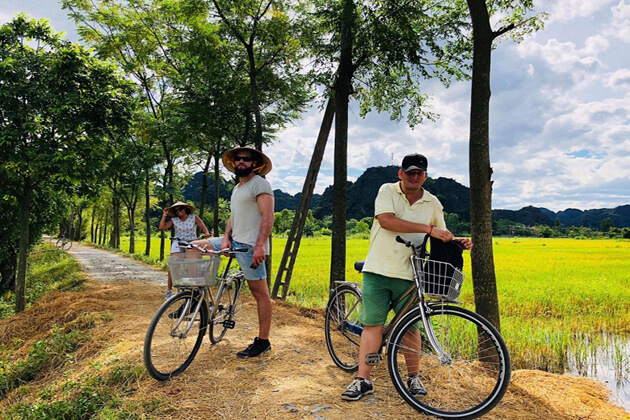 12:30 Have lunch at the restaurant
14:00-15:45 You take the sampan to visit Tam Coc-Bich Dong before returning to the port of Tam Coc. Return to Hanoi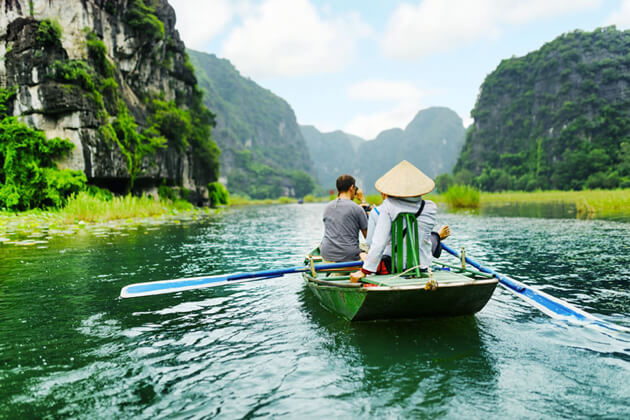 18:00 Arrive at Hanoi. Your day trip from Hanoi ends.