General Information
Tour Route: Hanoi – Van Long – Mua Cave (Dance Cave) – Bich Dong – Cuc Phuong National Park – Trang An
Duration: 3 Days/ 2 Nights
Departure Date: Any Time You Wish
Start/ End: Hanoi/ Hanoi
Brief Itinerary
Day 1: Hanoi Arrival – Van Long – Bich Dong (L, D)
Day 2: Ninh Binh province – Cuc Phuong National Park (B, L, D)
Day 3: Trang An – Hanoi Departure (B)
Full Itinerary
Day 1: Hanoi Arrival – Van Long – Bich Dong (L, D)
You will meet the team of Hanoi Local Tour at your hotel, right after transfer to Ninh Binh province. Run along the National Route 1A within 2 hours, we reach Van Long Natural Reserve that is famous with an untouched beauty of lagoon covering by limestone mountains. Take a boat excursion to delve into the stream around the verdant lagoon of Van Long. Board the boat and feel the peace of the reflection of mountains into the emerald water.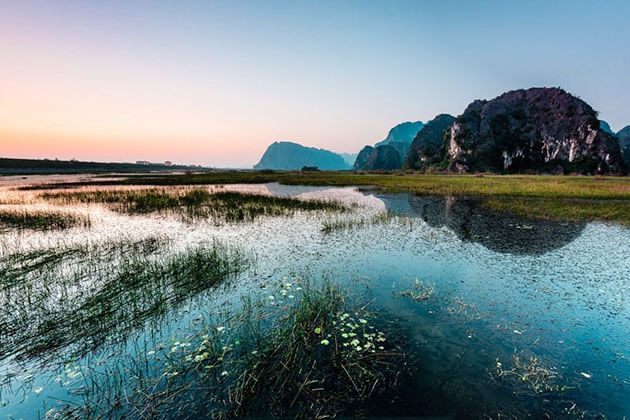 After savoring lunch, the guide leads us to Mua Cave, which is like a tiny Great Wall of China. After hiking 500 stairs, you will win the peak of the cave. From there, you can take a panoramic view of Tam Coc, one of the most breathtaking destinations of Ninh Binh.

The next highlight if a bicycle from Mua Cave to Bich Dong, go over the pagodas of King Dinh & King Le, the first people establish to the antique Hoa Lu capital. Overnight in Ninh Binh.
Day 2: Ninh Binh province – Cuc Phuong National Park (B, L, D)
After breakfast, follow the guide to Cuc Phuong National Park where begins your trekking day, immerse yourself in the green world of nature. The first stop is the Endangered Primate Rescue Center, see the rarest animals of the world as primate, carnivores, and pangolin. Next, we continue hiking on a trail throughout a lot of streams, and rocky slopes to the area of the "1000 years old parashrea stellate". Lost in the nature in Cuc Phuong Forest and impressed by the "1000 years old trees" that has a 200 sqm fasciculate root. The tree roots appear on the earth looking like the pythons. Picnic lunch in the forest.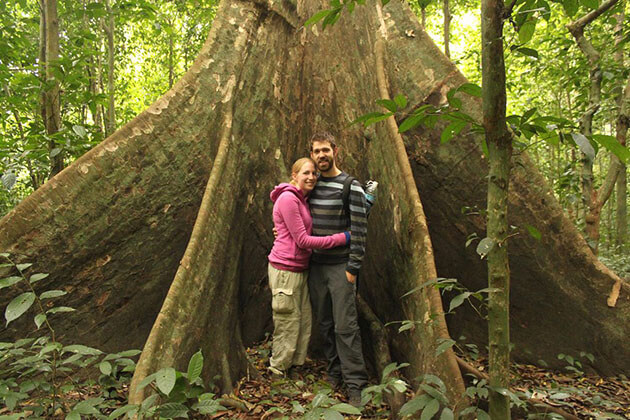 Before transfer back to the city, you have an amazing to witness by yourself the fossil of the dinosaur, compared as an alto-relievo picture of the mysterious jungle. Stay at the hotel in Ninh Binh for overnight accommodation.
Day 3: Trang An – Hanoi Departure (B)
After breakfast, jump on a private bus to Trang An Complex, a renowned landscape of Ninh Binh. Generally, Trang An is a majestic and breathtaking region shaped from thousands of forming mountain and curve streams. The image of Trang An connects closely to the mysterious and enchanted karst caves, that is why the place also called Halong on land. Enjoy the boat excursion from Trang An to Tam Coc, you will get almost of alluring places here. The blow-minding images of nature in Trang An will bewitch you.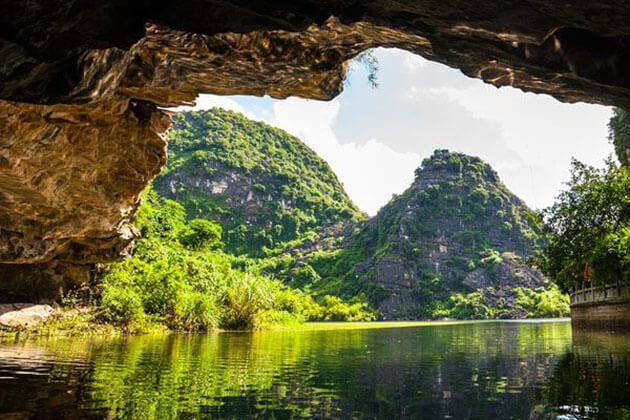 Savor the Vietnamese lunch at a local restaurant. After that, back to Hanoi, your 3-day Ninh Binh exploration ends.