Thach Xa is a famous village for bamboo dragonfly. From raw materials of bamboo, the craftsmen in Tay Phuong Pagoda, Thach Xa commune, Thach That district, Hanoi creates the lively dragonflies that make visitors surprised and interested. If you are wondering what to do on the weekend in Hanoi, or if you want to explore Hanoi's famous craft villages, the Thach Xa dragonfly village is the perfect choice for your Hanoi local tour package.
Introduction of the Hanoi Thach Xa Bamboo Dragonfly Village
Located about 30km west of the center of Hanoi, Thach Xa is well-known for bamboo dragonfly craft. The bamboo dragonflies are strange and quite beautiful, the price is not expensive, fluctuating from 5000 VND – 10.000 VND / item so visitors buy a lot.
After 20 years, bamboo dragonfly craft has grown to a large scale, more and more households are making bamboo dragonflies to earn more income for life.
At first, Thach Xa villagers made bamboo dragonflies for sale as souvenirs for tourists when they came here to travel of visit Tay Phuong pagoda. Thach Xa villagers thought that making bamboo dragonflies in their free time is to help them earn a small amount of money, but it is amazing that so many bamboo dragonflies are made, so many bamboo dragonflies are consumed. Curious visitors even come to the artisans' houses to see how they make then order.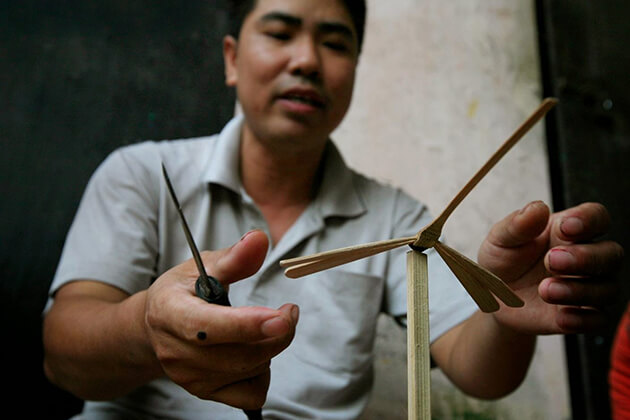 Initially, due to small production, the income of Thach Xa households was still low. Gradually, the bamboo dragonfly craft was widely known, so the scale of production was expanded, the income of these families has been improved.
Material to Make Bamboo Dragonfly in Thach Xa Hanoi
Bamboo is considered the main material to make dragonflies. Bamboo is collected in neighboring provinces such as Vinh Phuc, Hoa Binh, and Son La. The owners of the bamboo plantation said that the bamboo in those provinces was good because they were forest bamboo, thin but quite hard. Selection of raw materials is considered an important step for flexible and durable products.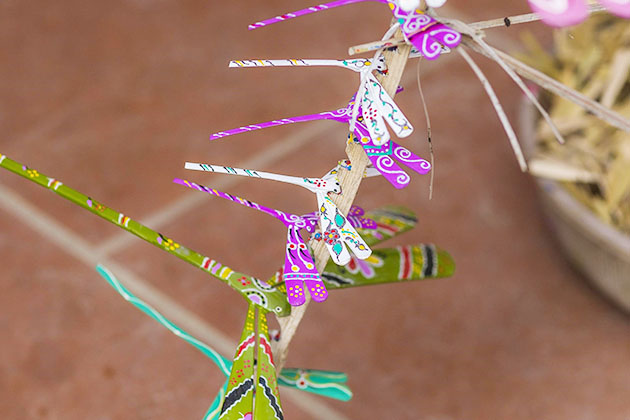 How to Make Bamboo Dragonfly
To create a lot of bamboo dragonflies, artisans take a lot of time and effort. There are 3 types of dragonflies in large, medium and small sizes with lengths of 12-15 and 18 cm, respectively. The process of making bamboo dragonflies is to rake off bamboo, dry, cut each part into wing, body, beak, bending body curved, put wings and the body together, and finally paint. The hardest part is to plant wings on the body so that the dragonfly can perch on the tree in a balanced way. Symmetry should be standard for the new dragonfly perch. Not only make dragonflies but the Thach Xa villagers also make birds, butterflies, peacocks, or turtles.
The steps to create the cute dragonfly is not simple but it also requires meticulous, accurate in every detail. The first is the precision in cutting, assembling, bending and aligning how to dragonfly perch on all terrain.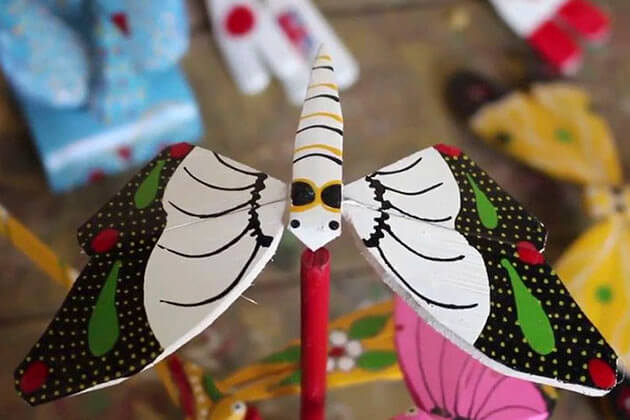 To make dragonflies more beautiful and attractive, the workers decorated the dragonfly pattern, eye-catching texture, the peacock or big dragonfly is attached to the sparkling stones. Depending on the requirements of the order side, artisans are willing to create innovative products to bring customers the best quality.
The bamboo dragonflies from Thach Xa village are now available across the country, especially in major tourist destinations such as Hanoi, Hoi An, Nha Trang, Phu Quoc, and Ho Chi Minh City as they are more beautiful than in other places in terms of colors, durability and particularly precision.
How to get Thach Xa Bamboo Dragonfly Village?
Thach Xa village is 25km away from the center of Hanoi. Visitors can come here by bus, taxi, or motorbike. For foreign tourists in Hanoi tours, we recommend that they should not ride a motorbike without a local guide because of the far distance.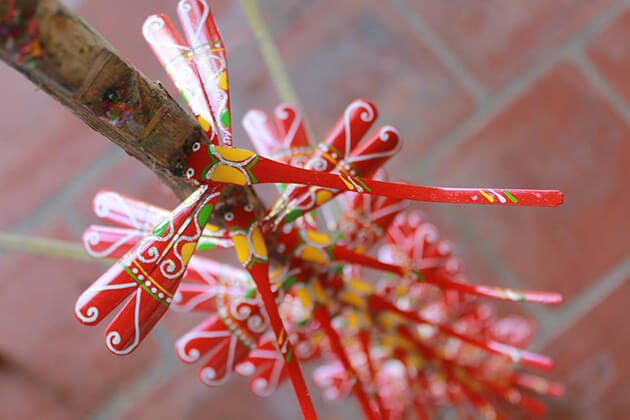 Thach Xa Village Travel Tips
• If you drive your vehicle, check the route carefully before arriving in Thach Xa Village to avoid getting lost.
• You can bring your own food and drinks because there are not many restaurants here.
• Wear a hat and use sunscreen to protect your skin during sunny days.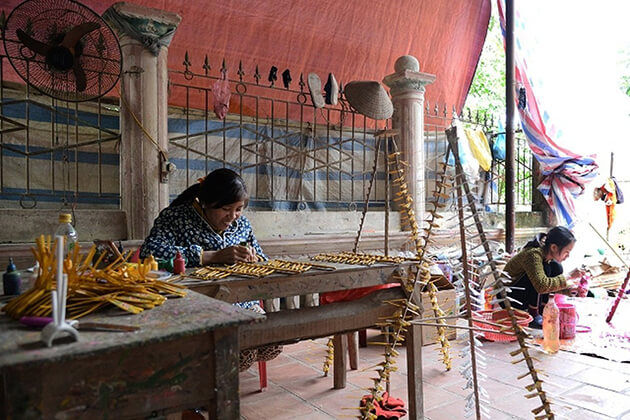 • Bring your own camera or smartphone to take beautiful photos for your trip to the Hanoi traditional craft villages.
• If you come here with your children, remind them not to ruin anything especially the products that are displayed in the yard.
• Visit Thach Xa Village with a local guide because he/she can help you get along well with cultural and linguistic differences. He/She can help you buy the product with the best price as well.