Van Phuc Silk Village (now Van Phuc Ward, Ha Dong District, Hanoi) is a silk weaving village with a long history of development. Silk products of Van Phuc village went into poetry, music as a beautiful cultural village of Vietnam. With more than a thousand years of existence, Van Phuc silk captivates visitors on Hanoi local tours with unique embroidery lines and patterns.
We understand that you may be worried about the ongoing outbreak of coronavirus in China. Bhutan, Myanmar, and Laos, in contrast, are still safe and sound from this global pandemic. Click here to see the reason why Coronavirus cannot reach these countries and what makes them stronger.
Brief Introduction to Van Phuc Silk Village in Ha Dong, Hanoi
Van Phuc Silk Village (also known as Ha Dong Silk Village) is located in Van Phuc Ward, Ha Dong District, 10 km far from Hanoi center, next to the Nhue River. According to ancient books, some ancient documents and relics kept showing that the weaving of Van Phuc village came about in the 9th century.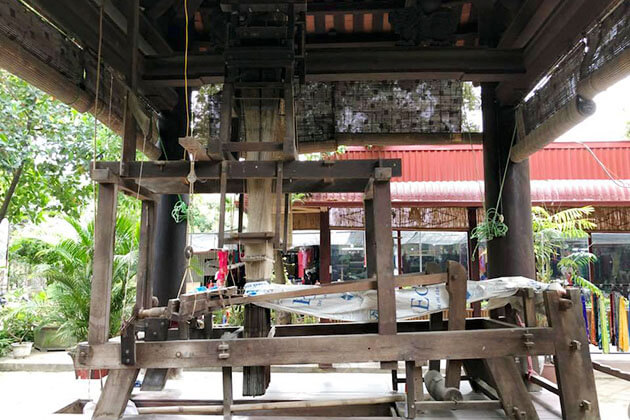 Van Phuc is the most beautiful and famous silk-weaving village in Vietnam. Although the urbanization process is more and more obvious, Van Phuc silk village still retains the typical features of Vietnam's countryside: ancient trees, wells and afternoon markets in Pavilion.
In 1931, Van Phuc silk was first introduced to the international market at the Marseille Fair and was regarded by the French as the most sophisticated product of Indochina. In 1958, Van Phuc silk was exported to Eastern Europe. It has been sold to many countries all over the world.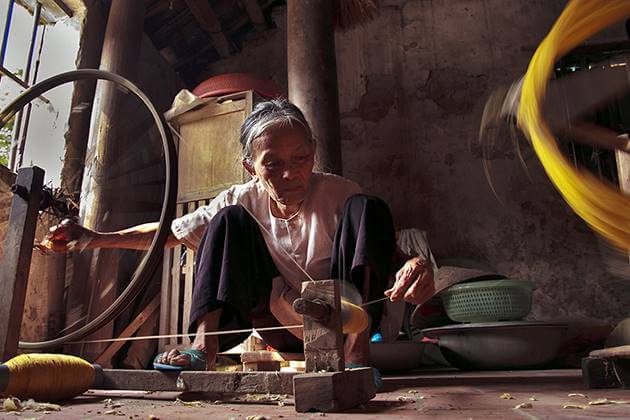 Van Phuc Silk Village nowadays
Experiencing a long-term occupation, Van Phuc villagers linked together into a production line. In the village also formed a number of small to big silk businesses, so the silk items are richer and richer nowadays.
Nowadays, the Van Phuc silk village looks spacious with shops growing up close, silk street stretching out, buyers, sellers, visitors crowded.
The village has nearly 800 households, accounting for nearly 60% of the total number of households living here. In many families, the ancient looms are retained, interspersed with modern mechanical looms. Apart from the main job, they also participate in tourist services, welcome guests to visit the Ha Dong silk village.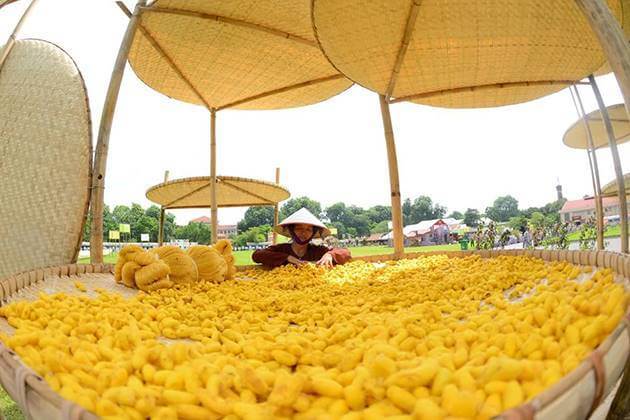 Characteristics of Hanoi Van Phuc Silk
Van Phuc silk is a kind of silk weaving from natural silk material, soft, smooth, delicate, reaching the perfect. Patterns are always decorated symmetric, decorative lines are not frizzy, liberal, definitely. The products of Van Phuc silk village are diverse in color, rich in type and reputation for durability and beauty.
In the traditional silk of the village, the most famous is Van silk that seems to have been lost without the recovery of the master craftsman. This is a special kind of silk, with smooth flowers on the silk surface, and sunken flowers are only visible when exposed to light.
Moreover, the decorative pattern on the silk of Van Phuc village is meticulously crafted and adhere to traditional art methods such as symmetrical decoration, no frills, complicated but liberal. It can be said, the products of Van Phuc silk village has reached the perfect.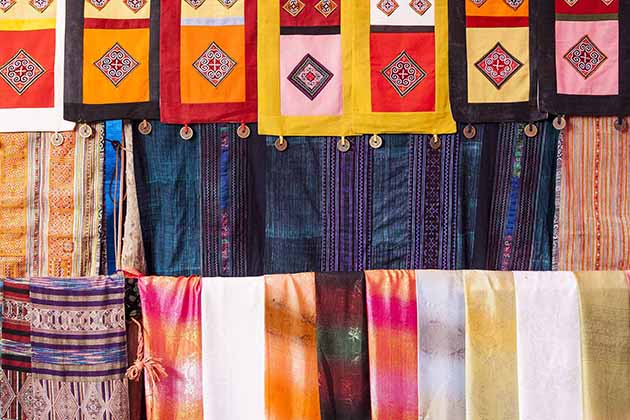 Experience 1-day itinerary in Hanoi Van Phuc Silk Village
Tourists who want to experience the traditional craft villages in Vietnam often choose Van Phuc as a stopover for their Vietnam tour package. Experiencing Van Phuc Village 1-day itinerary is an interesting activity you should not miss.
First, coming to Van Phuc silk village, you will encounter the big gate of the village. On the left side of Van Phuc village gate, you will see the ancient Van Phuc Pagoda with the ancient banyan tree, the well of the lotus and the wooden bridge will surely bring you a relaxed feeling.
Go 20m further you will see a welcome board along with sightseeing/shopping map. Because Van Phuc village is not so big, for convenience, you can take your phone to capture the map. Here you should also send your vehicle to walk for shopping.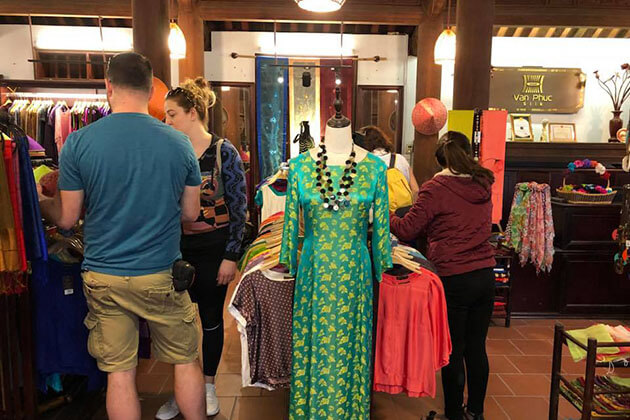 Follow directions to enter "Cultural Tourism and Shopping".
Going on is a showroom.
Once you have finished the Van Phuc Village tour, you can go out to the market for shopping. Silk items are sold in a variety of sizes, from baby's to adults. You will find the item you need in Van Phuc from a handkerchief to a scarf.
Next, you go back to the welcome board and map at the beginning. We will go inside, the village road in Van Phuc is very clean.
Going on a distance of about 200m will be the "Van Phuc silk business center".
In the market a lot of stalls selling goods made from silk.
If you are tired and thirsty, right in the center of the business center there is a pub.
After the shopping finished, turn out to meet the "See you again" gate.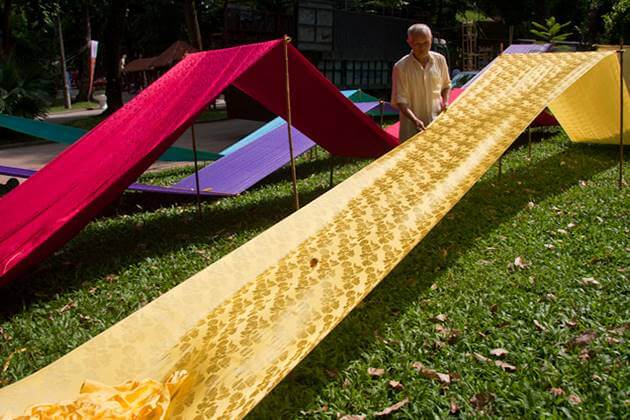 How to go to Hanoi Van Phuc Silk Village?
To go to Ha Dong silk village you can choose to take the Le Van Luong stretch or Nguyen Trai to Ha Dong post office, you turn right, you will not difficult to recognize the gate of Van Phuc village.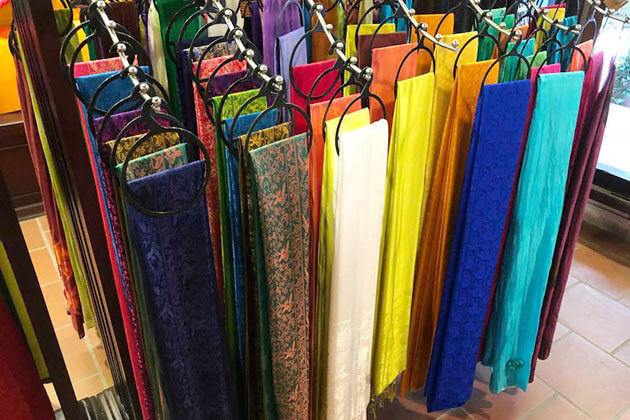 Means to Van Phuc Silk Village:
Van Phuc silk village is about 10km from Hanoi center so you can go by car, motorcycle or:
Call Taxi, Motorbike (Download the Grap, Goviet application, Mai Linh: 043861616,1 Taxi Group: 04382616261
Take a bus (Use the search application to search or visit http://timbus.vn/) or use google map to check https://www.google.com/maps.
Bus routes to Van Phuc Silk Village: 03, 07, 14, 20c, 25, 26, 31,32, 36, 50, 55, 79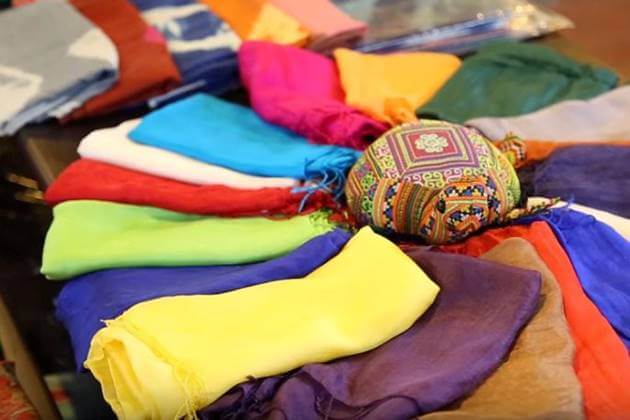 What to eat in Hanoi Van Phuc Silk Village?
From the experience of Hanoi Local Tour, after visiting the Hanoi Van Phuc silk village, go to the Ga Ngon restaurant for lunch and dinner. In the year 2016, Ga Ngon Restaurant was recognized as a gastronomy destination by the travel magazines Triprow. In January 2018, Ga Ngon restaurant was honored in the Architecture magazine leading the world – Archdaily is one of the 10 restaurants with the most beautiful architecture in Asia. You should book desk early, because guests are too crowded, although the restaurant has been available for all four dining area with 5000m2 space, the rooms may not available. (The phone number of the Ga Ngon restaurant: 0979.900.790- 0967.886.202)
Visitors can also eat at the following addresses:
• 1 person hot pot – Van Phuc: B7 63 Van Phuc Street, Ha Dong District.
• Pizza Box – Van Phuc: 430 Van Phuc Street, Ha Dong District
• Banh bao – Van Phuc, Ha Dong District.
• Red Coral – Fresh Seafood: 26 Van Phuc Street, Ha Dong District.
• To Thuc – Duck Specialty: 430 Van Phuc, Ha Dong District.
• Mrs. Mai – Seafood soft noodles: Kiosk 6 Van Phuc, Ha Dong District.
• Dinh Hang – Pho & Bun: 82 Van Phuc Street, Ha Dong District.
With the famous brand and long tradition, a Van Phuc silk village tour (Ha Dong, Hanoi) promises to bring many interesting things. In Van Phuc village, visitors have the opportunity to buy genuine silk products as well as observe the process of making silk sheets of talented artisans.