Incense has a special significance in spiritual life in many Asian countries, including Vietnam. Burning incense is part of Vietnamese culture and beliefs. In today's edition of Vietnam in close up, Hanoi Local Tour will give you three traditional incense craft village to find out how incense sticks are made.
We understand that you may be worried about the ongoing outbreak of coronavirus in China. Bhutan, Myanmar, and Laos, in contrast, are still safe and sound from this global pandemic. Click here to see the reason why Coronavirus cannot reach these countries and what makes them stronger.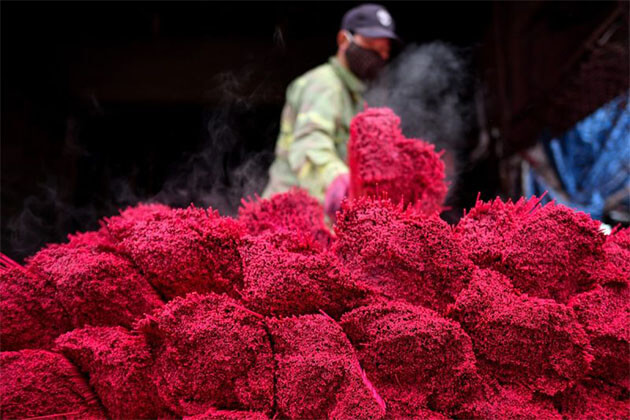 Yen Phu Incense Village
Yen Phu is one of Thang Long's traditional handicraft villages, placed in the center of Hanoi, on the west bank of Tay Ho district. The village is known for making incense that has existed for a long time, experiencing ups and downs with the capital's thousand-year history. The village is located at Yen Phu estuary, Tay Ho district, Hanoi city. People in the village have a job of making incense for a long time. According to the elders in the village, the village's incense making career originated from a Chinese tradition from the 13th century and developed to this day.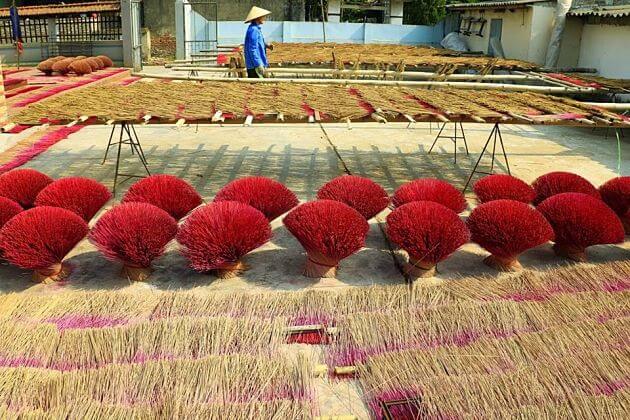 Buddhism and the burning of incense develop here and many other places. Entering this century, the profession of incense in Yen Phu is the most developed and not only attracts people in the village but also attracts An Duong and Nghi Tam villages with a large number of jobs. At the beginning of the 80s, incense jobs were no longer popular when many families quit their jobs and moved to farm ornamental fish and trading and trading. At this time, only about 20% of households in the village still work. However, only 7-8 years later, entering the 90s, making incense was restored. The job is quite hard and the income is not so high, but the people still follow a job because they think that this is a traditional job, and for a long time, the people who have lived by this profession now do not know how to change jobs.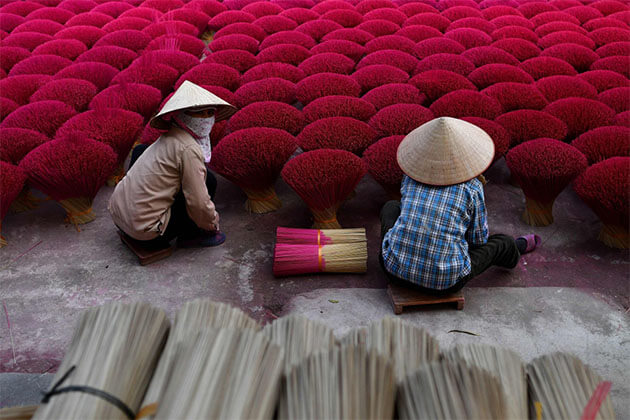 Indeed, making incense is very hard, so it takes many stages to make incense sticks. Everybody in the family must work hard with the assignment of each person, from small to large, from one job, from the simplest to the most complex. Older people and children often take on uncomplicated tasks such as drying and collecting and packing finished products. The most difficult and complicated stage is the mixing of incense powder (wood sawdust) with some flavorings such as star anise, cinnamon, bass … This work must be done by skilled, technical and experienced people because by improperly or improperly prepared concoctions, the fragrance will not smell …
Xa Kieu Incense Village
Located about 42 km to the east of Hanoi, Xa Kieu village in Ung Hoa district is famous for incense. No one knows exactly when the craft began but elderly people in the village said that when they were only about 6-7 years old, they saw their parents chopping bamboo rods to make incense sticks.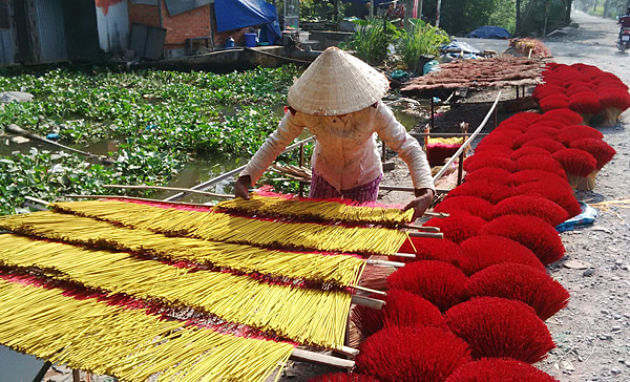 The incense of Xa Kieu has a unique scent because the raw materials to make the incense are selected carefully by the local people, without the addition of any chemicals. Incense cones are made from a combination of burnt forest trees, the resin of Canarium trees and coal powder. The specific ratio of each ingredient in the cone mixture is a secret. After mixing the ingredients, villagers have to grind the mixture and add some water. The mixture is then ground again. Apart from incense, the villagers also make sandalwood incense cones
Making incense is an efficient process in which no materials are wasted. Nowadays, most of the steps are performed by machines. However, some villagers remain faithful to manual techniques.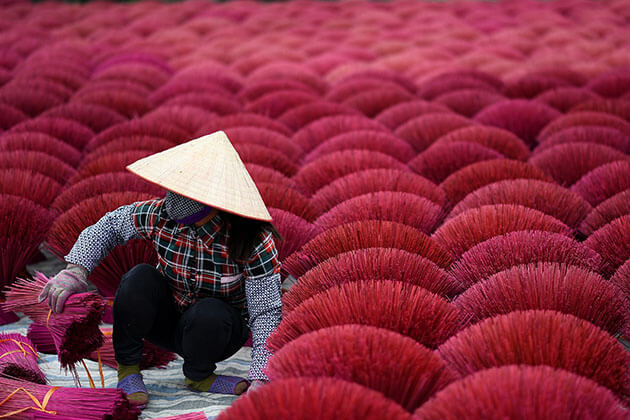 Xa Kieu villagers have had a chance to showcase their products at the Vietnam Traditional Craft Village Tourism Festival 2016. The craft provides a decent income for Xa Kieu's villagers, who are kept busy from early morning until late afternoon. From November through March is the best season for selling incense. Xa Kieu's products are also shipped to nearby provinces such as Thanh Hoa, Nam Dinh, Hai Duong, and many southern provinces.
Hong Duong Incense Village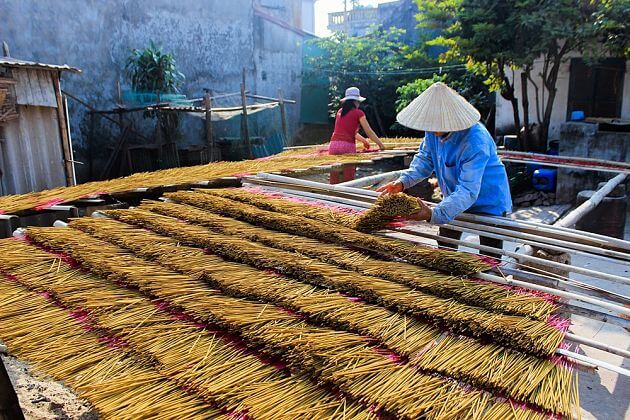 We do not know the origin of making incense jobs, over the years, making incense has become a traditional job, associated with the lives of people in the countryside of Hong Duong, Thanh Oai district (Hanoi)… Profession to make incense sticks develop, the life of Hong Duong people is constantly improving. Social evils are then pushed back …
In particular, in the current economic context, the craft villages are falling into a difficult situation, the deadlock of output, the carts carrying bamboo sticks here and there are still crowded out every day.
In Hong Duong commune today, in free time, children in grades 3 and 4 can also help grandparents, parents to do simple steps such as moving bamboo, splitting …, just helping the family. The family just had a little extra money to buy school supplies.
Visit other must-see attractions in Hanoi at www.hanoilocaltour.com/category/hanoi-tourist-attractions-places-to-visit/