Come to each nation we need to adapt to their habits, one thing that foreign tourists will surely surprise is the early getting-up habit of almost Vietnamese. Therefore, the Vietnamese breakfast food becomes a special feature in Vietnam, especially in Hanoi – the ancient capital. Breakfast plays an essential role as the energy source for a whole day, but nowadays Vietnamese breakfast is always rushed to fit the Hanoian lifestyle. "Where to go?" "What to eat?" are always confused people much, thus here are our suggestions for your best Hanoi tour.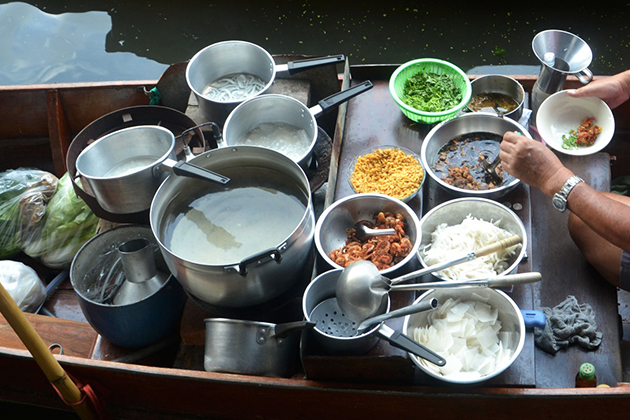 What is An Authentic Breakfast in Vietnam?
Many years ago, the breakfast meal was prepared by the deft hands of women for the whole family which seems like a charging process before a hard working day. The traditional meals of Vietnamese breakfast are quite slight and quick, suitable for their timetable. In this day and age, the higher roles in society, the busier Vietnamese women are, thus they cannot cook breakfast frequently. At about 7 am when the stomach is rumbling, they choose street-food stalls or restaurant for their hurry breakfast. In these places, tourists can find many popular dishes, which are made traditionally and at an affordable price.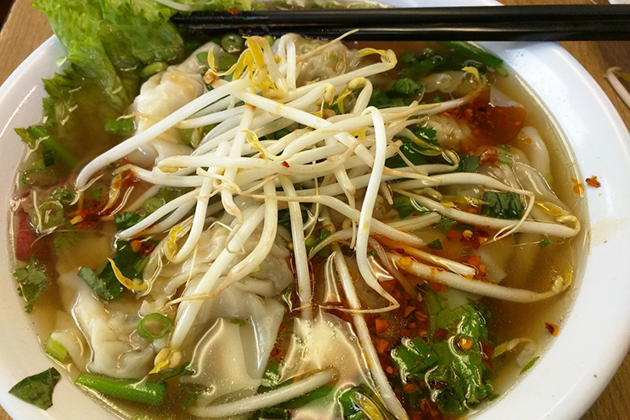 What Do Vietnamese Have for Breakfast?
Banh Mi (Bread)
Banh Mi is originally from France during the colonial period in Vietnam, since then, the French eating behavior has been strongly influencing Vietnamese cuisine, bread for Vietnamese breakfast isn't an exception.
Nowadays, together with the hurried pace of life, Banh Mi extremely fits our lifestyle and better still, it is varied much to suit for our tastes and hobbies. In the past, we have eaten Banh Mi traditionally with condensed or fresh milk, or even a fried egg inside. Banh Mi now has many sorts with the myriad of distinctive flavors and of course based on the price. One kind of Banh Mi which is very popular is Donner Kebab from Turkey and quite appreciated because of its civilians.
Suggested Addresses:
Lan Ong bread at 6 Cha Ca, Hang Bo, Hoan Kiem, Hanoi.
Phuc Bread at No. 9 Yet Kieu, Hanoi.
Thai Thinh Bread at 35 – 37 Thai Thinh, Dong Da, Hanoi.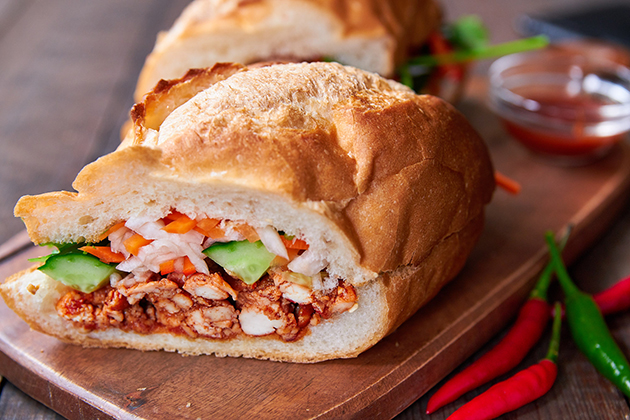 Pho
Pho is always the first name coming to mind when recommending Vietnam, it is an indispensable part of your Hanoi tips, Pho is always a great choice any time of the day. Actually, Pho is not only the popular Vietnamese breakfast but it also international well known as the icon of Vietnam cuisine. The mystery hidden in the broth of Pho brings thousands of taste, even though they have the same ingredients. A quick breakfast with a bowl of evaporating Pho will be the energetic start of a day. There stand many kinds of Pho, which are Pho Bo Tai, Pho Ga, Pho Sot Vang, Pho Bo Gan, and so forth.
Suggested Addresses:
Pho Bat Dan at 49 Bat Dan, Hoan Kiem, Hanoi
Pho Thin at 13 Lo Duc, Hai Ba Trung, Hanoi
Pho Ly Quoc Su: 10 Ly Quoc Su, Hoan Kiem District, Hanoi
Pho Vui: 142 Xa Dan 2, Dong Da, Hanoi
Pho Suong: 24 Trung Yen, Dinh Liet, Hoan Kiem, Hanoi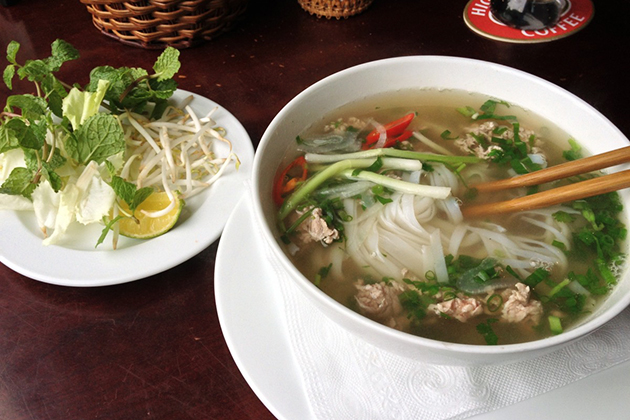 Xoi (Sticky Rice)
Sticky rice or Xoi in Vietnamese is a simple dish, and it's hard to figure out whether Pho or Xoi is more common for Vietnamese Breakfast. In every small lane in Vietnam, we can easily find people selling Xoi in the morning. In every morning, children come to school with a box of Xoi their parents buy quickly in the street or in front of the school gate. These baskets of Xoi are so hot that we cannot bear especially in the cold weather. There are many sorts of sticky rice such as Xoi lac, xoi gac, xoi ngo, xoi xeo, Xoi pate,….
Suggested Addresses:
You can find the basket of Xoi in everywhere in the morning, but here are some places we highly recommend for you:
Xoi Yen: 35B Nguyen Huu Huan, Hoan Kiem District, Hanoi
Xoi Suon Cay: 628 Truong Chinh, Dong Da, Hanoi
Xoi Loc: 68 Ta Quang Buu, Bach Mai, Hai Ba Trung, Hanoi
Xoi Cat Lam: 24B Duong Thanh, Hoan Kiem, Hanoi
Banh Cuon
Vietnam is an agricultural country, so most of the specialties are inspired from rice, yet, each kind of dish has a special way to make, and we want to mention Banh Cuon here. Banh Cuon is covered by a thin sheet of steamed rice flour and seasoned ground pork and minced wood ear mushroom are fully filled inside. Banh Cuon will be more savory if it's served with Cha Que and used with special sauce only for Banh Cuon.
Suggested Addresses:
Banh Cuon Ba Hanh: 26B Tho Xuong, Phu Doan, Hoan Kiem, Hanoi
Banh Cuon Gia Truyen: 81 Le Van Huu, Hai Ba Trung, Hanoi
Banh Cuon Thuy Khe: Alley 29 Thuy Khe, Tay Ho, Hanoi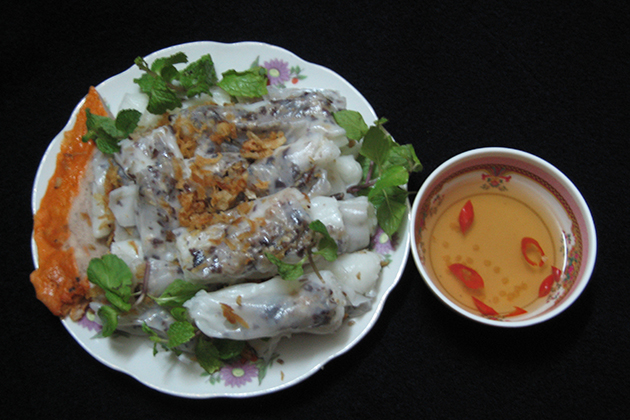 Traditional Cakes of Vietnam
There are many kinds of traditional cakes made of rice which we cannot list fully, but most of them can use as the Vietnamese breakfast and each of them is tasty as the way it is. Here we can name several common cakes as Banh Day, Banh Ran, Banh Nep, Banh Gio, Banh Khuc,… They are quite delicious and easy to pack, and they often stuffed with mung beans. We can easily find them in the basket of the ladies wandering the street to street with an affordable price. We highly recommend these kinds of cakes for your breakfast when coming to Vietnam.