Somehow like the Hanoi Old Quarter of which each street specializes in one typical kind of product, Bat Trang ceramics village is well-known for being home to ceramic goods. Located in Northern Vietnam, approximately 13 kilometers away from Hanoi to the southeast, Bat Trang is just a small village but considered one of the most popular highlights to domestic and foreign tourists. Its products are potteries of high quality and sophisticated skills which have been exported worldwide for years.
History of Bat Trang Ceramics Village
It is said to be found between 14th and 15th century in some documents but to the locals, they believe that their village was formed much earlier. Therefore, the small village holds two origin stories at the same time. One tells that, during independence and initial growth period of the country, under the reign of Ly Dynasty in 1100, three scholars went on a mission trip to China, and the moment they came back was the moment ceramic craft industry was brought to Vietnam. The three taught what they had learned to people of Bat Trang.
The other story dates back to the time King Ly Cong Uan chose Thang Long to be the new capital in the 10th century. The new capital attracted many businessmen, crafters from all corners of the country come to settle down. Bat Trang possessed a large amount of white clay which potters needed to do their trade, so many of them moved here, of all Nguyen Ninh Trang family first came and built the kilns in Bat Trang. Time went by, Bat Trang gradually converted from a normal pottery village into a well-known ceramic center as today.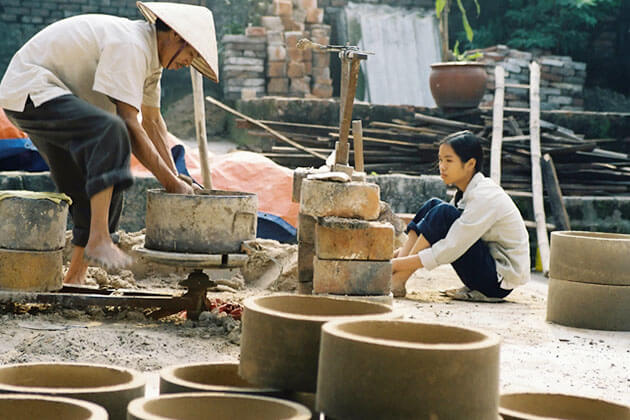 Bat Trang Pottery Class
Everyone can make ceramic is the slogan of pottery classes in Bat Trang. Obviously, apart from the picturesque view, what chiefly attracts tourists to Bat Trang Ceramic Village is the great opportunity of making ceramic products directly by themselves. Many youngsters and foreign tourists are so keen on in this pottery- making the experience that they can spend a whole day in the Bat Trang pottery market to make special pottery of their own or as souvenirs for family and friends. Of course, not every "amateur maker" can produce good pottery at their first time, so go buying already-made ceramic items as souvenirs could be an ideal option.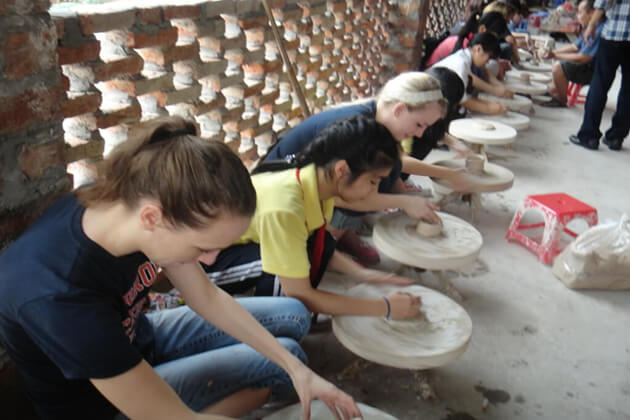 The Famous Ceramic & Pottery Products of Bat Trang Ceramics Village
Production Process of Bat Trang Porcelains
There are three steps to follow if one wants to make a product from clay. The product frame is the first to be made. They call it the raw product which means that the first one does not need to be flawless as they have two more steps to perfect it. However, this can be considered the most important process for people have to choose the most suitable clay, treat it, and make the frame which decides the appearance of the product at last. Next comes the decoration process. The potters fix the flaw if it has, then covers the product with glazes to make it shiny and glorious. After that, the potters put their raw products in a kiln to bake it three days and three nights at the temperature of 12000C or 13000C and complete the process. Now they have the glorious flawless products to display and sale.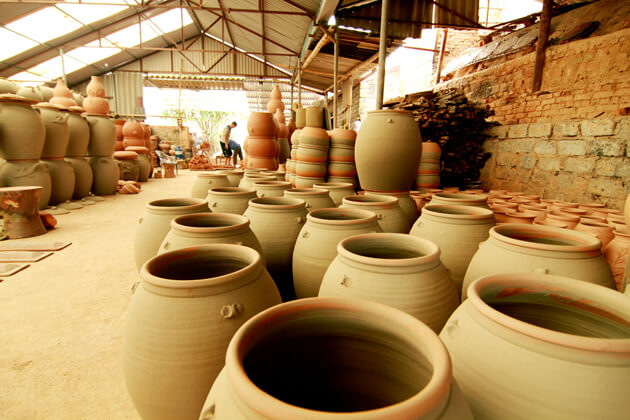 Popular Product Types
Based on their usage, the ceramic products are classified into three categories as follows
Utilitarian wares: plates, bowls, teacups, kettles, wine bottles, flowerpots, vases, jar, etc.
Cult wares: lamp stands, candle holders, incense burner, altar boxes, swords, etc.
Decorative objects: house models, altars, statues, and architectural fixtures.

An Ideal 1-Day Tour Itinerary in Hanoi Bat Trang Pottery Village
Bat Trang Ancient Village
When taking Hanoi local tour, going to Bat Trang ancient village with unique architectures, you will have the opportunity to explore the ancient village in an ox cart to enjoy the rustic atmosphere. Typical places to save ancient time here can be mentioned to Van Van ancient house and Bat Trang village hall.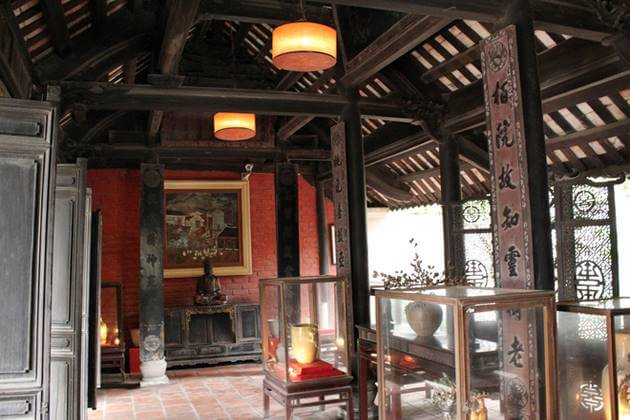 A wooden house with age of more than 200 years, Van Van ancient house – top 10 most beautiful houses in Vietnam, is a masterpiece of architectural features include ceramic, melamine, dragon vase, set of stamping molds for pottery, … from before the 15th century. Bat Trang village hall is a place of worship of the emperor, which is also the venue for annual festivals. If you go to the Bat Trang ancient village on the occasion of the festival, you can explore the unique culture here.
Bat Trang Pottery Yard
For visitors to Bat Trang pottery village, their desire to set foot in this beautiful land is to mold the pottery and porcelain products themselves. Just spend VND 40,000 – 60,000, you can become a real potter when creating finished products from clay and turntables. Although initially, you may be a bit confused when you do not know how to use these tools, you will receive the dedicated instruction from the potter skillfully in the Bat Trang village. After you finish the "masterpiece", the product will be burned to bring home.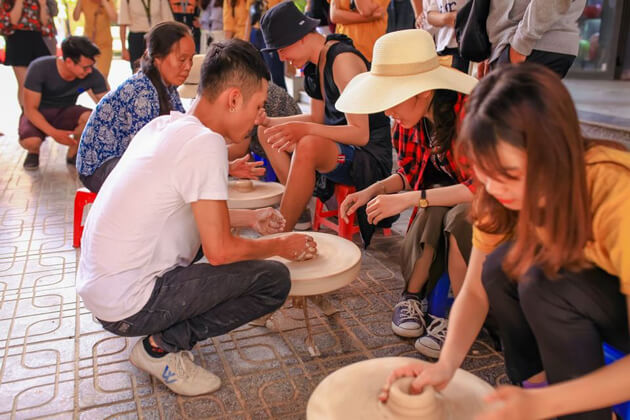 Bat Trang Pottery Market
Bat Trang Pottery Market is a place where you can find beautiful and cheap souvenirs. The booths in the Bat Trang Pottery market are selling a lot of ceramic products such as souvenirs, plates, cups, art ornaments, worship items, … All products here are made from the hands of famous artists. You can observe and record the process of molding ceramics right at the mini pottery yard in the market.
What to Eat in the Hanoi Bat Trang Ceramics Village?
When traveling to Bat Trang, you can stop at any restaurants near the market to taste some snacks with a cheap price such as baked cassava, hot bun or rice, noodles, vermicelli with a typical flavor of the Bat Trang Ancient Village. In particular, you can not miss the specialty squid soup, the famous traditional dish here.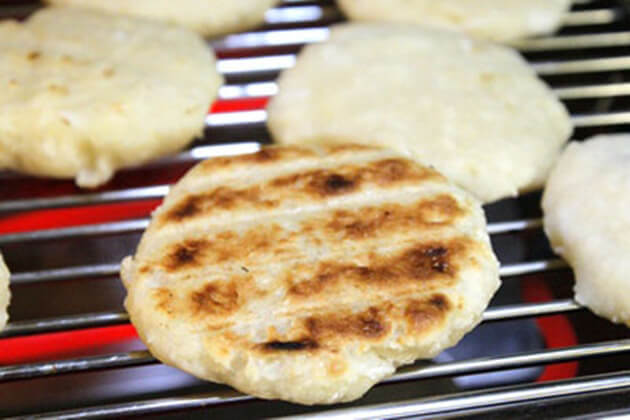 What to Buy in the Hanoi Bat Trang Pottery Village?
When shopping here, you can bargain, bargain price about two- thirds of the seller said, do not bargain too much but not buy. When moving and picking up the items, take care to avoid the breakage of the ceramic. If you go with children, you have to keep watch over them and especially keep them out of the showroom. Look carefully before deciding to buy because there are still defective products in the production process.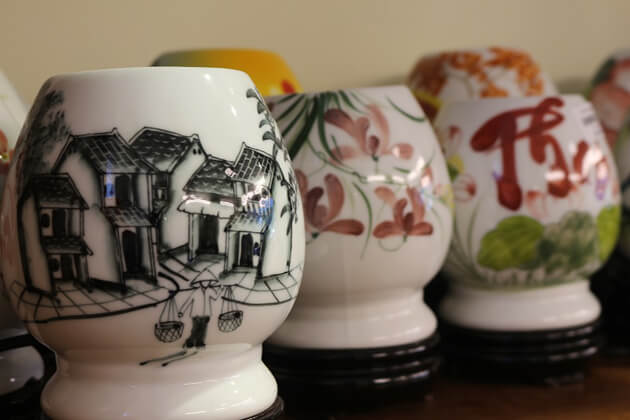 At the end of this Hanoi 1-day itinerary, you can buy a Bat Trang pottery gift to save this meaningful trip.
How to Get to Bat Trang?
Bat Trang pottery village about 10km from Hanoi center, tourists can go to Bat Trang pottery village by motorcycle, bus, or boat.
Bus
The cheapest and most convenient way to get to Bat Trang. From the bus stop in the inner city, visitors take the bus to Long Bien transit station and then to line 47 to Bat Trang. The car stopped at the gate of the village.
Ticket price: No more than $1
Motorbike
From the city of Hanoi, visitors go through Chuong Duong bridge or Vinh Tuy bridge, Thanh Tri bridge, then turn right and continue to go along the Red River dike to Bat Trang pottery village.
Boat
On the weekend, there is a Red river tour by river passing Bat Trang pottery village, Chu Dong Tu temple. Price of this tour is about 350k – 400k / guest. You should ask the boatman whether it goes through Bat Trang village or not.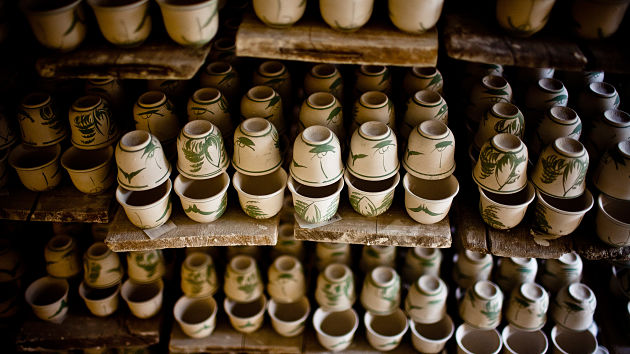 Travel Tips When Visiting Bat Trang Ceramics Village
Here are some notes for you when visiting Bat Trang pottery village:
Shopping in the market, you should bargain. Check out before leaving the shop, as there may be errors, poor quality goods.
Traveling in the market should be careful because the owner presents a lot of pottery that is fragile, if you intentionally break, you will have to pay money.
If you buy large and bulky items, you should ask the shop owner to ship to your home, avoid the condition of broken in the shipping.
If you plan to go shopping, you should buy at the end of your Bat Trang Ancient Village tour so that you can go to visit other attractions easily
It is very convenient when you go by public transport.
If you travel by your vehicle, you should be prepared full license, for motorcycles should pay attention helmet, rearview mirror.
Come to Bat Trang, you can sit in an ox cart to visit the whole village. Each ox cart carried about 10 people.
Another tip: If you go for a picnic, you can travel by bike, it is very fun to ride around the peaceful village or to travel to the Bat Trang attractions.
Hope you have a wonderful Bat Trang Pottery Village tour!