Located in the North of Vietnam, Hanoi and Ha Long Bay have the relatively same climate.
So the best time to visit Hanoi and Ha Long Bay is from March to May and September to November. In particular, Hanoi is most pleasant in the autumn which happens from early September to November. Meanwhile, summer is a great time for enjoying the beaches in Ha Long Bay.
Best Time to Visit Hanoi
The best travel time in Hanoi and Northern Vietnam is in the autumn, from early August to October. At this time, the rainy season in Hanoi is over, and the weather is quite cool with an average temperature of 26 degrees.
If the winter in Hanoi starts from November to March at the average temperature of 15 degrees with January is the coldest month, the summer lasts from March to early September with hot and humid climate and highest rainfall…
Just in the autumn, Hanoi turns back to itself as Hanoi's beauty is depicted under its nice and cool weather. Anyone visiting Hanoi in this time is inevitably vibrant and nostalgic. Autumn Hanoi touches people hearts with blue sky, drops of sunshine on leaves and slight winds throughout each tree line and street corner. Referring to Hanoi autumn, people cannot forget to remind "milk flowers" radiating aroma through Hanoi streets. Not too fussy or ostentatious, green of Com (green rice) also makes visitors in Hanoi to be ecstatic and stupefied. Moreover, gifts made from green rice like banh com (green rice cake), che com (sweet dessert) also passionate hearts of food lovers as reminding Hanoi autumn.
Overall, autumn is the most appropriate and ideal time for visitors to travel to Hanoi – the land of thousands of years. However, it is not that Hanoi becomes "strange" in the rest time within a year. The transition period from March to April is a good time to visit Hanoi since the weather is quite pleasant at this time.
Best Time to Visit HaLong Bay
The best time to visit Halong in terms of weather, it can be in the summertime from March to October annually.
June and July are two busiest months of Ha Long because this is both summer vacation and hottest moment in Vietnam. However, the climate constantly changes and you should base on different factors to plan your day trip in Ha Long. In sometimes, June and July in Ha Long are forecasted to suffer many storms from Northern Gulf. Therefore, you have to be careful while engaging in Ha Long Bay trip at that time.
Ha Long also welcomes a large number of tourists in other months because of its picturesque beaches. To definitely enjoy the perfect experience, you should visit Ha Long Bay in the time period from March to May, or from August to early October when the weather is not extremely cold or hot.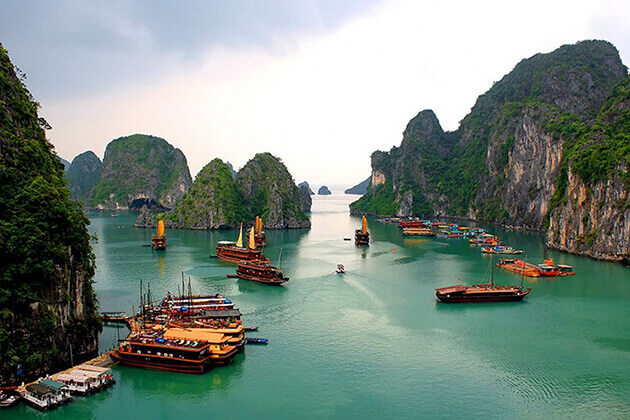 You can refer: Halong Bay Tours & Day Trips from Hanoi or find inspiration at Hanoi Vietnam Local Tour.