Hoan Kiem Lake is somehow regarded as a must-see destination for ones enjoying their Hanoi tour. The reason for that could be found after a glimpse of its legend as well as its beauty is given. Located in the heart of Hanoi, wrapped by the famous Old Quarter, Hoan Kiem Lake (Lake of the Restored Sword, or Lake of the Returned Sword) which was previously called Luc Thuy Lake (Green Water Lake) is most well-known for its fascinating history under the reign of King Le Loi.
The Legend of Hoan Kiem Lake
The Lake owes its name to the legend of Emperor Le Thai To (Le Loi) in the 15th century. It was when the Minh Chinese invaded Vietnam that the magical sword was given to King Le Thai To of which the blade came from underwater, and the hilt was from a banyan tree. After 10 years of continuous fighting against the Minh invader, with the sword of great fairy power, King Le Loi eventually defeated the Chinese and brought independence to the country.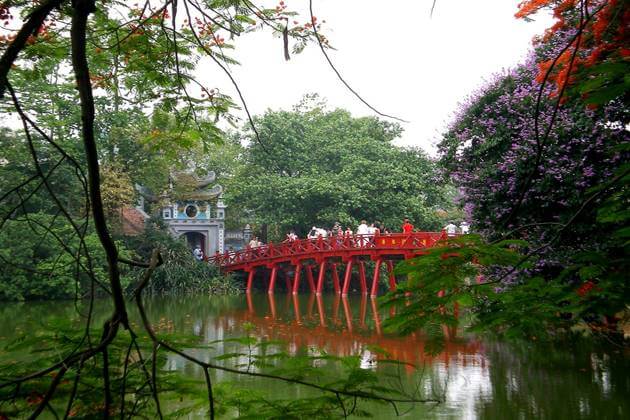 It was a beautiful day when the nation was in peace, King Le Thai To was out boating on Luc Thuy Lake (Green Water Lake) suddenly emerged the Golden Turtle and the King returned the given sword to the Turtle who then immediately grabbed the sword in the mouth and submerged. The King realized that it was such a magic sword but could only be used in crucial need, now that his nation was free the sword must be returned to its place, under the water. The King then named the Lake "Hoan Kiem Lake" which literally means the Lake of the Returned Sword.
The Hoan Kiem Lake Complex
Time went by and many Kings had contributed to the gorgeousness of Hoan Kiem Lake so that it has an outstanding scenic beauty as today. Khanh Thuy Shrine was built on Ngoc Island by Lord Trinh Giang who also built hills across Ngoc Son Shrine. They were just hills that were built by the Lord. The Ngoc Son pagoda, which was then renamed Ngoc Son Shrine was built by Tin Trai, a philanthropist. Ngoc Son pagoda was first for Buddhist then was changed into a shrine of Van Xuong, a deity, then also be shrine of great General Tran Hung Dao. Therefore, Hoan Kiem Lake as tourists come for sightseeing today is located inside a complex of Ngoc Son Temple, The Huc Bridge, Pen Tower, holding a breathtaking image of Hanoi.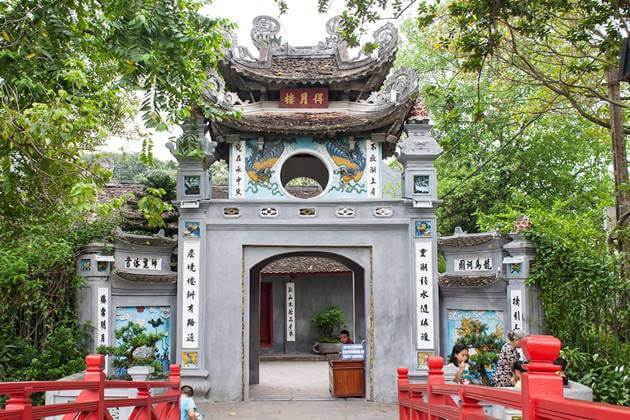 Hoan Kiem Lake Travel Guide
Best Time to Visit Hoan Kiem Lake
Considered a green lung of Hanoi, you can visit Hoan Kiem Lake at any time in a day. In the morning, wake up early and join in groups of locals doing morning exercise. At noon, sit in restaurants and coffee shops with the view heading to the lake. It is such a wonderful moment when tasting Hanoi cuisine and enjoying the scenic beauty of Hoan Kiem Lake.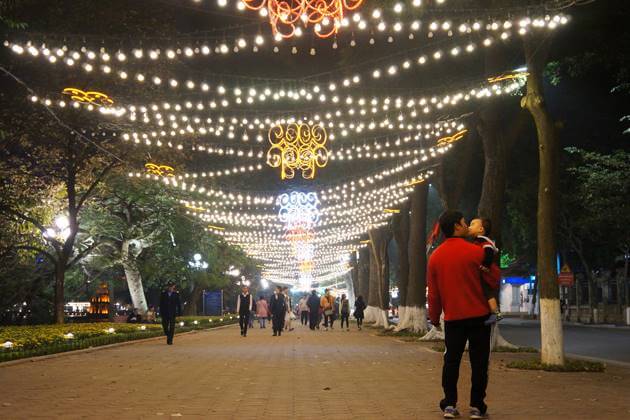 Hoan Kiem Lake at night will absolutely bring you distinct experience. From Friday to Sunday, all vehicles are banned in the streets surrounding the lake creating walking streets for locals and tourists organizing and attending fantastic outdoor activities. Remember to enjoy Trang Tien ice cream to gain more energy for your energetic night.
Hoan Kiem Lake Entrance Fee & Opening Hours
Entering Hoan Kiem Lake requires no fee but it does to Ngoc Son temple with the cost no more than $3. You have to pay nearly $1 for parking fee if you have a motorbike and want to attend walking streets.