Chuyen My commune (Phu Xuyen district, Hanoi) is home to seven villages producing mosaics that are attracting a large number of local workers as well as neighboring regions. From the talented hands, every year, Chuyen My pearl inlaying craft village produces a large number of sophisticated products from mahogany, cabinet, table, mosaic to lacquer painting. Thanks to that, Chuyen My village is also a must-visit tourist attraction in Hanoi.
Introduction to Hanoi Chuyen My Village & The Pearl Inlaying Craft Village
Lying along the Red River with poetic mudflats captivating people, Chuyen My mosaic craft village has pleased visitors near and far with delicate and luxurious nacre mosaic products.
About 40 km south of the center of the Capital, Chuyen My commune, Phu Xuyen district, Hanoi used to be considered the cradle of quintessence of Vietnamese craft villages: a mosaic craft. Stepping into the beginning of Chuon Thuong village, visitors can immediately feel the scent of the snail, the piece of pearls being polished to create materials.
Going a little further through Chuon Trung and Chuon Ha and then to Chuon Ngo, we can see the diligent workers sitting drawing, sawing, inlaying the tiny motifs on the finished wooden panels at most families. Chuyen My commune with four traditional craft villages of Chuon Ngo, Chuon Ha, Chuon Trung, and Chuon Thuong has been, step by step, preserving and developing a traditional job that is "hardworking" but also very luxurious. The mosaic craft in Vietnam has been mentioned in the III to V-century history books in the Northern domination period.
According to some documents, the occupation group of the Red River downstream area such as Ninh Xa and Y Yen villages in Nam Dinh is Mr. Ninh Huu Hung, a general of King Dinh and King Le. However, according to Chuon Ngo village's pedigree, the pearl mosaic craft here appeared from about XI-XIII century. The ancestor of the profession is now worshiped in the village, Truong Cong Thanh, a martial arts general who once participated in the army of Ly Thuong Kiet. Legend has it that Truong Cong Thanh was a talented deputy general of Ly King, after chasing the invaders, he was rewarded by the king and by the end of his life he lived an elegant life and spent the rest of his life wandering about enjoying beautiful sceneries.
In a time when he accidentally came to the stream bank, picked up the pieces of pearl shells and screws with many strange colors, he took them to research, tried to assemble those materials and create patterns very lively. Gradually, he started his career for people in the region, creating a mosaic craft for the people in Chuon Ngo and the trade village was widely developed throughout the whole Chuyen My commune today.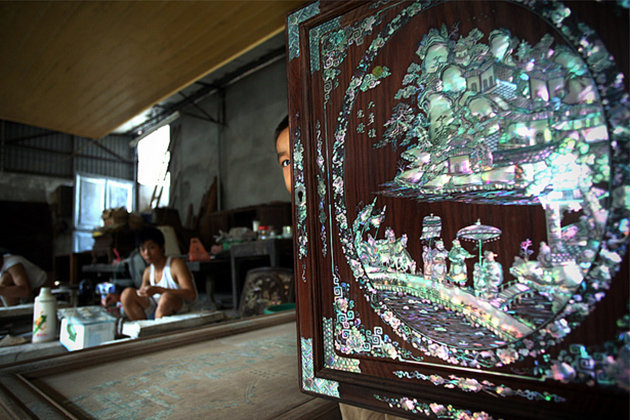 The Pearl Inlaying Craft in Hanoi Chuyen My Village
According to village artisans, the pearl mosaic craft is not simply a chiseled or assembled craft, but an artistic "journey" if you want to have a pearl mosaic product in the right sense, right from the step of creating materials. In order to get the best materials, people in Chuon Thuong and Chuon Trung often collect large-sized shells from domestic areas and also import from Hong Kong and Singapore.
Raw Materials for Making Pearl Mosaic
There are many types of mussel shells: the small piece of mussel with the dark color, white flesh mussels with thick shells, mussel with many veins but the most popular is still yellow lip pearl, it is usually large in size, the inner surface is covered with soap thick piles of iridescent color like rainbow colors. To make it easier to distinguish, people name each type such as "giants", "Diep xu", "wing", "Nong Cong", "corpses" …
There is also a special source of rare materials for the mosaic products, which are red snails with extremely luxurious colors often used to make mountains, phoenix wings, or motifs on the paintings on the king's clothes …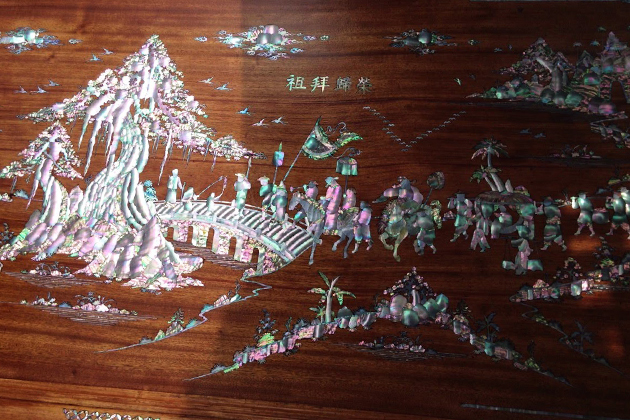 The Pearl Inlaying Steps
A pearl mosaic product was born through six basic stages. The first is to draw a picture for the painting on the paper and then look at the pattern to paint the texture on the raw material of the shell, which is pressed flat.
Next, the artisan saw materials by drawing, chiseling wood and attaching pieces of textured materials on it. This stage is called "nacre inlaying". For textures with a gloss that shone the shimmering colors of pearl shells, snails and create souls for paintings, wood paintings after being inlaid will be trimmed and polished then drew strokes. Finally, people use black paint or varnish to make vignettes come alive. A complete picture was born. Highlights of Chuon Ngo pearl mosaic are unbreakable, flat or bent pieces that are suitable for each type of finished wood. The perforated and inlaid specifications are very tight.
The decorative pattern on the pearl mosaic is very lively and unique as it carries the soul. From the pieces of inanimate shells, through skillful hands and rich creative minds of the Chuyen My artisans, the paintings have become high cultural and artistic values.
Living with the mosaic craft on the basis of thousands of years of traditional craft inheritance, the products of Chuyen My villages have reached out to international markets of England, Russia, America, Netherlands, Japan… This peaceful countryside on the Red River is also becoming one of the typical tourist villages in the famous traditional craft villages in Vietnam.