Ho Chi Minh Complex is one of the famous attractions that visitors do not want to miss when coming to Hanoi. For your perfect Hanoi local tour, let's learn more important information about this complex, including tips for visiting.
We understand that you may be worried about the ongoing outbreak of coronavirus in China. Bhutan, Myanmar, and Laos, in contrast, are still safe and sound from this global pandemic. Click here to see the reason why Coronavirus cannot reach these countries and what makes them stronger.
Introduction to Ho Chi Minh Complex in Hanoi
As one of the Hanoi special attractions of Vietnamese people, on the west side of the Old Quarter, Ho Chi Minh complex is an important place for pilgrimage. Ho Chi Minh (or Uncle Ho), the very first president of Vietnam, Hero of national liberation, was born on May 19, 1890. He devoted his life to liberating the Vietnamese people, he was recognized by UNESCO for his dedication. To honor and express gratitude to Uncle Ho, the Vietnamese government decided to build Ho Chi Minh complex in Hanoi after he has gone.
At first, the President said that he wanted to be cremated and buried ashes on the hills of the North, Center and South Vietnam. However, to honor his great dedication to the country and the love of all Vietnamese for him, the government decided to keep his body so he could see the country reunited and the next generations can visit him. Accordingly, on September 2, 1973, his tomb began to be built in Ba Dinh Square, where he read the Declaration of Independence on September 2, 1945, and was completed on August 22, 1975, with the help of the Soviet Union. The complex includes Ho Chi Minh Mausoleum, Ba Dinh Square, Presidential Palace, Ho Chi Minh Residence, One Pillar Pagoda, and Ho Chi Minh Museum.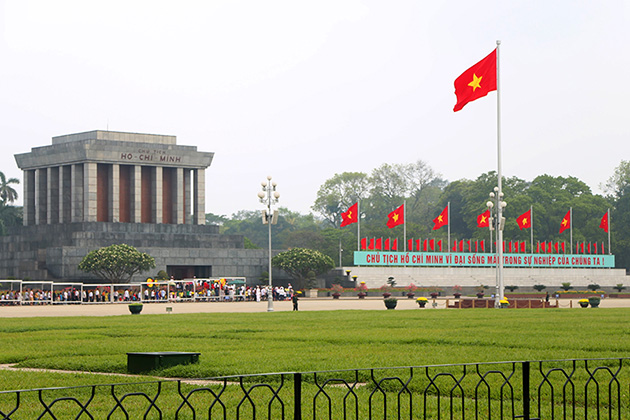 Ho Chi Minh's Mausoleum
Ho Chi Minh's Mausoleum is the place where Uncle Ho's corpse is placed for people all over the country and international visitors to visit their beloved old father.
Right from the first steps to Ba Dinh Square, from afar, visitors can see Uncle Ho's tomb standing up with the words "Ho Chi Minh President" with extremely prominent and impressive plum pink stone.
Where is Ho Chi Minh's Mausoleum in Hanoi?
The Ho Chi Minh's Mausoleum is located at 25 Hung Vuong, Dien Bien Ward, Ba Dinh District, right in the heart of Hanoi. However, visitors who want to visit the Mausoleum must go from the entrance to Ho Chi Minh Museum at the address of 19 Ngoc Ha, Ba Dinh under the guidance of the management of Ho Chi Minh Mausoleum or according to the flow of people to visit Mausoleum.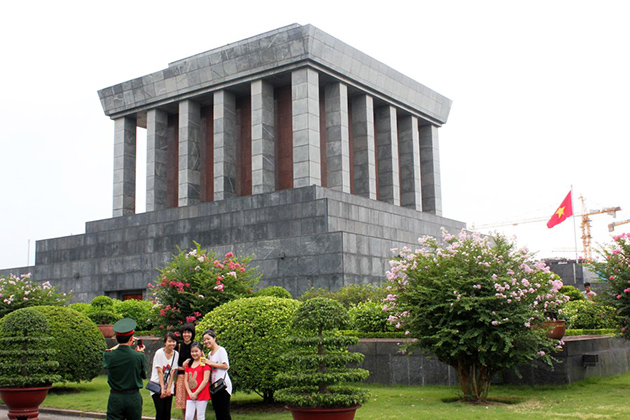 How to Get to Ho Chi Minh's Mausoleum?
Because it is located in the center of Hanoi, so to visit Uncle Ho's mausoleum, tourists can choose many different means of transportation such as cars, motorcycles, buses, taxis.
– Car and motorbike: Visitors going straight to Trang Thi road to the crossroads turn to Dien Bien Phu street. Running out of Dien Bien Phu Street is to Ba Dinh Square.
Here, visitors can park their cars at 2 addresses: Ong Ich Khiem street – opposite the Tomb commander and No. 19 Ngoc Ha street – the entrance to Ho Chi Minh museum, then walk to the entrance to Ho Chi Minh's Mausoleum.
– Bus: There are many bus routes that have stops near Ho Chi Minh Mausoleum that tourists can refer to save travel costs as well as to enjoy watching the streets of Hanoi.
Buses with stops near Mausoleum are no 09, no. 18, no. 33.
In addition, there are many other bus routes that visitors can refer to as no 22, no. 33, no. 45, no. 50.
Opening time to visit Ho Chi Minh's Mausoleum in Hanoi
When Ho Chi Minh's Mausoleum is opened is a common question of visitors when taking Hanoi tours. Not only big holidays but also all morning in the week except Monday and Friday, Mausoleum is always opened for visitors. If on the first day of the Lunar New Year, on May 19, or September 2 – special days of Vietnam country, which coincides on Monday or Friday, the Mausoleum is still opened to visit normally. However, the time to visit Ho Chi Minh's Mausoleum in the hot season compared to the cold season or the usual day compared to the weekend and holidays is not the same. As follows:
– Hot season (from April 1 to October 31):
+ Tuesday, Wednesday and Thursday: from 7:30 to 10:30.
+ Saturdays, Sundays and holidays: from 7:30 to 11:00.
– Cold season (from November 1 to March 31 of the following year): Time is from 8 am to 11 pm.
Fares to visit Ho Chi Minh's Mausoleum
Ho Chi Minh's Mausoleum is open free for everyone to visit.
Ba Dinh Square
Ba Dinh Square is the largest square in Vietnam, located on Hung Vuong Street and in front of Ho Chi Minh Mausoleum. This place has preserved many imprints of great events of the Vietnamese nation. In particular, on September 2, 1945, at this Square, President Ho Chi Minh read the Declaration of Independence that gave birth to the Democratic Republic of Vietnam.
Ba Dinh Square is located on the west of Hanoi's ancient gate. Until the beginning of the 20th century, this area was a space with a wild beach, and a new pond was leveled. The French built here a flower garden, named Rond Point Puginier, also known as the circular square (Rond point: round point) or the Puginier flower garden (Puginier is the name of a father).
Ba Dinh Square today has a campus with a length of 320m and a width of 100m has many large grass plots, interspersed with a 1.4m wide walkway. In the middle of the square is a 25m high flagpole. Ba Dinh became a sacred land with historical imprints that never faded, along with the existing spiritual structures: Ho Chi Minh's Mausoleum, Monument to Martyrs' Heroes. Ba Dinh Square is also a Hanoi must-visit attraction for Vietnam people as well as tourists in Hanoi local tours.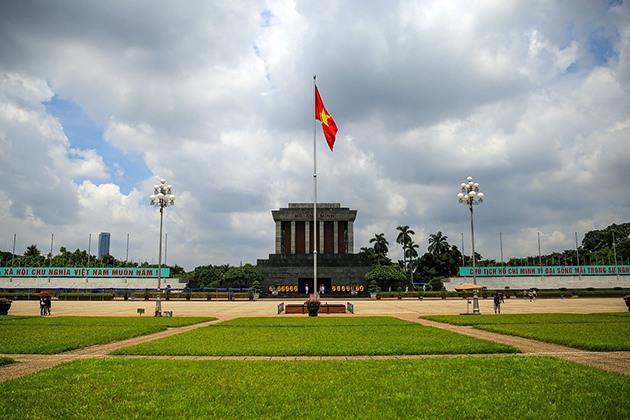 Presidential Palace
Presidential Palace is a large building used as the workplace of the President of the Socialist Republic of Vietnam and senior officials of the state. This building is located in the precinct close to Ho Chi Minh's Mausoleum and Ba Dinh square. It is also the place to hold a ceremony to welcome heads of state or heads of foreign governments to visit Vietnam officially.
Designed and completed by architect Auguste Henri Vildieu in 1906, the splendid Presidential Palace was originally built for the Governor of Indochina. After the French colonialists withdrew from Vietnam in 1954, the revolutionary leader Ho Chi Minh lived in this place until his death in 1969. Currently, the mansion is only used as a place to welcome officials and organize the events. State events should be inside the public limited to visit. However, visitors can learn about the peaceful campus and the famous stilt house of President Ho Chi Minh.
The walkway behind the palace will lead visitors to the garden of mango trees with a faint scent. Take a short walk, you will reach the quiet courtyard with a large pond full of colorful carp. This is the place where the beautiful stilt house that Uncle Ho used to live. Inside, visitors will discover the simple and peaceful interior made entirely from polished wood.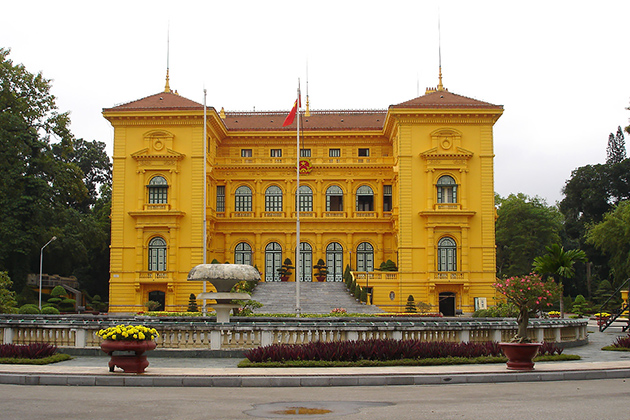 Ho Chi Minh's Residence
Not only is a significant historical and cultural project, now Ho Chi Minh's Residence has become a tourist destination in Hanoi attracting a lot of visitors. In the large garden behind the Presidential Palace, there is a narrow road covered with gravel, the two sides grow mango, leading to a small, simple stilt house, located among the trees. Hibiscus fence surrounds the house, the entrance gate is joined by twigs. Ho Chi Minh's Residence is located in the center of the garden as historical evidence associated with President Ho Chi Minh.
Fare to visit Ho Chi Minh's Residence
Vietnamese visitors will receive free entrance tickets.
Foreign tourists lost 25,000 VND to visit Ho Chi Minh's Residence.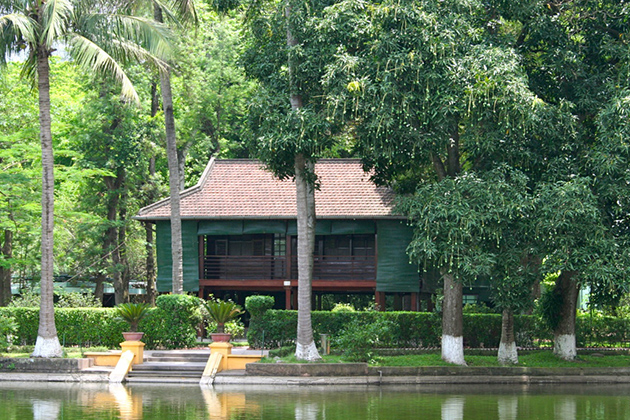 One Pillar Pagoda
One Pillar Pagoda was built by King Ly Thai Tong in the winter of 1049. The old legend also retains the story of King Ly Thai Tong dreaming to see Quan Am Venerable Buddha meditating on the bright lotus court, bringing his hand to that lotus court. When he woke up, the king built One Pillar Pagoda with an architectural style similar to his dream. Since then, a pagoda with a unique pillar structure, a lotus-like shape rising up in the middle of Linh Chieu lake in Thang Long citadel.
After setting up the temple, King Ly Anh Tong often went to pray. Not long after the Queen gave birth to a handsome Prince. Given that the Buddha gave, King Ly restored the temple and built a temple next to the One Pillar Pagoda for thanking what the gods giving to the country. To go to the temple to burn incense, you will have to step through a small staircase of 13 steps made of bricks. On the staircase, there are stone steles with a brief introduction of the temple history.
Around the pagoda is Linh Chieu Lake surrounded by low brick walls. In the lake drop lotus flowers, four seasons radiate fragrant incense.
Opening time: The pagoda is open daily from 8 a.m to 5 p.m. Entrance is free.
Note: Remember to wear full-length clothes when you visit any pagoda.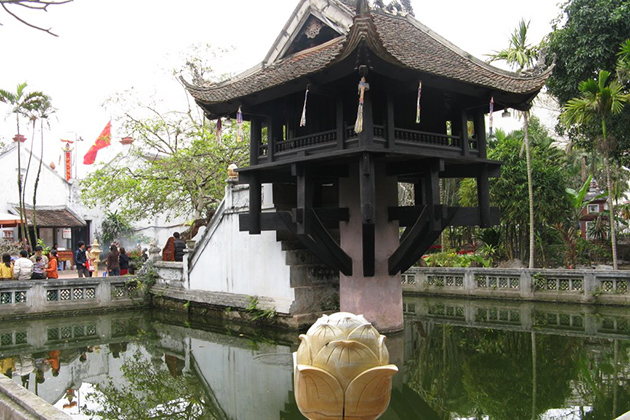 Ho Chi Minh Museum
Ho Chi Minh Museum was built according to the aspirations of the Vietnamese people to express gratitude and eternal memory of the great merits of President Ho Chi Minh. The museum was built on August 31, 1985, and inaugurated on May 19, 1990, celebrating 100 years of President Ho Chi Minh's birthday. The Museum building bears the symbol of a white lotus. The content of the Ho Chi Minh Museum exhibition is shown on the 3rd floor, consisting of 3 parts:
-The exhibition about the revolutionary life and career of President Ho Chi Minh and the Vietnamese people to carry out his will. This is the main content including documents, artifacts, documentary films, artworks presented systematically and the main tour itinerary.
– The display of the country of Vietnam, the struggle and victory of the Vietnamese people in the Ho Chi Minh era.
– Part of the seminars on a number of world-historical events affecting the revolutionary life of President Ho Chi Minh and the Vietnamese revolution.
Ho Chi Minh Museum also has exhibitions of topics about President Ho Chi Minh, about Vietnam and other topics and warehouses for the preservation of artifacts and materials, with a library of over 1,500,000 copies books for research about President Ho Chi Minh.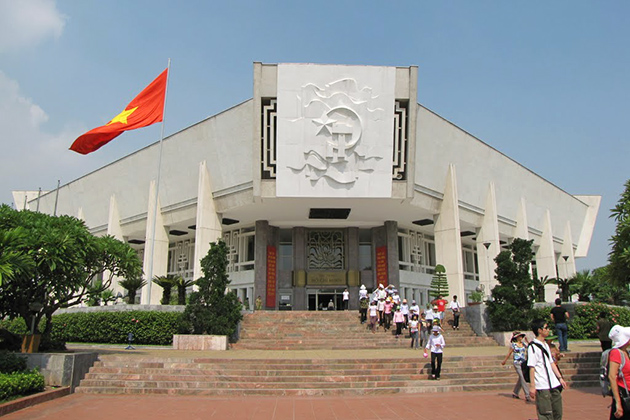 Travel tips when visiting Hanoi Ho Chi Minh Complex:
Costumes: Costumes must be polite and serious, not wearing too short or objectionable clothes when visiting Ho Chi Minh's Mausoleum. Protection may not allow you to enter the tomb if you violate this.
Behavior, attitude: Civilized, polite, noisy, disorderly, light-headed, quiet, and lined up in order.
Want not to line up to visit the tomb, you should go to the Command Post to ask for a special permit before going 2-3 days.
Do not let children under 3 years old in Ho Chi Minh's tomb.
Make luggage according to regulations and arrangements of Ho Chi Minh's steering committee. Do not send food, electronics, jewelry or metal items; You may not be allowed to send items.
Do not take pictures, record in prohibited areas, especially the area inside the mausoleum.