Located on the northern edge of Hanoi Old Quarter, Dong Xuan market is Hanoi's oldest market, which mainly sells food items, clothing, and accessories targeted towards locals in its three storeys of packed aisles. Dong Xuan market seems to like the "stomach" of Hanoi, where the wholesale traders would deliver you a wide range of goods such as fresh produce, accessories, clothes, electronics, household appliances, and plentiful souvenir. Dong Xuan Market is one of the busiest traditional markets in the ancient capital, it is not only a big shopping center of Hanoi, but it is also a cultural symbol of old town attached the history of Hanoi. Follow us to delve into this bustling market just in a few minutes!
We understand that you may be worried about the ongoing outbreak of coronavirus in China. Bhutan, Myanmar, and Laos, in contrast, are still safe and sound from this global pandemic. Click here to see the reason why Coronavirus cannot reach these countries and what makes them stronger.
Dong Xuan Market Introduction
Dong Xuan market is situated in the Old Quarter, its history of the market closely associated with the commercial formation and prosperity of Thang Long Citadel. It was originally built in 1889 by the French administration, Dong Xuan market has been suffered from a lot of historical chances, in which the most typical one was the fire happened in 1994 that destroyed almost the market. Right after, Hanoi government repaired, upgraded, and expanded as well with many more retailed shops. Since 2004, Dong Xuan Street (in front of Dong Xuan market) has been used as the pedestrian street on every weekend evening, which makes the whole market becomes a pretty attractive place for both Hanoian and overseas tourists. Dong Xuan market seems like a maze with thousands of small items at the nice price can be found here.
Dong Xuan Market is pretty large with about ten thousand square meters, therefore tourists find no bored when discovering each part of the market. Similar to many other markets in Southeast Asia, there is a bustling wet section on the ground floor in which seafood, meat, and fresh vegetables are available. The back of Dong Xuan Market is utilized for selling pets like cats, dogs, fishes, and a lot of flowers from all areas of Vietnam. For those who are looking for a souvenir shop, let's head to the upper floors, where you can find numerous stalls selling shirts, fabrics, school uniforms, handbags, also handcrafts, which all are sold at wholesale prices.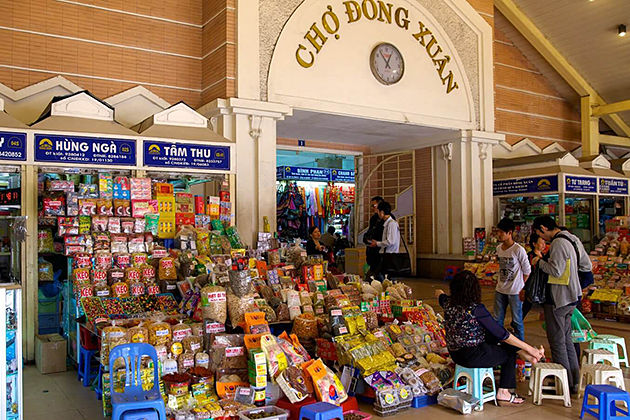 What To Buy In Dong Xuan Market
Come to this ancient market in Hanoi, tourists from Hanoi tours will get chances to experience a typical Southeast Asian wet market on the ground floor and surround Dong Xuan Market. In the market, there stand plenty of colorful fresh produces, and sacks full of dried mushrooms, and other dried goods for customers to choose. Step upstairs, there are mainly clothes, and also a food hall here.
Regarding the foodstuff, there appears a massive dining area in Dong Xuan Market. Tourists can catch the myriad of food vendors who sell Vietnamese coffee and many exotic local dishes for the price as low as 15,000 VND. Here are some dishes which we highly recommended for tourists such as bun cha (marinated grilled pork served with noodles), fried frog, Banh cuon (rolled cake).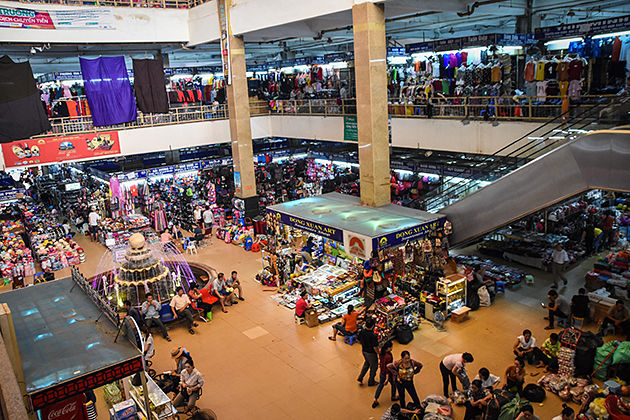 Things to Do Near Dong Xuan Market
Surrounding Dong Xuan market has many shops where tourists can see and also purchase traditional Dong Ho drawings, Bat Trang ceramics, sand paintings, Binh Da embroideries, and laces. And there are many attractive destinations in Hanoi that you can go on foot from Dong Xuan Market such as Hoan Kiem lake, Ly Thai To statue, Hanoi Old Quarter, Hanoi Opera House, St. Joseph's Cathedral, and so forth. Especially, nearby Hoan Kiem Lake, there is a walking street in every weekend evening, in which tourists can be brought back to the ancient Hanoi with many folk games and other interesting activities which bridging people to people.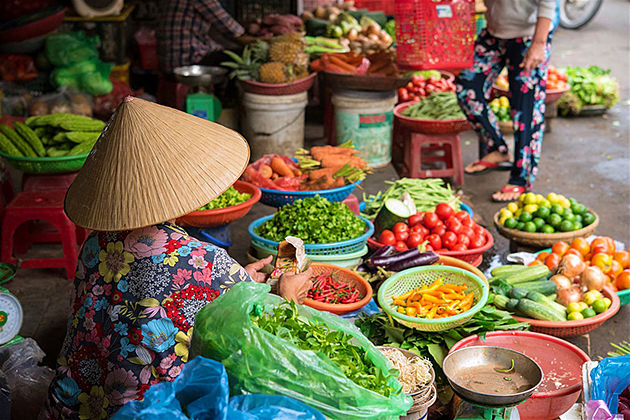 How To Get Dong Xuan Market – Opening Times
Opening hours: Daily from 6:00 Am to 19:00 PM
How to get Dong Xuan market: Travelers get there head up Hang Ngang Street from the junction of Hang Bo/ Hang Bac and keep going straight. The market is bordered by Nguyen Thien Thuat, Cao Thang, Hang Khoai, and Tran Nhat Duat. Or tourists can see Dong Xuan Market with a big building on the right side of the road. It is about 400 meters and 20 minutes walking from Hoan Kiem lake.