Hanoi Opera House, one of the grandest buildings in Vietnam, is a French-built construction. Being an old theatre built in 1901, then renovated in the late 1990s, Hanoi Opera House stands strongly, proudly and outstanding compared to all modern structures surrounding. Bearing French architecture in its door domes and reflecting Gothic and Mosaic characters through the glassed room, Opera House is by far unique in Vietnam. For a clear view to admire the gorgeousness of Hanoi Opera House, it is suggested to go up to the sixth floor of the Hoa Lo Prison and look outside to feel the whole impression.
History of Hanoi Opera House
At the beginning of the 20th century, the French Colonialist Government decided to have Hanoi Opera House under construction. The building was designed by several architects but Harley and Broyer were two main designers. The total area the construction occupied was 2600 square meters with 87 meters long, 30 meters wide, and its peak was 34 meters above the ground. Hanoi Opera House was the formation of combination among Corankta Greek ancient architectural style, Tuylory Castle and Opera de Paris. It was the evidence of the development in Vietnam under the rule of French a century ago.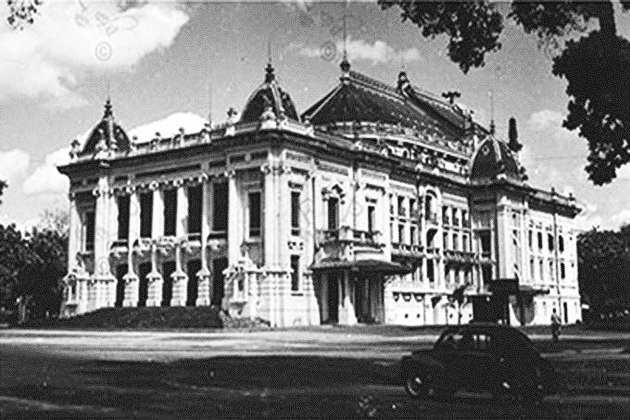 Outstanding Architecture of Hanoi Opera House
Hanoi Opera House is famous not only for its design but also for its ideal location. The building once stood harmoniously with a big pond near the city gate Tay Long of the ancient Thang Long capital. People met trouble in building the foundation of the building as it was established on the pond which was at that time was emptied and dredged to put about 30,000 hard bamboo stakes.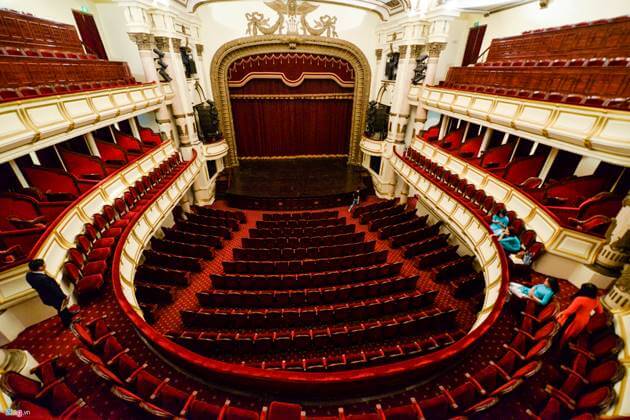 The Opera House today, as you see, is a building after renovation with a wide stage and large main audience room 24 meters in length and width also. There visitors can see many small rooms for audiences on the central floor. Leading to a really large Hall upstairs is the middle staircase which lies between the sub-staircase and corridors.  Located at the back of the building is a management chamber comprising 18 make-up rooms, 2 rooms for voice training, 1 library and 1 meeting room. Right opposite the stair on the second story is a marvelous mirror room.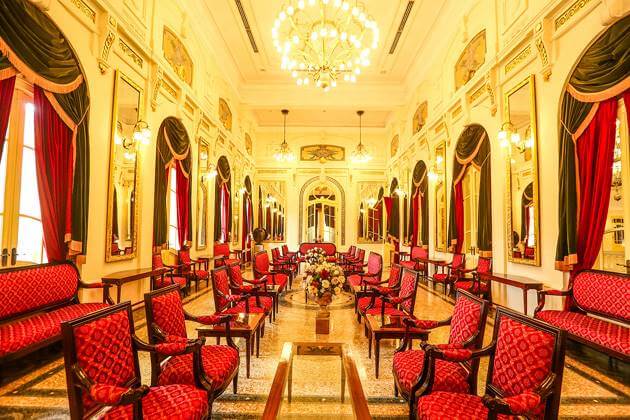 For the facilities, appliances as well as structure, Opera House is the destination of all types of artistic performances, from folk music and songs, ballets, and piano to classical opera, reformed opera, Vietnamese operetta, and drama, also Vietnamese symphonies. Besides, it is used to host many important meetings and even international conferences.
Highlight attractions of Hanoi Opera House
After the end of the August Revolution in 1945, Hanoi Opera House came back from entertaining the elite of France to become the center of major historical events, including the first session of the Republic Parliament. The Hanoi building fell into a state of degradation before being renovated and updated in 1997, including the installation of modern equipment and the renovation of some interior decorations. These innovations have brought the opera back to its former glory, now international artists including violinist Hilary Hahn and pianist Wolfgang Glemser step onto the stage next to the talents grown at home. Vietnamese entertainment artists perform songs, classical music, dance, drama and contemporary super performances from superstars like singer My Linh. Hanoi Opera House offers a great setting to watch any live show. The stage is three meters high and has a total of three floors so a great experience is guaranteed regardless of your seating arrangement.
Hanoi Opera House is placed near Hoan Kiem Lake on August Revolution Square. There are great views of the opera house at the nearby Hilton Hanoi Opera. You will need to buy tickets to see inside the opera house although there is usually a variety of concerts to choose from including drama, ballet, and symphony in addition to opera. Hanoi Opera House is also the first choice for international meetings and conferences, so check online when you are visiting to make sure the concert is scheduled.
Hanoi Oprea House Performances
You can see the detailed show schedule here: http://www.hanoioperahouse.org.vn
There is no fixed price for tickets. It depends on what the performance you want to watch. The average price is about VND 300.000 – VND 1.000.000/ ticket. Some say that VND 400.000 is too much for performance. But it's affordable for a great performance at a stage of flourishing art.