Ho Chi Minh, the National Liberation Hero, the very first President of the Democratic Republic of Viet Nam is always truly admired by all Vietnamese people and thousands of foreigners as well. We, Vietnamese people, take pride on our beloved leaders who had wholeheartedly served the nation and the people, expressed in the construction of Ho Chi Minh Complex in Ngoc Ha village, Ba Dinh district, Hanoi. The constructions consist of Ho Chi Minh's Mausoleum, Ba Dinh Square, Presidential Palace, One pillar pagoda, Uncle Ho's House on stilt, and Ho Chi Minh Museum.
History & Architecture of Ho Chi Minh Mausoleum 
President Ho Chi Minh was born in Nghe An province, on the 19th of May, 1890 and passed away in Hanoi, on the 2nd of September, 1969. He was recognized by UNESCO as the great one who "devoted his whole life to the national liberation of the Vietnamese people…"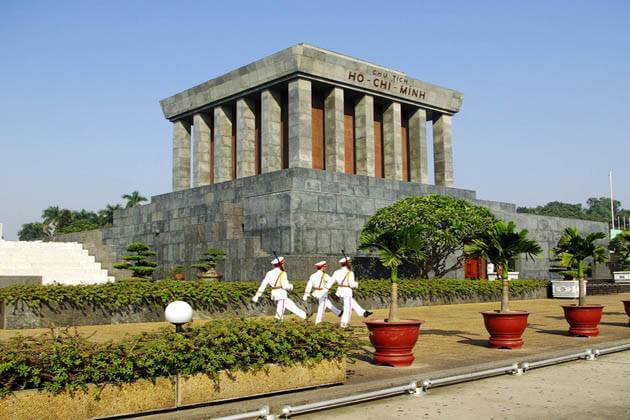 In his will, Ho Chi Minh stated that he wishes to be cremated and to get his ash buried on the hills of the North, the Center, and the South of Vietnam. However, the successor Communist Government of Viet Nam made a decision to keep the President's body rather than cremating it in order to honor his great dedication for the country as well as the love of all Vietnamese people for him.
Thus, on 2nd September 1973, Ho Chi Minh mausoleum began to be under construction in Ba Dinh Square and was completed on 22nd August 1975, with the assistance of Soviet Union.
The three-stored Mausoleum was constructed by marble and granite, of which on top face lies the famous quote of Ho Chi Minh "nothing is more precious than independence and freedom". Visit the second floor, you will see the famous President's body, lying there in his simple casual clothes peacefully and calmly as if he was sleeping. 79 cycad trees are placed in front of the mausoleum, which is the symbol of 79 springs of Ho Chi Minh's life.
Ho Chi Minh Mausoleum Travel Guides
The security at Ho Chi Minh Mausoleum is tight and visitors should dress with respect (no shorts, sleeveless shirts, bare-shoulder T-shirts and miniskirts are allowed inside). Everyone has to deposit their bags and cameras, or cell-phones before getting in. Visitors are not allowed to stop and hold the constant queue up as the place is constantly busy.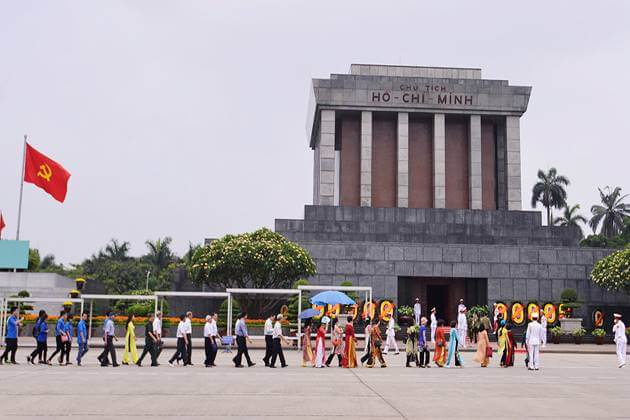 The Mausoleum is closed once per year in October/ November/ or December for the body maintenance.
Opening time:
5 days per week, except Monday and Friday
Hot seasons (from April to October): 7:30 a.m – 10:30 a.m
At weekends and national holidays: 7:30 a.m – 11:00 a.m
Cold seasons (from November to March): 8:00 a.m – 11:00 a.m
At weekends and national holidays: 8:00 a.m – 11:30 a.m