Located on an area of the historical Ba Dinh Square, within Ho Chi Minh complex, Ho Chi Minh Museum is one of the largest in Viet Nam. It was under construction in August 1985 in the shape of a white lotus flower and opened on May 19th, 1990.
It is approximately 20m in height, comprises 3 floors of which the ground one contains a hall with 400 seats in the center. The hall can be used to hold domestic as well as international meetings, conferences, and scientific seminars. Upstairs, it is the main exhibition area of the museum, occupies a total area of approximately 4,000 square meters where over 2,000 documents and show-pieces reflecting President Ho Chi Minh's life and Vietnamese revolution under his time are exhibited. Visiting Ho Chi Minh Museum, tourists can have a closer insight into the tough life of Vietnam's beloved founding father.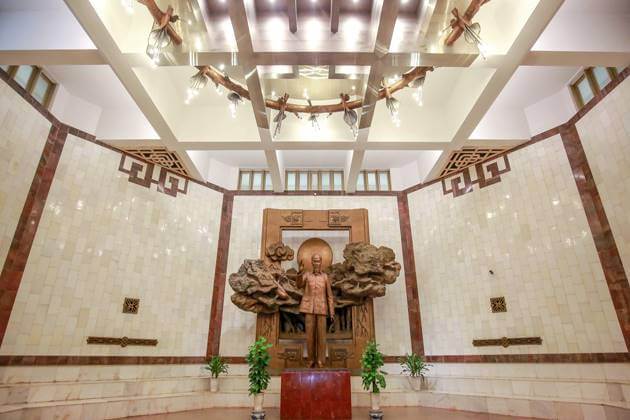 The exhibition in the museum consists of three fundamental contents:
President Ho Chi Minh's life and revolutionary cause, and the Vietnamese people's implementation of the President's testament.
Exhibition on the Vietnamese people's life, struggle and victory under the leadership of President Ho Chi Minh (on the right side of president Ho Chi Minh's biography).
Exhibition on major events of the world's history since the late 19th The exhibits are organized in 8 halls (on the left side of president Ho Chi Minh's biography).