Of all worth-visiting sites in Hanoi, One-Pillar Pagoda would be regarded alongside the Perfume Temple, as one of Vietnam's two most iconic temples which formerly named Dien Huu Tu, literally meaning "long-lasting happiness and good luck". The famous One-Pillar Pagoda takes its pride for reflecting the splendor of architecture that Vietnam has grown.
Legend of One-pillar Pagoda
That unique pagoda is within Ho Chi Minh Complex, adjacent to Ho Chi Minh's Mausoleum, on Ong Ich Khiem Street, Ngoc Ha village, Ba Dinh District, Hanoi. The ancient Pagoda was built in 1049 under the Ly Dynasty, during the reign of Emperor Ly Thai Tong. Legend has it that aging Emperor Ly Thai Tong who had no children and longed for a son frequently went to the pagoda and prayed to Buddha. One night, he had a dream in which he met Bodhisattva Avalokiteshvara seating on a great lotus flower in a square-shaped lotus pond on the western side of Thang Long Citadel, giving him a male child. Several months went by, the Queen gave birth to a baby boy who was like the King's presence in his former dream, and Emperor Ly Thai Tong gave the command to build the pagoda in shape of a great lotus emerging from water as his honor and thanks to the Bodhisattva Avalokiteshvara. The One Pillar Pagoda was then constructed.
One-pillar Pagoda throughout History
The one-pillar pagoda has been considered a sacred place where prayers went praying for the longevity of the King. Hence, during the reign of Ly Dynasty, this place was the site of the annual royal ceremony on the occasion of Vesak, the birthday of Gautama Buddha. The monarch also held Buddha-bathing ceremony every year at this temple that drew many monks and laymen to it. The monarch would then free a bird, following by the other participants.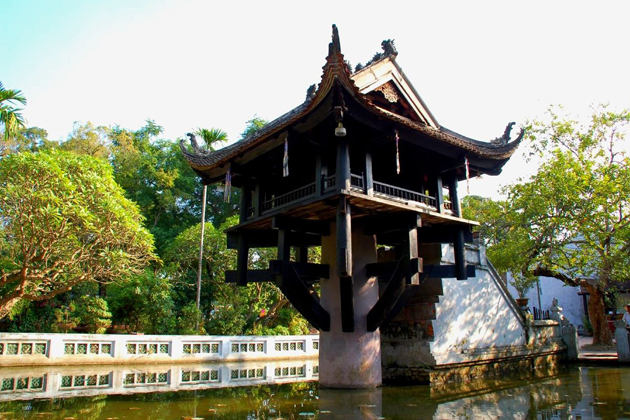 During the wartime, the temple succumbed to large-scale destruction caused by the colonial powers and French Union forces, but it was rebuilt afterward. Therefore, what visitors can see today is merely a replica refurbished by the Vietnamese government, but it still holds full ancient values as in the past.
Opening hours: daily from 08:00 am to 05:00 pm
Entrance fee: Free