Located in Huong Son Commune, My Duc District, Hanoi, is among the largest and most famous religious sites in Vietnam, Chua Huong or Perfume Pagoda attracts lots of tourists every year. It is a set of pagodas and Buddhist temples situating alongside up to the top of the Perfume Mountain (Huong Son) where a big festival is held every year from February to March. This Perfume Pagoda festival draws many pilgrims to come praying for health, happiness, and prosperity. Besides being a famous religious site, Perfume Pagoda is also an outstandingly beautiful highlight for sight-seeing.
Perfume Pagoda Attractions
Ben Duc (Pier Duc)
Ben Duc is the first place you will arrive on your Perfume Pagoda tour. During hot season, the annual festival, Ben Duc welcomes thousands of visitors to whom this short trip may be the most unforgettable memory.
Suoi Yen (Yen stream)
With the length of only 3 kilometers, the flow between two mountains can bring tourist the enjoyment of an endless-like trip. Boating along Yen stream, leisurely get to Perfume Mountain is also a favorable route to Perfume Pagoda apart from the one from Pier Duc to Perfume Mountain.
It is really worth traveling by boat on Yen stream as tourists could get a great chance admiring the breathtaking landscape of Perfume Mountain from its limestone base to the peak. Plenty of marvelous mountains are also viewed on your ways such as Phoenix Mountain, Doi Cheo Mountain, Bung Mountain, Voi Mountain on the left, and Ngu Nhac Mountain with Trinh Temple on the right.
Before getting to Tro Wharf where the tour begins, your boat also comes across the Deo and Phong Su Mountains, Son Thuy Huu Tinh Cave, Trau Cave, Hoi Bridge, and Dau Valley.
Chua Thien Tru (Thien Tru Pagoda)
Thien Tru Pagoda which was built during the reign of King Le Thanh Tong in the 18th century is a spot to drop by before climbing up to Perfume Mountain. Thien Tru could be seen as a heaven kitchen for its rocks in the shape of people busily prepare a meal in the kitchen which is located halfway to the sky. Thien Tru Pagoda is well known for a granite monolith named Thuy Tien tower as well.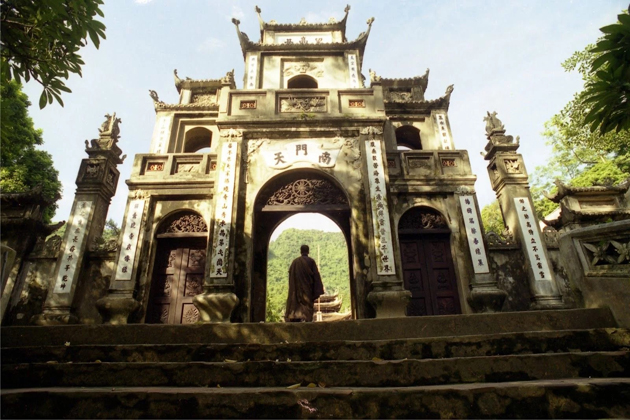 Dong Huong Tich (Huong Tich Grotto)
One hour trip along the stream exploring various ancient pagodas should be enough, now pilgrims would climb up hundreds of stone steps and after that down other 120 stone steps to reach the Huong Tich Grotto (Traces of Fragrance). Thanks to the most venerable Van Thuy Thien Tran Dao Vien Quang Chan Nhan, the Chief Monk of Thien Tru Pagoda, Huong Tich Grotto was brought to life.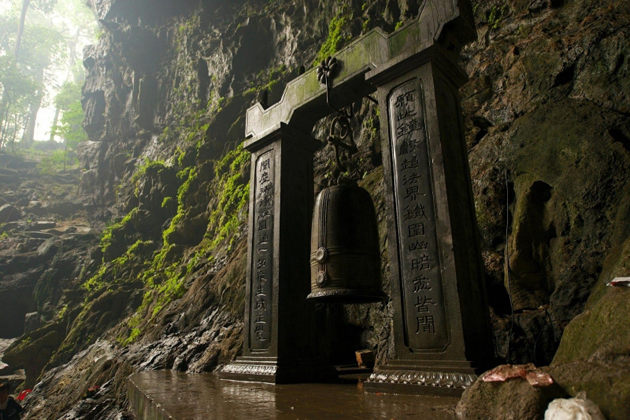 The route heading to Huong Tich Grotto also leads pilgrims through a wide range of gorgeous luxuriant spots. There visitors will see the noticeable inscription "The first-ranking grotto under the Southern Sky" in  Han scripts, which are traces of Lord Tinh Do Vuong Trinh Sam's calligraphy in the Lunar March of the year of Tiger (1770). Further, into the cave, you will see a variety of wonderful natural works in a purely cool atmosphere with dim light. They are Dun Gao (Rice) rock, gold and silver trees, Girl and Boy Mountains (in the shapes of a girl and a boy), to name but a few. For pilgrims, the most outstanding could be the statue of Avalokitesvara carved out of emerald stone on a rocky lotus, established in 1793, under the Tay Son dynasty, and a 1.24m bronze bell, molded in the 3rd Thinh Duc Year (1655).
The extraordinary carving art is really in harmony with the masterpieces of nature, which makes the Huong Pagoda complex among the top-attractive highlight in Northern Vietnam.