General Information
Ninh Binh is about 100 km from Hanoi. Where there are many world heritage sites and historical sites. Hoa Lu, an antique capital of Vietnam, is a small town in Ninh Binh province. It's a long time ago, the first king of Vietnam chose it as the first capital since it is surrounded by karst formation, which creates the perfect spot for protection. Millions of years ago, Ninh Binh was under the sea, and the bottom of the sea formed the majestic Karst as today.
Tour Highlights
Enjoy the peace of the Vietnamese countryside
Visit the venerable temples and get a glimpse of Vietnamese history
Immersed in the natural beauty of mountains & caves
Relish in the spectacular scenery in Hoa Lu, Trang An complex.
Experience our Services with
Guides: Hand-pick from our best guides, mature, acknowledgeable, all are licensed, great senses of humor
Drivers: friendly, responsible, reliable with many years of driving experience, door-to-door services
Vehicles: comfortable, spacious, air-conditioned, big windows
Tour Details
Duration: 1 day
Departure Date: Any Time You Wish
Start/ End: Hanoi/ Hanoi
Full Itinerary
In the morning
Our car will pick you up at your hotel in the center of Hanoi and drive 1 hour 45 minutes to Van Long. Arrive in Van Long and we start biking from here, along with the dyke of Van Long, that is a splendid beauty of karst, and this is the place where King Kong movie (Skull Island) was filmed here. We ride through the amazing mountain on one side and flat rice on the other side, and visit some villages and undergo the local daily life.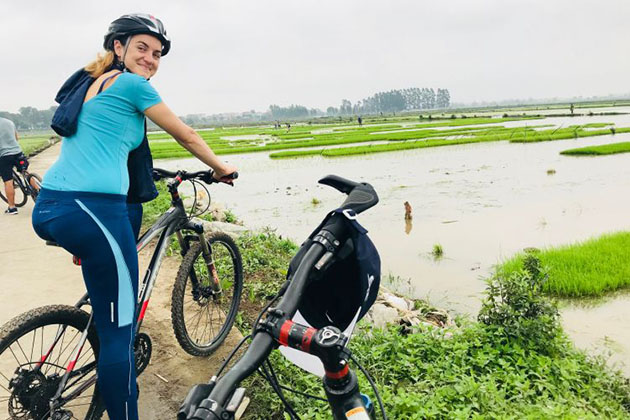 We ride to Hoa Lu, the first capital of Vietnam before it moved to Thang Long (It's Hanoi today). It's a great chance to explore some relic of the ancient capital and the temples of the first dynasties. We also have the chance to learn about the history of Vietnam.
In the Afternoon
After the savory lunch is served in the local restaurant, we continue riding in the middle of Trang An. It's recognized as a world heritage site in 2014. Then we finish the bike ride at Thung Nang, one of the most majestic places in Trang An, and take a rowing boat among amazing karsts.
We leave Thung Nang and drive back to Hanoi, the driver drops you off at your hotel.
Trip ends.