The majestic temple, Quan Thanh is also known as Tran Vu Quan, Tran Bac, one of the famous ancient Thang Long Quaternary land, and this sacred temple worship Huyen Thien Tran Vu, who helped Vietnamese fight against the invaders many times in the past. Over the ten centuries with a lot of changes, Quan Thanh temple maintains the age-old beauty of one of the most sacred temple and also a historical mark. Hence, it's not complicated when the temple is one of the most attractive places of Hanoi. This article about Quan Thanh Temple will give you a glimpse of one part of the four ancient towns of the antique Thang Long Citadel.
Introduction of the Antique Quan Thanh Temple
Situated in the West Lake in a dignified large campus nearby the north gate of ancient Thang Long, Quan Thanh is mentioned as one of the four antique towns of Hanoi or "Thang Long Tu Tran" in Vietnamese. Quan Thanh Temple worships the sacred statue of Huyen Thien Tran Vu, believed as the cultural relics for more than 300 years, and it is also the impressive spiritual highlights in Hanoi.
Actually, it is not exact when Quan Thanh Temple was built, but according to many leftover documents, the temple was built in the reign of King Ly Thai To in 1010. It is told that King Ly Cong Uan after moving from Hoa Lu to Thang Long, he had a prince. Since then, the king arranged to build Tran Vu Temple, the original name of Quan Thanh Temple, and to receive Huyen Thien Temple.
Quan Thanh Temple became the North of the period together with Bach Ma Temple, Kim Lien Temple, Voi Phuc temple to form the four towns of Thang Long Citadel. Through many ups and downs together with dynasties and many events of Vietnam, the temple has been remodeled and it has been changed more or less. Despite the fact that, Quan Thanh Tempe nowadays is still one of the sacred temples with historical marks of Hanoi capital.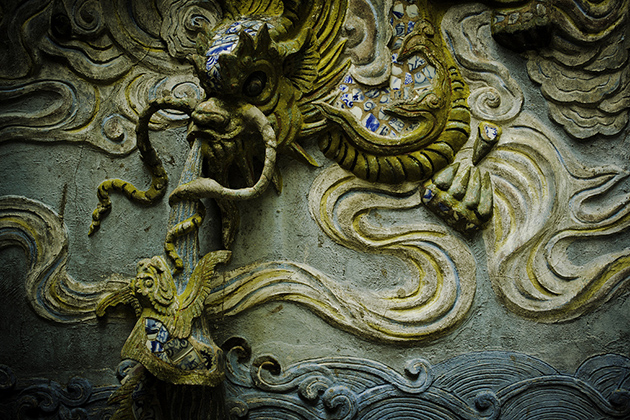 The Unique Architecture of Quan Thanh Temple
Quan Thanh Temple is the renowned Hanoi attractions and worth-visit in Hanoi for those who would prefer to ascertain about the architecture and glorious history in here. Experiencing many dynasties, Quan Thanh Temple had been modernized several times, yet the temple has not changed, it becomes a beautiful architectural beauty nowadays. In the early period, Quan Thanh Temple was built cling on the style of Buddhism with the influence of both Confucianism and Taoism, that because in this time, the Buddhism was the most influential religion but besides that Confucianism and Taoism are the same.
Nevertheless, after reconstructing many times, the architecture of the temple has many varies. The architectural components of the Quan Thanh Temple nowadays have many features of the Nguyen Dynasty.
There have several classes in the space of Quan Thanh temple, which is a common layout in feudal spaces which are influenced much by the Buddhist architecture and also Eastern architecture in general. After the gate of the three-door temple has three classes, consisting of money, harem, and imperialism. The whole space of the temple is decorated with many exclusive details as statues, motifs, carvings, and so forth. The details made of wood in the temple are pretty impressive with the fine carvings are enchant tourists coming here.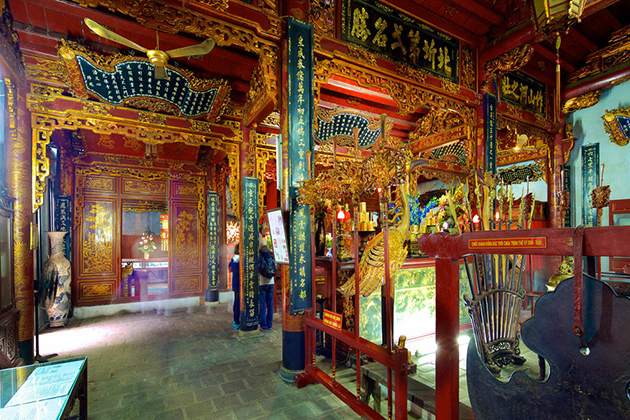 How to Get Quan Thanh Temple
Quan Thanh Temple is situated in Quan Thanh Ward, Ba Dinh District, Hanoi, in detail, Quan Thanh is located at the intersection of Thanh Nien and Quan Thanh. Tourists can get Quan Thanh in many ways, we would like to mention some:
Go to Quan Thanh Temple By Bus
This might be the cheapest way to get Quan Thanh, but it is a bit difficult to understand at first. The Hanoi buses are relatively common and fast, visitors have just picked up a map with the printed bus lines at Trang Tien (near Opera House) and find the bus stop, wait for the bus, get on and get off. A bus ticket is only 7,000 VND, and especially if you are unfamiliar with the city, feel free to ask the helpful conductor or driver where you want to get for sure.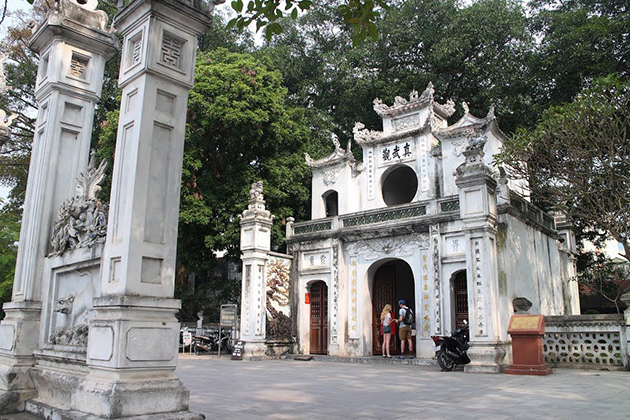 Get Quan Thanh Temple By Motorbike or Motorbike Rental
Motorbikes are always a popular mean of transport that tourists choose to get around Hanoi in general and Quan Thanh in particularly. If you do not have your own motorbike, you can rent some for around 5-6 USD per day.
Motorbike Driver or Xe Om
The motorcycle driver is quite common in Hanoi, tourists can see on virtually every corner, and now traditional Xe Om is less popular than technology Xe Om at a lower price just by a click. But in case of no internet, traditional motorbike driver is much more convenient than modern ones.
Taking Hanoi Cyclo to Get Quan Thanh Temple
Remember that a careful negotiation is the first concern if you want to get Quan Thanh by cyclo because the drivers can demand 200,000 VND (about 10USD) for a short ride. However, going by cyclo is so wondrous for you to explore Hanoi and also experience a traditional Hanoi transport.