Hanoi is famous for 13 traditional craft villages that have existed for centuries. In particular, Quat Dong embroidery craft village has appeared since the XVII century. With the traditional embroidery skill, Quat Dong embroidery work has brought the delicate, unique embroidery for those who love art.
Visit Quat Dong Embroidery Craft Village in Hanoi
Quat Dong embroidery village, Thuong Tin district, Hanoi, is located near the National Highway 1A, about 23km south of the center of the city.
This is a traditional handicraft village with a long history dating back to the 17th century. In the past, embroiderers used to make ritual items or serve the royal court, such as shirts for the king.
In Quat Dong village, handmade embroidery is still a major occupation after agriculture and provides employment for many local workers. Embroidery income accounts for 50% of the total commune income. Every home has an embroidery frame. Many families have five to seven generations to do this job. Since childhood, girls have been given beautiful embroidered circular frames, dikes, needles, rags to study embroidery. Growing up, many of them have become professional embroiderers, caliber artists.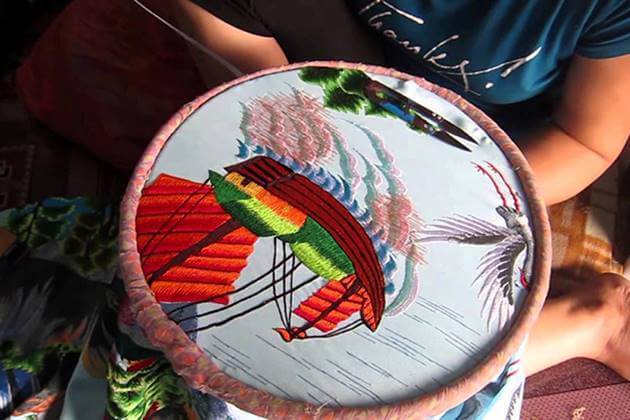 Quat Dong embroidery is available in more than 20 countries, especially in Japan, Korea, Thailand, England, France, USA … Quat Dong still has 200 teachers to teach embroidery at all places.
When watching Quat Dong embroidery artisans, many people adore Quat Dong embroidery. It is a wonderful art that turns simple and easy-to-find materials with a needle, a thread, a piece of cloth for the array of soft, interwoven strangely.
Find the Masterly Embroidery in Quat Dong Village
In the past, Quat Dong embroiderers used only natural colors dyed from brown rice, turmeric, lily, indigo, shell … with five colors of yarn yellow, red, purple, green, … By the beginning of the 20th century, there were more white yarn of French and Chinese artificial colors, as well as learning how to embroider of French, Japanese and Korean to create many new attractive products. They are used in many fields such as interior decoration, gifts, prizes, objects, etc. Available on all occasions such as birthday, worship, and many religious activities …
Embroidery is a craft that requires the craftsman to have clever hands, sharp eyes, and sophisticated brains and virtues. Looking at the workmen, we feel they are very leisurely, but it is a profession that requires perseverance and diligence. The qualities, aptitude is a basic requirement for each embroiderer, to create products that match colors and patterns on silk and fabric.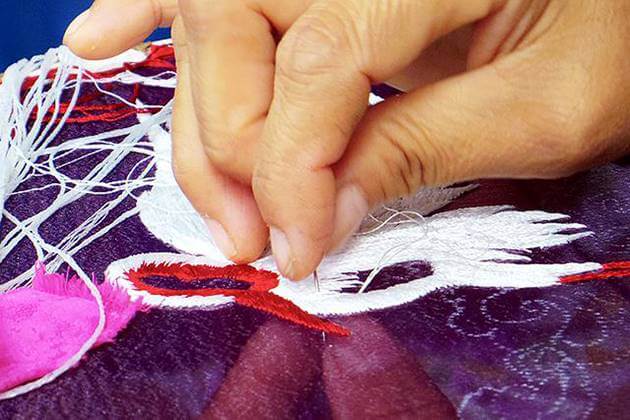 When watching the Quat Dong artisans work, many people are impressed by Quat Dong's embroidery. It's a great art, and with just a needle, a thread, a piece of cloth that turns simple materials into unique products with soft, beautiful patterns.
According to the artisans, anyone can embroider if you love embroidery and cherish embroidery. For embroidery, there should be at least one set of bamboo or rectangular wooden frames, with two fixed vertical bars and two horizontal bars adjusting the size of the knit fabric. Some of the cotton or silk to stretch the embroidery frame and tie the edge into the frame, the fabric stretch must be flat. Embroidery threads are dyed silk threads. Some of the worship items used are yellow gold and silver purl.
First, draw a sketch on the fabric with a pencil in order to guide what later embroidery is, but in the process of embroidery can be arbitrarily inspired by the inspiration and the outside.
Depending on the subject, the type of embroidery product will have less or more colors. Daily household items such as blankets, curtains, pillows, mattresses, towels, bridal dress are often used only white yarn.
Watercolor or simple theme of monochromatic colors such as blue, light pink … The majority of folk paintings need to reflect the variety, so the colors are more vibrant and more likely to meet five colors bright green, blue, red, purple, yellow.
Flowers are often grass, beautiful animals such as flowers, bamboo, chrysanthemum, apricot, oak … same scene as poultry, pigs, cows, plowing, hunting, fishing, weaving, One Pillar Pagoda, Ngoc Son Temple, Hong Thai Temple, Hue Imperial Citadel, Ho Chi Minh Mausoleum, Halong Bay, birch forests, autumn leaves, swan ponds … Each of the works is bold folk and humanity, reflecting the soul of the countryside.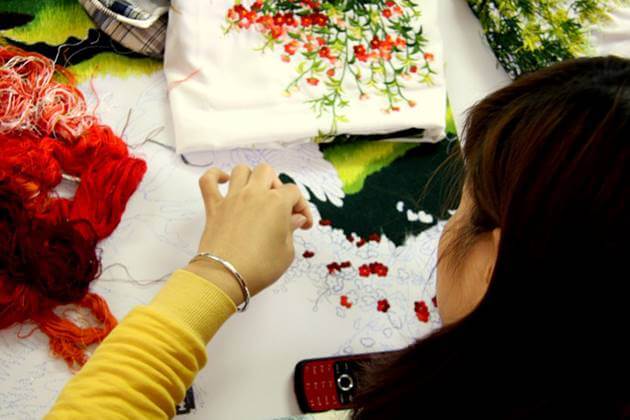 Quat Dong village embroidered everything, such as flags, scarves, dresses for the mandarin, martial arts, worshiping the gods such as the parallel sentences. They are embroidered with thread made of silk. Village embroidered became famous but also experienced many ups and downs. When the French colonialists occupied Vietnam country, the villagers embroidered according to the tastes of the West, such as shoes, pillows, napkins, landscape paintings, silk shirts in silk of Trieu Khuc village. The embroidery of the village is more beautiful, faster when the French traders, Indian brought French canned to Vietnam.
Later, the village embroidered by only China, embroidery development to the peak. The skills of the villagers are increasingly enhanced and people gradually switch to embroidered painting.
Perhaps the quintessence of the Quat Dong embroidery village is still there. Currently, when the policy of restoring the village, the embroidery industry is focused. On the other hand, the demand for embroidery of the market is high, especially embroidery art is very popular customers in and outside the country (like embroidery in Da Lat), Quat Dong embroidery village still have the opportunity because It also holds the fine art of embroidery of his father.
At present, Quat Dong handmade embroidery village attracts many visitors on Hanoi Local Tour, especially foreigners to visit and buy paintings. Quat Dong embroidery has also been exported to many countries in the European Union, Hong Kong, Japan, South Korea, and the USA.