Tay Tuu Flower Village is one of the famous traditional craft villages in Hanoi and is one of the tourist attractions of domestic and foreign tourists. Let's explore this beautiful flower village to experience the poetic space of colorful flowers.
The History of Tay Tuu Flower Village Hanoi
Tay Tuu Flower Village is 20 km to the West of Hanoi, the main flower supplier to the capital and surrounding areas. Flower cultivation in Tay Tuu was established in 1930 but it was not until the early 1990s that people started to focus on growing flowers. Many Tay Tuu people still remember the first flowers that were brought to the pilot plant instead of the traditional crops such as rice, tomatoes, cucumbers … They did not think that the flowers grew so well. The flowers grow well, bring much higher economic efficiency than the cultivation of rice, melon, then Tay Tuu people turn to plant flowers. So, Tay Tuu flower village is formed and developed firmly as today.
The Best Time to Visit Tay Tuu Flower Village
Tay Tuu flower village is one of the flowers supplying to the Northern provinces, mainly Hanoi, so the flowers are grown year round. The best time to visit Tay Tuu flower village is in November, December lunar month by the time people prepare flowers for Tet holiday, so the gardens here are filled with colorful flowers. Besides traditional flowers such as roses, dahlias, daisies, gerberas, many new species are also grown like lily flowers, sunflowers …
In addition, on the full moon day and the first day every month, Tay Tuu flower village holds a market to serve the need to buy flowers of traders and the Hanoi people.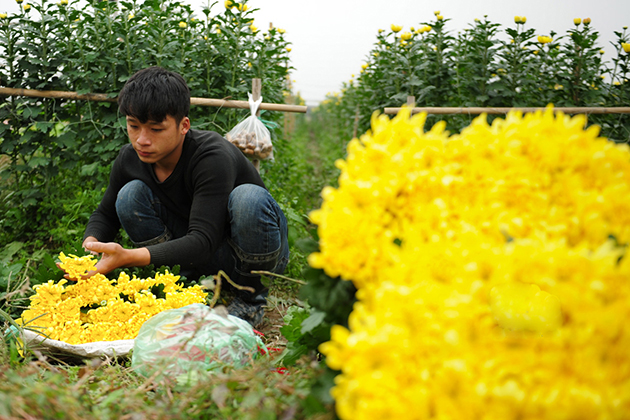 Things to Do & See in Tay Tuu Flower Village
Visit Tay Tuu flower village in Hanoi, tourists will be immersed in the world of colorful flowers.
Roses make up 70-80% of flowers in Tay Tuu village. There are also many other kinds of flowers. Visitors can visit and take photos in Tay Tuu flower village to save their great moments with wonderful nature.
Cycling or riding a motorbike around the flower village, sometimes walking to easily crept into the nooks of the flower field is the ideal choice for your craft villages tour. Flower farmers in Tay Tuu will not mind if you ask permission to go to the flower field to take pictures.
Buy flowers in Tay Tuu flower village, you will receive a reasonable price, maybe the cheapest flower purchase compared to that in the inner Hanoi city or in other places.
If you visit Tay Tuu village when people are growing flowers, observe how Tay Tuu farmers grow flowers to better understand the flowering process there.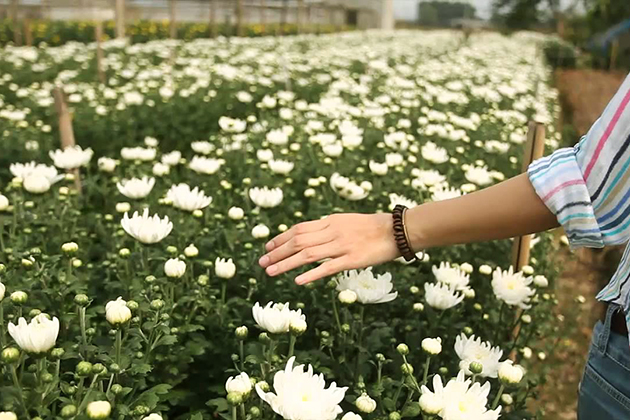 How to get to Tay Tuu Flower Village Hanoi?
Tay Tuu flower village is in the Bac Tu Liem District, about 20km from the center of Hanoi.
Visitors can get to Tay Tuu flower village by motorbike, car or bus. You go on the way to Ho Tung Mau street to 32 street then to Tram Troi intersection, near the College of Industry, turn right, about 2km to see the two sides are the flowers spread all over. Or you can take bus No. 19, No. 21 or No. 57 to Yen Noi Culture House, you go about 500m, 600m to reach Tay Tuu flower village.