"Visit Ta Hien and grab some beer" is also a warm welcome that tourists get when staying in Hanoi. Besides an ancient capital, in a hidden corner of Hanoi, tourists can witness a never sleep street, which is Ta Hien Street. When night slightly falls, Ta Hien street wears another appearance, it becomes more bustling and hustling, foreign tourists visit Ta Hien Street for not only sightseeing but also experience other aspects of Hanoi, delve into the crowd and pop in any beer clubs along the street. Let's go and see Ta Hien street – an international intersection of the old and the modern of Hanoi.
Explore Ta Hien Beer Street in Hanoi
Ta Hien Street is located in the heart of Hanoi Old Quarter, near Hoan Kiem lake. Although Ta Hien just is a two-hundred-meter street, it is known as the first street where the majority ò foreign travelers set foot on when coming to Hanoi, that is why Ta Hien Street has been called with the name "Pho Tay" (means foreigner street). People remind Ta Hien street as a place to feel the soul of Hanoi, which is the simplicity mixed between the old and the new, the elite of both the West and the East.
Known as "Western Street" but the popular dishes in Ta Hien Street are all Vietnamese. No matter where tourists visit, from the luxury restaurant chain to the eatery vendors, or anywhere else, eventually, tourists can feel the essence of Vietnamese cuisine in general and Hanoi food in particular.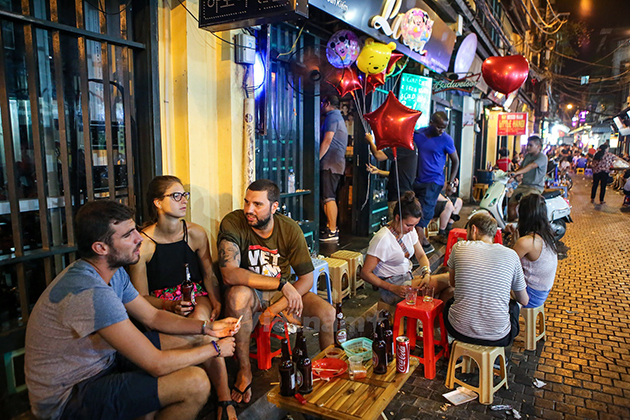 Travel Guide in Ta Hien Beer Street
Briefly, Ta Hien Street has four cheap fresh beer gardens, drawing a lot of attention from foreign tourists. When the city lights shine, it is also the time of the opening door of the iced tea street vendor with cheap price. From the international crossroad, tourists are highly recommended strolling the other branches of the street as Luong Ngoc Quyen Street, Hang Bac street, or lost in alleys as Sam Cong Lane, Hai Tuong Lane, Quang Lac Lane, and so forth, there is a dozen of beer gardens on the sidewalk. Travelers use the plastic chair to sit and automatically serve seating arrangement.
Especially, summer in Hanoi is extremely hot and dam, that is the reason why people choose cool beer as a favorite drink, the hotter weather is, the more crowded Ta Hien Street is. Every late afternoon, overseas travelers and the locals gather in the hidden corner and revel in a cup of iced beer with some snack foods, chat with friends after a hard working day. Other foreign tourists want to sit in this corner and watch the daily life and also the charming clutter of Hanoi.
And unlike the Old Quarter, at night Ta Hien Street is more boisterous, hence you do not mind about time. Moreover, the blooming cheery laughter with the cordial handshake is good enough to create a cultural beauty in the international crossroad. Better still, if tourists agree, the troupe of troubadours is ready to perform.
There are mass kinds of beer for tourists to choose, consisting of draught beer, cask ale or black beer, and bottled beer. Surprisingly, Vietnamese beer is so sweet and slight, thus tourists can take more than 5 mugs without getting drunk. Cannot miss out, the snack foods served with beer are plentiful, from traditional foods as nem Phung, nem, fried nem, boiled peanut to the Western ones such as cheese stick, fried chips,.. and of course with an affordable price.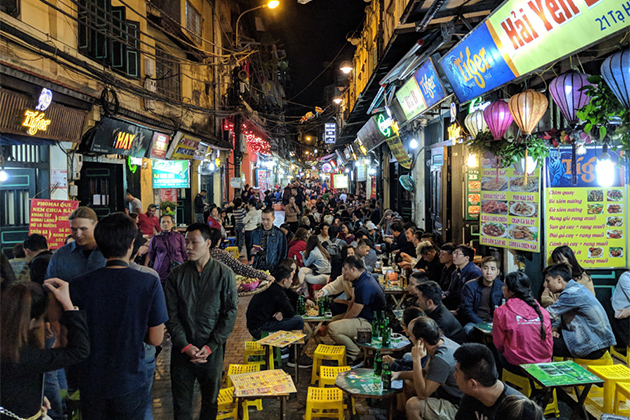 How to Get Ta Hien Street
Ta Hien Street nowadays is more and more attractive to backpackers from countries to countries over the world. For those who are the first time travelers to Hanoi or even experienced tourists, from Hanoi center or the Big Church, tourists can go by motorbike, book grab to get Ta Hien street or go on foot as take some unique photos about Hanoi.
For beer lovers, besides Ta Hien beer street, tourists can find the ways to many other famous beer restaurants like Viet Ha Beer in Linh Nam Street, Hoa Vien Restaurant in Tang Bat Ho Street, Hai Xom Beer in 181 Giang Vo Street,…