Beg for good fortune, come to Tay Ho Temple or Warehouse lady Temple, for a happy New Year, pilgrimage to Yen Tu or Perfume Pagoda, and if tourists want to pray for marital matters, come to Ha Pagoda. Interspersed among these noisy, hurry, and bustling spaces in Hanoi, Ha Pagoda nestled in a tranquil side street in Cau Giay, Hanoi. Ha Pagoda (Chua Ha) is one of the gorgeous temple complexes and attracted many Buddhists, tourists, and especially the single Hanoian. Follow Hanoi Local Tour to explore the sacred pagoda.
Ha Pagoda Instruction
Ha Pagoda is one of many ancient sacred pagodas in Hanoi to many pilgrims. Don't know since when Ha Pagoda has been attached a passionate belief in love. If pilgrims visiting other temples to burn incense are the old or middle-aged, Ha pagoda attracts the young pilgrims coming here to pray for finding their partner.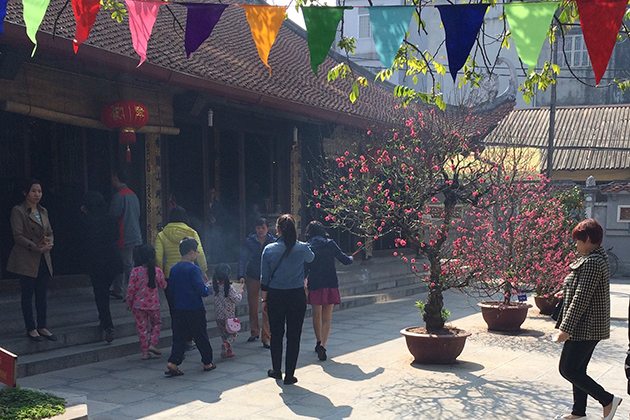 Architectural Structure of Ha Pagoda
The first time visitors must be confused a lot by the structure of Ha Pagoda, the front of Ha Pagoda is for financial fortune while the back of Ha pagoda is using for praying love. Because Ha Pagoda has many old trees which are about 300 years old standing next to the fireplace, tourists will feel the peaceful space among bustling Hanoi. These old trees are originally from India, a Buddhism nation. Although these trees being regularly trimmed, they still spread out, covering the whole yard. There is also a semicircular pond in front of the yard in this construction.
Legends in Ha Pagoda
Related to the rich history of Ha Pagoda, it is also famous for two legends. The first legend is that the temple was built since King Ly Thanh Tong (1054-1072), then the king was over 40 years old but didn't have any child. Ly Thai Tong went to a small temple in Dich Vong area now to pray, and eventually, he had a son named Can Duc. After that, the temple was renamed as the temple of Lord (Thanh Chua Pagoda). The second legend of Ha pagoda is that King Le Thanh Tong began the construction of the pagoda to show his respect to Nguyen Trai, Nguyen Xi, and Dinh Liet, who devoted the whole lives to put him on the throne.
During the war, many parts of Ha Pagoda was destroyed seriously, but thanks to the huge sponsorship from two wealthy families, Ha pagoda was restored in 1860.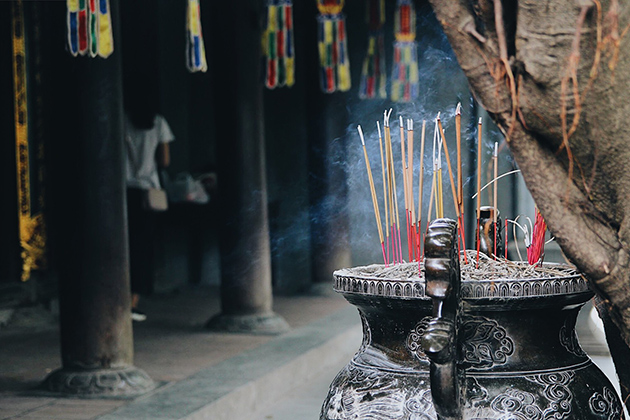 How to Pray in Ha Pagoda
The famous Ha Pagoda in Hanoi is sacred to many pilgrims, for those who are single, after visiting Ha Pagoda, they soonly find their other half. Especially, there stand a lot of small mall selling offerings and rose flowers for visitors because roses are used for praying in here.
When tourists want to pray for romantic wishes, they should pray only in Dien Mau, however, we highly recommend to pray in all sections of Ha Pagoda in order to wish a year full of luck, happiness, and prosperity.