About 30 km West of Hanoi, Tay Phuong Pagoda, also called Sung Phuc Pagoda, includes three single-level structures built in descending order on a hillock that is similar to a buffalo. The pagoda represented the most celebrated feature-carved from jackfruit wood, from the 18th century. The earliest pagoda's complex was built from the 8th century, Tay Phuong Pagoda is really a national treasure thanks to the sophisticated sculpture and art on display there. If you haven't had a good mountainside pagoda experience, Tay Phuong Pagoda is an ideal spot to explore one of the oldest and most historically cruel pagodas in Vietnam, it is reachable easily via guides from Hanoi Local Tour.
History of Tay Phuong Pagoda, Hanoi
Tay Phuong Pagoda, also known as Sung Phuc Pagoda, is a pagoda lying on the top if Cau Lau Mountain, the pagoda is also the second oldest pagoda after Dau Pagoda with more than 1750 historical years in Bac Ninh. Nevertheless, in 1636 under the Le Dynasty of Le Than Tong, Tay Phuong Pagoda was rebuilt and completely rebuilt in 1794. In 1794, Tay Phuong Pagoda was renewed in its present form with the name Tay Phuong Ancient Pagoda under the Tay Son reign.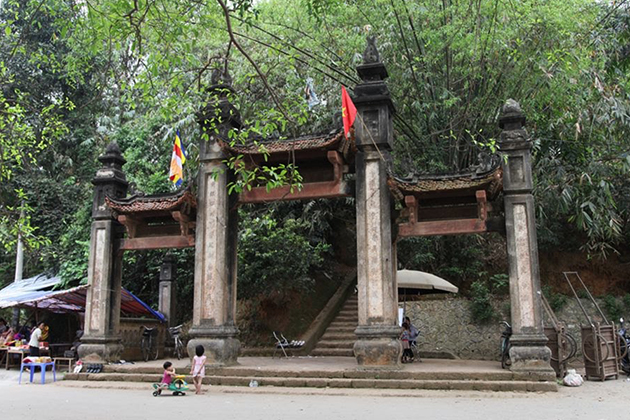 Typical Architecture in Tay Phuong Pagoda
Tay Phuong Pagoda is famous as one of the best destinations in Vietnam for a long time ago and it is a typical depiction of the long-standing artist culture of architecture and sculpture in Vietnam. After climbing 239 stones steps bringing the clues of the flow of time, the tourist destination in Vietnam Tours gives a chance to delve into a stone gate sheltering under the shade of age-old trees.
The Pagoda includes three single-level structures in descending order on a small hillock formed according to the shape of the Chinese character 三 (three). The major character Tam (Three)- style architecture represents for three sections: the upper sanctuary, the rear palace, and lobby rooms. Each parallel temple has its architecture but forms a cordial landscape while the central construction raised higher than the rest due to its directing role, that is a Heaven.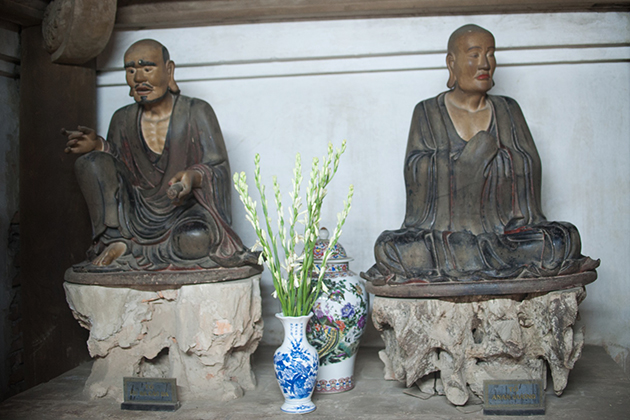 Symbol of Buddhism in Tay Phuong Pagoda's Architecture
Tay Phuong Pagoda has an extremely special architecture with double layer roofs. Do you know that this architecture was arranged by inspiration from Buddhist and Confucianism conception, which is the three constructions symbolize the three forces controlling the world? As I mentioned above, Tay Phuong Pagoda is carved from jackfruit wood dating from the 18th century, and the pagoda is also a collection of the rare masterpieces of religious sculpture. Every wooden part of Tay Phuong Pagoda is beautifully sculpted by hands of the best-sophisticated craftsmen who come from the eminent wood carpentry village of Thach That. The folk motifs as the dragon, lotus, Phoneix,..inspired these sculptures a lot. Totally, there stand 72 brilliant wooden statues in the form of Buddhas, Vajrapanis (means Diamond in English), and Arhats (The Saint in English) who all are the middle – ranking Buddhist deities.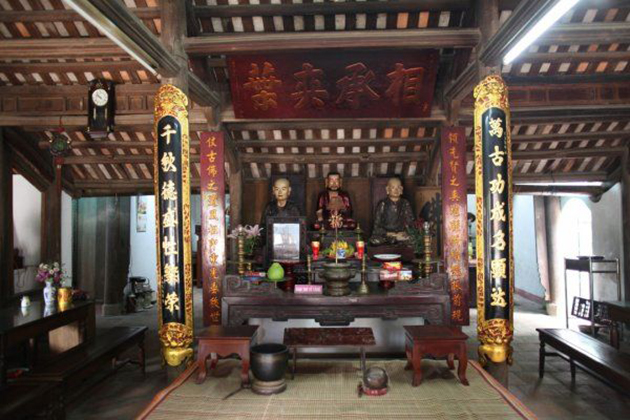 Festival in Tay Phuong Pagoda
In early spring, Tay Phuong Pagoda annually holds a festival in the grounds. In these festival days, people from many provinces in Vietnam as well as foreign visitors flock to the festival not only to show their strong religious belief but also to join many traditional games and other recreational activities consisting of puppet performances, chess with human chess pieces, tug – of – war, marionette performances, cockfighting,… The central piece of the festival in Tay Phuong Pagoda is the Sam Hoi (Expiation) ceremony, the festival is held on the 6th day of the 3rd lunar month, which calls on people to practice compassion and charity to avoid doing wrong things or social evil, and aim for serenity and quietude.
Hope this information above useful for your Tay Phuong pagoda visiting!