Ho Chi Minh's residence is simply a small stilt house, also known as Ho Chi Minh's House on Stilt which is an important construction of Ho Chi Minh Complex in Ngoc Ha village, Ba Dinh district, Hanoi.
At President Ho Chi Minh's disposal, a modest stilt house was built in the Presidential Palace grounds. Take the poor lives of Vietnamese people at that time into account Ho Chi Minh refused to live in the Palace as it was too luxurious and grandiose, which showed that the President put himself on a par with ordinary civilians with low standard of living.
This is a simple, humble and nature-oriented structure built in a Vietnamese Ethnic minority's style called stilt house. There are two floors, the ground one was used as a meeting place comprising 12 chairs and a large table. The second story was where he spent time reading books and taking rest. It consists of a study room and a bedroom where was simply furnished with a single wooden bed, a small blanket, a rush mat, a fan made of palm leaves and a bottle of water. Visitors now come to Ho Chi Minh's Stilt house can also see a casual cotton bonnet which the President used to wear when he was alive.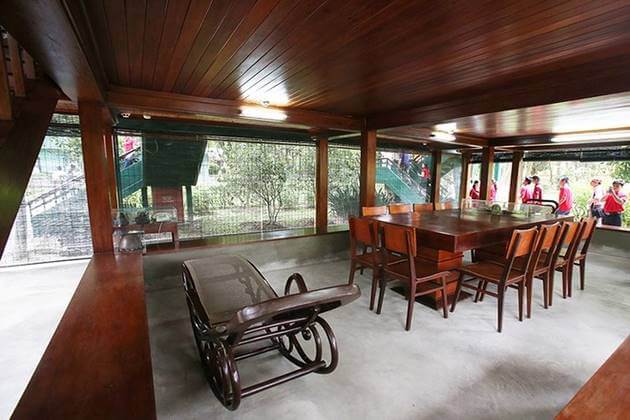 The small wooden stilt house is surrounded by gardens full of fruit trees and a peaceful carp pond where he used to feed the fish with bread crumbs every morning as a recreation. These reflect the simple, pure and noble lifestyle of beloved President Ho Chi Minh.
Ho Chi Minh moved into this humble small house on May 17, 1958, and lived there until his death in 1969. To this day, the stilt house can be visited by tourists to Hanoi, Vietnam who long to get a further insight into the humble life of Vietnam's beloved founding father, President Ho Chi Minh.